STW-Audio ReflexPro v2 WINDOWS 32bit TORRENT…Reverb, Delay, Gate y una gran variedad de enrutamientos del audio, permiten a Reflex Pro v2 convertir una simple muestra de audio en un complejo pad ambiental, Reflex Pro incluye además una gran variedad de efectos con los que transformar el sonido a nuestor antojo.

STW-Audio ReflexPro v2 WINDOWS 32bit TORRENT
REFLEX PRO V2 es una potente unidad de retardo multi efecto de 4 canales. Los enrutamientos de retroalimentación predefinidos y un flujo de señal estructurado claro hacen que sea fácil diseñar cascadas únicas de retroalimentación orgánica y viva. Los parámetros de audio se pueden modular desde 6 fuentes de modulación. REFLEX PRO V2 cubre una amplia variedad de efectos que incluyen una reverberación infinita sin fin hasta modulaciones distorsionadas o en fase. Cuatro LFO distintivos pueden generar transiciones suaves o efectos similares a los de un trance. REFLEX PRO V2 proporciona un acceso fácil a rutas completas de señal estéreo que permiten un diseño de sonido rápido y creativo combinado con facilidad de manejo.
STW-Audio ReflexPro v2 WINDOWS 32bit TORRENT
Dos caminos de retardo estéreo independientes con una matriz de retroalimentación predefinida.

Un LFO especial conocido por el generador de ambiente libre REFLEX agrega modulación sutil.

Dos secciones de filtro que incluyen 16 tipos de filtro simple y 8 dobles con «puntos de enganche» seleccionables.

Dos secciones de modelado con 7 tipos de formas, desde la saturación suave hasta los sonidos aplastantes de Lofi.

Un ciclo de retroalimentación adicional con 4 tipos de enrutamiento.

Desviador de frecuencia de 4 canales para sonidos únicos de flanqueo y modulación de frecuencia.

Bandsplitter para un procesamiento fácil dependiente de la frecuencia

4 fuentes de modulación LFO con más de 50 formas de onda 3 juegos diferentes y muchos modos de disparo.




Envolvente de puerta para efectos «Trance-Gate-like»!

2 seguidores de sobre conducidos por detectores RMS con ajustes de recorte 0/1.

Un algoritmo de rotación de panorama para sonidos giratorios.

La sección de ambiente agrega reverberación adicional con diferentes opciones de enrutamiento.

Modulación de la mayoría de los parámetros con seis fuentes de modulación.

Controladores midi asignables gratuitos

Viene con más de 260 presets inspiradores.

Solo para Windows 32bits.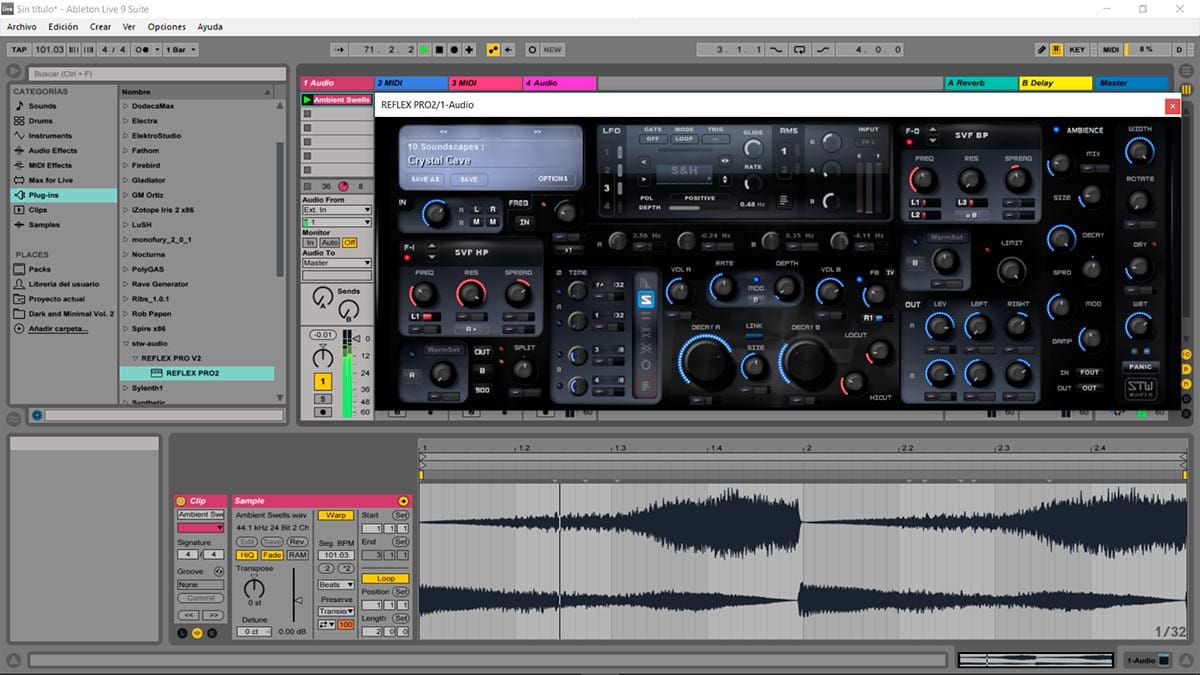 English
REFLEX PRO V2 is a powerful 4 channel multi effect delay unit. Predefined feedback routings and a clear structured signal flow make it easy to design unique organic and living feedback cascades. Audio parameters can be modulated from 6 modulation sources. REFLEX PRO V2 covers a wide variety of effects including spacey endless reverberation up to hard distorted or phasing modulations. Four distinctive LFOs can generate smooth transitions or trance-gate like effects. REFLEX PRO V2 provides easy access to complete stereo signal paths which allows fast and creative sound design combined with ease of handling. Preconfigured intuitive and yet flexible and with countless routing and sound variations.
STW-Audio ReflexPro v2 WINDOWS 32bit TORRENT
Two independent stereo delay paths with a pre-defeined feedback matrix.
Two filter sections including 16 single and 8 double filter types with selectable «hook points».
Two waveshaping sections featuring 7 shaping types from soft saturation to crushing Lofi sounds.
One additional feedback loop with 4 routing types for dense reverb and feedback effects.
4 channel frequency shifter for unique flanging and frequency modulation sounds.
Bandsplitter for easy frequency dependent processing
4 LFO modulation sources with more than 50 waveforms 3 different play and many trigger modes.
2 Envelope followers driven by RMS detectors with 0/1 clipping settings.
A panorama rotation algorithm for special rotating sounds beyond the possibilities of a standard L/R panning.
Ambience section adding extra reverb with different routing options featuring very special soundscapes.
Modulation of most parameters with six modulation sources.
Free assignable Midi controllers
Comes with more than 260 inspiring preset
STW-Audio ReflexPro v2 WINDOWS 32bit TORRENT
INSTALACIÓN:
Ejecutamos el instalador (solo hay versión Windows 32bit)
Seleccionamos nuestra carpeta de plugins
Al iniciar el plugin, en la parte inferior derecha, pulsamos sobre el icono que pone STW
Registramos con el número de serie que encontraremos en el archivo «ST3RE0.nfo»
Listos, plugin comprobado y funcionando…!!!
Descarga Directa – Direct Download
Reflex Pro v2 Windows x86
Para descarga de esta página se necesita un cliente Torrent, hay muchos disponibles, tanto para Windows como para MacOSX, aquí les dejo algunos de los mejores clientes…una vez instalado alguno de los programas, los enlaces Torrent se abren de forma automática.