2nd Sense Bundle VST-AAX-AU WIN-MacOSX x86 x64…Pack de plugins de la casa 2nd Sense, en el pack se incluyen un potente ecualizador, un analizador de espectro, un completo reverb, un removedor de vocales y un filtro…se trata de un conjunto de plugins que se incluyen con el editor de audio de esta misma casa (reSample), pero que ahora tenemos en formato VST y AAX para los principales secuenciadores.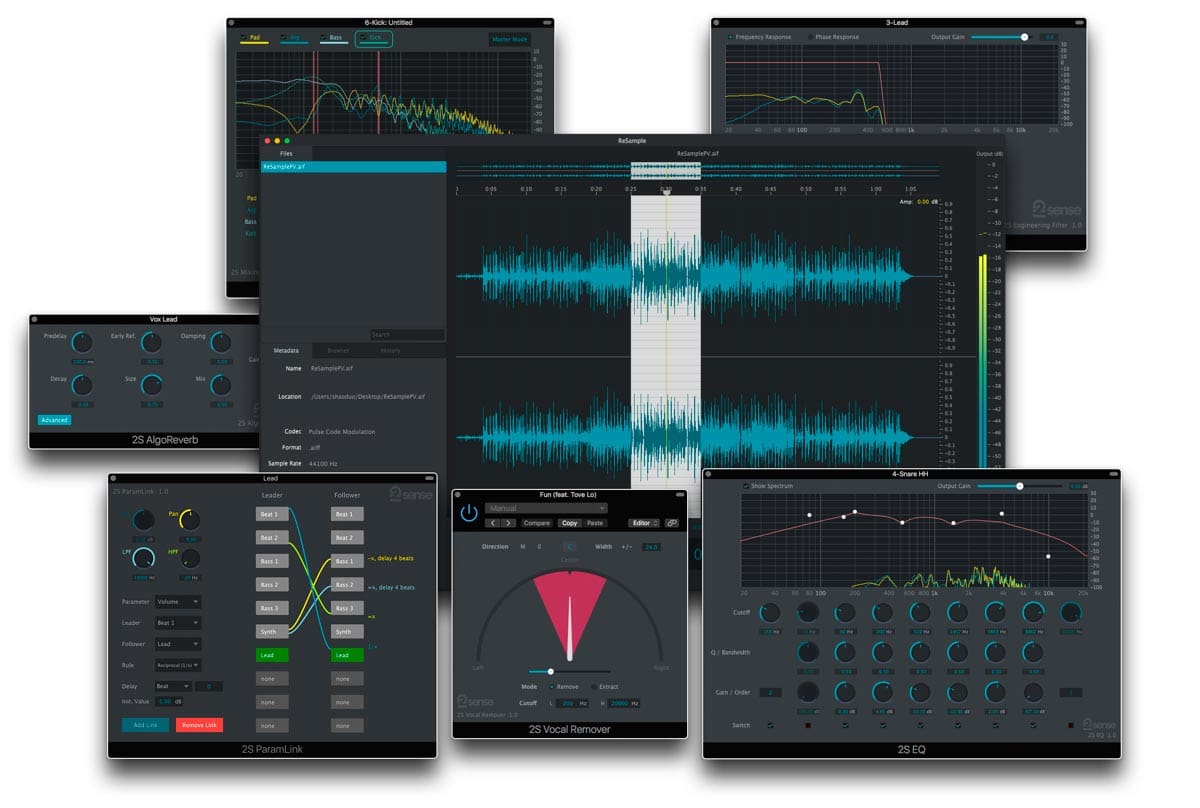 2nd Sense Bundle VST-AAX-AU WIN-MacOSX x86 x64
Mixing Analyzer le permite monitorear espectros en tiempo real de múltiples pistas simultáneamente y detectar colisiones de frecuencia y cierto grado de enmascaramiento. Simplemente inserte los complementos de Mixing Analyzer en sus pistas. Entonces todos los espectros y sus colisiones entre ellos se pueden ver en cualquier instancia de complemento. El complemento muestra las colisiones por espectro, matriz y registros.
Aunque se denominó como Vocal Remover, el complemento se utiliza para eliminar o extraer sonido en un intervalo de dirección especificado a partir de un sonido estéreo. Si lo usa para extraer el sonido vocal central, se convierte en el extractor de voces centrales. Si lo usa para eliminar el sonido de guitarra de la izquierda, se convierte en removedor de guitarra lateral.
Filtro: El plugin cuenta con filtros de paso bajo, paso alto, paso de banda y de banda prohibida de 4 familias clásicas de filtros (Butterworth, Chebyshev I y II, y elíptica) en ingeniería electrónica. El complemento está diseñado con DSP y matemática sólidos para alcanzar resultados estables de alto orden (por ejemplo, el paso bajo de Butterworth se puede establecer en el orden 100. Los parámetros no suportan la automatización en un estado de orden muy alto).

AlgoReverb es una reverberación algorítmica con diseños de línea de retardo sofisticados. El diseño original es para volver a ser una reverberación algorítmica de hardware clásica diseñada alrededor de los años 80…para terminar, 2S EQ es un ecualizador paramétrico que presenta una interfaz de usuario sencilla. Creemos que todos pueden usarlo sin aprender.
2nd Sense Bundle VST-AAX-AU WIN-MacOSX x86 x64
Analizador de espectro Mixing Analyzer
Vocal Remover, elimina partes de frecuencias (voces, guitarras, etc)
Filtro
Unidad de Reverb
Ecualizador Paramétrico
VST-AAX-AU para Windows y MAC OSX de 32bit y 64bit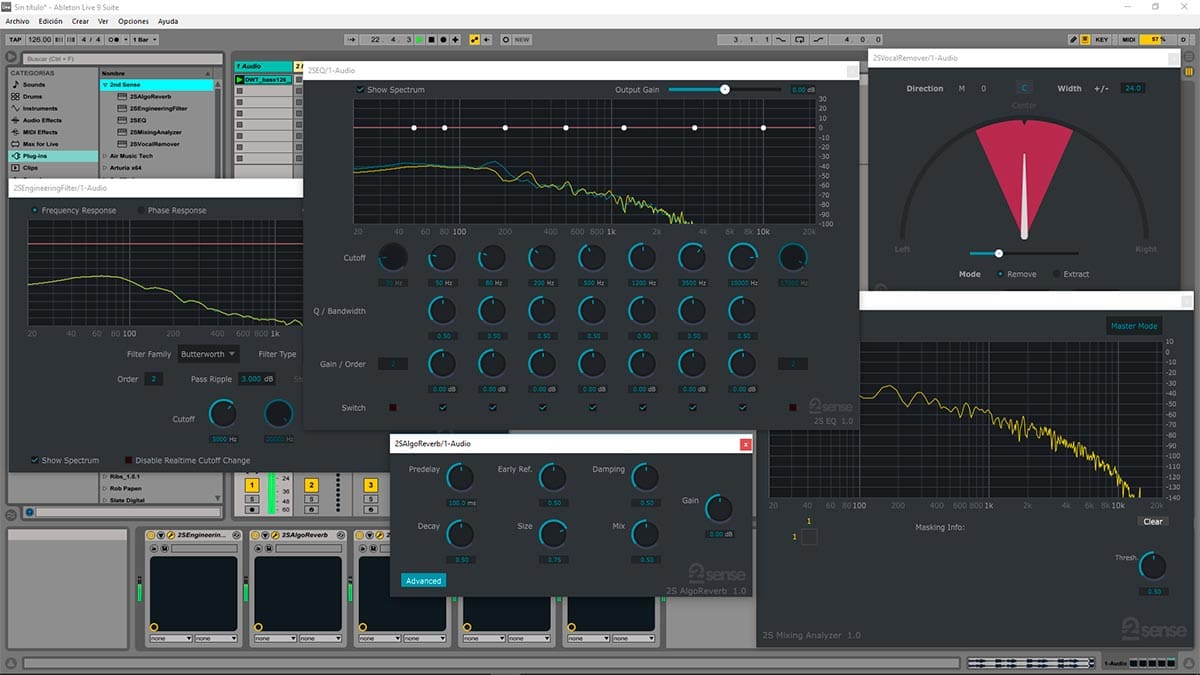 English
Mixing Analyzer enables you to monitor realtime spectrums of multiple tracks simultaneously and detect frequency collision and some extent of masking. Simply insert Mixing Analyzer plugins on your tracks. Then all spectrums and their collisions between each other can be viewed on any plugin instance. The plugin displays the collisions by spectrum, matrix, and logs.
Though named as Vocal Remover, the plugin is used for removing or extracting sound in a specified direction span from a stereo sound. If you use it to extract the center vocal sound, it becomes center vocal extractor. If you use it to remove the guitar sound on the left, it becomes side guitar remover.
Engineering Filter, the plugin features lowpass, highpass, bandpass, bandstop filters from 4 classic filter families (Butterworth, Chebyshev I & II, and elliptic) in electronic engineering. The plugin is designed with solid DSP and math to reach stable high order results (e.g. The Butterworth lowpass can be set to 100th order. Parameters do not suuport automation at very high order state).
AlgoReverb is an algorithmic reverb with sophisticated delayline designs. The original design is to resemeble a classic hardware algorithmic reverb designed around the 80s….and 2S EQ is a parametric EQ featuring a straightforward user interface. We believe everyone can use it without learning. And it is free.
2nd Sense Bundle VST-AAX-AU WIN-MacOSX x86 x64
Mixing Analyzer: Realtime spectrums.
Vocal Remover: Removes vocals, guitars, etc.
Engineering Filter: lowpass, highpass, bandpass, bandstop filters.
AlgoReverb: algorithmic reverb with sophisticated delayline designs
2S EQ: Parametric EQ
Windows & MaxOSX VST-AAX-AU 32bit & 64bit
2nd Sense Bundle VST-AAX-AU WIN-MacOSX x86 x64
INSTALACIÓN:
Instalamos los plugins según nuestra versión (Win, MAC, 32bit, 64bit, VST o AAX)
Iniciamos nuestro programa y cargamos los plugins, le decimos que activaremos offline
Copiamos el «Challenge Code» y lo usamos en el Keygen para generar los números de serie
Volvemos al plugin, introducimos el serial, dirección de correo y «response code» que hemos generado
Hay que realizar estos pasos con cada plugin, excepto con el ecualizador que es gratuito
Listos, plugin instalado y funcionando, como se muestra en la imagen de arriba…!!!
Descarga Directa – Direct Download
2nd Sense Bundle v1.o.0
WIN-MacOSX VST-AAX x86 x64
Para descarga de esta página se necesita un cliente Torrent, hay muchos disponibles, tanto para Windows como para MacOSX, aquí les dejo algunos de los mejores clientes…una vez instalado alguno de los programas, los enlaces Torrent se abren de forma automática.