Overloud TH3 3-4-5 VST-AU WIN-MAC x86 x64…Tercera versión de TH, su suite de modelado que incluye ahora nuevos amplificadores, cabinas, pedales y efectos de rack, varios de ellos autorizados por compañías de hardware como Randall, THD, Brunetti y DVmark además de varias mejoras generales y optimizaciones.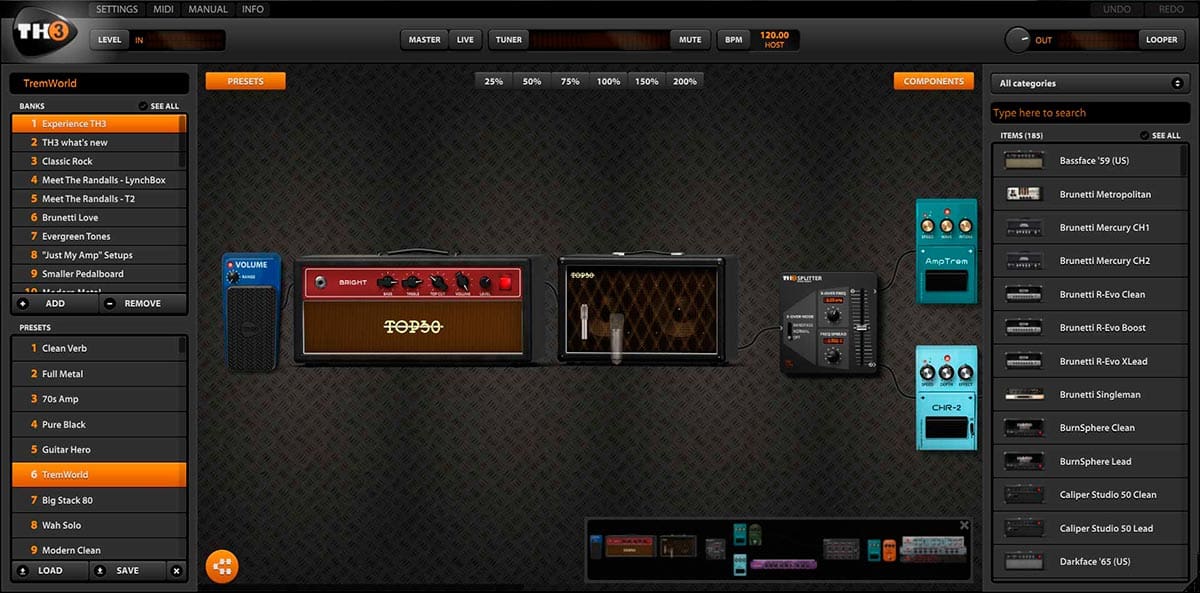 Overloud TH3 3-4-5 VST-AU WIN-MAC x86 x64
Dé rienda suelta a su creatividad con la cadena de sonido flexible TH3: puede crear cualquier configuración de plataforma sin la limitación de las rutas de enrutamiento prefijadas. La nueva función de zoom permite elegir su vista preferida de la cadena de sonido: puede ver la información general de su configuración y controlar cualquier parámetro con un solo clic. Amplíe los modelos más del 100% para tener una mejor visión de las aplicaciones en vivo. TH3 ofrece una matriz de 4 micrófonos que se pueden colocar en cualquier lugar del espacio 3D en frente e incluso detrás del gabinete. Simplemente arrastre un micrófono y colóquelo donde desee. Cambie la distancia relativa entre micrófonos para obtener efectos de fase creativos, tal como lo hace en un gabinete real. Se pueden seleccionar 6 tipos de habitaciones diferentes.
Overloud TH3 3-4-5 VST-AU WIN-MAC x86 x64
21 nuevos modelos de amplificadores para varios estilos y tonos, junto a 5 nuevas cabinas con diversas opciones de altavoces y micrófonos
3 nuevos amplificadores de bajo con 2 cabinas más para bajo
10 nuevos efectos que incluyen 3 efectos rack de armonizador, organizador y modulación en anillo, junto con 7 pedales que incluyen Brunetti Bruning Box, Brunetti Vanilla, Treble Booster, Wham-me, Quiet (reductor de ruido), CT Pre (overdrive) y el Graphic EQ para bajo
Sistema DSP mejorado con implementación de nueva tecnología de procesamiento no-lineal, propietaria de Overloud
Interfaz gráfica completamente rediseñada con mejor flujo de trabajo, opción de zoom, paneles dinámicos y cadena de señal simplificada
Más de 1000 presets incluidos, para varios estilos musicales
Un banco de presets enteramente dedicado a bajos
Cambio entre presets dedicado y administrador de presets rediseñado
Conexiones MIDI inteligentes
English
Unleash your creativity with the TH3 flexible sound chain: you can create any rig setup without the limitation of prefixed routing paths. The brand new zoom function allows to choose your preferred view of the sounchain: you can see the overview of your setup and control any parameter with just one click. Enlarge the models more than 100% to have a better view on live applications. TH3 offers a matrix of 4 microphones which can be placed anywhere in the 3D space in front and even behind the cabinet. Just drag a microphone and place it where you want. Change the relative distance between microphones to obtain creative phasing effects, just like you do in a real cabinet room. 6 different room types can be selected.
Overloud TH3 3-4-5 VST-AU WIN-MAC x86 x64
203 models, the world's largest collection into a single software, including:
Randall®, DVmark®, Brunetti® and THD® authorized modeling, with models approved by original manufacturers
69 guitar amplifiers and 3 bass amplifiers
35 guitar cabinets and 2 bass cabinets
75 pedal and rack effects
18 microphone models, with up to four mics on each cabinet
More than 1000 presets covering all musical style
One entire preset bank dedicated to bass.
4th generation analog emulation technology, with proprietary nonlinear processing algorithm
3D, gap-less positioning of microphones and room simulation
Advanced cabinet emulations with ReSPiRe 2 technology
Built-in convolver to load external guitar cab IRs
Easy to build or modify your own signal path
Intelligent MIDI controls
BREVERB and SpringAge based reverb effects
Full compatibility with TH2 user presets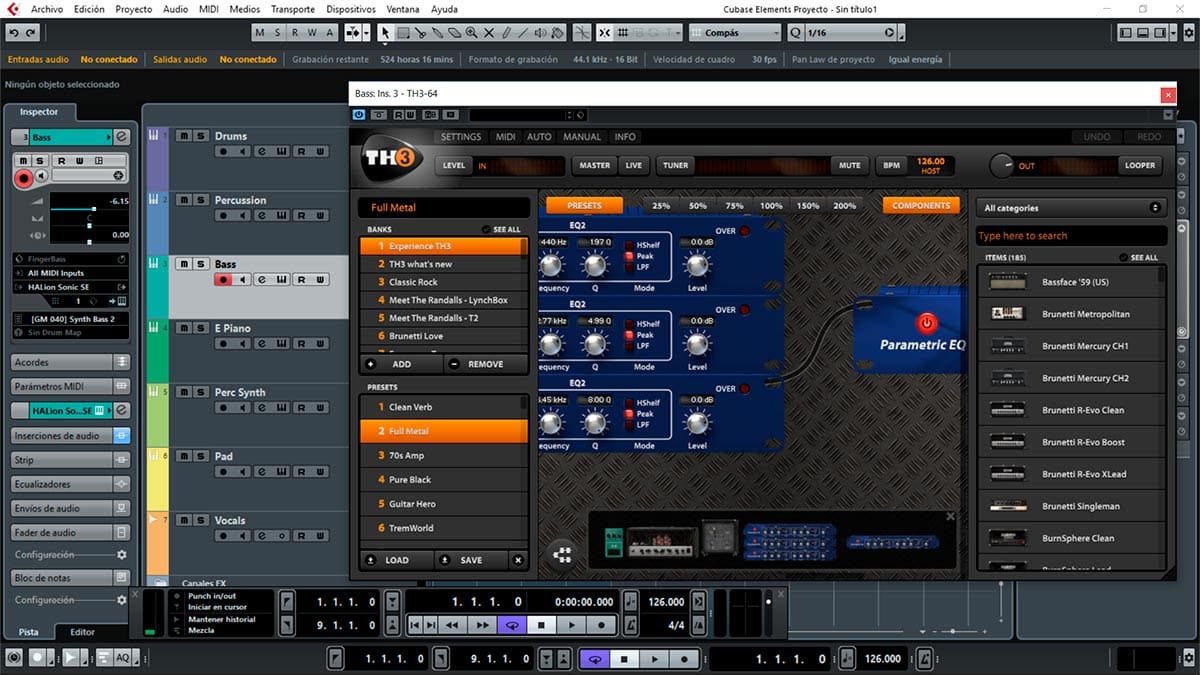 Overloud TH3 3-4-5 VST-AU WIN-MAC x86 x64
INSTALACIÓN:
Instalamos el plugin según nuestro sistema operativo y versión
De la carpeta «R2R» ejecutamos «Overloud_Hosts_Patch.cmd» como administrador
Es posible que tengamos que desactivar «

smartscreen de windows

» pues nos bloquea el Keygen
Ejecutamos el Keygen y activamos «Overloud TH3.3.0» aunque es una versión más antigua sirve igual
Para usuarios de MAC y dudas, en la carpeta R2R hay un archivo con las instrucciones
Listos, plugin comprobado en Ableton Live, Cubase y FL Studio 64bits
Descarga Directa – Direct Download
Overloud TH3 3.4.5 Windows-MacOSX x86 x64
Para descarga de esta página se necesita un cliente Torrent, hay muchos disponibles, tanto para Windows como para MacOSX, aquí les dejo algunos de los mejores clientes…una vez instalado alguno de los programas, los enlaces Torrent se abren de forma automática.