SampleMagic Boost Pro VST-VST3-AU WIN-MAC x86 x64…Utilizando DSP de baja latencia de vanguardia, Boost Pro proporciona distorsión, compresión multibanda, ecualización de 4 bandas, mejora de estéreo, limitador de brick wall y filtro de paso alto todo en un complemento fácil de usar para una variedad de aplicaciones de audio.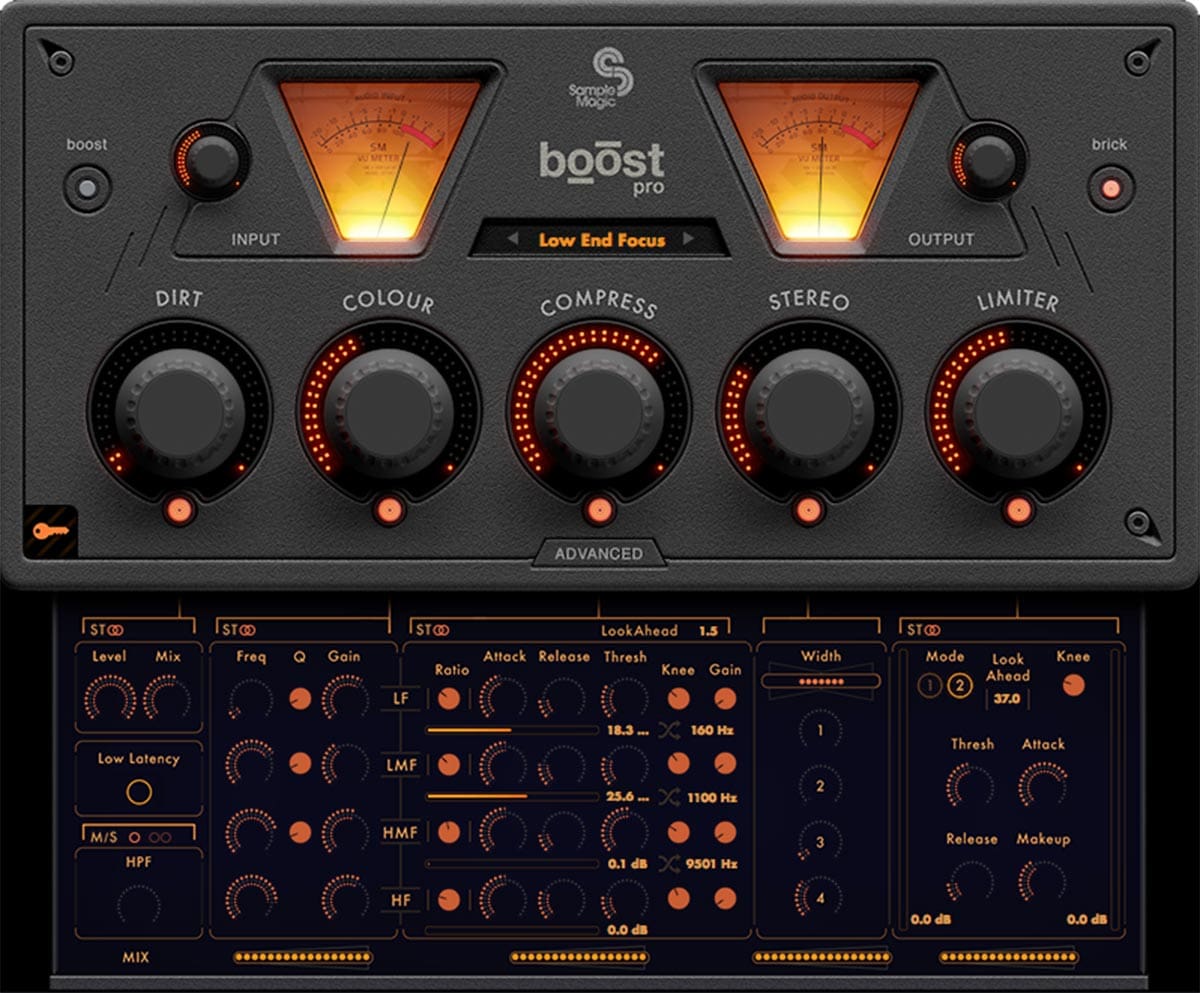 SampleMagic Boost Pro VST-VST3-AU WIN-MAC x86 x64
Boost Pro es una utilidad de finalización de audio todo en uno con seis efectos independientes, cada uno de los cuales utiliza control de parámetros avanzado y automatizable. Cada módulo de efectos tiene una opción de procesamiento medio / lateral, medición RMS integral, modo de baja latencia dedicado, rendimiento optimizado para CPU y campos editables por texto. Desde el simple mixdown lift hasta la solución de masterización completa, la cadena vocal o el procesador de instrumentos en vivo: la lista de aplicaciones es infinita. Evite fácilmente las secciones de efectos, busque 100 preajustes de varios géneros y vuelva a ordenar la compresión / ecualización para obtener un carácter sónico adicional.
SampleMagic Boost Pro VST-VST3-AU WIN-MAC x86 x64
Suciedad (Dirt)


Desde la calidez de la mezcla completa, a los bombos del techno o la fuerza de la guitarra, el procesador «Dirt» de Boost Pro brinda acceso a una variedad de aplicaciones.

¡Ten cuidado!

Ecualizador de 4 bandas


Con bandas de frecuencia ajustables para frecuencias bajas, medias, altas y medias y altas, el ecualizador completo de Boost Pro permite ajustes individuales de Q y ganancia para cada banda.

Compresión multibanda


De sutil a slam, ajuste el lookahead, las bandas de frecuencia de compresión, el umbral, el ataque, la liberación, la rodilla y la ganancia para cada una de las 4 bandas.

Con medición RMS completa para cada banda de frecuencia.

Estéreo


Con control total sobre 4 bandas de haas y ancho, ajuste el campo estéreo del audio.

Amplíe los elementos de una mezcla o mejore las viejas grabaciones estéreo, con solo unos simples controles.

Limitador


Potente procesador de compresión y limitación de picos con ataque completo, liberación, rodilla, parámetros de umbral y medición.

Capaz de «afeitar» de manera transparente unos pocos dB para diezmar una mezcla – para un impacto máximo – manteniendo la claridad.

Filtro Hi-Pass


Filtro de paso alto para eliminar el desorden de la mezcla estéreo o los lados de 0Hz a 1.2kHz.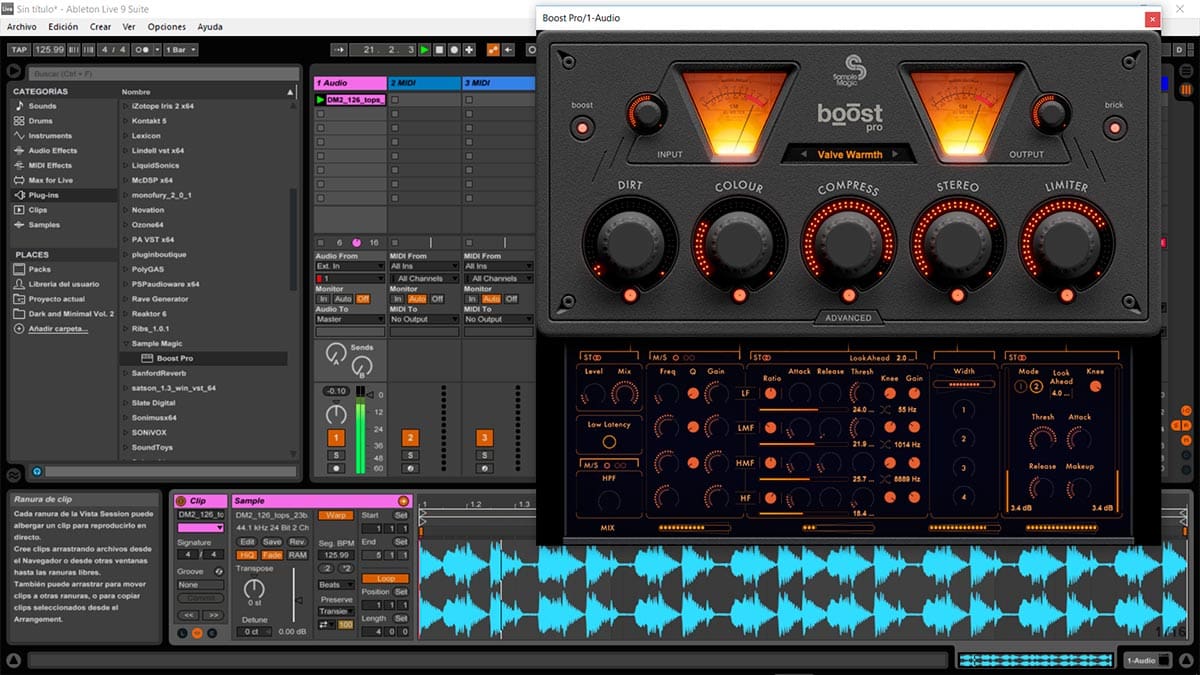 English
Utilising cutting-edge low-latency DSP, Boost Pro provides distortion, multi-band compression, 4-band equalisation, stereo enhancement, brick wall limiter and hi-pass filter all in one easy-to-use plugin for a variety of audio applications.
Boost Pro is an all-in-one audio finalising utility with six independent effects each utilising advanced, automatable, parameter control. Every effect module has a mid/side processing option, comprehensive RMS metering, dedicated low-latency mode, CPU-optimised performance and text-editable fields. From simple mixdown lift to full mastering solution, vocal chain or live instrument processor – the list of applications are endless. Easily bypass effect sections, browse 100 multi-genre presets and re-order compression/EQ for extra sonic character.
SampleMagic Boost Pro VST-VST3-AU WIN-MAC x86 x64
Dirt
From mix warmth, techno kicks to full-on guitar grit, Boost Pro's 'Dirt' processor gives access to a variety of applications. Be warned!
4-Band EQ
With adjustable frequency bands for low, mid, high-mid and high frequencies, Boost Pro's comprehensive EQ allows individual Q and gain settings for each band.
Multiband Compression
From subtle to slam, adjust lookahead, compression frequency bands, threshold, attack, release, knee and gain for each of the 4-bands. With full RMS metering for each frequency band.
Stereo
With full control over 4 haas bands and width, adjust the stereo field of the audio. Widen the elements of a mix or enhance old stereo recordings, with just a few simple controls.
Limiter
Powerful compression and peak limiting processor with full attack, release, knee, threshold parameters and metering. Capable of transparently 'shaving off ' a few dB to decimated a mixdown – for maximum impact – while still maintaining clarity.
Hi-Pass Filter
Hi-pass filtering for removing clutter from the stereo mix or sides from 0Hz to 1.2kHz.
SampleMagic Boost Pro VST-VST3-AU WIN-MAC x86 x64
INSTALACIÓN:
Descargamos el pack completo (en la carpeta MAC está el keygen)
Instalamos el plugin según nuestra versión
Con el keygen, generamos un número de serie para Boost Pro (hay dos versiones)
Listos, plugin comprobado en Ableton Live VST 64bit
Descarga Directa – Direct Download
Sample Magic Boost Pro 1.0 WIN-MAC x86 x64
Para descarga de esta página se necesita un cliente Torrent, hay muchos disponibles, tanto para Windows como para MacOSX, aquí les dejo algunos de los mejores clientes…una vez instalado alguno de los programas, los enlaces Torrent se abren de forma automática.