SynapseAudio Plugin Bundle VST WINDOWS x86 x64…Siete sintetizadores de Synapse Audio reunidos en un solo pack, algunos muy conocidos como The Legend o Dune y otros no tanto como Hydra, Toxic2 o X-Poly, por cierto, este es el único pack en el que he conseguido que The Legend me funcione, así que es muy recomendable.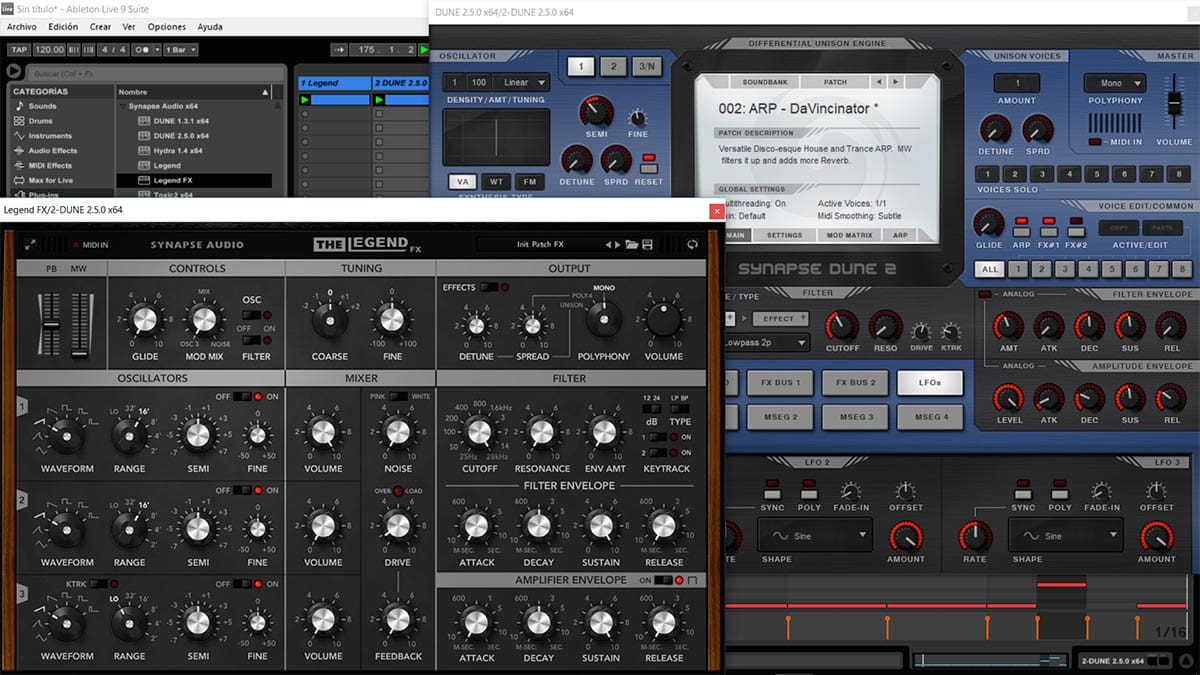 SynapseAudio Plugin Bundle VST WINDOWS x86 x64
Desarrollado en cooperación con el especialista en sintetizadores vintage Bigtone Studios, The Legend está diseñado para emular fielmente uno de los sintetizadores analógicos vintage más famosos. Además, numerosas mejoras innovadoras aumentan enormemente su versatilidad. Todos los componentes, que van desde los osciladores controlados por voltaje (VCO), el filtro controlado por voltaje (VCF) y el amplificador controlado por voltaje (VCA), se han modelado con una precisión nunca antes vista en el software. El filtro ágil y las envolventes del amplificador se han modelado meticulosamente, así como el extremo inferior masivo, incluso se han tenido en cuenta los efectos más marginales como la deriva de temperatura o los efectos que se originan en la fuente de alimentación.
DUNE 2 se reescribió desde cero, para proporcionar una calidad de sonido aún mayor y permitir una gama de sonidos aún más amplia. Nuevos osciladores, nuevos filtros, nuevos efectos y sobres gráficos son solo algunas de las nuevas incorporaciones. Con una reserva máxima de 8320 osciladores a plena polifonía, DUNE 2 es un verdadero monstruo de unísono, que probablemente nunca se quede sin osciladores.
Hydra es un sintetizador multimodelo, presenta tres modelos de enrutamiento diferentes, cada uno con tres osciladores. Cada modelo de enrutamiento combina los tres osciladores de diferentes maneras, mediante modulación de fase o modulación en anillo, y cada modelo tiene posibilidades radicalmente diferentes. La organización lógica de la interfaz de usuario hace que sea fácil mantener una buena visión general de la gran cantidad de parámetros y diseñar sus propios sonidos originales. Dos de los tres osciladores tienen 39 formas de onda preestablecidas, y se pueden saturar individualmente. Los sobres se pueden cambiar al modo de percusión, convirtiendo el instrumento en un sintetizador de sonido de batería extremadamente versátil.
SynapseAudio Plugin Bundle VST WINDOWS x86 x64
Dune 1.3.1
Dune 2.5
Hydra 1.4
Legend
Legend FX
Toxic 2
X-Ploly 2.0
English
Developed in cooperation with vintage synth specialist Bigtone Studios, The Legend is designed to faithfully emulate one of the most famous vintage analog synths. Moreover, numerous innovative enhancements greatly increase its versatility. Every component, ranging from the voltage-controlled oscillators (VCOs), voltage-controlled filter (VCF) and voltage-controlled amplifier (VCA), have been modeled to an accuracy never seen before in software. The snappy filter and amplifier envelopes have been meticulously modeled, as well as the massive bottom end – even the most marginal effects like temperature drift or effects originating from the power supply have been taken into account.
DUNE 2 was rewritten from scratch, in order to provide a yet higher sound quality and allow for an even wider range of sounds. New oscillators, new filters, new effects and graphical envelopes are just some of the new additions. With a maximum reserve of 8320 oscillators at full polyphony, DUNE 2 is a true unison monster, unlikely to ever run out of oscillators.
The Hydra is a multi-model synthesizer, features three different routing models, each with three oscillators. Each routing model combines the three oscillators in different ways, by phase modulation or ring modulation – and each model has radically different possibilities. The logical organization of the user interface makes it easy to maintain a good overview of the high number of parameters, and design your own original sounds. Two of the three oscillators have 39 preset waveforms, and can be individually saturated. Envelopes can be switched to percussive mode, turning the instrument into an extremely versatile drum sound synthesizer. Hydra comes with a library of 128 useful and imaginative presets, including house/club style organs, bells and percussions, basses, subtle ambient atmospheres, powerful leads and rich stereo pads.
SynapseAudio Plugin Bundle VST WINDOWS x86 x64
Dune 1.3.1
Dune 2.5
Hydra 1.4
Legend
Legend FX
Toxic 2
X-Ploly 2.0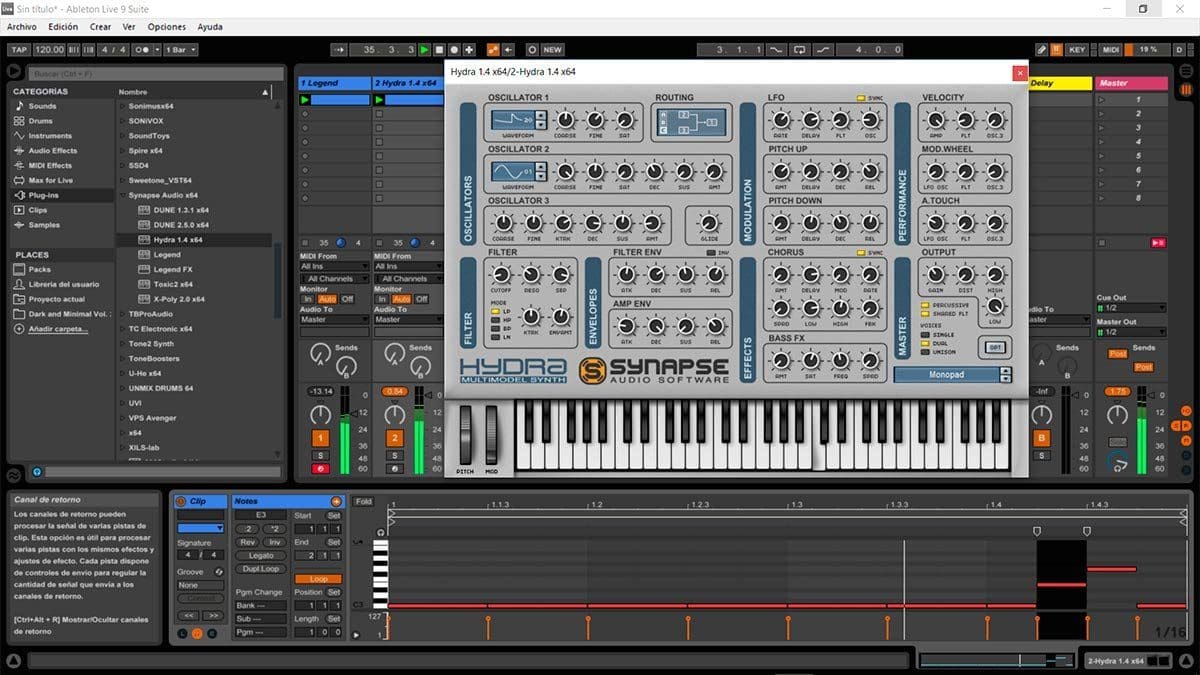 SynapseAudio Plugin Bundle VST WINDOWS x86 x64
INSTALACIÓN:
Descomprimimos el pack
Ejecutamos «x64 Windows Synapse Audio.reg» para 64bit y «x86 Windows Synapse Audio.reg» para 32bit
El contenido de la carpeta «\Users\(Current User Name)\Documents» lo copiamos a nuestra carpeta Documentos
En la carpeta «C» «C\Program Files (x86)\VSTPlugins» tenemos los plugins de 32bit y 64bit
Copiamos la carpeta que usemos (32bit o 64bit) a nuestra carpeta de plugins
La carpeta «ProgramFiles» la copiamos a nuestra carpeta de «Archivos de programa»
Listos, el plugin a sido probado en Ableton Live 64bit, como se ve en las imágenes
Descarga Directa – Direct Download
Synapse Audio Bundle WiNDOWS x86 x64
Para descarga de esta página se necesita un cliente Torrent, hay muchos disponibles, tanto para Windows como para MacOSX, aquí les dejo algunos de los mejores clientes…una vez instalado alguno de los programas, los enlaces Torrent se abren de forma automática.