ZPLANE ppmBatch Loudness Normalization x86 x64…Cuando trabajamos con gran cantidad de archivos, especialmente si son procedentes de distintas fuentes, o los DJs que disponen de música de diversos años, podemos encontrarnos con el problema de la diferencia de volumen en las pistas, para solucionar esto tenemos herramientas como ZPLANE ppmBatch, una aplicación que normaliza el Loudness con referencia a distintos estándares de la industria.
ZPLANE ppmBatch Loudness Normalization x86 x64
ppmBatch le permite analizar y normalizar sus archivos de audio según varios estándares de volumen de transmisión. Procesa por lotes los archivos en múltiples tiempos en tiempo real, y proporciona comentarios intuitivos del usuario sobre el estado de cumplimiento y el progreso de procesamiento de cada archivo. Los resultados de la medición se muestran en una interfaz de usuario personalizable y claramente organizada.
ppmBatch viene con ajustes preestablecidos para los estándares de transmisión más comunes. Le permite modificar estos ajustes preestablecidos y configurar sus propios perfiles. Puede crear archivos de informes de resumen para una selección de archivos de audio, así como informes más detallados para cada archivo individual…ppmBatch es la herramienta perfecta para la postproducción, la conversión de archivos y la normalización automática de informes de difusión diarios.
ZPLANE ppmBatch Loudness Normalization x86 x64
Escaneo rápido y normalización de múltiples archivos

Soporte para archivos multicanal y multimono

Preajustes de sonoridad predeterminados para EBU R 128, ATSC A / 85, ITU-R BS.1770, ARIB TR-B32, FreeTV OP-59

Arrastrar y soltar

Soporte para transmisión de audio wav

Informes de estado individuales y generales

Formatos de entrada admitidos: wav, aif, mp3, ogg, wma, flac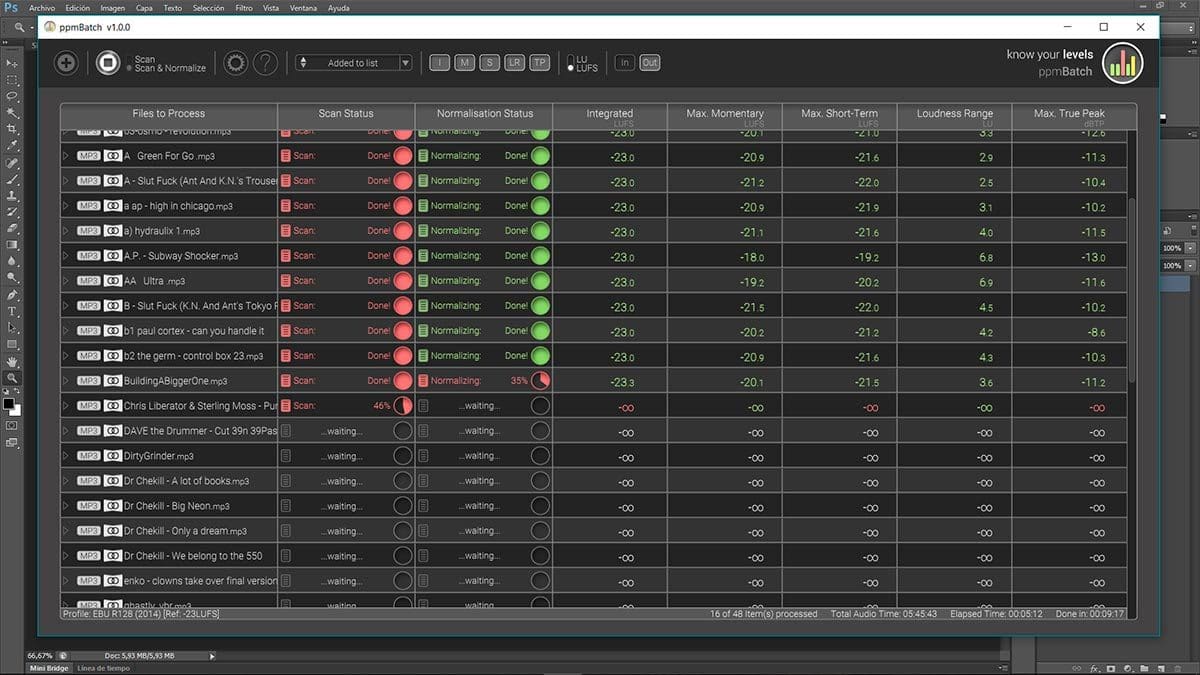 English
ppmBatch allows you to analyze and normalize your audio files according to various broadcasting loudness standards. It batch processes files in multiple real time and provides intuitive user feedback about each file's compliance status and processing progress. Measurement results are displayed in a clearly arranged, customizable user interface.
ppmBatch comes with presets for the most common broadcasting standards. It enables you to modify these presets and to setup your own profiles. You can create summary report files for a selection of audio files, as well as more detailed reports for each individual file…ppmBatch is the perfect tool for post production, archive converting and automatic normalizing of every-day broadcast reports.
ZPLANE ppmBatch Loudness Normalization x86 x64
Fast scan & normalize of multiple files
Support for multi-channel and multi-mono files
Default loudness presets for EBU R 128, ATSC A/85, ITU-R BS.1770, ARIB TR-B32, FreeTV OP-59
Drag and drop
Support for broadcast wav audio
Single and overall status reports
Supported input formats: wav, aif, mp3, ogg, wma, flac
ZPLANE ppmBatch Loudness Normalization x86 x64
Descarga Directa – Direct Download
ZPLANE ppmBatch 1.0 WINDOWS x86 x64
Para descarga de esta página se necesita un cliente Torrent, hay muchos disponibles, tanto para Windows como para MacOSX, aquí les dejo algunos de los mejores clientes…una vez instalado alguno de los programas, los enlaces Torrent se abren de forma automática.