Acustica Audio Stradipad VST WINDOWS x86 x64…Stradipad Platinum Collection es un paquete que incluye 8 complementos: análogo y cálido, fondo, clásico y moderno, sueco, violín, violonchelo, bajo, orquesta. StradiPad se creó para satisfacer su demanda de cadenas sintéticas, pads de sintetizador y procesamiento de pistas acústicas de instrumentos de cuerda. Normalmente, no necesita más de una instancia de StradiPad en su pista para obtener un sonido final que permanezca en el lugar correcto de la mezcla. Stradipad es un complemento independiente comparable a una cadena de hardware real a menudo compuesta por dispositivos únicos e inalcanzables.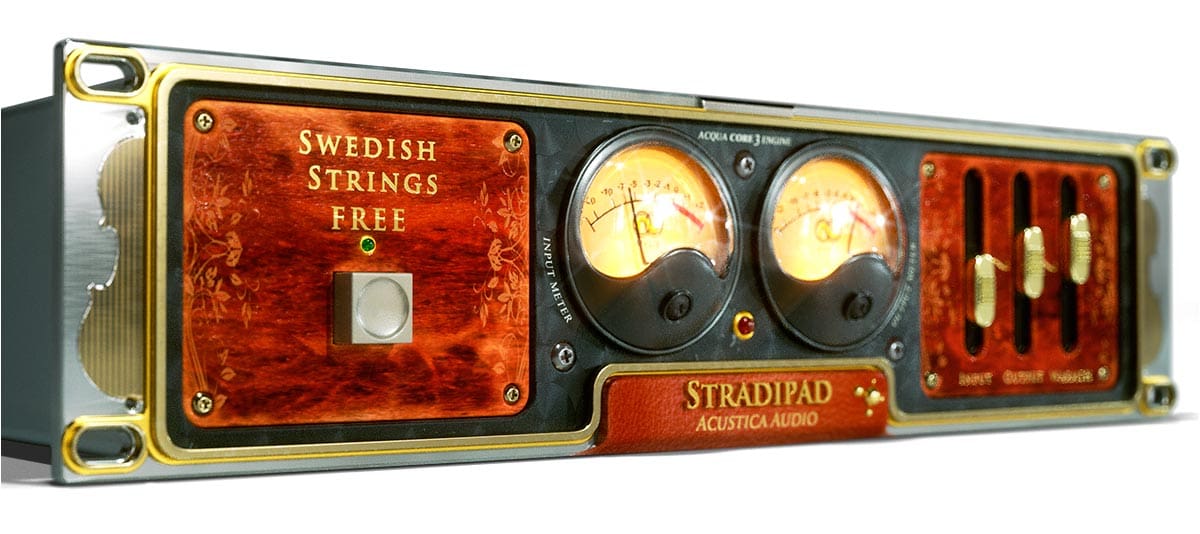 Acustica Audio Stradipad VST WINDOWS x86 x64
Cada cadena ha sido muestreada con precisión con convertidores personalizados construidos específicamente para este propósito, cables de gama alta, con especial cuidado en las conexiones, niveles y adaptación de impedancias. Están programados con precisión sin procesamiento digital destructivo para optimizar el sonido, el rendimiento y la carga de la CPU. El resultado es un plugin profesional, de alta calidad, sin compromiso, muestreado a 44.1kHz y 96kHz sin introducción de ruido o aliasing, lo que le da un sonido analógico y orgánico con un estudio de sonido amplio, profundo y holográfico. StradiPad no suena procesado, duro o digital como la mayoría de los complementos, pero suena como una extensión natural del audio original, pegando tus pistas en la mezcla con un ambiente analógico.
Acustica Audio Stradipad VST WINDOWS x86 x64
Input Gain: establece el nivel en la entrada del complemento. El rango es de -∞ dB a +6 dB.
Output Gain: establece el nivel en la salida del complemento. El rango es de -8 dB a +6 dB.
Filtro de paso alto: Estos interruptores de control activan el HPF haciendo clic en ACTIVAR o DESACTIVAR. El HPF tiene frecuencia fija a 70 Hz y la pendiente es de 18 dB por octava.
Calor: El control Warmth impulsa la etapa de entrada del plugin cambiando la saturación armónica aumentando el nivel de entrada sin cambiar el nivel de salida.
Medidores VU: los medidores VU de entrada y salida muestran los niveles en la entrada y salida del complemento.
Led rojo: luces LED rojas cuando ocurre clipping.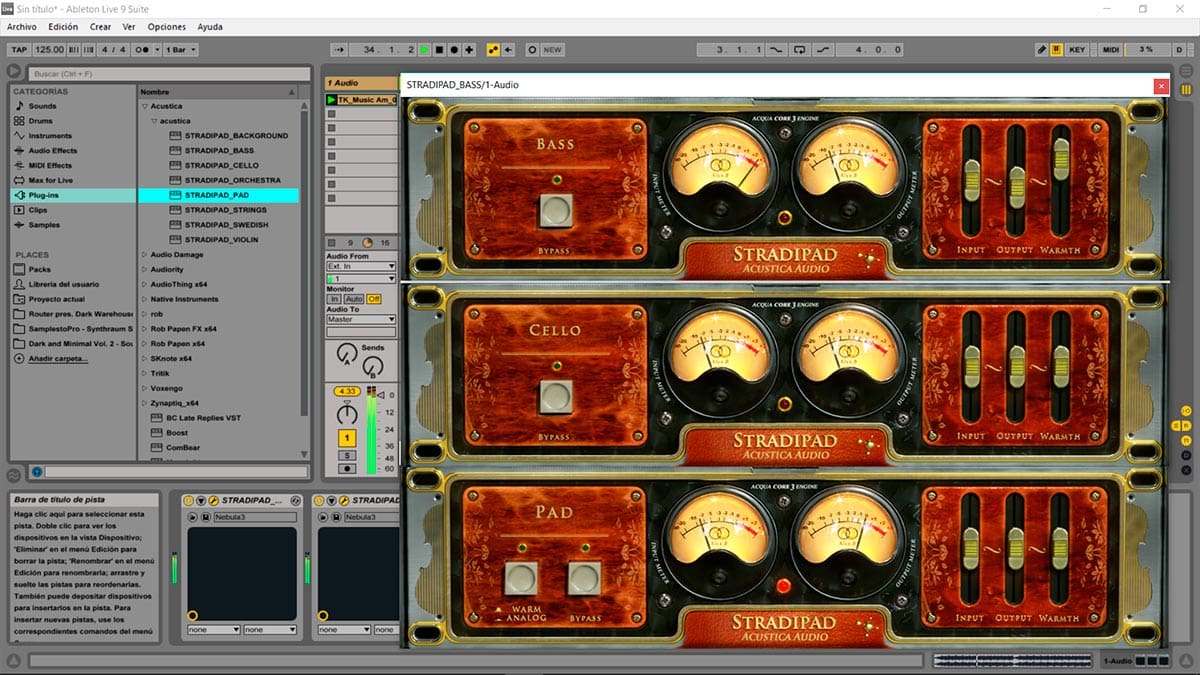 English
Stradipad Platinum Collection is a Bundle that includes 8 plugins: Analog and Warm Pad, Background, Classic and Modern Strings, Swedish Strings, Violin, Cello, Bass, Orchestra. StradiPad is created to fulfill your demand for synthetic strings, synth pad and acoustical string instruments tracks processing. Normally, you don't need more than one instance of StradiPad on your track to obtain a finished sound which stays in the right place in the mix. Stradipad is a standalone plugin comparable to a real hardware-chain often composed by unique and unobtainable devices.
Every chain has been precisely sampled with custom converters built specifically for this purpose, high end cables, with particular care to the connections, levels and impedance matching. They are accurately programmed without destructive digital processing for optimized sound, performance and CPU load. The result is a no-compromise, high quality, professional plugin sampled at 44.1kHz and 96kHz without introduction of noise or aliasing, which gives an analog and organic sound with a wide, deep and holographic soundstage. StradiPad doesn't sound processed, harsh or digital as most plugins do, but it sounds like a natural extension of the original audio, gluing your tracks in the mix with an analog vibe.
Acustica Audio Stradipad VST WINDOWS x86 x64
Input Gain: sets the level at the input of the plugin. The range is from -∞ dB to +6 dB.
Output Gain: sets the level at the output of the plugin. The range is from -8 dB to +6 dB.
High Pass Filter: These control switches engage the HPF by clicking ON or OFF. The HPF has fixed frequency at 70Hz and the slope is 18dB per octave.
Warmth: The Warmth control drives the input stage of the plugin changing the harmonic saturation by rising the input level without changing the output level.
VU Meters: Input and Output VU Meters display the levels at the input and output of the plugin.
Red Led: Red Led lights when clipping occours.
Acustica Audio Stradipad VST WINDOWS x86 x64
INSTALACIÓN:
Instalamos el plugin, seleccionamos versión (creo que se pueden instalar distintas versiones pero seleccionando carpetas diferentes) y carpeta de destino

Con el Keygen generamos una licencia y la copiamos donde se instaló el plugin
Como se muestra en la imágenes, el plugin ha sido probado en Ableton Live VST 64bit
Descarga Directa – Direct Download
StradiPAD Platinum 1.3.609 Windows x86 x64
Para descarga de esta página se necesita un cliente Torrent, hay muchos disponibles, tanto para Windows como para MacOSX, aquí les dejo algunos de los mejores clientes…una vez instalado alguno de los programas, los enlaces Torrent se abren de forma automática.