Zynaptiq Plugins VST-AAX WINDOWS x86 x64 2018…Zynaptiq s un desarrollador Alemán especializado en herramientas para el análisis y procesado del audio, destacan plugins como Unmixdrums, capaz de eliminar o resaltar las baterías y sonidos percusivos, Unveil, especializado en eliminar las reverberaciones o Unfilter, que como su nombre indica, es perfecto para eliminar los filtros aplicados y limpiar el sonido, todo esto en la medica de lo posible, pues en este campo la perfección todavía no existe.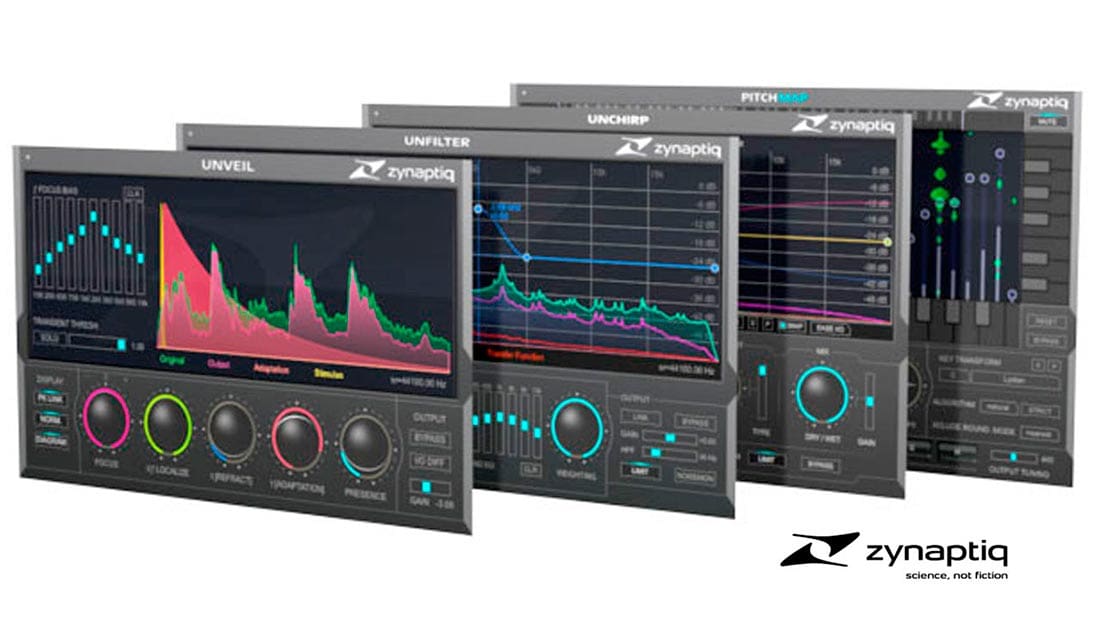 Zynaptiq Plugins VST-AAX WINDOWS x86 x64 2018
Zynaptiq Plugins VST-AAX WINDOWS x86 x64 2018
PITCHMAP es el primer y único plug-in del mundo que permite procesar el tono de los sonidos individuales dentro de señales mixtas en tiempo real . Le permite cambiar las melodías y armonías de cualquier grabación simplemente tocando en un teclado MIDI o creando un mapa de afinación usando nuestra interfaz gráfica de usuario con flujo continuo, y opcionalmente corrige cualquier problema de ajuste al mismo tiempo.
UNVEIL es un plug-in basado en la mezcla de tiempo real que permite atenuar o aumentar los componentes de reverberación dentro de una señal mixta de cualquier recuento de canales, incluidas las fuentes mono . Además, UNVEIL le permite enfocar las características clave de una grabación, o moverlas al fondo, atenuando o aumentando los componentes de señal perceptiblemente menos importantes.
UNFILTER es un plug-in en tiempo real que elimina los efectos de filtrado, como el filtrado de peine, la resonancia o la ecualización excesiva, linealizando eficazmente la respuesta de frecuencia de una señal automáticamente. UNFILTER también puede aplicar una respuesta de filtro detectada a otra señal, o exportarla al disco como una respuesta de impulso, e incluso puede realizar una ecualización gráfica, de forma libre y adaptativa de grado de masterización.
UNCHIRP es un complemento para eliminar los artefactos más desagradables asociados con la codificación de audio con pérdida y otros procesos basados ​​en FFT, como la eliminación de ruido espectral. Reduzca el ruido musical, suprima el chirrido de alta frecuencia (también conocido como sonido subacuático , gorjeo o tweet ), corrija el borrado transitorio y restaure las altas frecuencias perdidas: UNCHIRP lo hace todo de una vez.
UNMIX :: DRUMS es el primer complemento de audio del mundo que permite atenuar o aumentar los tambores en música mixta, en tiempo real. Utilizando la tecnología avanzada de separación de señal de origen (aka de-mixing, unmixing, sound extraction, sound isolation ) bajo el capó, UNMIX :: DRUMS proporciona un control de nivel de batería dependiente de la frecuencia que va desde + 18dB de impulso hasta la eliminación prácticamente completa. sonando genial Ya sea que se utilice en una mezcla completa o en un bus de batería, UNMIX :: DRUMS se puede usar para dar forma y mejorar el impacto de sus tambores de una manera nueva y única.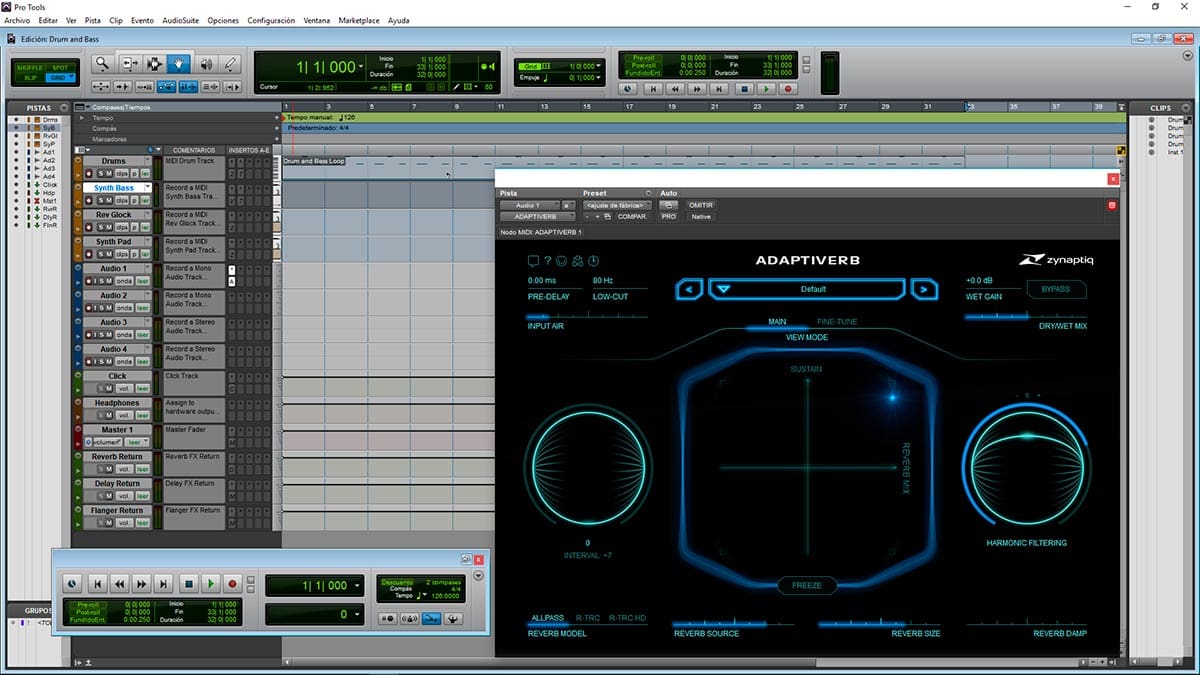 English
Zynaptiq Plugins VST-AAX WINDOWS x86 x64 2018
ADAPTIVERB is a revolutionary reflectionsless reverberation plugin. Unlike traditional reflection-based acoustic room modeling, ADAPTIVERB adds perceived depth, harmonic richness, and butter-smooth tails without obscuring the source. Preserving the tonal definition and directness of your mix, it adds «size», «glue» and «body» – making it perfect for mixing and mastering applications alike.
PITCHMAP is the world's first and only plug-in that allows processing the pitch of individual sounds within mixed signals in real-time. It lets you change the melodies and harmonies of any recording by simply playing your own on a MIDI keyboard or creating a pitch map using our stream-lined GUI, and optionally corrects any tuning issues at the same time.
UNVEIL is a real-time, de-mixing based plug-in that allows attenuating or boosting reverb components within a mixed signal of any channel count, including mono sources. Additionally, UNVEIL allows you to bring the key features of a recording into focus, or move them to the background, by attenuating or boosting perceptionally less important signal components.
UNFILTER is a real-time plug-in that removes filtering effects, such as comb filtering, resonance, or excessive equalization – effectively linearizing the frequency response of a signal automatically. UNFILTER can also apply a detected filter response to another signal, or export it to disk as an impulse response, and can even perform mastering grade adaptive, free-form, and graphic equalization.
UNCHIRP is a plug-in for removing the most obnoxious artifacts associated with lossy audio encoding and other FFT based processes, such as spectral de-noising. Reduce musical noise, suppress high frequency chirping (also known as underwater sound, warbling or the tweeties), fix transient smearing, and restore lost high frequencies – UNCHIRP does it all in one go.
UNMIX::DRUMS is the world's first audio plugin that allows attenuating or boosting drums in mixed music, in real-time. Using advanced source signal separation (a.k.a. de-mixing, unmixing, sound extraction, sound isolation) technology under the hood, UNMIX::DRUMS provides frequency dependent drum level control that ranges from up to +18dB of boost to virtually complete removal – while always sounding great. Whether used on a full mix or on a drum bus, UNMIX::DRUMS can be used to shape and enhance the impact of your drums in a unique new way.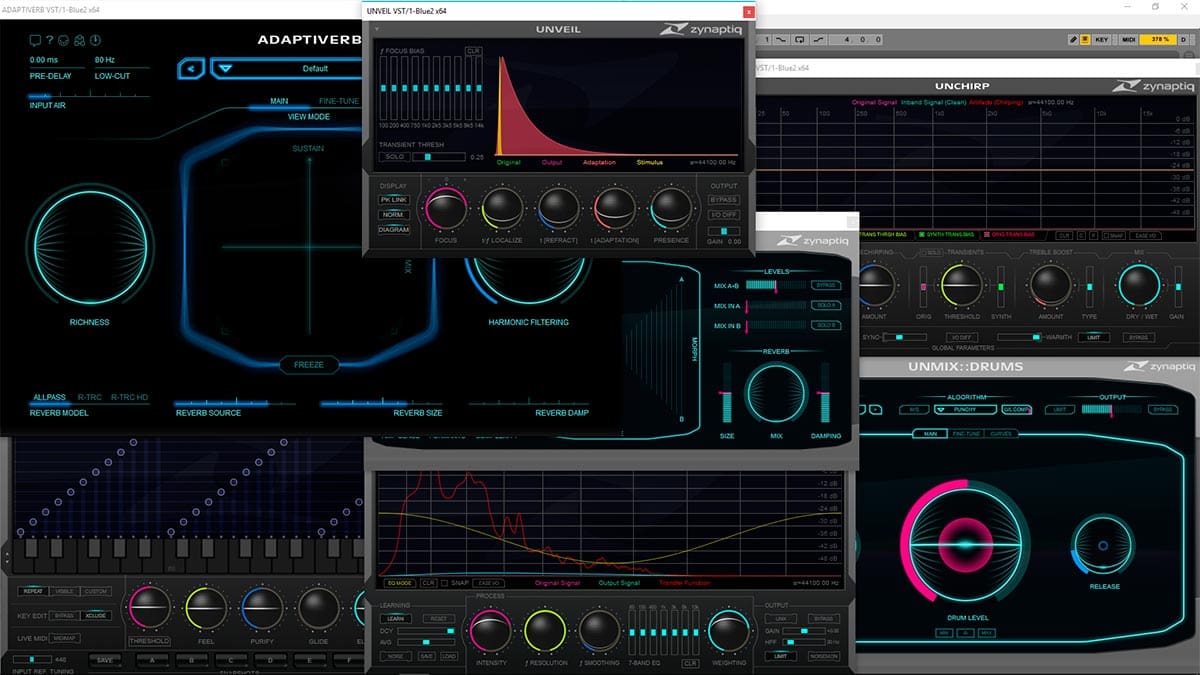 Zynaptiq Plugins VST-AAX WINDOWS x86 x64 2018
INSTALACIÓN:
Cada plugin es un instalador y ya viene activado

Puede que tengamos que desactivar SmartScreen de Windows

Es necesario ejecutar el archivo «R2R_IS_AGAINST_BUSINESS_WAREZ_170811.cmd»
Descarga Directa – Direct Download
Zynaptiq PitchMap 1.6.3 VST-AAX WINDOWS x86 x64
Zynaptiq Adaptiverb 1.1.2 VST-AAX WINDOWS x86 x64
Zynaptiq Unchirp 1.0.2 VST-AAX WINDOWS x86 x64
Zynaptiq Unfilter 1.2.3 VST-AAX WINDOWS x86 x64
Zynaptiq Unveil 1.7.9 VST-AAX WINDOWS x86 x64
Zynaptiq UnmixDrums 1.0.3 VST-AAX WINDOWS x86 x64
Para descarga de esta página se necesita un cliente Torrent, hay muchos disponibles, tanto para Windows como para MacOSX, aquí les dejo algunos de los mejores clientes…una vez instalado alguno de los programas, los enlaces Torrent se abren de forma automática.