BeepStreet Dagger 1-1 VSTi WINDOWS x86 x64…Dagger es un sintetizador monofónico compacto y potente, que incorpora la tecnología de modelado de circuitos más avanzada y auténtica.

BeepStreet Dagger 1-1 VSTi WINDOWS x86 x64
Dagger captura el espíritu de los sintetizadores analógicos, pero no trata de emular ninguno de ellos, está diseñado desde cero para ofrecerte un personaje distintivo y audaz. Gracias a su interfaz de usuario simple e intuitiva, Dagger es rápido y fácil de usar, pero ofrece posibilidades que te sorprenderán. ¡No puedes obtener más por el dinero!
Motor
2x sobremuestreo (Filtros 8x)
Procesamiento de velocidad de audio de todas las señales
Modelo de fuente de alimentación: introduce un poco de ruido característico en cada señal
Osciladores
2 osciladores con morphing de forma de onda y sincronización
Destinos de modulación: tono, fase, desafinación, forma de onda del oscilador 1
Fuentes de modulación: modulador LFO (modo env soportado)
Filtros
8x sobremuestreo, circuito modelado, retroalimentación de cero retardo, filtros altamente no lineales diseñados especialmente para sintetizador Dagger
1 'japaneese style' 12db, filtro de paso alto ruidoso con resonancia altamente no lineal
1 filtro de paso bajo, 4 modelos disponibles
12 db Steiner-Parker
2x cadena de transistor
1x cadena de diodo
Fuentes de modulación: envolvente, LFO, oscilador 2, rueda de modulación
Modulación
Modulador multimodo (LFO, Decay envelope, VCO)
Generador de envolvente ADSR
Fuentes de modulación: Velocidad clave, Rueda de modulación
Amplificador
Modelo de circuito de diodo y clipper cálido de alta calidad
Fuentes de modulación: envolvente (ADSR, envolvente parcial: R o AR), LFO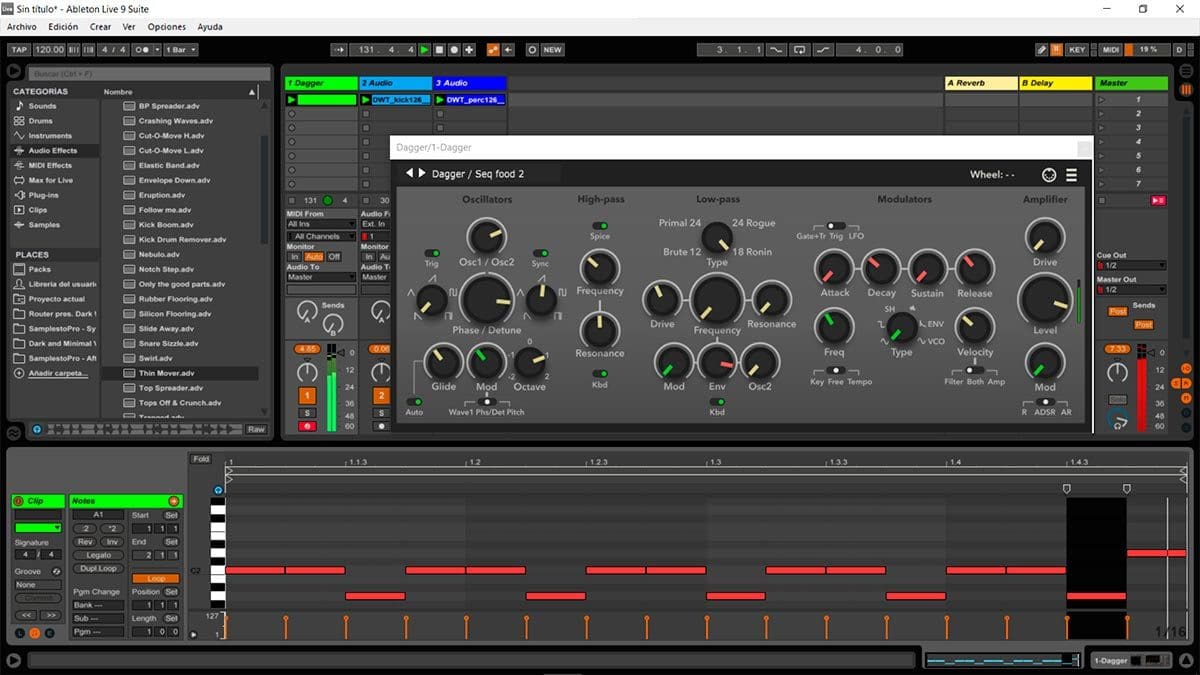 English
Dagger is a compact and powerful monophonic synthesizer, that incorporates the most advanced and authentic circuit modelling technology. Dagger captures the spirit of analogue synths, but does not try to emulate any of them, its designed from the ground up to bring you its own distinctive, bold character. Due to its simple and intuitive user interface Dagger is fast and easy to operate, yet packs possibilities that will surprise you. You can't get more for the money!
Engine
2x oversampling (Filters 8x)
Audio-rate processing of all signals
Power supply model – introduces a bit of characteristic noise into every signal
Oscillators
2 oscillators with wave shape morphing and hard-sync
Modulation destinations: pitch, phase, detune, oscillator 1 wave shape
Modulation sources: LFO modulator (env mode supported)
Filters
8x oversampled, circuit modelled, zero-delay feedback, highly nonlinear filters designed especially for Dagger synth
1 'japaneese style' 12db, noisy high-pass filter with highly nonlinear resonance
1 low pass filter, 4 models available

12 db Steiner-Parker
2x transistor-ladder
1x diode ladder

Modulation sources: Envelope, LFO, Oscillator 2, Modulation wheel
Modulation
Multi-mode modulator (LFO, Decay envelope, VCO)
ADSR envelope generator
Modulation sources: Key velocity, Modulation wheel
Amplifier
High quality, warm diode-clipper circuit model
Modulation sources: Envelope (ADSR, partial envelope: R o AR), LFO
BeepStreet Dagger 1-1 VSTi WINDOWS x86 x64
Descarga Directa – Direct Download
Dagger 1.1.0 VSTi Windows x86 x64
Para descarga de esta página se necesita un cliente Torrent, hay muchos disponibles, tanto para Windows como para MacOSX, aquí les dejo algunos de los mejores clientes…una vez instalado alguno de los programas, los enlaces Torrent se abren de forma automática.