Polyverse Music Gatekeeper VST-AAX-AU WIN-OSX…Gatekeeper es la vanguardia de la modulación de volumen. Capaz de transiciones rápidas de muestra y equipado con un algoritmo único de suavizado de variables, Gatekeeper permite una secuencia drástica y potente, y una secuencia que mantiene la salida suave. Inspire nueva vida en su audio de la manera más básica pero impactante: el silencio.
Polyverse Music Gatekeeper VST-AAX-AU WIN-OSX
atekeeper puede actuar como un LFO, envolvente, secuenciador de pasos, automatización de volumen con precisión de muestra y más. Con 8 envolventes programables MIDI, e incluso salida CV para hardware externo, Gatekeeper es una navaja suiza de expresión creativa. Aún más, incluye cientos de ajustes preestablecidos que darán sabor a tus sonidos. Ya sea que se use en producción, mezcla o diseño de sonido, Gatekeeper siempre tiene algo que aportar.
Los cepillos curvos y un elaborado sistema de acceso directo hacen que la automatización del dibujo sea divertida y fácil, mientras que 31 tipos de cepillos envolventes y 4 ranuras de copia permiten diseños extremadamente intrincados. ¿Necesita patrones prolongados? Con hasta 1024 nodos, Gatekeeper puede crear una secuencia de hasta 20 horas de duración.
Polyverse Music Gatekeeper VST-AAX-AU WIN-OSX
Modulación de volumen rápida y precisa de las muestras


Herramientas de dibujo envolvente expresivas y divertidas

Funciones Boost y clip para un golpe adicional

Algoritmo de suavizado para eliminar clics y saltos

8 sobres de volumen independientes

Activación midi completamente personalizable

Herramientas de panoramización

Tempo mapped looping

Salida CV para sintetizadores modulares

Cientos de presets

Formatos VST-AAX-AU de 32bit y 64bit para Windows y MacOSX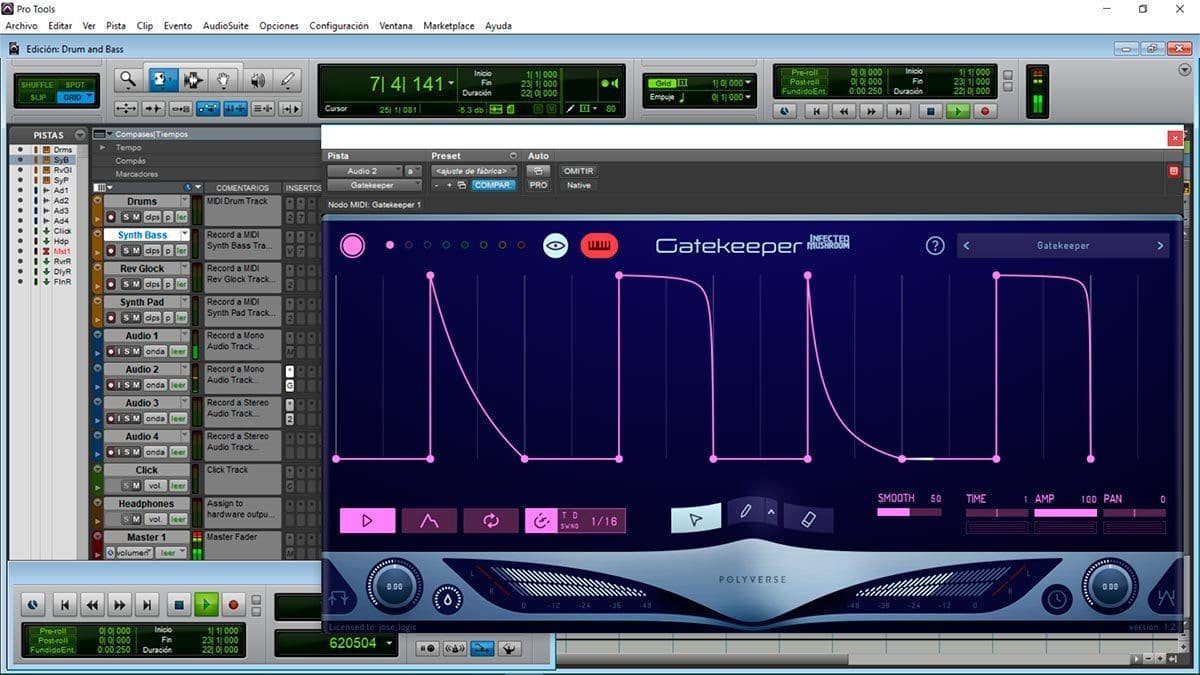 English
Gatekeeper is the cutting edge of volume modulation. Capable of sample-fast transitions and equipped with a unique variable smoothing algorithm, Gatekeeper allows for drastic, punchy gating and sequencing while keeping the output smooth. Breathe new life into your audio with the most basic, yet impactful way: silence.
Gatekeeper can act as an LFO, envelope, step sequencer, sample-accurate volume automation and more. With 8 MIDI programmable envelopes, and even CV output for external hardware, Gatekeeper is a Swiss army knife of creative expression. Even more so, it includes hundreds of presets that will spice up your sounds. Whether used in production, mixing, or sound design, Gatekeeper always has something to bring to the table.
Polyverse Music Gatekeeper VST-AAX-AU WIN-OSX
Sample fast and precise volume modulation
Expressive and fun envelope drawing tools
Boost and clip features for extra punch
Smoothing algorithm to eliminate clicks and pops
8 independent volume envelopes
Fully customizable midi-triggering
Panning tools
Tempo mapped looping
CV output for Modular synths
Hundreds of presets
Polyverse Music Gatekeeper VST-AAX-AU WIN-OSX
INSTALACIÓN:
De la carpeta «R2R», ejecutamos «R2R_IS_AGAINST_BUSINESS_WAREZ_170811» como Administrador
Ejecutamos el instalador, seleccionamos nuestra versión y carpeta de destino
Nuevamente, de la carpeta «R2R» ejecutamos el Kaygen para autorizar el plugin
Listos, plugin comprobado en Pro Tools 12.5 (AAX 64bit) y Ableton Live (VST 64bit)
Descarga Directa – Direct Download
Gatekeeper 1.2 VST-AAX-AU WIN-MacOSX x86 x64
Para descarga de esta página se necesita un cliente Torrent, hay muchos disponibles, tanto para Windows como para MacOSX, aquí les dejo algunos de los mejores clientes…una vez instalado alguno de los programas, los enlaces Torrent se abren de forma automática.