dB Audioware Plugins VST WINDOWS x86 x64…Hoy les traigo tres plugins de la casa dB Audioware, plugins que muchos pueden pensar que existen muchas soluciones similares, pero como siemrpe digo, en la variedad está el buen gusto y, con esto del sonido es como en todo en la vida, para gustos los colores (o el oído en este caso)…tenemos un limitador multibanda, un compresor sidechain y un sidechain gate, tres plugins perfectos para mezcla y mastering.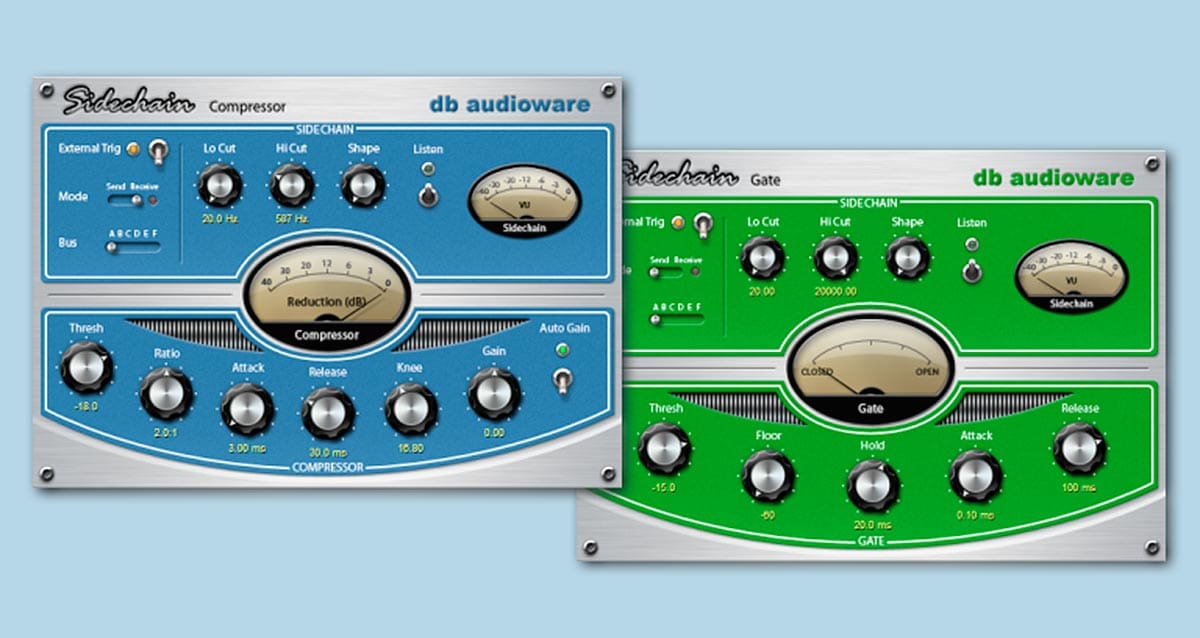 dB Audioware Plugins VST WINDOWS x86 x64
Sidechain Compressor es un plug-in flexible de compresor VST / AU. Se puede usar como un compresor regular de banda de canal para una compresión y limitación limpias y nítidas en una amplia gama de trabajos de mezcla (por ejemplo, agregar golpes a pistas de batería o presencia a voces). Para mayor flexibilidad, los controles de la cadena lateral (Lo Cut / Hi Cut / Shape) le permiten personalizar la respuesta de compresión.
Sidechain Gate le permite realizar técnicas de mezcla inteligentes, mediante el uso de una pista fuente para la puerta de una pista de destino. Por ejemplo, puede usar un complejo patrón de charles en una pista para compilar rítmicamente una almohadilla de sintetizador en otra pista. O simplifique una guitarra baja ocupada guiándola desde una pista de bombo (para que la guitarra baja solo se oiga cuando suena el bombo).
dB-M es una herramienta de masterización para ajustar la dinámica y el volumen de su mezcla. Si ha oído hablar de los beneficios del procesamiento multibanda, pero no entiende cómo funciona, pruebe dB-M. La interfaz gráfica muestra exactamente lo que está haciendo el algoritmo multibandas, en tiempo real. Hay muchos menos controles de los que preocuparse que en la mayoría de los procesadores multibanda.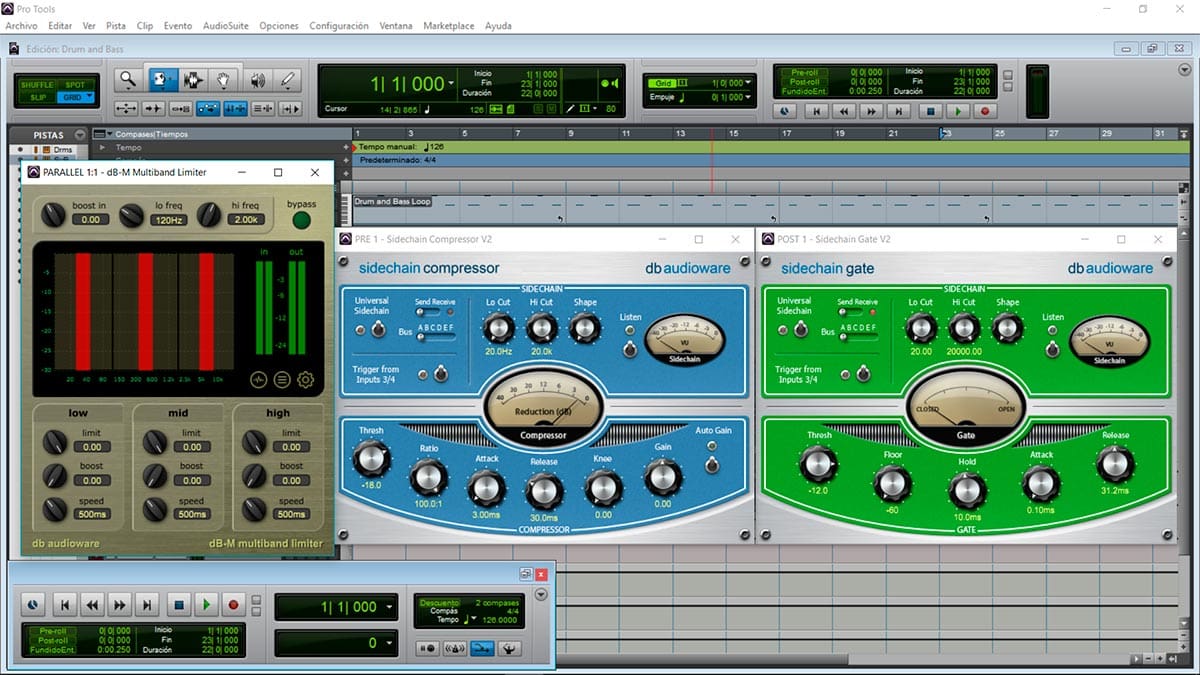 English
Sidechain Compressor is a flexible VST/AU compressor plug-in. It can be used as a regular channel strip compressor for clean crisp compression & limiting across a wide range of mixing jobs (e.g. adding punch to drum tracks or presence to vocals). For additional flexibility, the sidechain controls (Lo Cut/Hi Cut/Shape) let you customise the compression response.
Sidechain Gate lets you perform clever mixing techniques, by using a source track to gate a destination track. For example, you can use a complex hi-hat pattern in one track to rhythmically gate a synth pad in another track. Or simplify a busy bass guitar by gating it from a kick drum track (so the bass guitar is only heard when the kick drum sounds).
dB-M is an mastering tool for fine-tuning the dynamics and loudness of your mix. If you've heard of the benefits of multi band processing, but don't understand how it works, then give dB-M a try. The graphical interface shows you exactly what the multi band algorithm is doing, in realtime. There are far fewer controls to worry about than on most multiband processors.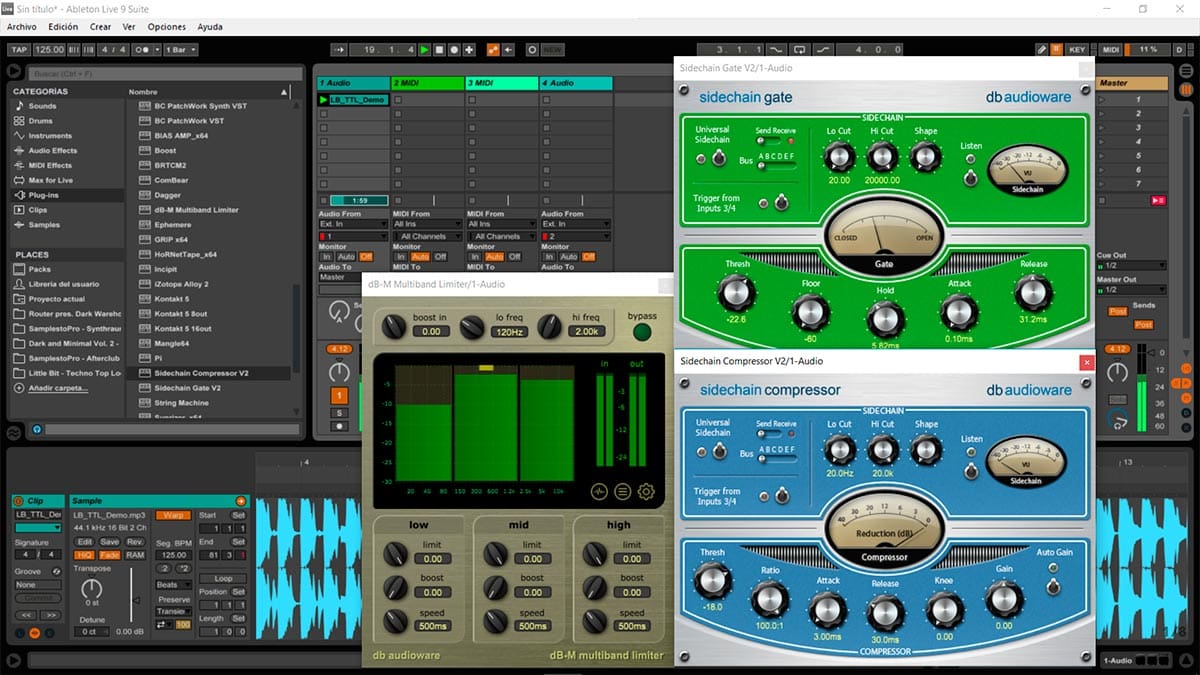 dB Audioware Plugins VST WINDOWS x86 x64
Descarga Directa – Direct Download
Sidechain Compressor v2.0.0 VST WINDOWS 32bit-64bit
Sidechain Gate v2.0.0 VST WINDOWS 32bit-64bit
Multiband Limiter v2.0.1 VST WINDOWS 32bit-64bit
Para descarga de esta página se necesita un cliente Torrent, hay muchos disponibles, tanto para Windows como para MacOSX, aquí les dejo algunos de los mejores clientes…una vez instalado alguno de los programas, los enlaces Torrent se abren de forma automática.