Tracktion Collective VSTi WINDOWS x86 x64…Collective es un poderoso sampler y sintetizador capaz de generar una amplia gama de sonidos de instrumentos. Diseñado para acompañar las nuevas herramientas de composición musical, Collective le permite crear al instante una variedad de estilos musicales. Selecciona rápidamente más de 600 preajustes y crea tu propio sonido único.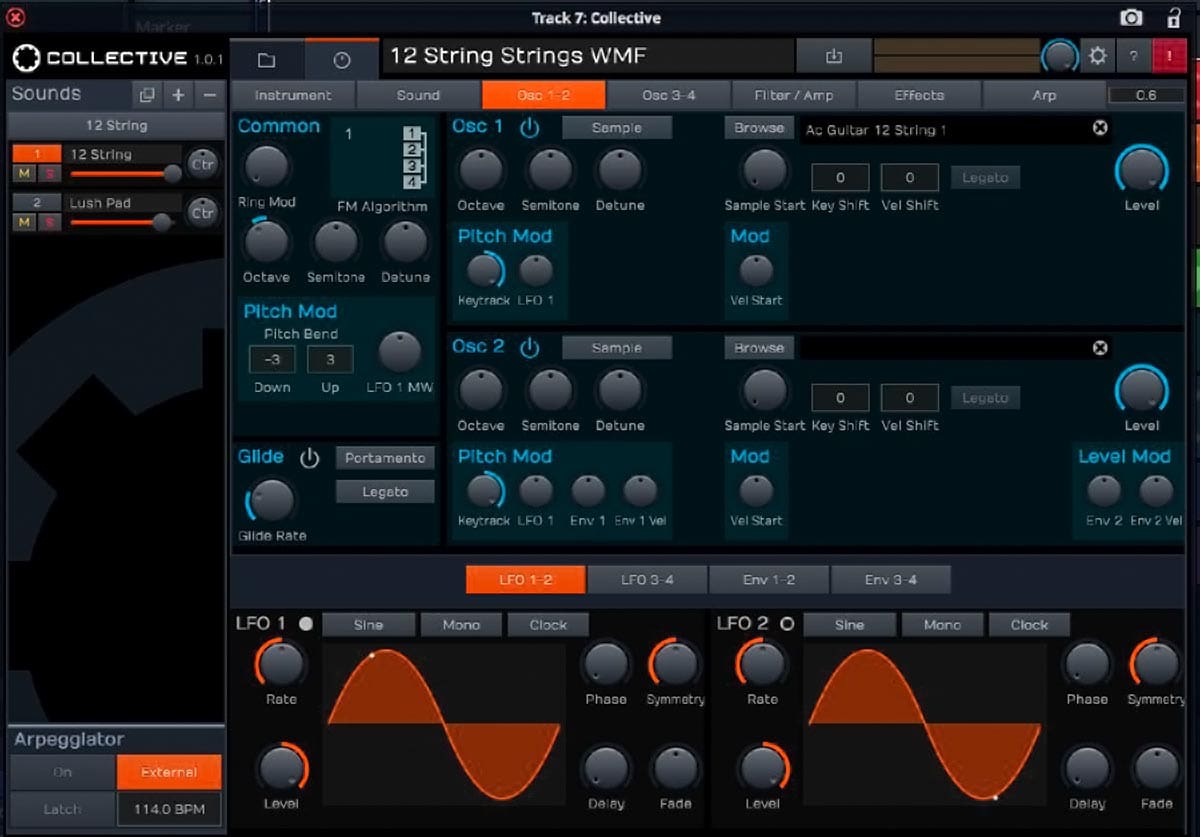 Tracktion Collective VSTi WINDOWS x86 x64
Collective es un instrumento de calidad premium, que combina un motor de síntesis avanzado con una impresionante variedad de muestras de sonidos de instrumentos acústicos y eléctricos. Construido sobre la plataforma Acktion completamente nueva, presenta el mismo motor poderoso que nuestro sintetizador orgánico Biotek. La interfaz de usuario de Collective está diseñada para colocar una gama sencilla de herramientas de escultura de sonido al alcance de su mano.
Las páginas de parámetros le permiten sumergirse mucho más profundamente en el motor de síntesis y ofrecen muchos parámetros para controlar casi todo. Las posibilidades de creación de sonido profundo incluyen cuatro capas de sonido con cuatro osciladores que ofrecen las típicas formas de onda analógicas y reproducción de muestra, una amplia modulación de frecuencia y un generador de ruido blanco y rosa separado. Seguido por dos filtros multimodo en serie y un módulo de unidad con varios tipos y un ecualizador de cuatro bandas con estante y curvas de campana. Cada sonido se mezcla en cuatro buses de efectos, cada uno con una sobremarcha suma, un compresor, un efecto de modulación como chorus, flanger, phaser o sum filter, y un efecto espacial como delay o clockrede, o natural, plate o reverb no lineal.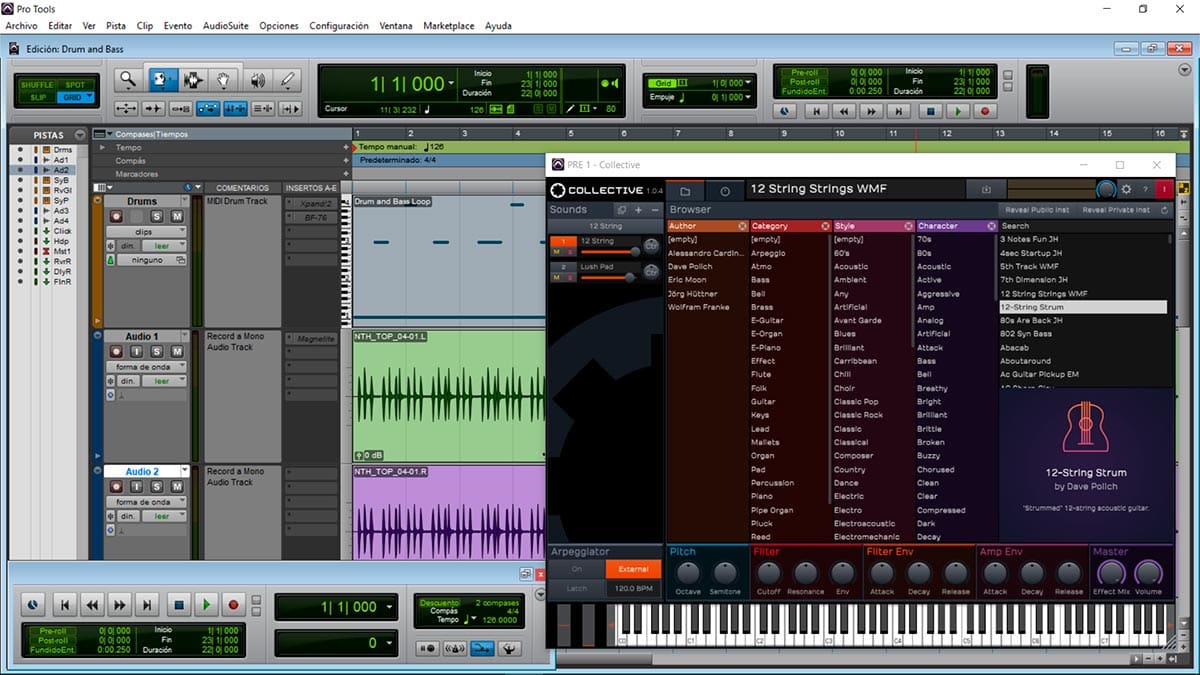 English
Collective is a premium quality instrument that combines an advanced synthesis engine with a stunning array of samples sounds from acoustic and electric instruments. Built on the entirely new Acktion platform, it features the same powerful engine as our Biotek organic synthesizer. Collective's user interface is designed to place a straightforward range of sound sculpting tools right at your fingertips.
The Parameter pages let you dive much deeper into the synthesis engine and offer lots of parameters to control nearly everything. The deep sound creation possibilities include four sound layers with four oscillators that offers the typical analog waveforms and sample playback, extensive frequency modulation and a separate white and pink noise generator. Followed by two serial multimode filters and a drive module with several types and a four-band equalizer with shelf and bell curves. Each sound is mixed into four effect busses, each featuring a sum overdrive, a compressor, a modulation effect like chorus, flanger, phaser or sum filter, and a space effect like delay or clocked delay, or natural, plate or non-linear reverb.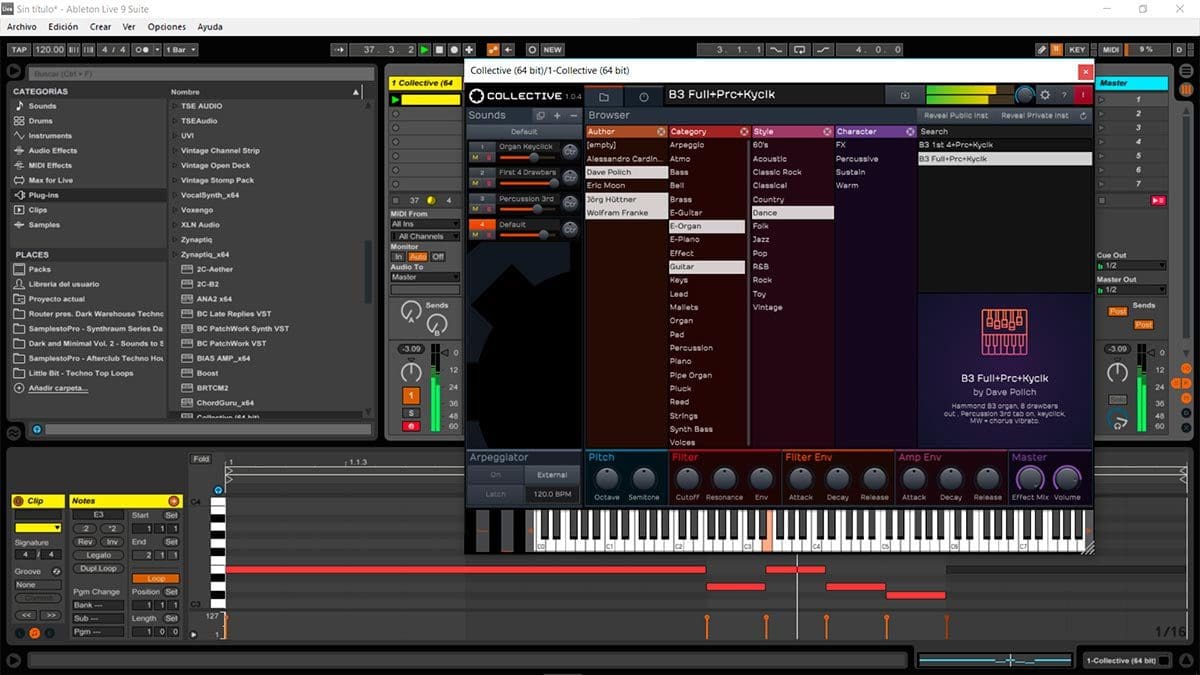 Tracktion Collective VSTi WINDOWS x86 x64
INSTALACIÓN:
Ejecutamos el instalador (solo tenemos versión VST de 32bit-64bit)
Cargamos el plugin en nuestro secuenciador, le damos a «Unlock» al lado de la rueda dentada de configuración
Le decimos «Autorizar Offline» y copiamos el «Machine Number»
Con este número y nuestro datos, generamos una licencia con el Keygen
Importamos la licencia desde el plugin (o la arrastramos directamente sobre la ventana del plugin)
En la carpeta «Collective Library» tenemos las librerías, la copiamos donde queramos que se queden y ejecutamos «!Collective_Library_Placer.exe»
Listos, plugin comprobado en Ableton Live (VST 64bit) y Pro Tools (VST con Patchwork)
Descarga Directa – Direct Download
 Tracktion Collective 1.0.4 VSTi x86 x64 + Library 1.0
Para descarga de esta página se necesita un cliente Torrent, hay muchos disponibles, tanto para Windows como para MacOSX, aquí les dejo algunos de los mejores clientes…una vez instalado alguno de los programas, los enlaces Torrent se abren de forma automática.