Flux IRCAM Tools VST-AAX WINDOWS x86 x64…IRCAM Tools es una serie de herramientas de análisis, reproducción, procesamiento y síntesis de audio, fruto de más de 20 de años de investigación en IRCAM (Institute for Research and Coordination Acoustic/Music).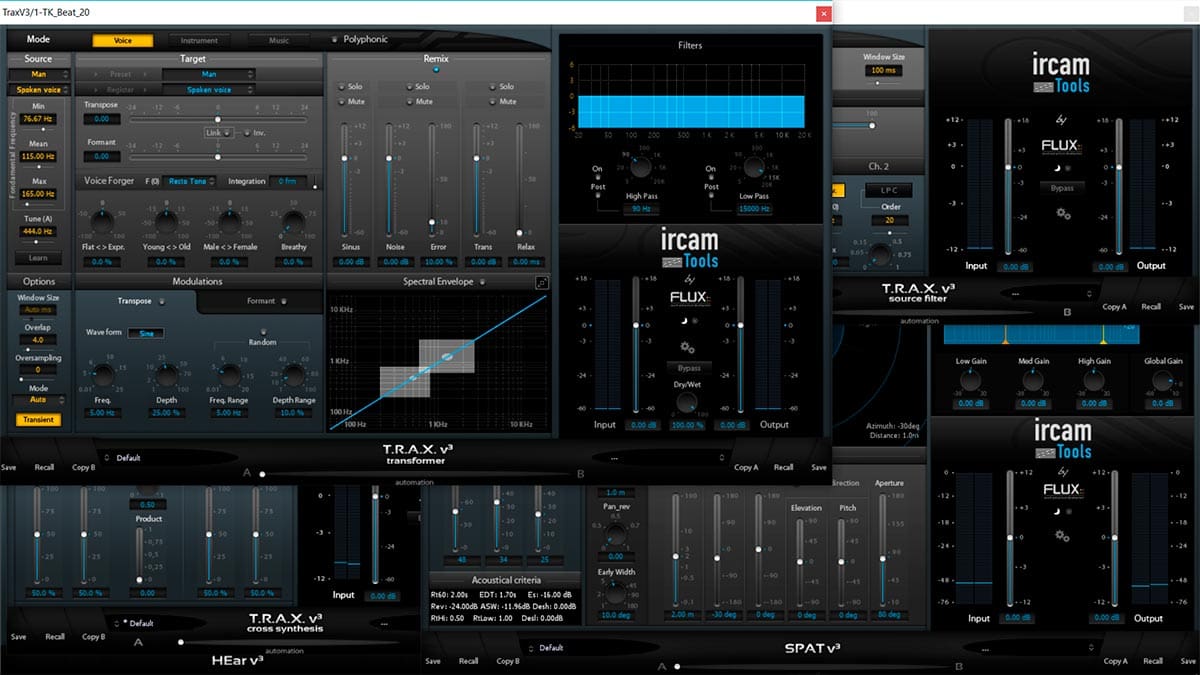 Flux IRCAM Tools VST-AAX WINDOWS x86 x64
Todo el desarrollo está basado en investigaciones de cómo el sonido reacciona en el espacio, ofreciendo de esta manera herramientas dedicadas para varias aplicaciones. La reproducción y síntesis puede variar según la perspectiva física de los elementos, las propiedades de los altavoces y las características del entorno y el espacio. Como herramientas de ubicación espacial se ofrecen SPAT y VERB. SPAT es un procesador de localización y simulación acústica de salas en múltiples formatos. VERB es un procesador de reverberación con control de sala y simulación acústica general.
Por otro lado se ofrecen tres procesadores de modelado y modificación sonora incluyendo un procesador de voces y modelado de las mismas en tiempo real llamado TRAX, una herramienta de modificación sonora basada en análisis espectral llamada Cross Synthesis, y un sistema de filtros avanzado llamado Source Filter. Cada uno ofrece funciones avanzadas y controles dedicados de varios parámetros.

Flux IRCAM Tools VST-AAX WINDOWS x86 x64
SPAT: Solución de localización y simulación de acústica de habitación
Verb: Acústica y reverberación de la habitación
Verb Session: Acústica y reverberación de la habitación
HEar: Herramienta de codificación binaural
TRAX Transformer: Procesador de modelado de voz y sonido en tiempo real
TRAX Cross Synthesis: Procesador Morphing envolvente espectral
TRAX Source Filter: Procesador de filtrado de sonido mejorado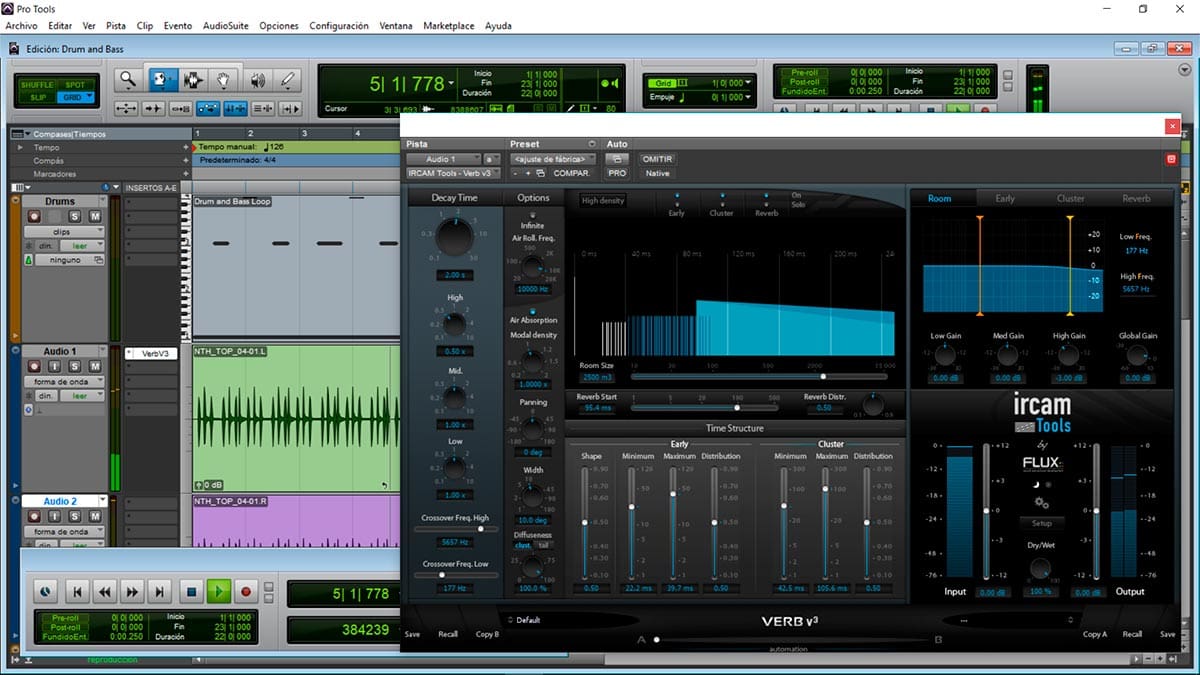 English
Load up with the next generation of processing plug-ins from Flux::! Ircam Tools is a bundle created in collaboration between Flux:: and Ircam and designed for premium quality. In the bundle, you get SPAT for exceptional room acoustic simulation, VERB for room acoustics and reverb processing, and three TRAX processors for unbelievable sound shaping.
TRAX Transformer is your pick for real-time voice and sonic modeling, helping you change such perceived characteristics as a vocalist's gender, age, breath, and more. TRAX Cross Synthesis is a spectral envelope morphing processor for morphing the characteristics of two sounds into new sonic domains. Finally, the TRAX Source Filter is here for enhanced sound filtering, letting you continuously blend the energy and spectral colors of a sound for an amazing filter-morphing effect.
Flux IRCAM Tools VST-AAX WINDOWS x86 x64
IRCAM SPAT: The complete Room Acoustics Simulation and Localisation Solution
IRCAM VERB: Room Acoustics and Reverberation
IRCAM VERB Session: Room acoustics and reverberation processor
HEar: Binaural Encoding Tool
TRAX Transformer: Real-time Voice and Sonic Modelling Processor
TRAX Cross Synthesis: Spectral Envelope Morphing Processor
TRAX Source Filter: Enhanced Sound Filtering Processor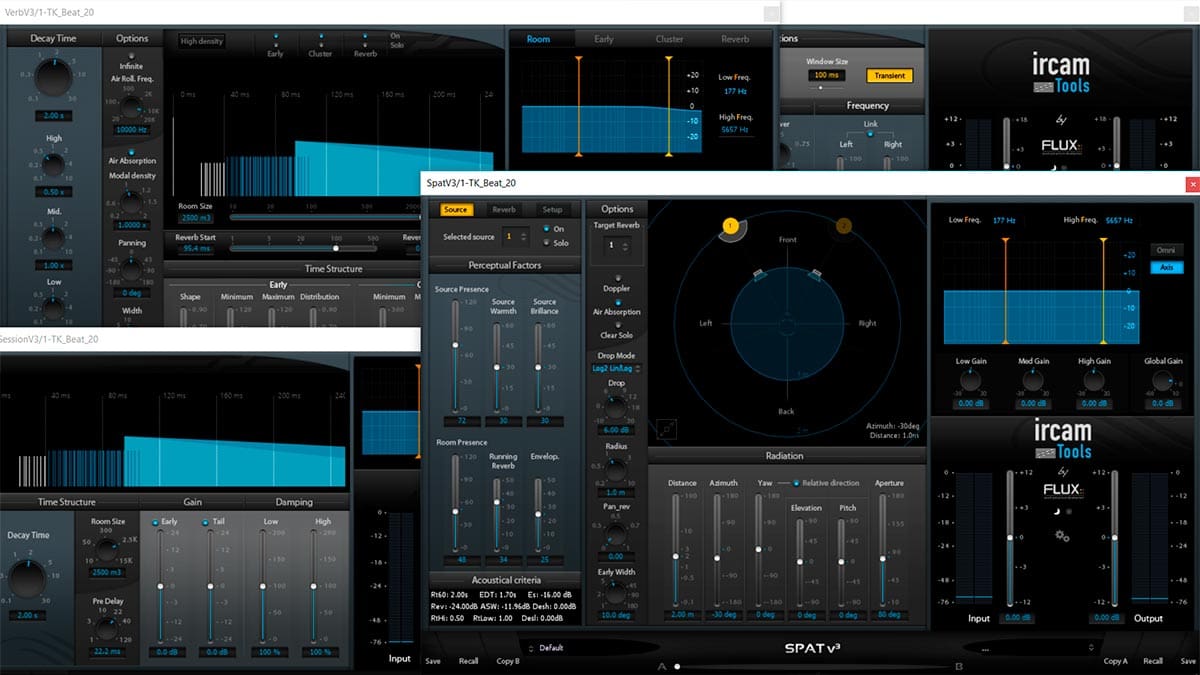 Flux IRCAM Tools VST-AAX WINDOWS x86 x64
INSTALACIÓN:
Ejecutamos «R2R_IS_AGAINST_BUSINESS_WAREZ_170811.cmd» como Administrador
Instalamos el plugin, seleccionamos versión y carpeta de destino
Los plugins ya vienen pre-activados
Listos, plugins comprobados en Ableton Live (VST 64bit) y Pro Tools (AAX 64bit)
Descarga Directa – Direct Download
 

IRCAM Tools 1.1 3.5.29.46238 VST-AAX x86 x64
Para descarga de esta página se necesita un cliente Torrent, hay muchos disponibles, tanto para Windows como para MacOSX, aquí les dejo algunos de los mejores clientes…una vez instalado alguno de los programas, los enlaces Torrent se abren de forma automática.