Ghostcraft Spooker TRAP VST-AU WiN-OSX…Spooker 'es un VST único del consumado productor británico LX Xander de Ghostcraft, diseñado para la producción oscura de Trap y Hip Hop. Conteniendo más de 50 sonidos decididamente espeluznantes, este poderoso arsenal de VST es a la vez diverso y original, con campanas y arranques espeluznantes, efectos especiales de películas de terror, pianos fantasmales y sintetizadores mordaces. Todos los sonidos fueron diseñados por el propio LX Xander.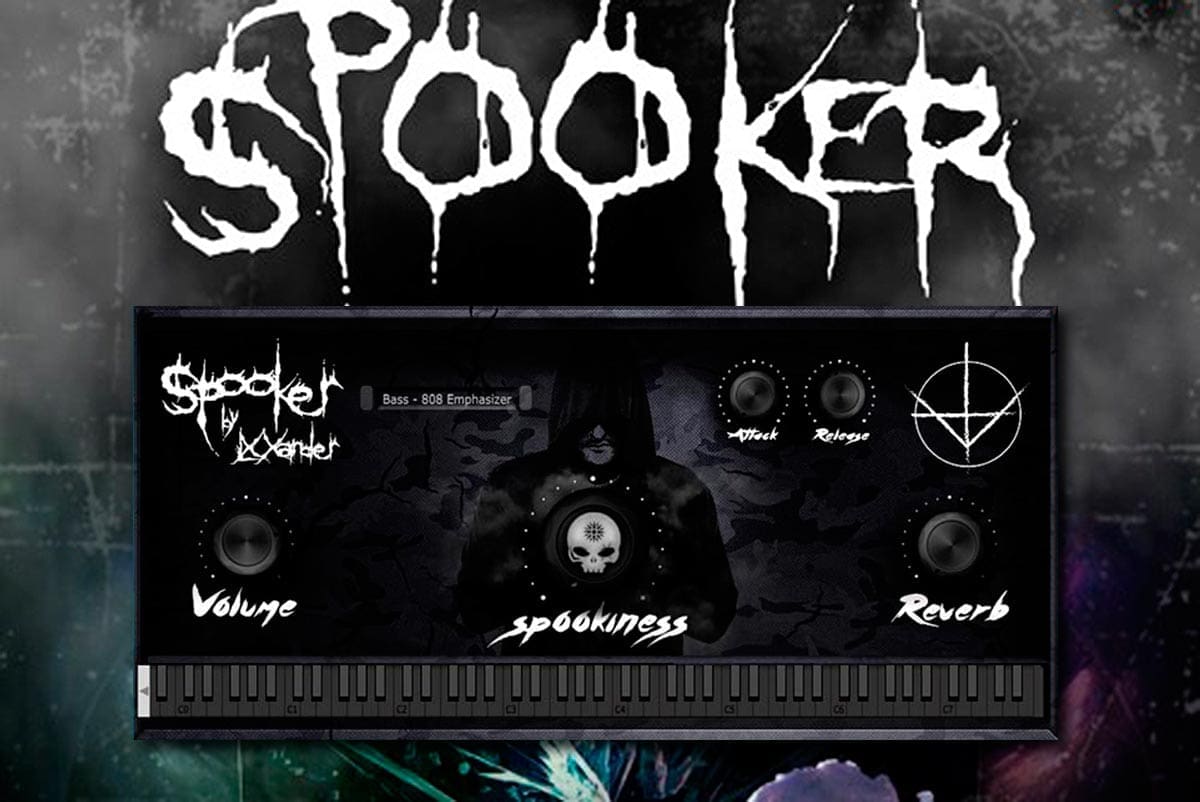 'Spooker' presenta un extravagante dial 'spookiness' que, cuando se gira, agrega una cadena única de efectos al sonido seleccionado, transformando los instrumentos más suaves en monstruosos y premonitorios tonos y haciendo que los sintetizadores más duros suenen aún más amenazantes. LX Xander ha producido temas que incluyen Hopsin, Wiz Khalifa, Royce Da 5'9. El sonido oscuro de LX está comenzando a obtener reconocimiento de los niveles más altos de la industria de la música.
El plugin cuenta con 50 presets de sonidos que podemos tocar, además de poder modificar parámetros como el Attack, Release y Reverb, contamos con un botón central que es el que se encarga de añadir una cadena de efectos para dar ese toque «fantasmagórico» al sonido…el plugin está disponible en formatos VST y AU de 32bit y 64bit para sistemas Windows y MacOSX…son unos 9Gb de descarga cada formato, así que recomiendo descargar solo el formato con el que vayamos a trabajar.
Ghostcraft Spooker TRAP VST-AU WiN-OSX
Stand Alone VST-AU
50 Presets
Attack, Release y Reverb
Spookiness FX Dial
WIN-MAC VST-AU de 32bit y 64bit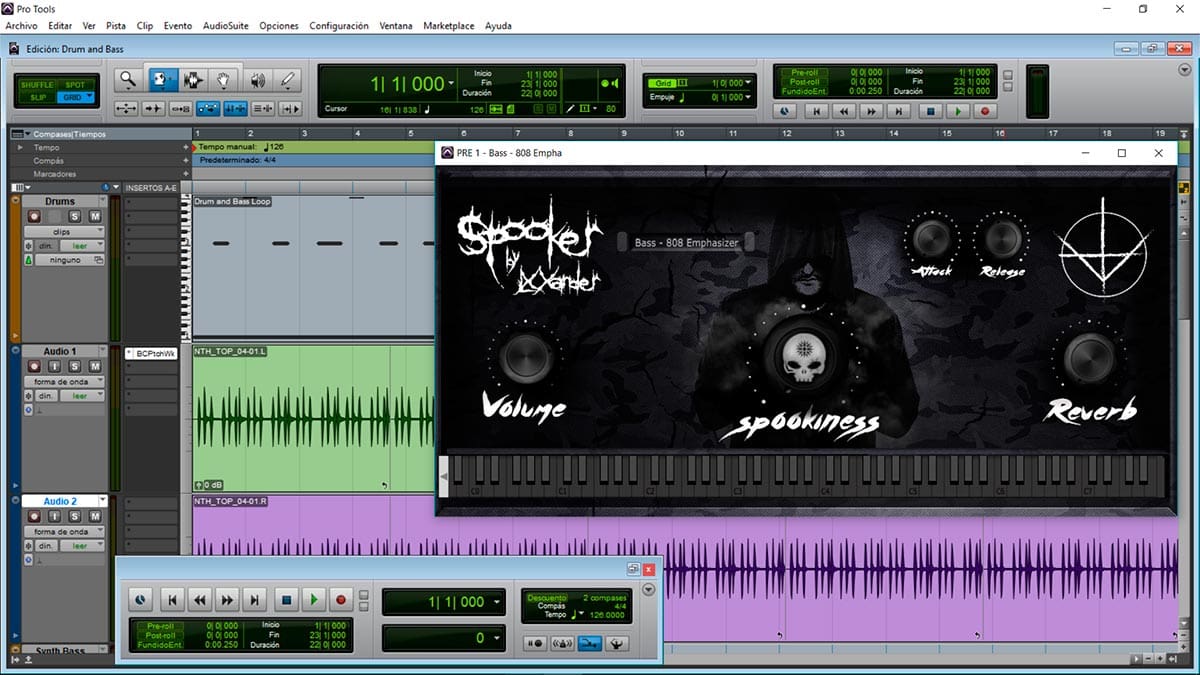 English
Spooker' is a unique VST by accomplished UK producer LX Xander ofGhostcraft, designed for dark Trap and Hip Hop production. Containing over 50 decidedly spooky sounds, this powerhouse VST's arsenal is both diverse and original, with creepy bells & plucks, horror movie sound FX, ghostly pianos and biting synths. All sounds were designed by LX Xander himself.
'Spooker' features a quirky 'spookiness' dial that, when turned, adds a unique chain of FX to the selected sound, transforming gentler instruments into monstrous, foreboding tones and making harsher synths sound even more menacing. LX Xander has produced tracks that feature Hopsin, Wiz Khalifa, Royce Da 5'9 and Future and has been written about in HuffPost, The Source, RESPECT Magazine & The Hype Magazine. LX's dark sound is now starting to get recognition from the upper echelons of the music industry.
The sounds in the 'Spooker' library have been carefully crafted by LX Xander to allow other producers to create not only his signature sound, but also instrumentals in the style of modern Trap & Hip Hop stars such as Future, XXXTentacion, Trippie Redd, Ski Mask The Slump God, A$AP Rocky, Hopsin, Tech N9ne, Migos & many more.
Ghostcraft Spooker TRAP VST-AU WiN-OSX
Stand Alone VST-AU
50 Presets
Attack, Release y Reverb
Spookiness FX Dial
WIN-MAC VST-AU de 32bit y 64bit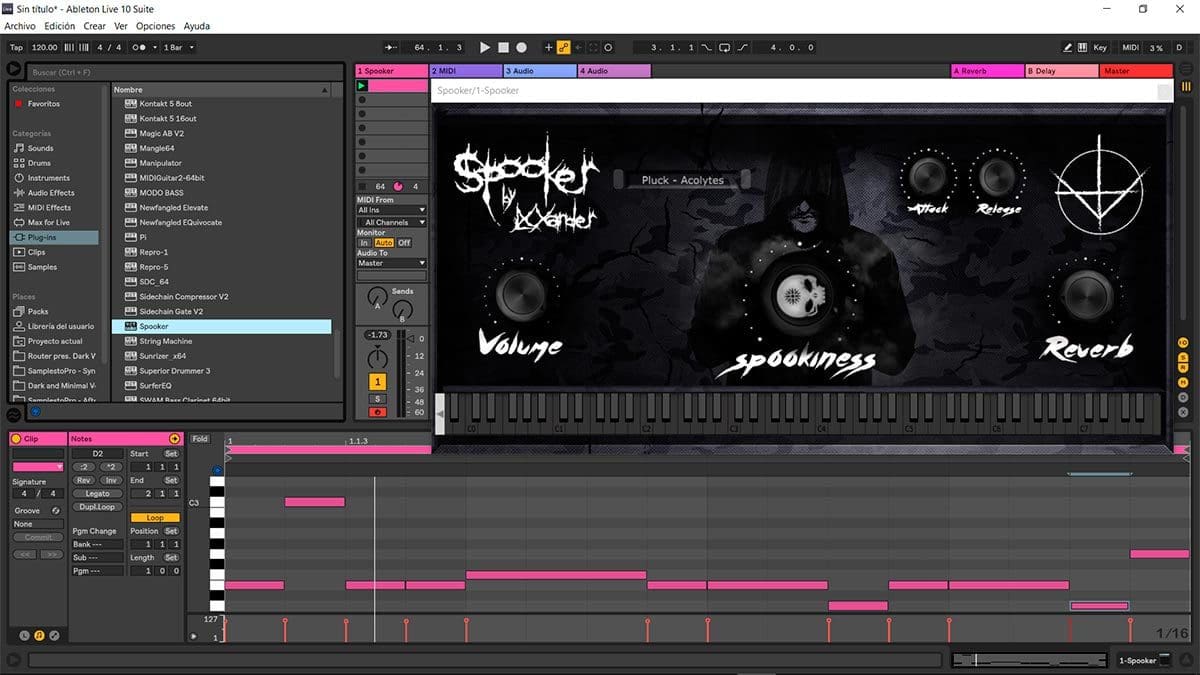 Ghostcraft Spooker TRAP VST-AU WiN-OSX
INSTALACIÓN:
Recomiendo descarga solo la versión que vayamos a utilizar (en torrrent podemos seleccionar lo que queremos descargar), de esta forma nos ahorramos tiempo de descarga y espacio en disco.
Tenemos AU de 32bit-64bit para MAC y VST de 32bit y 64bit para Windows
Copiamos el contenido completo de la carpeta descargada a nuestra carpeta de plugins
Listos, el plugin se ha comprobado en Ableton Live (VST 64bit) y Pro Tools (VST con Patchwork)
Descarga Directa – Direct Download
Para descarga de esta página se necesita un cliente Torrent, hay muchos disponibles, tanto para Windows como para MacOSX, aquí les dejo algunos de los mejores clientes…una vez instalado alguno de los programas, los enlaces Torrent se abren de forma automática.