Wave Arts Tube Saturator VST-AAX WINDOWS x86 x64…Tube Saturator 2 es un plugin de saturación a válvulas, contamos con dos modelos de válvulas y varios presets que nos brindan la calidez del sonido analógico…estamos ante un plugin que emula fielmente el circuito de un pre-amplificador a válvulas, perfecto para añadir desde suaves armónicos a distorsiones complejas.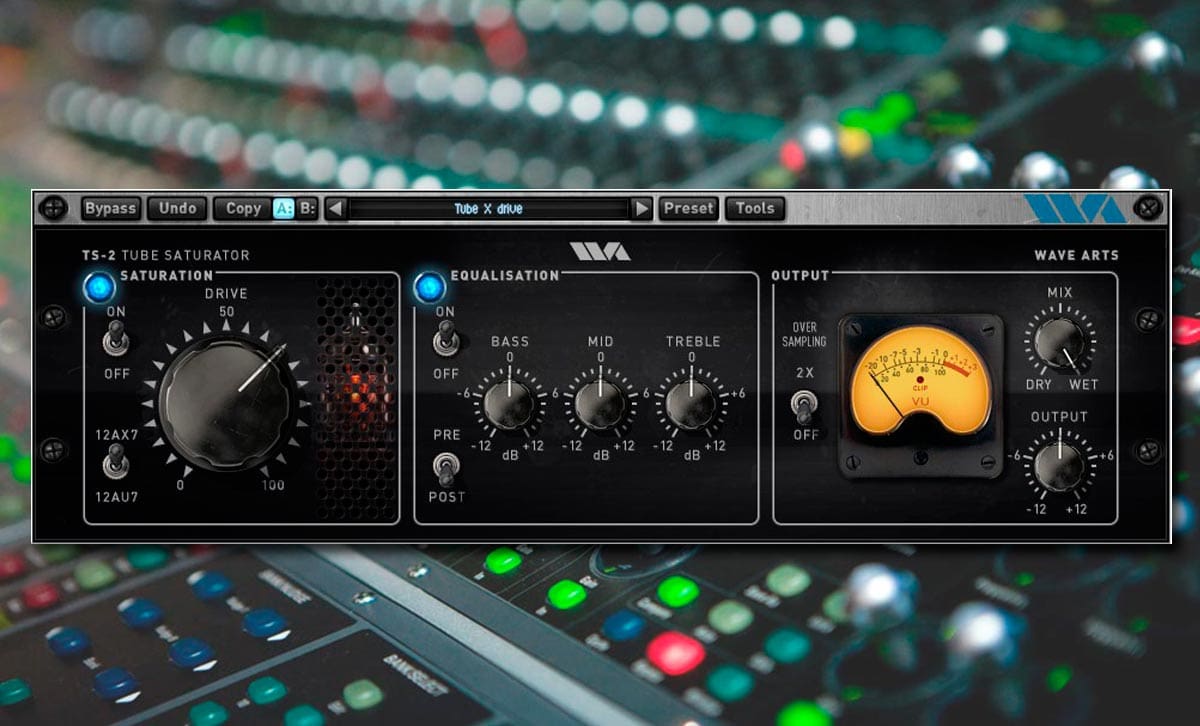 Wave Arts Tube Saturator VST-AAX WINDOWS x86 x64
Tube Saturator 2 es una simulación de circuito súper precisa de un preamplificador de tubo con ecualización analógica, que se puede sobrecargar suavemente para efectos de calentamiento o distorsionar la grasa. Al igual que su predecesor, Tube Saturator, TS-2 se basa en la tecnología de simulación de circuitos para capturar cada matiz de un circuito analógico. El circuito que consiste en los tubos, resistencias y condensadores individuales se convierte en un sistema matemático de ecuaciones que se resuelve numéricamente para producir exactamente el mismo sonido que un circuito real.
Pero mientras que el original consumía grandes cantidades de energía de la CPU, TS-2 ahora es súper eficiente. La sección Saturación de TS-2 se ejecuta aproximadamente 7 veces más rápido que el original y, sin embargo, el modelado es aún más preciso. TS-2 incluye la simulación de circuito original del ecualizador tipo Baxandall de tres bandas como se encuentra en muchos amplificadores de guitarra.
Además de esta mejora revolucionaria en velocidad, TS-2 tiene muchas características nuevas. Puede cambiar entre tubos 12AX7 y 12AU7 para diferentes características armónicas. El EQ se puede cambiar para ejecutar pre o post saturación. La saturación y el ecualizador se pueden cambiar por separado. También hay un modo de sobremuestreo 2x que utiliza un algoritmo de remuestreo de muy alta calidad. Utilice el modo 2x para atenuar los armónicos de distorsión aliased. También es nuevo un control de mezcla para combinar el sonido procesado con el original. Y finalmente, TS-2 tiene una interfaz nueva y hermosa.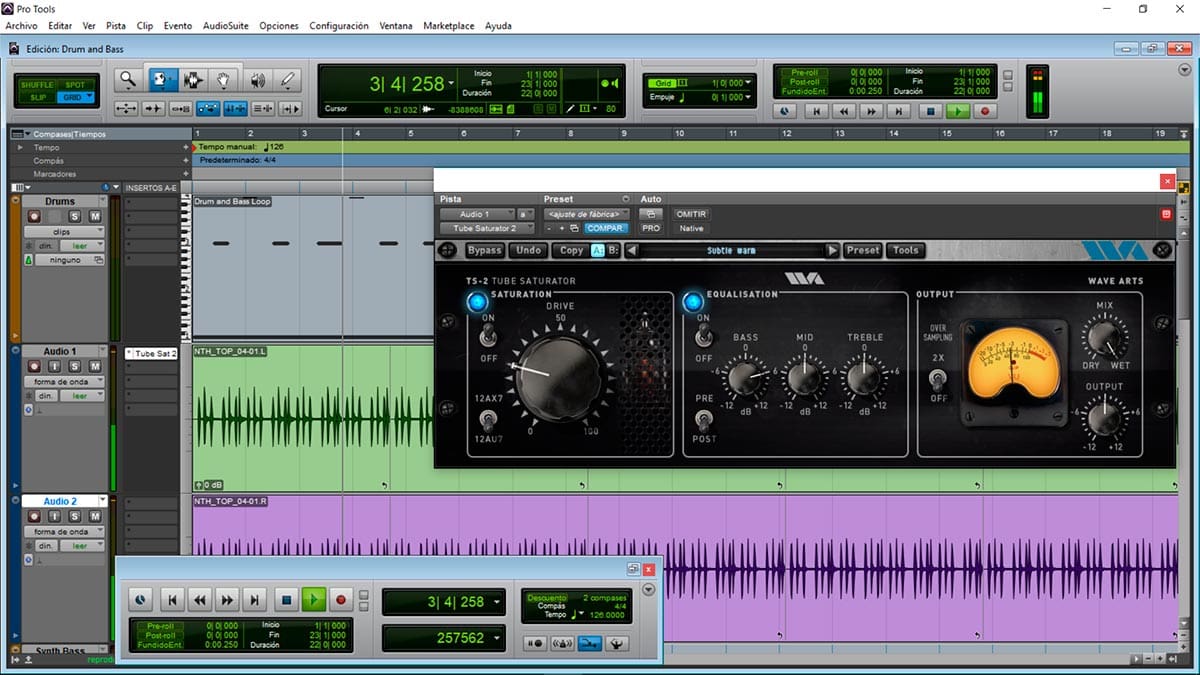 English
Tube Saturator 2 is a super accurate circuit simulation of a tube pre-amp with analog EQ, which can be overdriven gently for warming effects, or cranked for fat distortion. Like its predecessor, Tube Saturator, TS-2 is based on circuit simulation technology to capture every nuance of an analog circuit. The circuit consisting of the individual tubes, resistors, and capacitors is converted into a mathematical system of equations which is numerically solved to produce the exact same sound as a real circuit.
But while the original consumed large amounts of CPU power, TS-2 is now super efficient. The Saturation section of TS-2 runs about 7x faster than the original and yet the modelling is even more accurate. TS-2 includes the original circuit simulation of the three band Baxandall type EQ as found in many guitar amplifiers.
In addition to this breakthrough improvement in speed, TS-2 has many new features. You can switch between 12AX7 and 12AU7 tubes for different harmonic characteristics. The EQ can be switched to run pre or post saturation. Saturation and EQ are separately switchable. Also there is a 2x oversampling mode using a very high quality resampler algorithm. Use 2x mode to attenuate aliased distortion harmonics. Also new is a mix control to blend the processed sound with the original. And finally, TS-2 has a gorgeous new interface.
Wave Arts Tube Saturator VST-AAX WINDOWS x86 x64
Accurate tube preamp simulator using circuit simulation technology
Two common cathode preamp stages
12AX7 and 12AU7 tube models
Drive control for distortion adjustment
Baxandall 3-band analog EQ
Saturation and EQ bypass switches
High quality 2X oversampling mode
Wet/dry mix control
Analog style metering
No latency
Up to 192 kHz sampling rate
Mono or stereo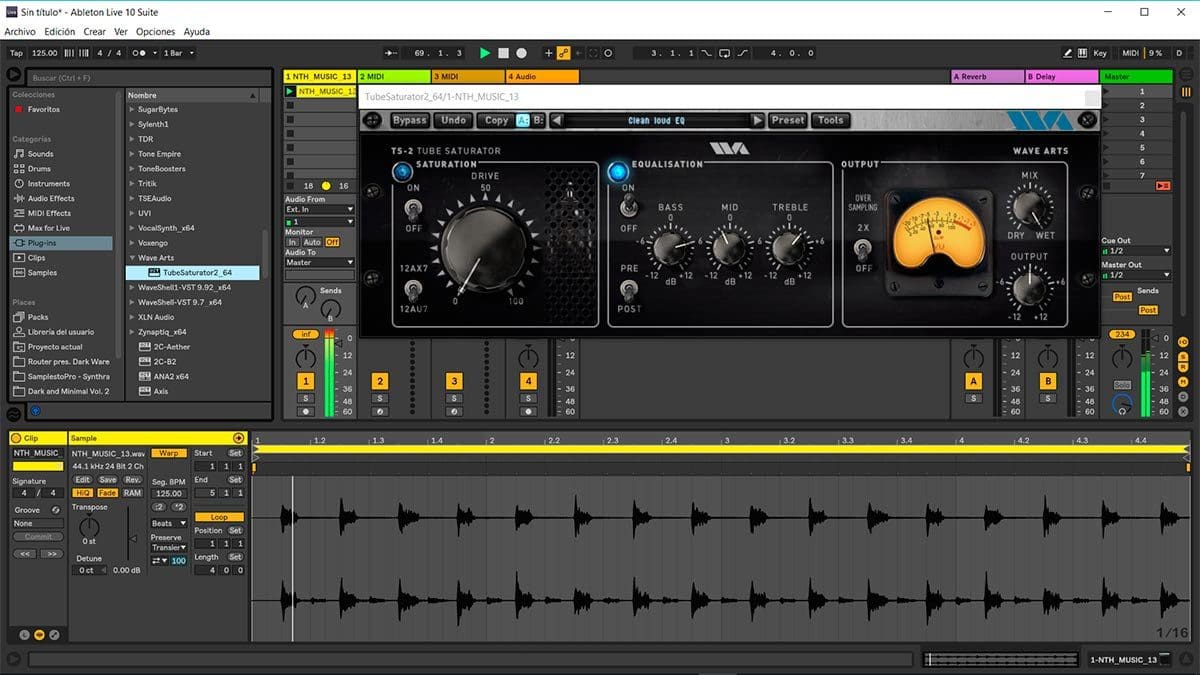 Wave Arts Tube Saturator VST-AAX WINDOWS x86 x64
Descarga Directa – Direct Download
Tube Saturator 2 v2.10 VST-VST3-AAX WINDOWS x86 x64
Para descarga de esta página se necesita un cliente Torrent, hay muchos disponibles, tanto para Windows como para MacOSX, aquí les dejo algunos de los mejores clientes…una vez instalado alguno de los programas, los enlaces Torrent se abren de forma automática.
https://youtu.be/sLRclm9jUZk