SoundSpot Orbit VST-VST3-AAX-AU WIN-OSX x86 x64…Los transitorios son la fuerza y la vida de la música moderna y a veces, cuando los instrumentos simplemente no aparecen en la mezcla después de Eq y compresión, es hora de buscar un diseñador transitorios para realzar esas partes que has quedado escondidas o en demasiado segundo plano.
SoundSpot Orbit VST-VST3-AAX-AU WIN-OSX x86 x64
Orbit es una herramienta simple y liviana que te ayudará a aumentar tus transitorios y agregar un «mordisco» a tus mezclas, y aunque la interfaz puede ser básica, no dejes que te engañe, debajo del capó encontrará el mismo DSP que se usa en nuestro Limitador «Velo», que hace de Orbit una poderosa pequeña herramienta para agregar a su arsenal de complementos. El parámetro boost aumentará la intensidad del efecto, y puede generar desde impulsos muy sutiles hasta un overdrive extremo. Una palabra de advertencia…Siempre revise sus niveles antes de bucear demasiado fuerte, sus oídos, monitores y vecinos se lo agradecerán.
Orbit utiliza una combinación de seguidores de envolvente de estilo logarítmico, lo que le permite aumentar los transitorios de instrumentos de percusión como beats, batería y percusión, así como partes rítmicas de guitarra y sintetizador. La función de modo le permite ajustar el algoritmo de Orbit para enfocarse en transitorios lentos, medios o rápidos. Por lo general, esto significa que desea utilizar la configuración lenta (izquierda) para material de baja frecuencia como kick-drums y bajos sintetizadores, la configuración media (intermedia) para material de frecuencias medias como snare-drums y guitarras, y la configuración rápida (derecha) para material de alta frecuencia como hi-hats, clicks de borde y aplausos.
SoundSpot Orbit VST-VST3-AAX-AU WIN-OSX x86 x64
Plugin de diseño de transitorios
Seguidores de envolvente de estilo logarítmico
Mismo DSP usado en nuestro limitador Velo
De sutiles ganancias a overdirve extremos
VST-VST3-AAX-AU 32bit-64bit for WINDOWS & MacOSX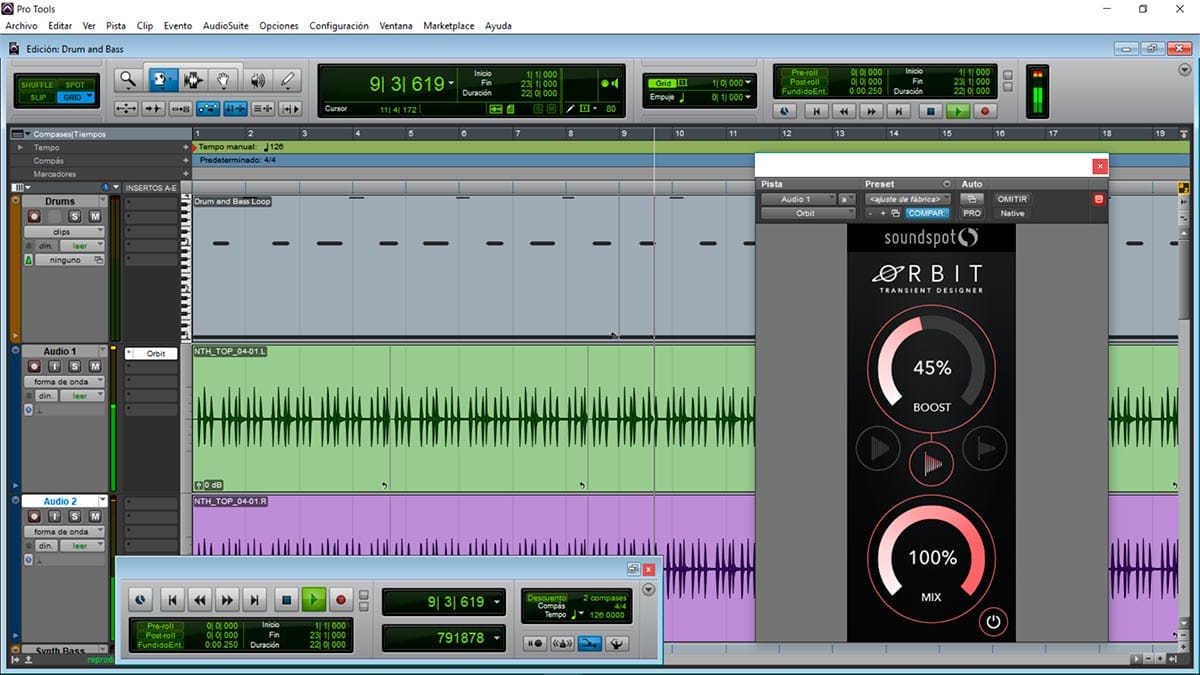 English
Transients are the life force of modern music, and sometimes when your instruments just won't pop in the mix after Eq and compression, then it's time to reach for a transient designer. The Orbit is a simple & lightweight tool that will help boost your transients and add bite to your mixes, and whilst the interface may be basic, don't let that fool you, under the hood you'll find the same DSP used in our Velo limiter, making the Orbit, a powerful little tool to add to your plugin arsenal…The boost parameter will increase the intensity of the effect, and can deliver very subtle boosts, to extreme overdrive. A word of caution… Always check your levels before diving the boost too hard, your ears, monitors and neighbours will thank you for it.
Orbit uses a combination of logarithmic style envelope followers, allowing you to boost the transients of percussive instruments like beats, drums and percussion as well as rhythmical guitar and synth parts. The mode feature lets you adjust Orbit's algorithm to target slow, medium or fast transients. Usually this means you want to use the slow(left) setting for low frequency material like kick-drums and low synths, the medium(middle) setting for mid frequency material like snare-drums and guitars, and the fast(right) setting for high frequency material like hi-hats, rim clicks and claps.
SoundSpot Orbit VST-VST3-AAX-AU WIN-OSX x86 x64
Transient Designer Plugin
Logarithmic style envelope followers
Same DSP used in our Velo limiter
From subtle boosts to extreme overdrive
VST-VST3-AAX-AU 32bit-64bit for WINDOWS & MacOSX
SoundSpot Orbit VST-VST3-AAX-AU WIN-OSX x86 x64
Descarga Directa – Direct Download
Orbit v1.0.1 VST-VST3-AAX-AU WIN-OSX 32bit-64bit
Para descarga de esta página se necesita un cliente Torrent, hay muchos disponibles, tanto para Windows como para MacOSX, aquí les dejo algunos de los mejores clientes…una vez instalado alguno de los programas, los enlaces Torrent se abren de forma automática.