Sknote Marconi1 VST-AAX-AU WIN-OSX x86 x64…Marconi1 es una fiel recreación «a nivel de componentes» de uno de los canales de preamplificador y ecualizador más famosos y apreciados del mundo. Cada componente se ha modelado al tiempo que se conservan las topologías originales y todos los comportamientos «no ideales» para ofrecer los sonidos más interesantes y brindar al usuario acceso libre a varias combinaciones de opciones.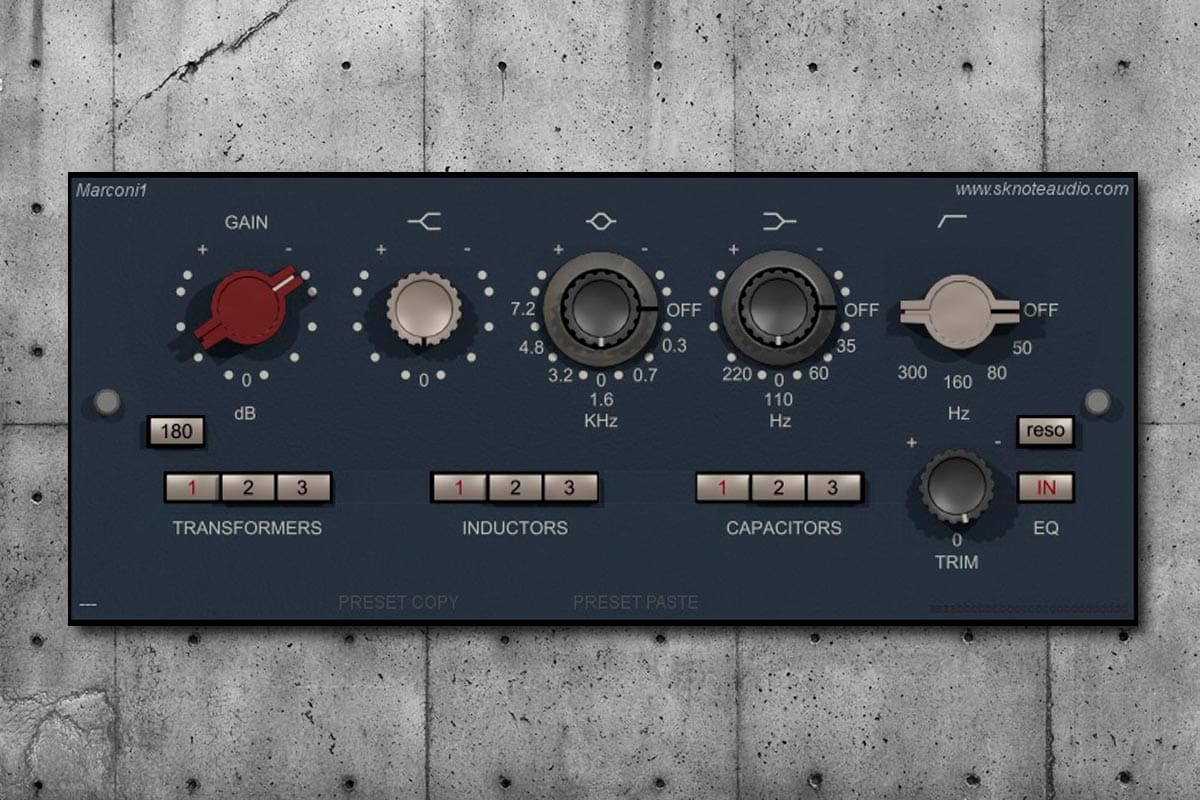 Sknote Marconi1 VST-AAX-AU WIN-OSX x86 x64
Estilo de los transformadores de audio (material del núcleo, devanados, nivel de saturación). Núcleo y diseño de los inductores (material del núcleo, sensibilidad a la saturación). Estilo y antigüedad de los condensadores (materiales, estado del dieléctrico). El comportamiento natural de los circuitos hace que Marconi1 sea útil para agregar sabor y peso, domesticar transitorios, como una paleta de sonido y como un ecualizador vintage.
Sknote Marconi1 VST-AAX-AU WIN-OSX x86 x64
Modos mono y estéreo.
Topologías de circuitos originales del canal vintage.
Bandas de EQ de presencia, bajo, alto y paso alto.
Opción de resonancia para el filtro de paso alto.
Alto rango de saturación, desde limpio hasta saturado.
Opciones 3x3x3 para transformadores, inductores, condensadores.
Solo modelos no ideales: condensadores con fugas, núcleos magnéticos saturados.
Función «copiar y pegar desde portapapeles» para compartir fácilmente los preajustes.
VST-AAX-AU de 32bit-64bit para WINDOWS y MAC OSX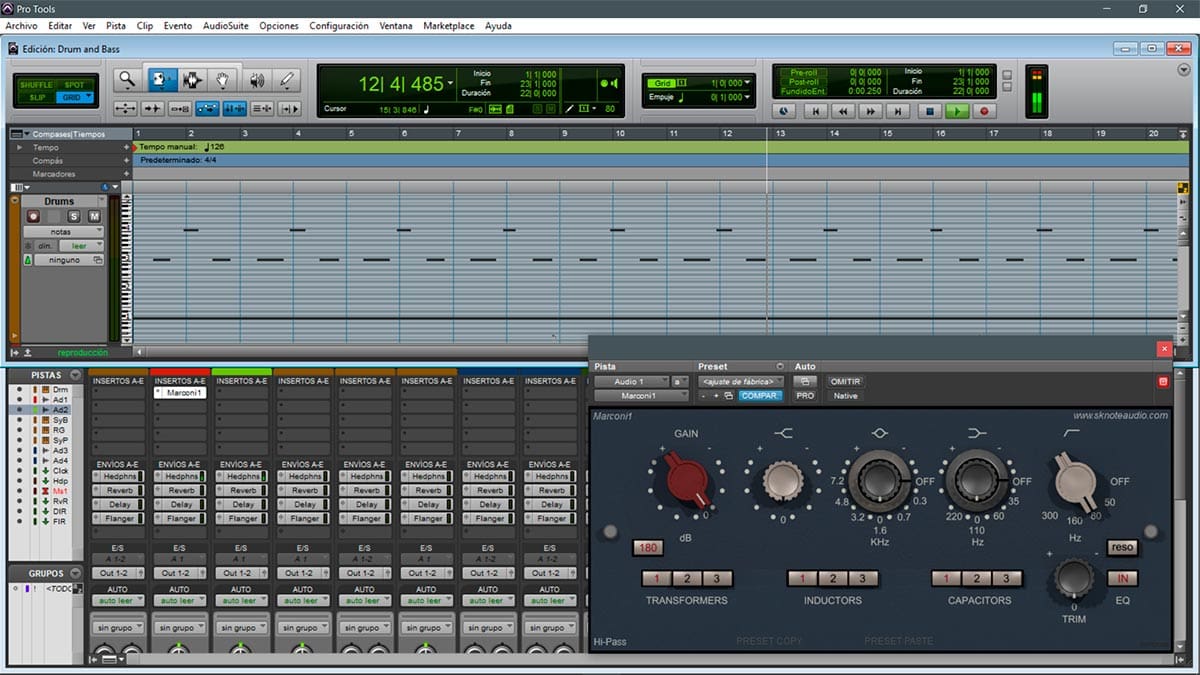 English
Marconi1 is a "component-level" model of one of the most famous and appreciated Preamplifier and Equaliser channels in the world. Every single component has been modeled while preservating original topologies and all the "non ideal" behaviours to offer the most interesting sounds and to give to the user free access to several combinations of options…The natural behaviour of the circuits makes Marconi1 useful to add flavour and weight, to tame transients, as a sound palette and as a vintage equaliser.
Sknote Marconi1 VST-AAX-AU WIN-OSX x86 x64
Mono and Stereo modes
Original circuit topologies from the vintage channel.
Low-shelf, Presence, High-shelf and High-pass EQ bands.
Resonance option for the High-pass filter.
High saturation range, from clean to overdrive.
3x3x3 options for transformers, inductors, capacitors. 27 combinations for wide versatility.
Only non-ideal models: leaking capacitors, saturating magnetic cores.
Preset "copy and paste through clipboard" feature for easy preset sharing.
VST-AAX-AU 32bit & 64bit for WINDOWS & MAC OSX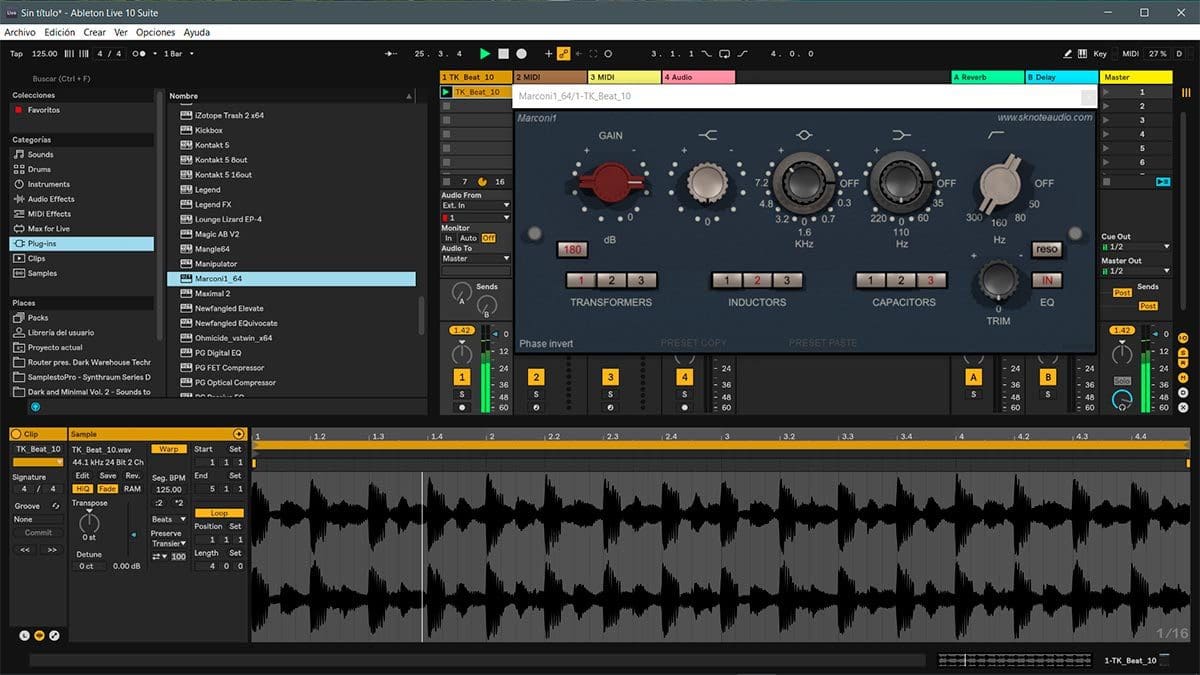 Sknote Marconi1 VST-AAX-AU WIN-OSX x86 x64
INSTALACIÓN:
VST: Copiamos la «dll» según nuestra versión a nuestra carpeta de plugins

AAX: Creamos una carpeta «Sknote» en «C:\Program Files\Common Files\Avid\Audio\Plug-Ins», copiamos el contenido de «Marconi1_Win_aax» en la carpeta que hemos creado.

Plugin comprobado en Ableton Live (VST 64bit) y Pro Tools (AAX 64bit)

Descarga Torrent – Download Torrent
Sknote Marconi1 VST-AAX-AU WIN-MAC
Para descarga de esta página se necesita un cliente Torrent, hay muchos disponibles, tanto para Windows como para MacOSX, aquí les dejo algunos de los mejores clientes…una vez instalado alguno de los programas, los enlaces Torrent se abren de forma automática.