Shreddage 2 BASS KONTAKT…Nuestro mejor bajo virtual: un bajo heavy de seis cuerdas, hecho a medida Muckelroy grabado a través de un legendario preamplificador de tubo de vacío. El extraordinario realismo, profundidad y sorprendente tono de Shreddage Bass 2 es perfecto para rock, metal, fusión, pop y mucho más.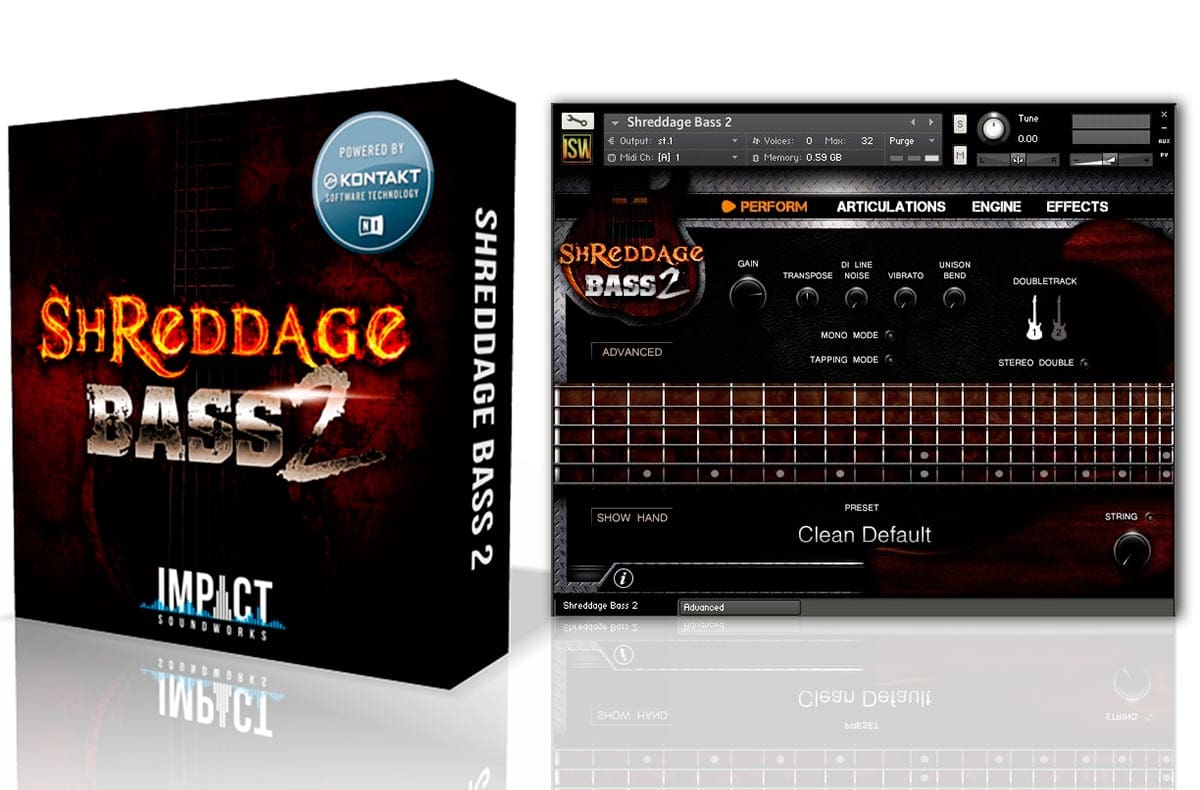 Shreddage 2 BASS KONTAKT
En la base de cualquier pista asesina hay un canal de bajo asesino. Un bajo no solo proporciona la carne y el extremo inferior de la pista: ancla y pega todos los demás elementos juntos, e incluso brilla como un virtuoso instrumento solo en manos de un experto. Shreddage Bass 2 captura todo el potencial del bajo eléctrico utilizando un instrumento de 6 cuerdas personalizado de maestría grabado a través de un legendario engranaje analógico. A diferencia de la biblioteca Shreddage Bass original, Shreddage Bass 2 usa un estilo de toque de dedos mucho más versátil interpretado por el bajista principal, compositor y músico de sesión Tony Dickinson. Tony aportó su gran experiencia y habilidad a la grabación de la biblioteca desde la perspectiva de un intérprete y un productor; ¡también trajo su bajo Muckelroy hecho a medida, único en su clase!
Shreddage 2 BASS KONTAKT
Bajo eléctrico de 6 cuerdas a medida
Más de 11,000 muestras registradas con verdadero TUBO DI
Rango de cuatro y media octavas comenzando a bajo G
Estilo de reproducción con dedos, hasta 32x muestras por nota
Sustain, staccato, hammer-on y pull-off
Armónicos, diapositivas de portamento, FX
Cientos de muestras de ruido de dedo + pop
Pantalla virtual de diapasón con ajustes profundos
Bastidor FX personalizado con amplificador + simulador de cabina
Presets de alta ganancia FX para gratificación instantánea
Mapeo completamente personalizable
Nueva pestaña AVANZADA para ir debajo del capó
KONTAKT PLAYER compatible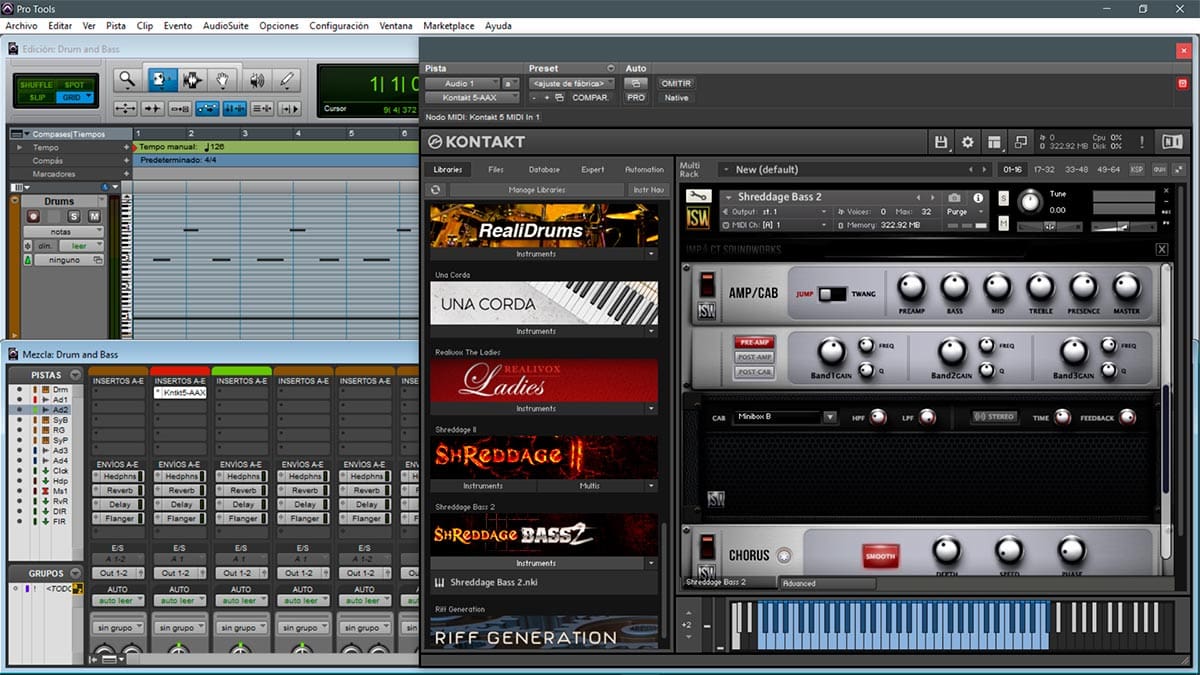 English
Our finest virtual bass: a badass six-string, custom-made Muckelroy recorded through a legendary vacuum tube preamp. The superb realism, depth, and stunning tone of Shreddage Bass 2 is perfect for rock, metal, fusion, pop and much more.
Shreddage Bass 2 features over 11,000+ samples recorded through a Universal Audio Solo/610 analog tubepreamp/DI box for maximum fatness, punch, and warmth. As with our virtual guitar instruments, each string was sampled in exhaustive detail across every fret, at multiple dynamics, and with up to 8x round robin variations per note. The instrument's massive 4.5 octave range starts at a sub-destroying low G up to a high C#, allowing you to play or sequence any bass part you can think of.
Shreddage 2 BASS KONTAKT
Custom-made 6-string electric bass
11,000+ samples recorded w/ true TUBE DI
Four and a half octave range starting at low G
Fingered playing style, up to 32x samples per note
Sustain, staccato, hammer-on & pull-off
Harmonics, portamento slides, FX
Hundreds of finger noise + pop samples
Virtual fretboard display with deep tweaking
Custom-built FX rack with amp + cab sim
Hi-gain FX presets for instant gratification
Completely customizable mapping
New ADVANCED tab to go under-the-hood
KONTAKT PLAYER compatible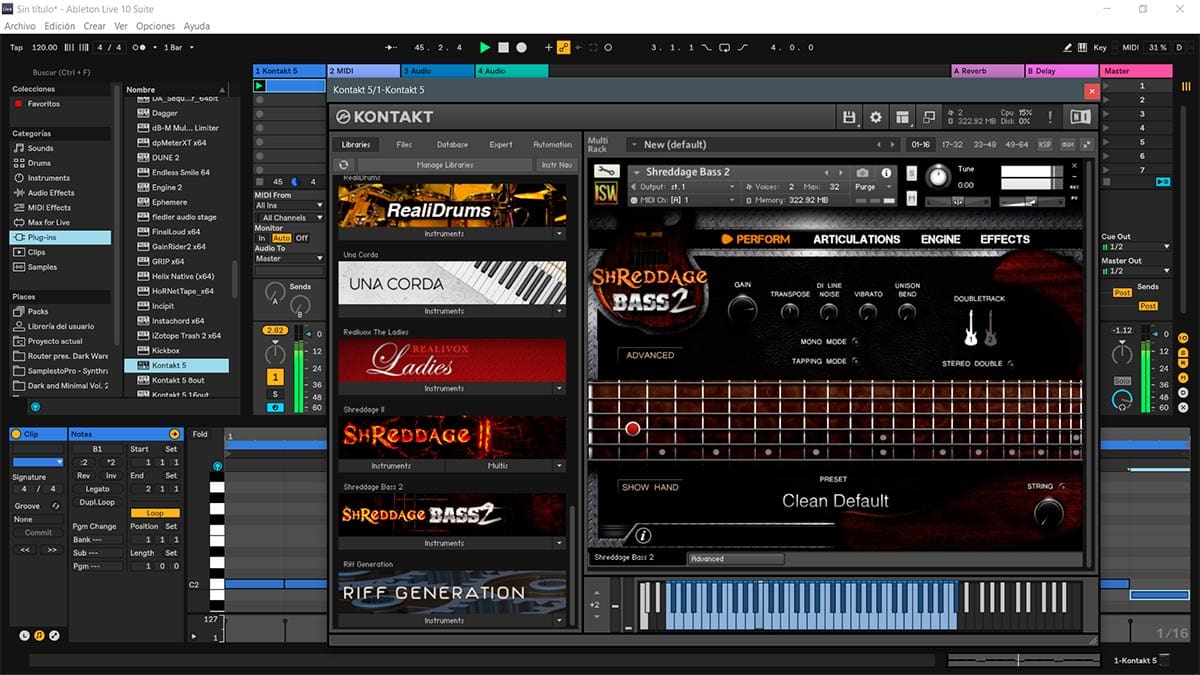 Shreddage 2 BASS KONTAKT
Descarga Torrent – Download Torrent
Shreddage 2 BASS KONTAKT WIN-MAC
Para descarga de esta página se necesita un cliente Torrent, hay muchos disponibles, tanto para Windows como para MacOSX, aquí les dejo algunos de los mejores clientes…una vez instalado alguno de los programas, los enlaces Torrent se abren de forma automática.