Impact Soundworks Ventus Ethnic Bansuri KONTAKT…El bansuri es una antigua flauta autóctona de la India, conocida como nadi o tunava en algunos textos. Tiene un papel especial en la música clásica del norte de la India y del Indostán y a menudo se lo conoce como el «instrumento divino», que lleva consigo el significado religioso apropiado. A diferencia de muchas flautas antiguas, el bansuri es transversal (soplado lateral).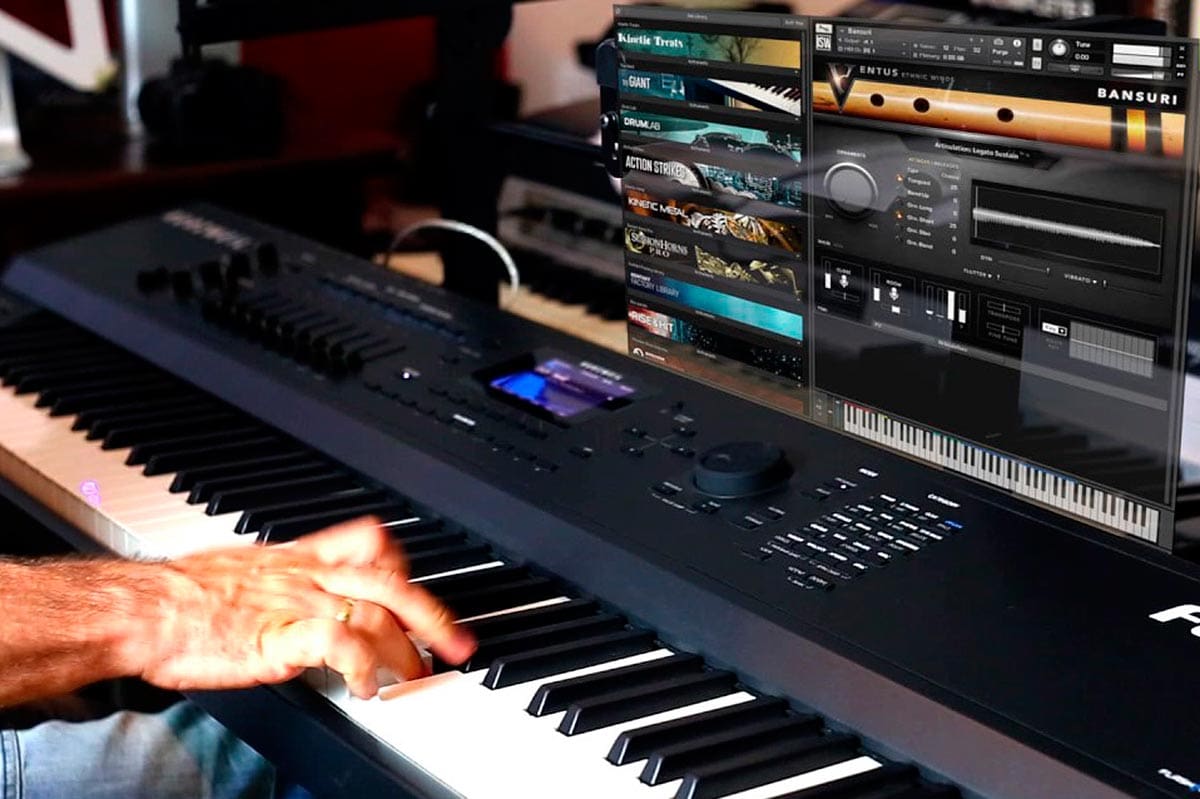 Impact Soundworks Ventus Ethnic Bansuri KONTAKT
El tercer instrumento de nuestra serie VENTUS Ethnic Winds presenta el tono divino del bansuri indio. Incluye 14 técnicas de juego, casi 350 frases pregrabadas y drones extra: ¡más de 4.500 muestras! Un sistema de adorno permite actuaciones únicas y auténticas, y TACT (Tecnología de control de articulación total) proporciona la mejor solución para el mapeo completamente personalizable.
Impact Soundworks Ventus Ethnic Bansuri KONTAKT
Más de 4.500 muestras de 24 bits
Grabaciones a través de cinta caliente y micrófonos de ambiente
7 tipos de articulaciones de sustain
Verdadero legato y portamento, configuraciones ajustables
3 adornos de lanzamiento diferentes
Staccato, curvas, vibrato
Cerca de 350 frases. múltiples longitudes y estilos
Frases también provistas como WAV
Bonus tambura y parche de drones sitar
Hermosa interfaz VENTUS unificada
Docenas de controles de ajuste debajo del capó
Sistema de ornamento para actuaciones auténticas sin esfuerzo
Editor de reproducción de frases
Easy FX rack con ecualizador de modelo analógico, compresor, delay y reverb
TACT – Tecnología de control de articulación total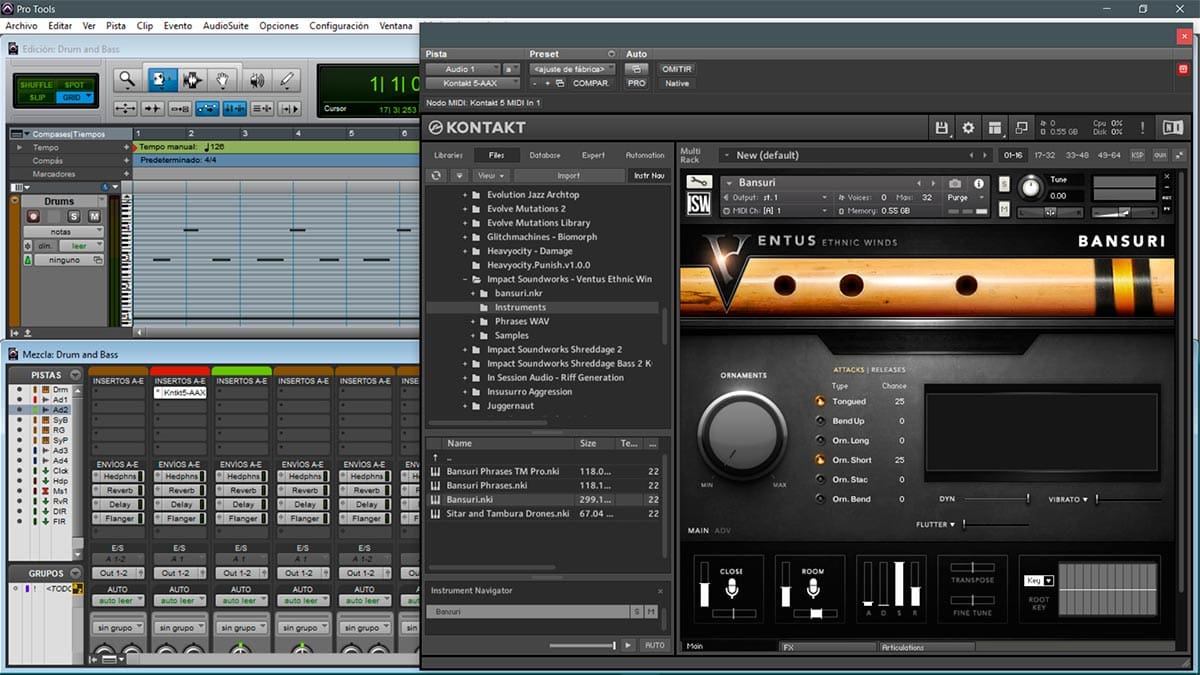 English
The bansuri is an ancient flute indigenous to India, known as the nadi or tunava in some texts. It has a special role in North Indian and Hindustani classical music and is often known as the «divine instrument», carrying with it the appropriate religious significance. Unlike many ancient flutes, the bansuri is tranverse (side-blown).
The third instrument in our VENTUS Ethnic Winds series features the divine tone of the Indian bansuri. Includes 14 playing techniques, nearly 350 pre-recorded phrases, and bonus drones – 4,500+ samples in total! An ornament system allows for unique, authentic performances and TACT (Total Articulation Control Technology) provides the ultimate solution for fully customizable mapping.
Impact Soundworks Ventus Ethnic Bansuri KONTAKT
Over 4,500 24-bit samples
Recorded through warm ribbon & room mics
7 types of sustain articulations
True legato and portamento, tweakable settings
3 different release ornaments
Staccato, bends, vibrato
Nearly 350 phrases. multiple lengths & styles
Phrases also provided as WAV
Bonus tambura and sitar drones patch
Beautiful unified VENTUS interface
Dozens of under-the-hood tweaking controls
Ornament system for effortless authentic performances
Phrase playback editor
Easy FX rack with analog-modeled EQ, compressor, delay & reverb
TACT – Total Articulation Control Technology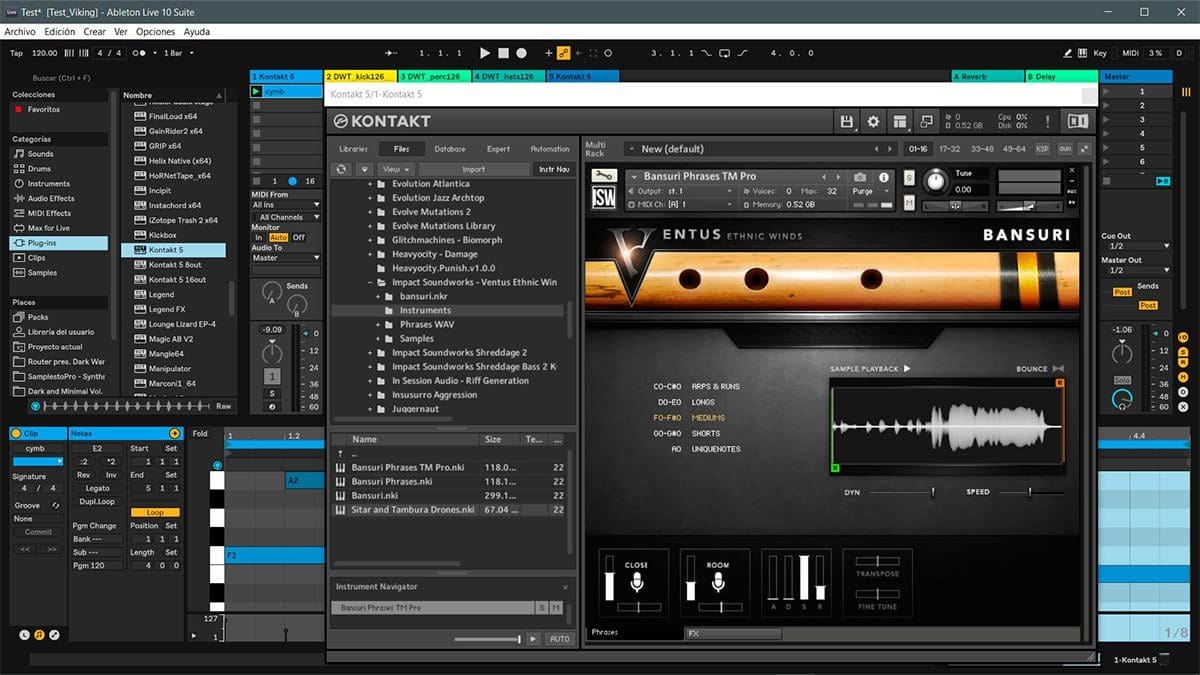 Impact Soundworks Ventus Ethnic Bansuri KONTAKT
Descarga Torrent – Download Torrent
ALLURA VENTUS BANSURI WIN-MAC (5,9Gb)
Para descarga de esta página se necesita un cliente Torrent, hay muchos disponibles, tanto para Windows como para MacOSX, aquí les dejo algunos de los mejores clientes…una vez instalado alguno de los programas, los enlaces Torrent se abren de forma automática.