Impact Soundworks Ventus Shakuhachi KONTAKT…El shakuhachi es una antigua flauta travesera utilizada en la música japonesa durante más de 1.300 años. La ejecución del instrumento y el uso de técnicas como el vibrato es significativamente diferente a las flautas occidentales. Sus cinco agujeros (pentatónicos) pueden producir varias octavas de tonos con tonos entrecortados, serenos y emocionales.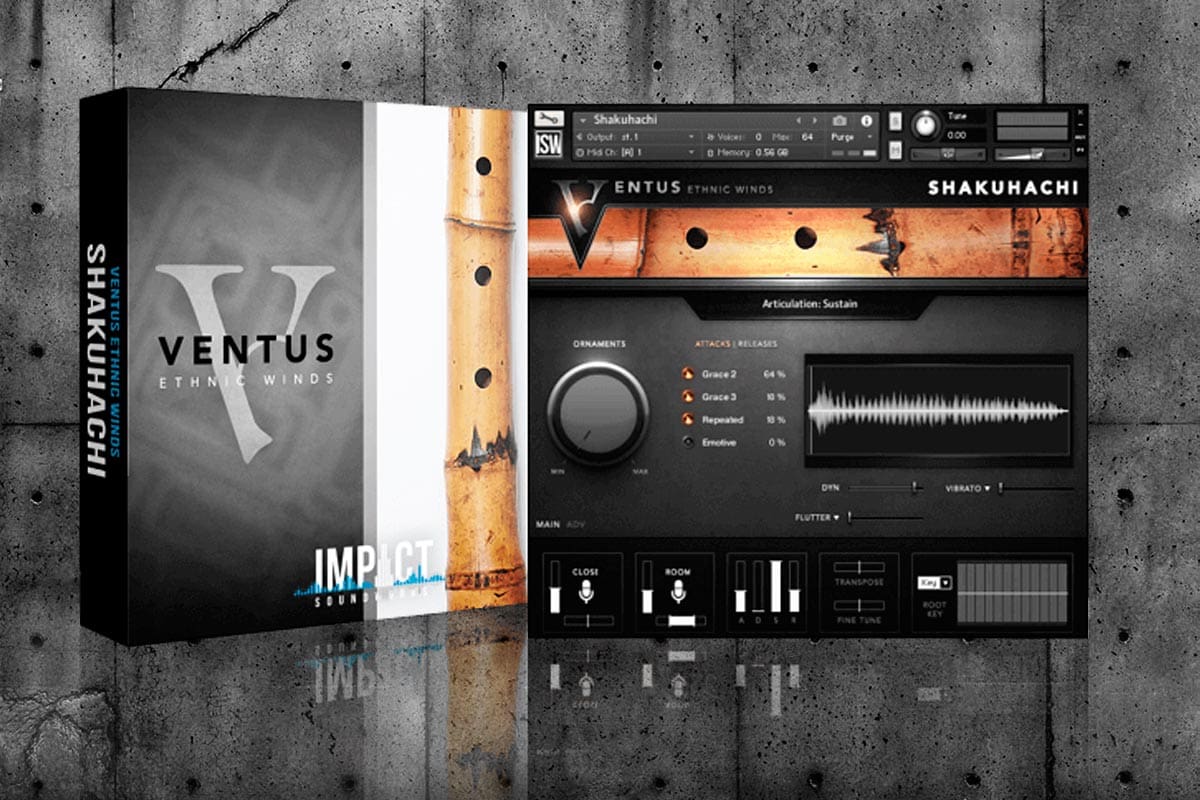 Impact Soundworks Ventus Shakuhachi KONTAKT
Serie Ventus: Shakuhachi ofrece una interpretación clara y realista del instrumento y hay muchas opciones para personalizar varios aspectos del sonido. La característica de ornamentos permite interpretaciones más espontáneas que reflejan las virtudes del sonido idiomático de Shakuhachi. La inclusión de una biblioteca de frases ofrece sonidos adicionales para mejorar las actuaciones existentes del instrumento principal o para usar como efectos de un solo disparo o diseño de sonido «.
Impact Soundworks Ventus Shakuhachi KONTAKT
Más de 6,00 muestras de 24 bits
Grabaciones a través de cinta caliente y micrófonos de ambiente
6 tipos de articulaciones de sustain
Verdadero legato y portamento, configuraciones ajustables
5 adornos de lanzamiento diferentes
Staccato, curvas, vibrato
Cerca de 600 frases. múltiples longitudes y estilos
Frases también provistas como WAV
Hermosa interfaz VENTUS unificada
Docenas de controles de ajuste debajo del capó
Sistema de ornamento para actuaciones auténticas sin esfuerzo
Editor de reproducción de frases
Easy FX rack con ecualizador de modelo analógico, compresor, delay y reverb
TACT – Tecnología de control de articulación total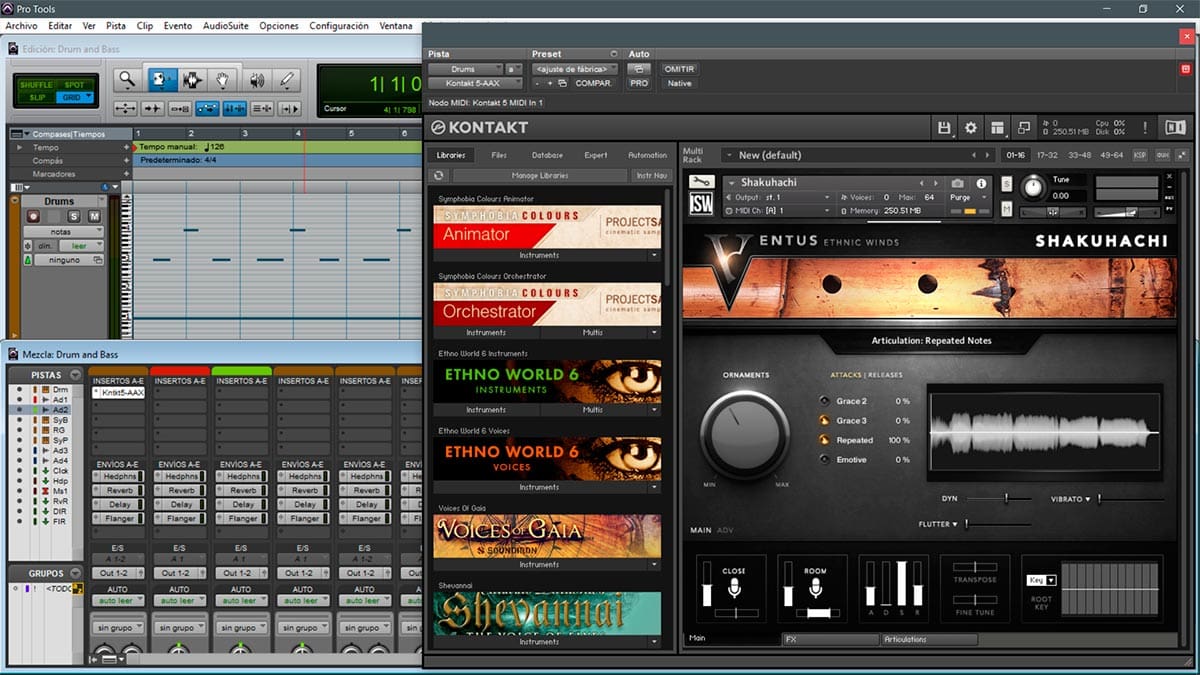 English
The shakuhachi is an ancient end-blown flute used in Japanese music for over 1,300 years. Performing the instrument and using techniques like vibrato is significantly different than Western flutes and recorders. Its five (pentatonic) holes can produce several octaves of pitches with breathy, serene, and emotional tones.
Ventus Series: Shakuhachi delivers a clear and lifelike performance of the instrument and there are plenty of options for customizing various aspects of the sound. The ornaments feature allows for more spontaneous sounding performances that reflect the strengths of the Shakuhachi's idiomatic sound. Inclusion of a phrase library offers additional sounds to either enhance existing performances of the main instrument or for use as one shot effects or sound design.»
Impact Soundworks Ventus Shakuhachi KONTAKT
Over 6,000 24-bit samples
Recorded through warm ribbon & room mics
6 types of sustain articulations
True legato playing w/ adjustable settings
5 different release ornaments
12 types of trills (fast, slow, multi intervals)
600+ phrases of multiple lengths and styles
Phrases & breaths also provided as WAV
Beautiful unified VENTUS interface
Dozens of under-the-hood tweaking controls
Ornament system for effortless authentic performances
Phrase playback editor
Easy FX rack with analog-modeled EQ, compressor, delay & reverb
TACT – Total Articulation Control Technology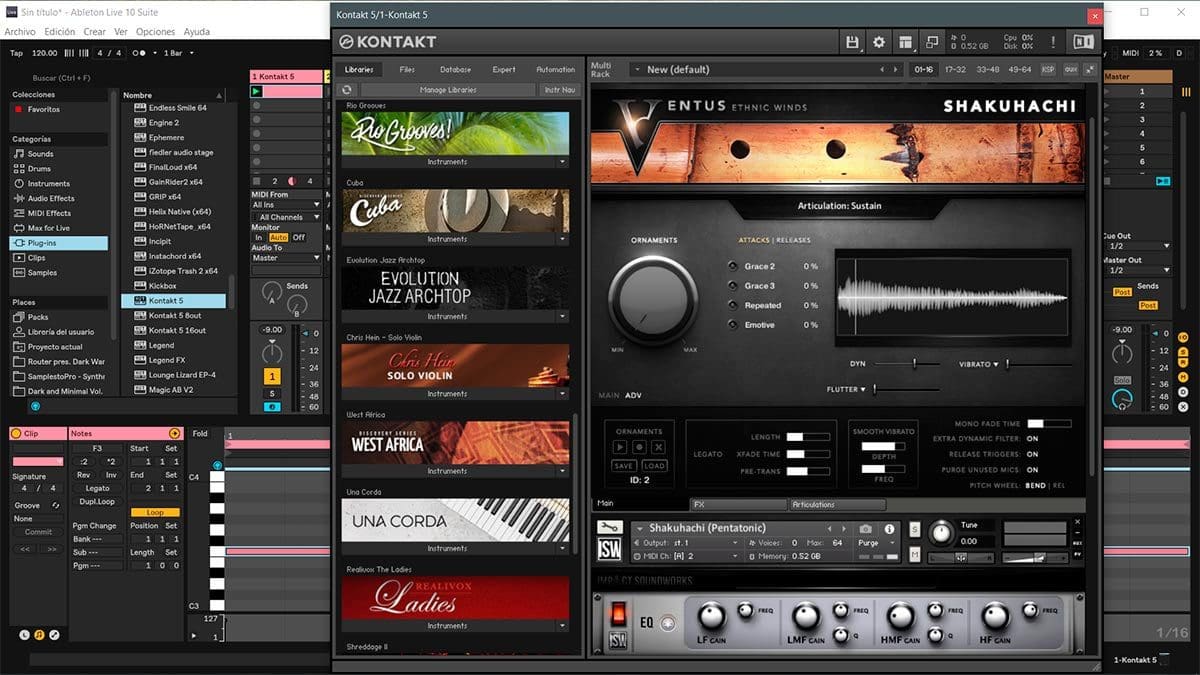 Impact Soundworks Ventus Shakuhachi KONTAKT
Descarga Torrent – Download Torrent
 VENTUS Series Shakuhachi WIN-MAC (6Gb)
Para descarga de esta página se necesita un cliente Torrent, hay muchos disponibles, tanto para Windows como para MacOSX, aquí les dejo algunos de los mejores clientes…una vez instalado alguno de los programas, los enlaces Torrent se abren de forma automática.