Audiofier SEQui2R EX KONTAKT WIN-MAC…Desde ahora, SEQui2R se vende solo como SEQui2R EX. Incluye todas las expansiones más la nueva Expansión 4 «Dedos y púas». El motor de SEQui2R EX se ha actualizado a V1.3 e incluye algunas características nuevas. Y la mejor parte es que el precio también ha cambiado. Por favor, sigue leyendo para averiguarlo.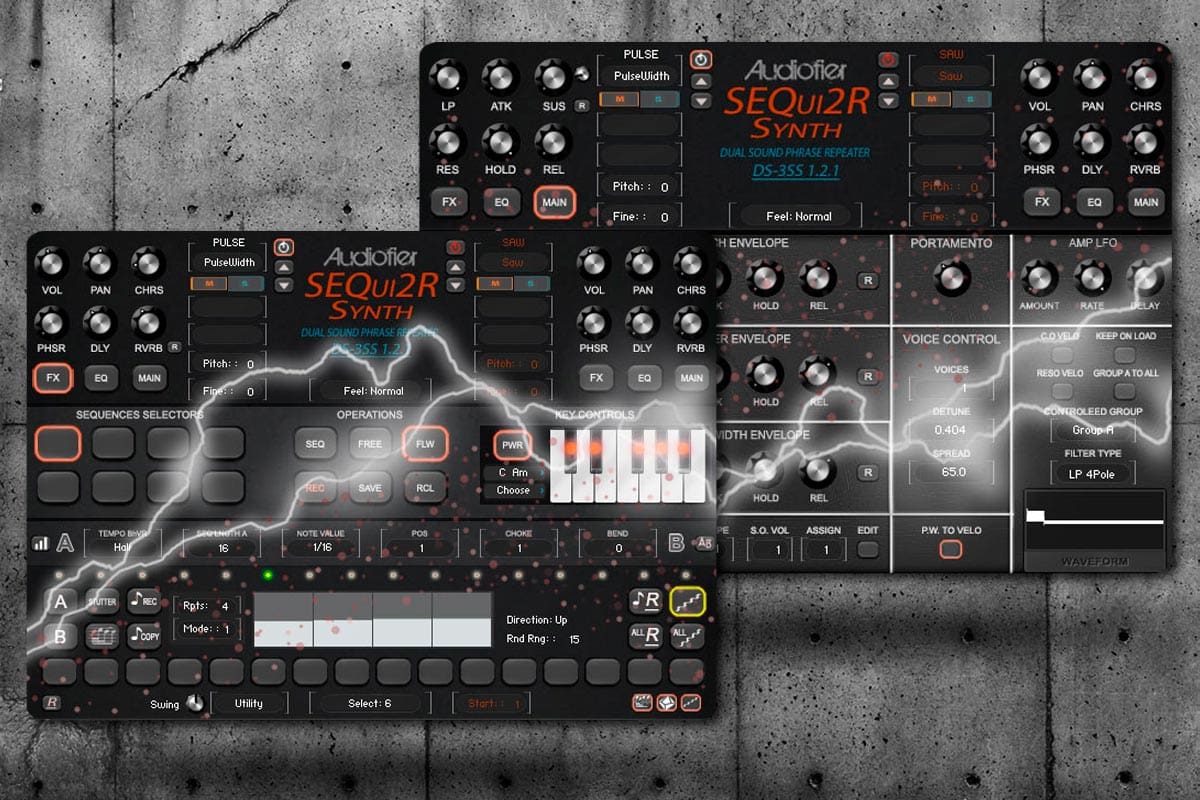 Audiofier SEQui2R EX KONTAKT WIN-MAC
SEQui2R EX ahora incluye 2 nuevas Sub Capas. Uno por Fuente de Sonido. Puede elegir 2 sonidos adicionales y decidir a qué velocidad tocarán en lugar de la fuente de sonido principal. Esto agrega nuevas posibilidades asombrosas para secuencias complejas de sonidos evolutivos / variables … SEQui2R EX incluye las 4 Expansiones. Un total de 11.35 GB (NCW comprimido), 660 fuentes de sonido. Más de 435000 combinaciones de sonido. Las fuentes de sonido SEQui2R EX incluyen: instrumentos orgánicos y acústicos, sintetizadores digitales y analógicos, guitarras y bajos, instrumentos étnicos, percusiones de Atonal y mucho más.
Audiofier SEQui2R EX KONTAKT WIN-MAC
Dos motores de sonido separados con 660 fuentes de sonido.
Las cuatro expansiones incluidas.
11.35GB Archivo NCW comprimido.
Una Sub Capa adicional por Motor de Sonido trae un total de 4 sonidos por Frase.
8 frases programables por patch, con filtros paso a paso, distorsión, Lo-Fi, Pitch Bend, Volume y Pan.
Key / Scale Control mantiene sus frases en las escalas y teclas deseadas.
Se proporcionan escalas principales, menores, disminuidas y de tonos enteros.
10 escalas programables por el usuario disponibles por parche.
Portamento, Stutter y Ornamento por paso.
Notas reversibles y aleatorias por paso.
Aleatorización de sonidos, StepFX y frases.
Importación y exportación de frases más StepFx y clave / escalas de usuario.
Midi Notes Midifile Arrastrar y soltar exportación.
Incluye Chorus, Phaser, Delay, Convolution Reverb por motor y Master Digital Reverb.
Filtros maestros LP o HP seleccionables por motor.
Efectos de paso automatizados, incluso a nivel de frase.
Requiere VERSIÓN COMPLETA de NI KONTAKT 5.5. (No es compatible con NI Kontakt Player).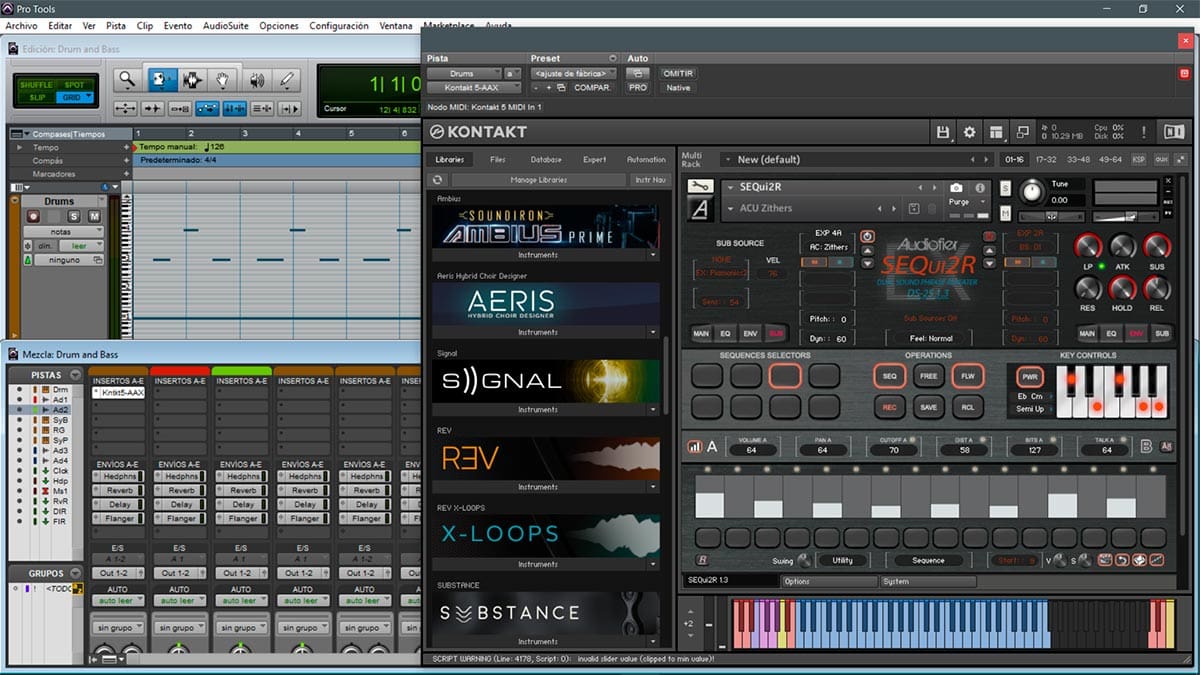 English
SEQui2R EX now includes 2 new Sub Layers. One per Sound Source. You can choose 2 additional sounds and decide at what velocity they will play instead of the main sound source. This adds amazing new possibilities for complex sequences of evolving/ variating sounds…SEQui2R EX includes all 4 Expansions. A total of 11.35 GB  (NCW Compressed), 660 Sound Sources. Over 435000 sound combinations. SEQui2R EX Sound Sources include:
 Organic and acoustic instruments, Digital and Analog synths, Guitars and Basses, Ethnic Instruments, Atonal Percussions and much more. All of them Natural and Morphed to the Impossible.
Audiofier SEQui2R EX KONTAKT WIN-MAC
Two separate sound engines with 660 sound sources.
All four Expansions included.
11.35GB NCW File compressed.
One additional Sub Layer per Sound Engine brings a total of 4 sounds per Phrase.
8 programmable phrases per patch, with step-able Filters, Distortion, Lo-Fi, Pitch Bend, Volume and and Pan.
Key/Scale Control keeps your phrases in the desired scales and keys.
Major, Minor, Diminished and Whole-tone scales are provided.
10 User programmable scales available per patch.
Portamento, Stutter and Ornamento per step.
Reverse-able and Random notes per step.
Randomisation of Sounds, StepFX and phrases.
Import and Export of Phrases plus StepFx and User Key/Scales.
Midi Notes Midifile Drag & Drop export.
Includes Chorus, Phaser, Delay, Convolution Reverb per engine and a Master Digital Reverb.
Selectable LP or HP master Filters per engine.
Automate-able Step effects, even at a phrase level.
Requires FULL VERSION of NI KONTAKT 5.5. (Not compatible with NI Kontakt Player).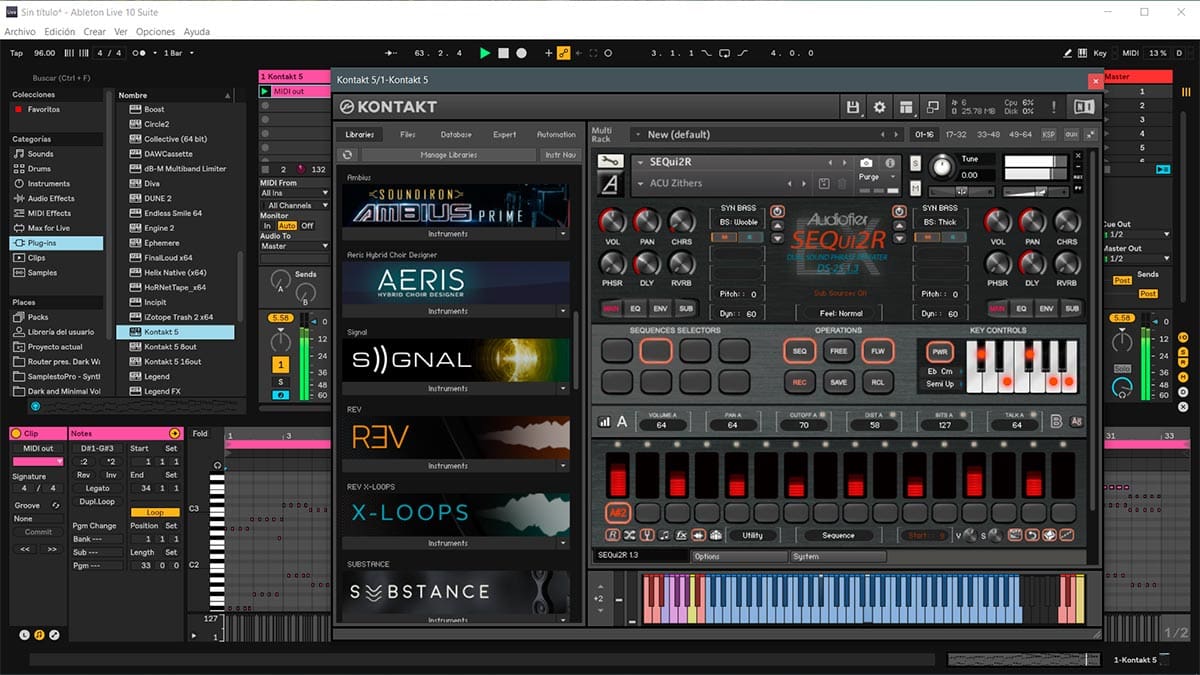 Audiofier SEQui2R EX KONTAKT WIN-MAC
Descarga Torrent – Download Torrent
Audiofier SEQui2R EX KONTAKT (10,5Gb)
Para descarga de esta página se necesita un cliente Torrent, hay muchos disponibles, tanto para Windows como para MacOSX, aquí les dejo algunos de los mejores clientes…una vez instalado alguno de los programas, los enlaces Torrent se abren de forma automática.