Soundtrax Minipoly KONTAKT WIN-MAC…El Minipoly contiene asombrosas muestras sin formato analógicas y de oscilador de cinta, excelentes filtros, un sistema de acordes y seis efectos. El TAPE SAW OSC son ondas de diente de sierra largas grabadas para cada tecla en la cinta de un Roland RE-301 Chorus Echo.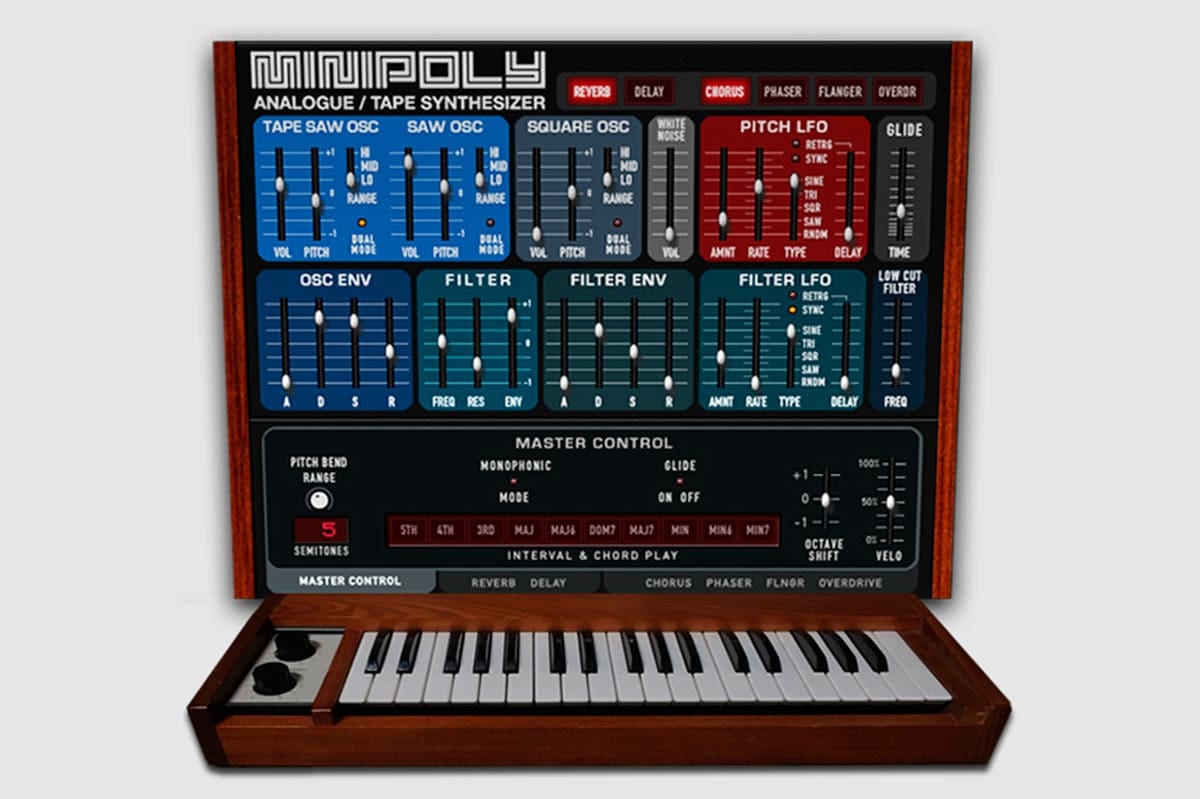 Soundtrax Minipoly KONTAKT WIN-MAC
Puedes escuchar wow y revolotear e incluso extraer las cintas, bastante similar a un Mellotron. Las ondas SAW OSC, Square OSC y White Noise son muestras de minimoog grabadas directamente, y suenan mucho más nítidas que las ondas «grabadas». Todos los osciladores son ondas mono, pero cuando se activa DUAL MODE (LED conmutable para cada OSC) se agrega una segunda muestra a cada nota y ambas ondas se panoramizan con dificultad a L-R. Esto producirá una fuerte imagen estéreo. Mezcle osciladores mono y duales para controlar / ajustar el ancho estéreo del sonido.
Soundtrax Minipoly KONTAKT WIN-MAC
Oscilador de diente de sierra de cinta
Oscilador de diente de sierra
Oscilador cuadrado
Ruido blanco
Todas las muestras de OSC se engarzaron perfectamente
Fine Tuning (+ – 100 %)
Modo mono o dual (dos OSCs extendidos a estéreo)
Filtro «Ladder» de paso bajo con corte de frecuencia, resonancia, envolventes
Filtro de corte bajo adicional
LFO de tono y filtro
Cambiar para el modo re-disparado / no activado
Controles para la cantidad de LFO, tasa y formas de onda
Modo polifónico / monofónico
Glide (portamento)r
Rango de inflexión de tono ajustable y sensibilidad a la velocidad
10 preajustes de intervalo / acorde
Convolución Reverb, Delay, Chorus, Phaser, Flanger, Overdrive
30 preajustes (instantáneas de Kontakt)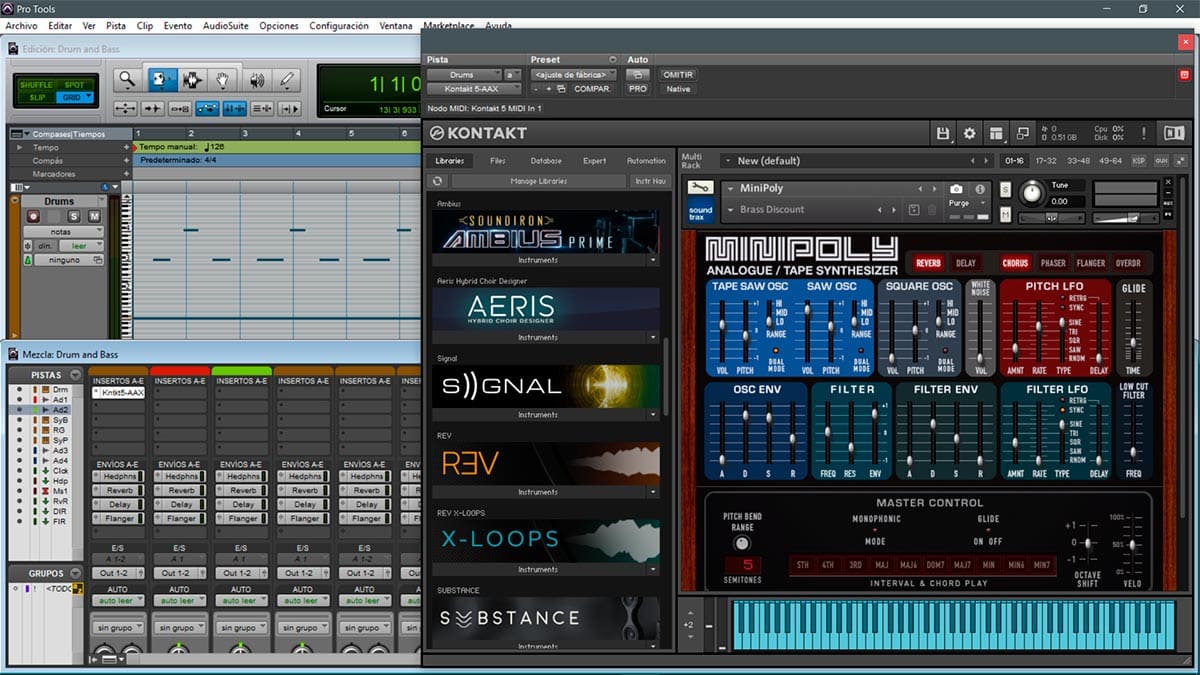 English
The Minipoly contains amazing raw analogue and tape oscillator samples, great filters, a chord system and six effects. The TAPE SAW OSC are long sawtooth waves recorded for each key on tape of a Roland RE-301 Chorus Echo. You can hear wow and flutter and even tape dropouts – quite similar to a Mellotron. The SAW OSC, Square OSC and White Noise waves are directly recorded minimoog samples – and sound much crisper than the 'taped' waves.
All oscillators are mono waves, but when DUAL MODE is activated (switchable LED for each OSC) a second sample is added to each note and both waves are panned hard to L-R. This will produces a strong stereo image. Mix mono and dual oscillators to control/adjust the stereo width of the sound.
 Soundtrax Minipoly KONTAKT WIN-MAC
Tape Sawtooth Oscillator
Sawtooth Oscillator
Square Oscillator
White Noise
All OSC samples perfecty looped
Fine tuning (+ – 100 cent)
Mono or dual mode (two OSCs spread to stereo)
Low Pass Ladder Filter with Frequency Cutoff, Resonance, Envelope Amount, Filter Envelope
Additional Low

 Cut Filter 

Pitch and Filter LFOs 

Switch for re-triggered / untriggered mode 

Controls for LFO amount, rate and waveforms 

Polyphonic / monophonic mode 

Glide (portamento) 

Ajustable pitch bend range and velocity sensitivity 

10 interval / chord presets 

Convolution Reverb, Delay, Chorus, Phaser, Flanger, Overdrive 

30 presets (Kontakt snapshots)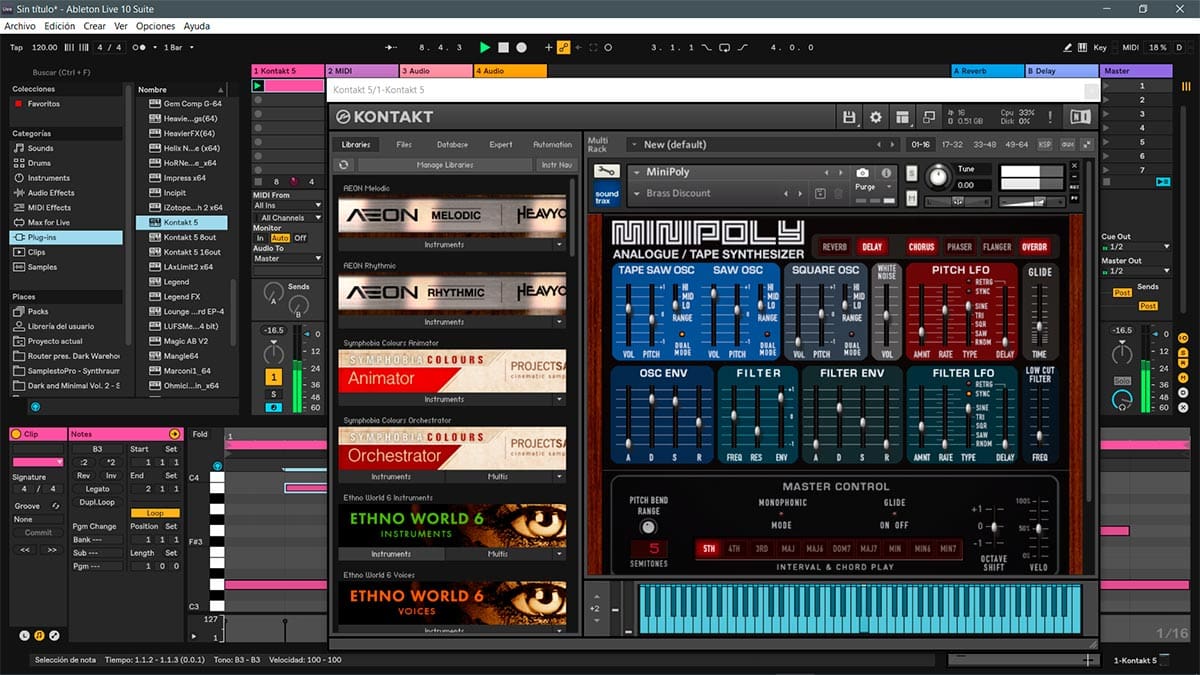 Soundtrax Minipoly KONTAKT WIN-MAC
Descarga Torrent – Download Torrent
SoundTrax Minipoly KONTAKT
Para descarga de esta página se necesita un cliente Torrent, hay muchos disponibles, tanto para Windows como para MacOSX, aquí les dejo algunos de los mejores clientes…una vez instalado alguno de los programas, los enlaces Torrent se abren de forma automática.