SoundSpot Paradox VST-VST3-AAX-AU WIN-OSX x86 x64…Cuando mezclas o masterizas música, a veces te encuentras en una situación en la que necesitas manipular el audio de una manera que no está dentro de lo que un plugin convencional puede hacer, y con esto en mente, SoundSpot se propuso crear un complemento que puede resolver este problema.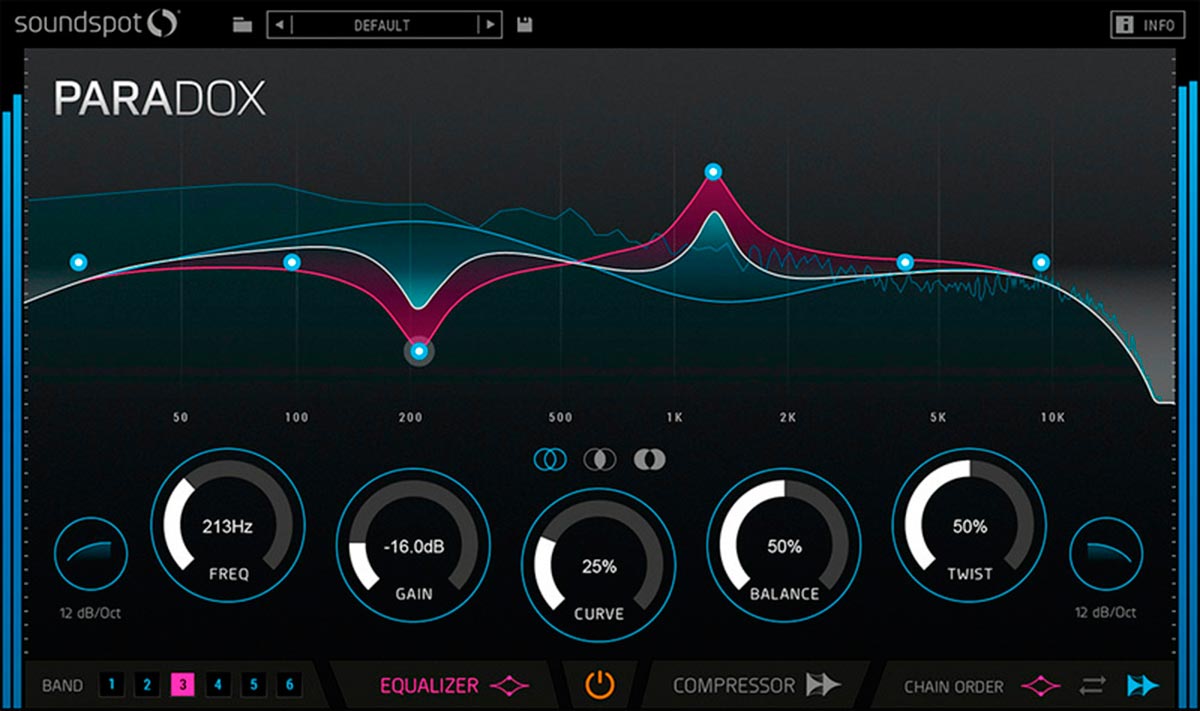 SoundSpot Paradox VST-VST3-AAX-AU WIN-OSX x86 x64
SoundSpot es una casa de desarrollo que se caracteriza por crear plugins que experimentan con diferentes técnicas de procesamiento, incluyendo esto también algunas combinaciones posibles entre los mismos. Es el caso de su más reciente plugin llamado Paradox, un multi-efectos que combina ecualizador y compresor bajo una orientación particular al realce del carácter de la señal…Paradox no es un ecualizador plano o un compresor sin más, sino que se trata de un sistema híbrido basado en 4 filtros orientados a 'empujar' la señal, cada uno con su control de frecuencia, ganancia, curva de filtro, balance y variación estéreo. El compresor cuenta con parámetros tradicionales de ratio, ataque, release, knee, ganancia y threshold.
SoundSpot Paradox VST-VST3-AAX-AU WIN-OSX x86 x64
Interfaz de usuario intuitiva y fácil de navegar.
Diseñado para funcionar sin problemas con controladores táctiles como Raven by Slate Media.
Cuatro potentes filtros push-pull con controles intuitivos y simplificados, con modo estéreo, medio y lateral
Filtro de paso alto y paso bajo de pendiente variable con modo estéreo, medio y lateral
Compresor de tiempo RMS variable para emulación analógica
Filtro de cadena lateral de paso alto para comprimir pistas con patada fuerte y partes de bajo
Control de mezcla para crear compresión paralela
Administrador preestablecido para guardar y compartir sus propios efectos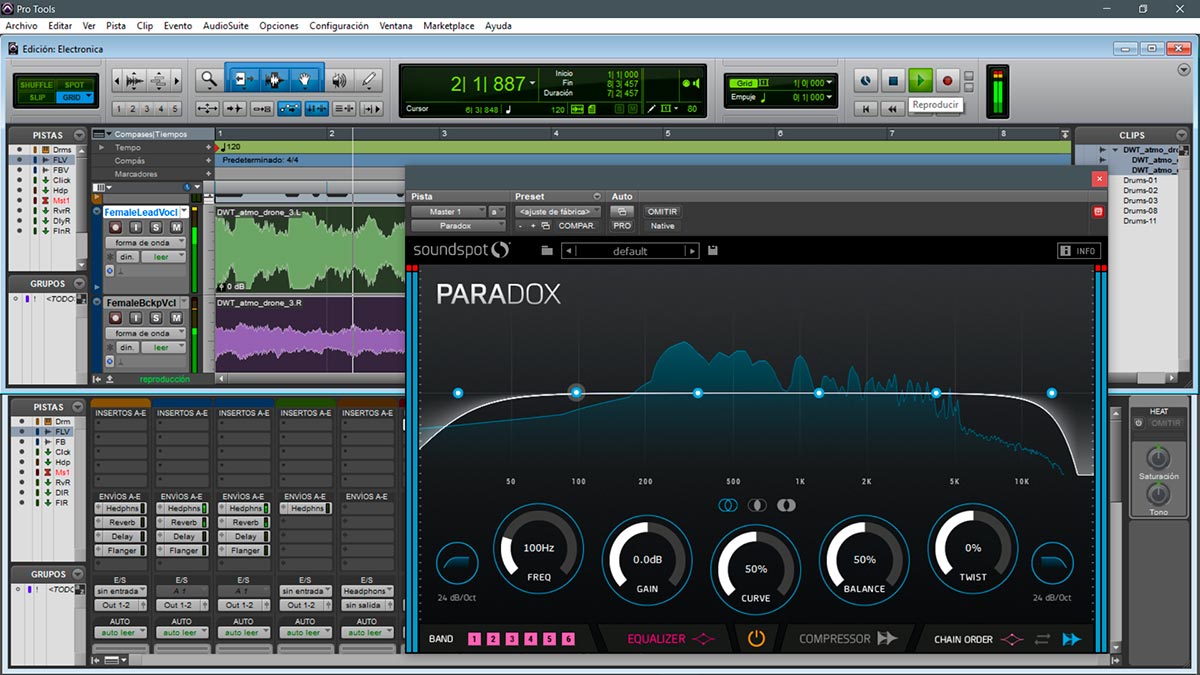 English
Paradox is a multi-fx plug-in that features an advanced push-pull equalizer and a variable RMS-time parallel compressor, both offering stereo, mid and side options. Its clever signal path has an extremely pronounced character and lets you bring out certain elements in your mixes with incredible ease.
The 'Equalizer' module on the Paradox is designed to make push-pull filtering easy. This powerful equalization technique, with its recognisable filter curves, can help you bring your mixes to life, by adding uncanny definition to drums, bass, guitar, synths and vocals. Besides the filter's 'Frequency' and 'Gain' controls, Paradox gives you three controls to dial in the push-pull shape in an easy and intuitive way. The 'Compressor' module on the Paradox uses SoundSpot's 'infinite' gain reduction setup, and lets you emulate the behaviour of analog compression with its continuous 'RMS-time' control. Together with it's continuous 'mix' feature, the Paradox 'Compressor' module lets you apply smooth compression in a very flexible way, as well as different parallel compression styles like 'New York Compression'.
SoundSpot Paradox VST-VST3-AAX-AU WIN-OSX x86 x64
Intuitive, easy-to-navigate user interface
Designed to work flawlessly with touch controllers such as the Raven by Slate Media
Four powerful push-pull filters with intuitive and simplified controls, with stereo, mid and side mode
Variable slope high pass and low pass filter with stereo, mid and side mode
Variable RMS-time compressor for analog emulation
High pass sidechain-filter for compressing tracks with loud kick and bass parts
Mix control for creating parallel compression
Preset manager to save & share your own effects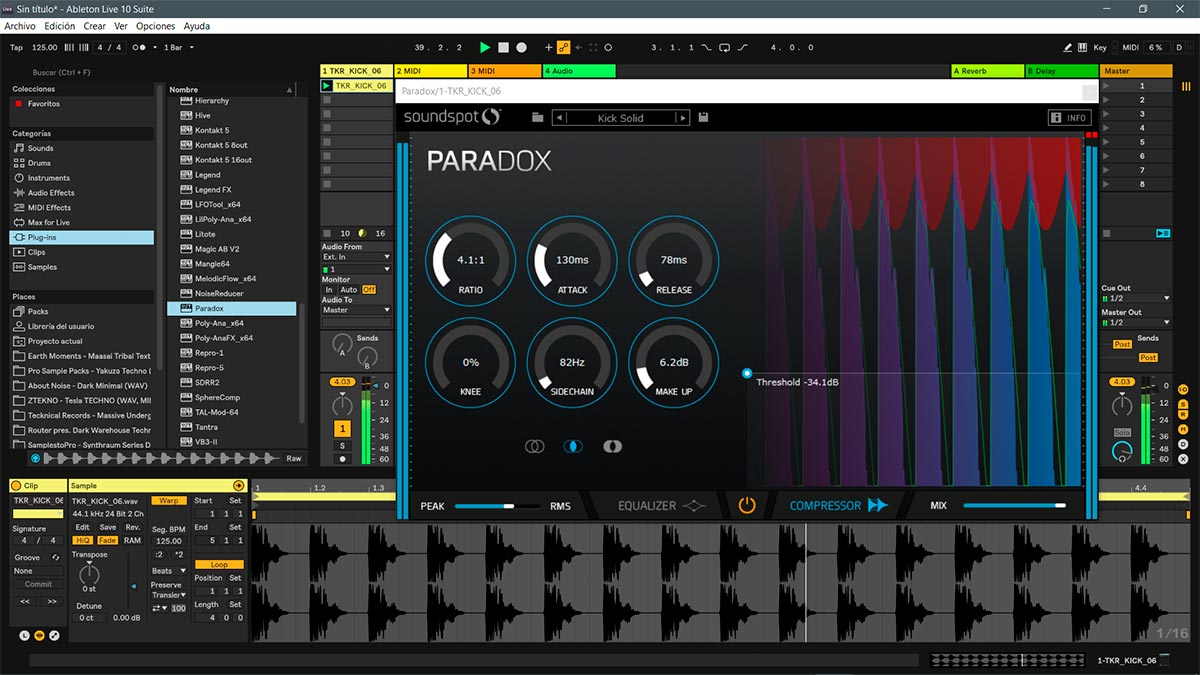 SoundSpot Paradox VST-VST3-AAX-AU WIN-OSX x86 x64
Descarga Directa – Direct Download
Paradox v1.0.1 VST-VST3-AAX-AU WIN-MAC
Para descarga de esta página se necesita un cliente Torrent, hay muchos disponibles, tanto para Windows como para MacOSX, aquí les dejo algunos de los mejores clientes…una vez instalado alguno de los programas, los enlaces Torrent se abren de forma automática.