Adam Monroe Austrian Grand Piano 1-2 VSTi-KONTAKT…El piano de cola austríaco de Adam Monroe se tomó como muestra de un piano de cola Bruder Mikula Wien austriaco de 100 años de antigüedad a través de un par de micrófonos de cinta AEA R84 en un preamplificador de micrófono AEA TRP. La versión Kontakt del piano de cola austríaco de Adam Monroe es multiplataforma, y ​​Native Instruments la mantiene, toda la programación y los efectos que se realizan a través de ellos. Algunos scripts simples son hechos por nosotros. VST, Audio Unit y AAX están programados completamente por nosotros.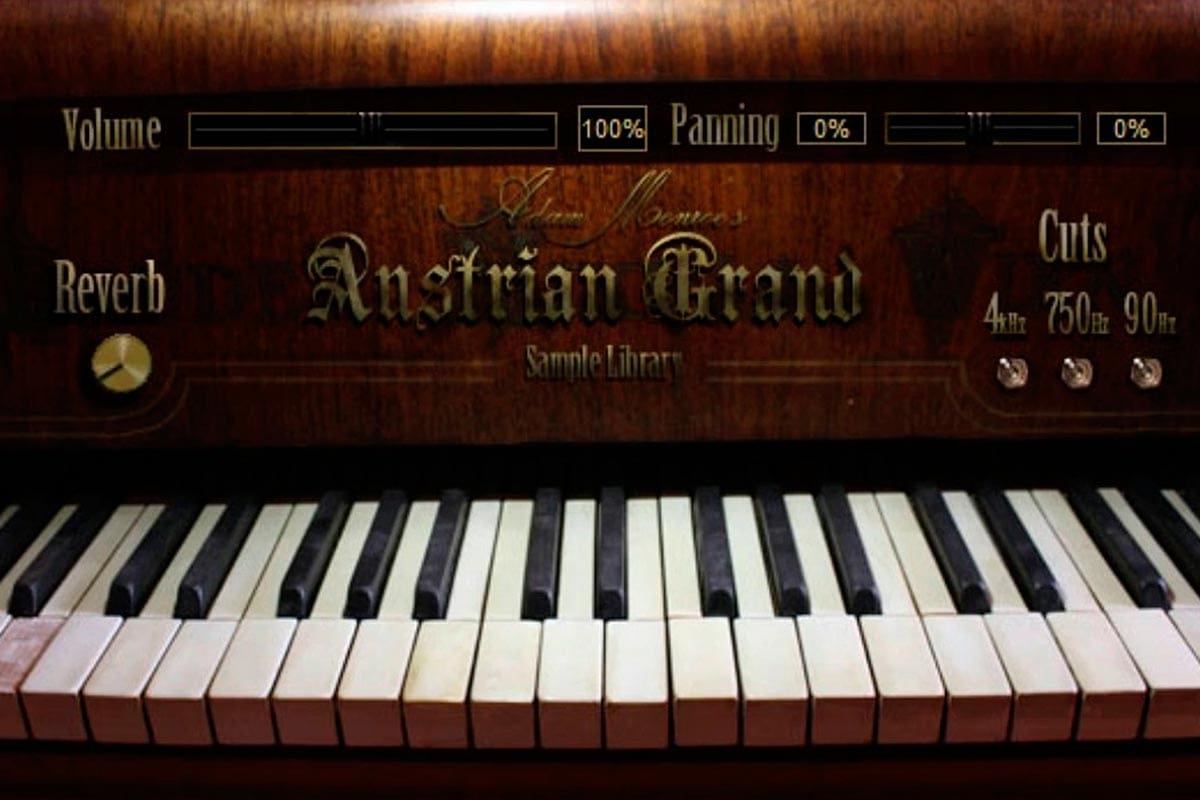 Adam Monroe Austrian Grand Piano 1-2 VSTi-KONTAKT
Antes de la grabación, los fieltros del martillo del piano se lijaron para calentarlos un poco. El piano fue sampleado en estéreo debajo de la tapa, porque ahí es donde el tono sonaba mejor. Tomó muchas semanas para probar el piano por completo, ya que estaba en tal estado que la mayoría de las clavijas de afinación ya no podían sostener un tono durante un período de tiempo prolongado. El piano fue muestreado laboriosamente, con la dinámica más suave a la más alta que se está reproduciendo, lo que resulta en una biblioteca que puede presumir de 10 capas de velocidad y 2 notas round-robin.
Con el ruido de señal de alta ganancia exclusivo de las cintas, se produjo bastante ruido al construir la biblioteca de muestras. El ruido de las cintas es insignificante, pero al apilar 30-40 notas una encima de la otra (como en una biblioteca de muestras), el ruido se vuelve más notable. Por lo tanto, se tomó el paso adicional de eliminación de ruidos de las muestras. El ruido no se eliminó por completo, para evitar que la biblioteca de muestras sea estéril, y se escucha un leve «silbido» (similar al silbido de la cinta) si escuchas la biblioteca con cuidado. Para algunas personas, es deseable que haya algo de ruido, pero puede reducirse aún más al activar el interruptor de «corte a 4 kHz», ya que es aquí donde la mayoría del ruido del micrófono tiende a propagarse.
Este instrumento virtual puede ser una gran adición a su colección, ya que llena un nicho agradable entre pianos estériles brillantes (como los de Yamaha) y pianos suaves y suaves (como Faziolis). Nos alegramos de que pudiéramos salvar un piano tan antiguo y convertirlo en un instrumento único de muestra VST / AAX / Audio Unit plugin.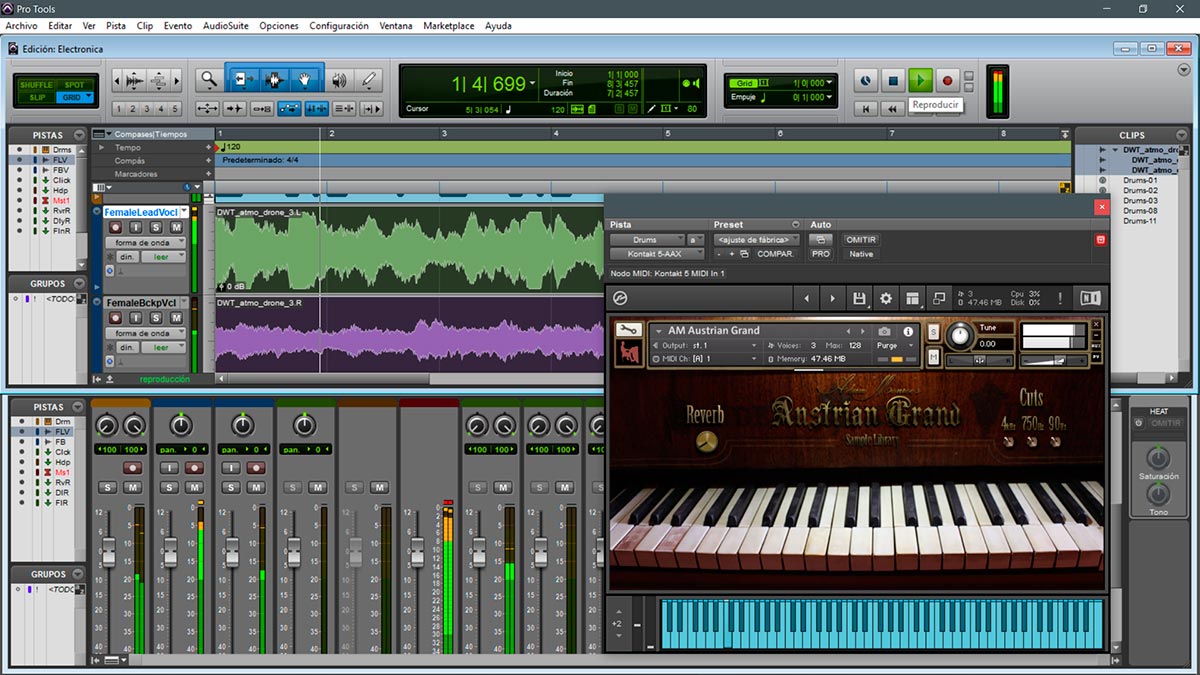 English
Adam Monroe's Austrian Grand piano was sampled from a 100 year old Bruder Mikula Wien Austrian grand through a pair of AEA R84 ribbon microphones into an AEA TRP ribbon microphone preamp. Prior to recording, the piano's hammer felts were sanded down to warm them up a bit. The piano was sampled in stereo under the lid, because that's where the tone sounded best. It took many weeks to sample the piano entirely, as it was in such a state that most of the tuning pegs could no longer hold a pitch for any length of time. The piano was sampled laboriously, with the softest to loudest dynamics being played, resulting in a library that can boast 10 velocity layers and 2 note round-robin.
Do to high-gain signal-noise unique to ribbons, quite a bit of noise became present when building the sample library. Noise from the ribbons is negligible, but when stacking 30-40 notes on top of eachother (such as in a sample library) the noise compounds and becomes quite noticeable. Therefore, the extra step of de-noising the samples was taken. Noise wasn't removed completely – to avoid making the sample library sterile – and a faint «hiss» (similar to tape hiss) can be heard if you listen to the library carefully. For some people, some noise is desirable, but it can further be reduced by engaging the «4kHz cut» switch, as this is where most of the microphone noise tends to propagate.
The Kontakt version of Adam Monroe's Austrian Grand Piano is cross-platform, and is maintained by Native Instruments, all the programming and effects being done through them. Some simple scripting is done by us. The VST, Audio Unit, and AAX are programmed entirely by us. The goal in any sample library that is also a VSTi (virtual instrument), Audio Unit, or AAX plugin is to attempt to match the performance of the Kontakt Player. With this library, we feel like we have done just that.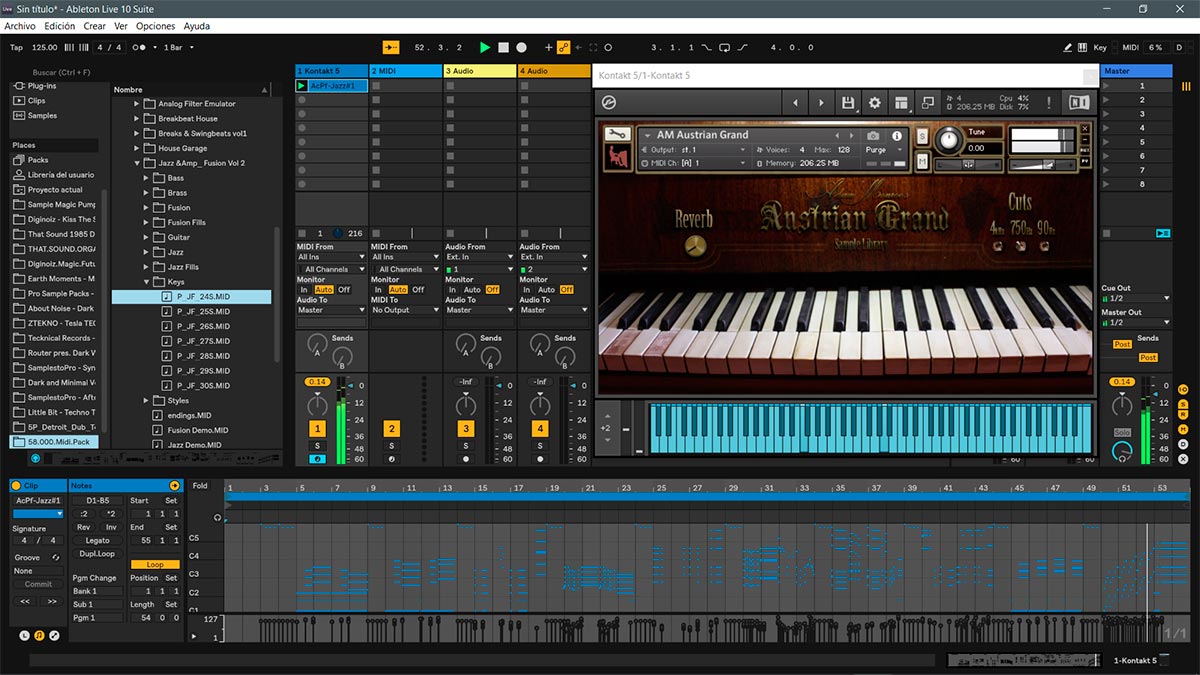 Adam Monroe Austrian Grand Piano 1-2 VSTi-KONTAKT
INSTALACIÓN: Para KONTAKT, la instalación es como de costumbre, buscamos la carpeta desde «Files» y seguidamente la carpeta de samples…para los VSTi, copiamos el contenido de la descarga a nuestra carpeta de plugins (recomiendo crear una carpeta y copiar ahí el contenido), tenemos versiones VSTi de 32bit y 64bit.
Descarga Directa – Direct Download
AM Austrian Grand Piano KONTAKT (4,4Gb)
Para descarga de esta página se necesita un cliente Torrent, hay muchos disponibles, tanto para Windows como para MacOSX, aquí les dejo algunos de los mejores clientes…una vez instalado alguno de los programas, los enlaces Torrent se abren de forma automática.