Adam Monroe Slap Bass 1-1 VSTi-KONTAKT WIN x86 x64…Slap Bass de Adam Monroe se tomaron muestras de un bajo eléctrico Fender Jazz con pastillas Carvin J99 y cuerdas de bajo GHS Boomers, directamente en una Radial Pro48 DI Box y un AMPEG Micro VR SVT AMP. Se obtuvo un rango extendido ajustando la E-string a una D.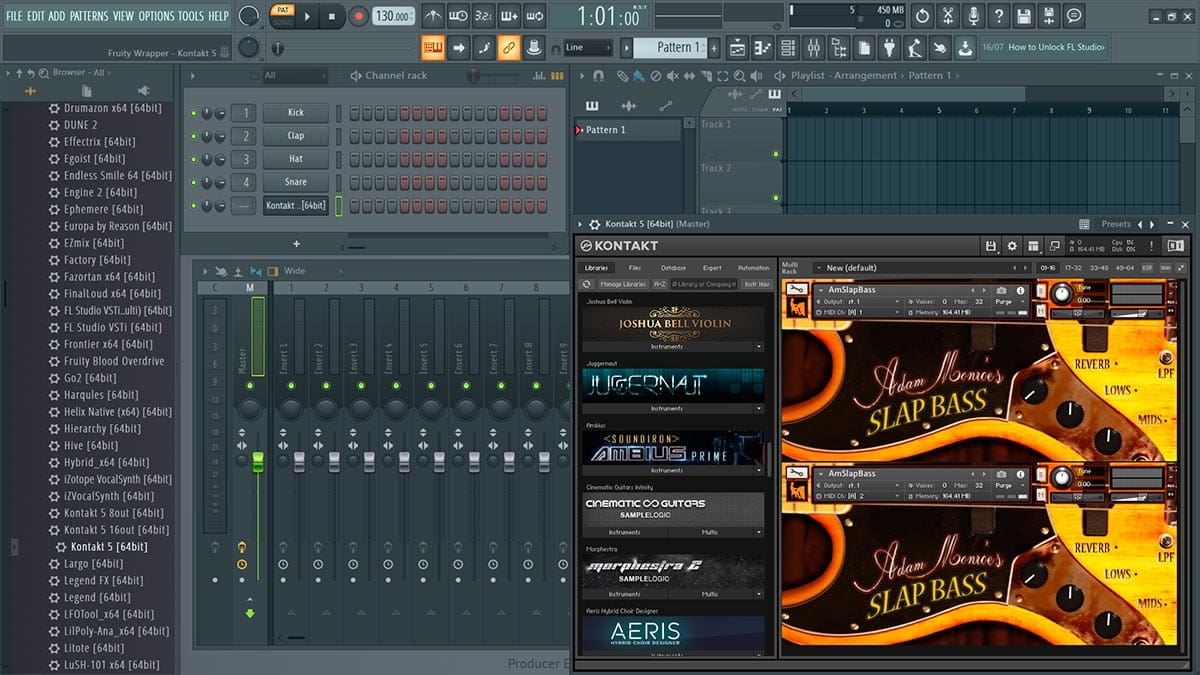 Adam Monroe Slap Bass 1-1 VSTi-KONTAKT WIN x86 x64
Las articulaciones «Slap» y «pop» se grabaron cuidadosa y meticulosamente para cada nota, aunque en el rango extremo superior del bajo, para la tensión de la cuerda, las notas de bofetada comienzan a ser indistinguibles de las articulaciones pop. El usuario puede combinar sonidos Amp y DI. El canal AMP es más claro y agudo y el canal DI proporciona más sonido de slap suave.
El plugin presenta 10 capas de velocidad en round-robin de 4 notas, y el rango dinámico está entre -15 db y -1 db, ya que los bajos son típicamente señales comprimidas que terminan de alguna forma en las grabaciones modernas. Para las notas de cuerdas D y G, las articulaciones pop pueden activarse a velocidades más altas con articulaciones de bofetada que se activan a velocidades más bajas. Las articulaciones alternativas se omiten y, por lo tanto, el complemento solo presenta un sonido grave, esto se hizo para preservar el espacio y la calidad. La versión anterior de Adam Monroe presentaba articulaciones de selección pero menos capas y canales de velocidad.
Las cuerdas de bajo se limpiaron periódicamente con alcohol desnaturalizado, ya que el sonido metálico de Boomer tiende a oscurecerse bastante rápido. Se tomaron medidas para garantizar que la transición de tono entre las cadenas se minimizara seleccionando los mejores lugares para comenzar a muestrear una nueva cadena. Las diapositivas se grabaron para la mayoría de las cuerdas, pero se omitieron para cosas como cuerdas abiertas, o cuando deslizarse hacia abajo o hacia arriba se sobrepasaría la afinación estándar. Los tercios mayores y menores se eligieron por motivos de usabilidad. Las diapositivas se grabaron a un ritmo de 120 BPM.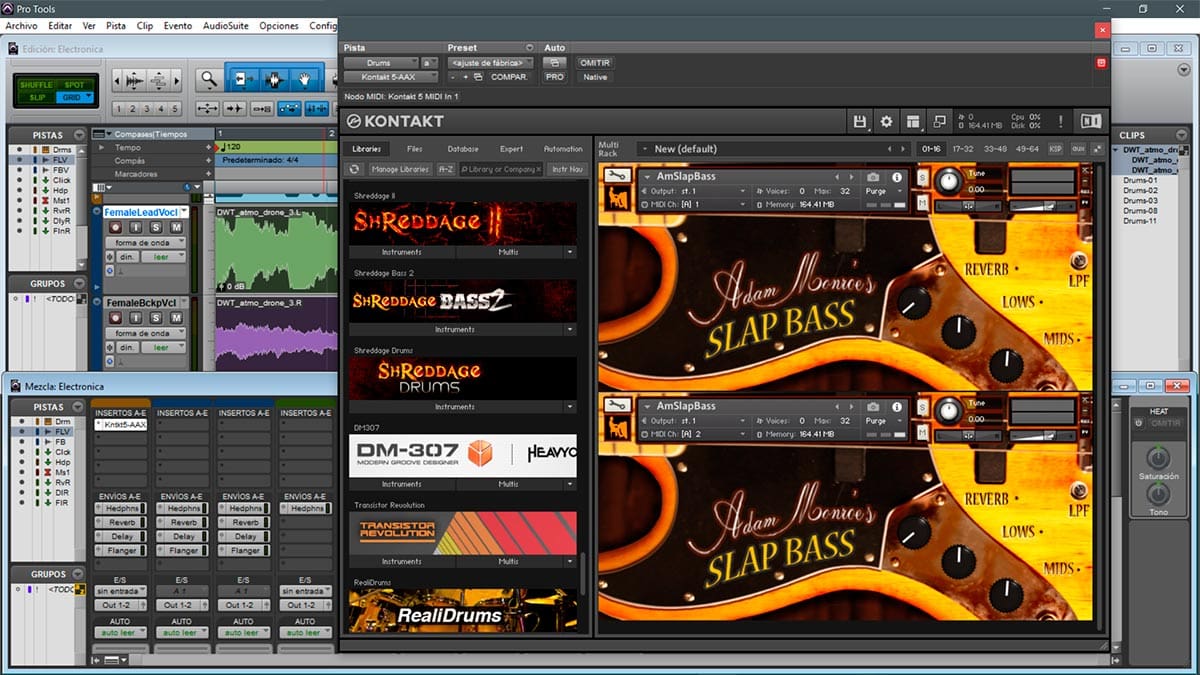 English
Adam Monroe's Slap Bass was sampled from a Fender Jazz electric bass guitar with Carvin J99 pickups and GHS Boomers bass strings, directly into a Radial Pro48 DI Box and an AMPEG Micro VR SVT AMP. An extended range was obtained by tuning the E-string down to a D. «Slap» and «pop» articulations were carefully and meticulously recorded for each note, although in the extreme upper range of the bass, do to tension of the string, slap notes starts to become indistinguishable from pop articulations. The user can blend between Amp and DI sounds. The AMP channel is slighter brighter/edgier well the DI channel provides more of a mellow slap bass sound.
The plugin features 10 velocity layers at 4 note round-robin, and the dynamic range is between -15 db and -1 db, as bass guitars are typically compressed signals that end up somewhat level in modern recordings. For D and G string notes, pop articulations can be triggered at higher velocities with slap articulations being triggered at lower velocities. Alternate articulations are omitted, and thus the plugin only features a slap bass sound – this was done to preserve space and quality – the older version of Adam Monroe's Slap Bass featured pick articulations but less velocity layers and channels.
Bass strings were periodically cleaned with denatured alcohol, as the metallic Boomer sound tends to darken rather quickly. Pains were taken to ensure that the transition in tone between strings was minimized by selecting the best places to start sampling a new string. Slides were recorded for most strings, but were omitted for things like open strings, or when sliding down or up would overshoot standard tuning. Major and minor thirds were chosen for the sake of usability. Slides were recorded at a tempo of 120 BPM.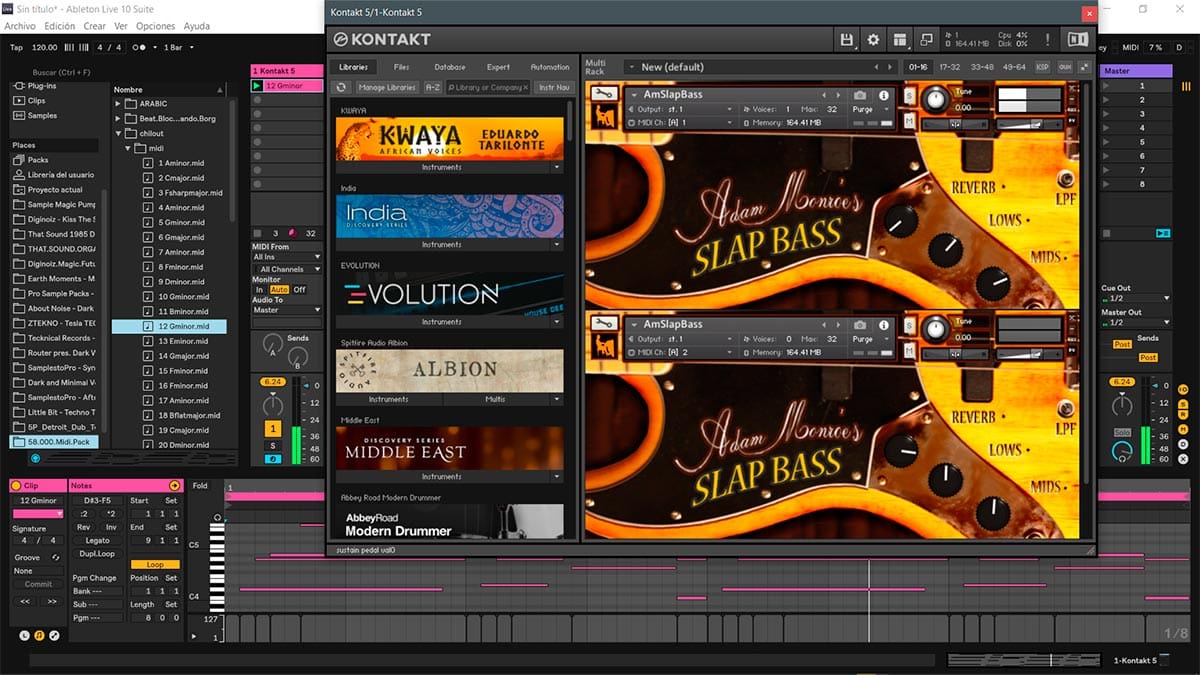 Adam Monroe Slap Bass 1-1 VSTi-KONTAKT WIN x86 x64
INSTALACIÓN: Para KONTAKT, la instalación es como de costumbre, buscamos la carpeta desde «Files» y seguidamente la carpeta de samples…para los VSTi, copiamos el contenido de la descarga a nuestra carpeta de plugins (recomiendo crear una carpeta y copiar ahí el contenido), tenemos versiones VSTi de 32bit y 64bit.
Descarga Directa – Direct Download
AM Slap Bass KONTAKT (3,85Gb)
Para descarga de esta página se necesita un cliente Torrent, hay muchos disponibles, tanto para Windows como para MacOSX, aquí les dejo algunos de los mejores clientes…una vez instalado alguno de los programas, los enlaces Torrent se abren de forma automática.