Audiority GrainSpace VST-AAX WINDOWS x86 x64…GrainSpace es un procesador de audio granular enfocado en granularización y reverberación en tiempo real de la señal de audio entrante. GrainSpace proporciona generación dinámica de grano (hasta 32 por canal), 7 parámetros de grano, 4 moduladores de grano (incluyendo dos 11 formas de onda LFO), manchas, resonador de acordes y reverberación para crear efectos de sonido extravagantes, texturas ricas y mucho más.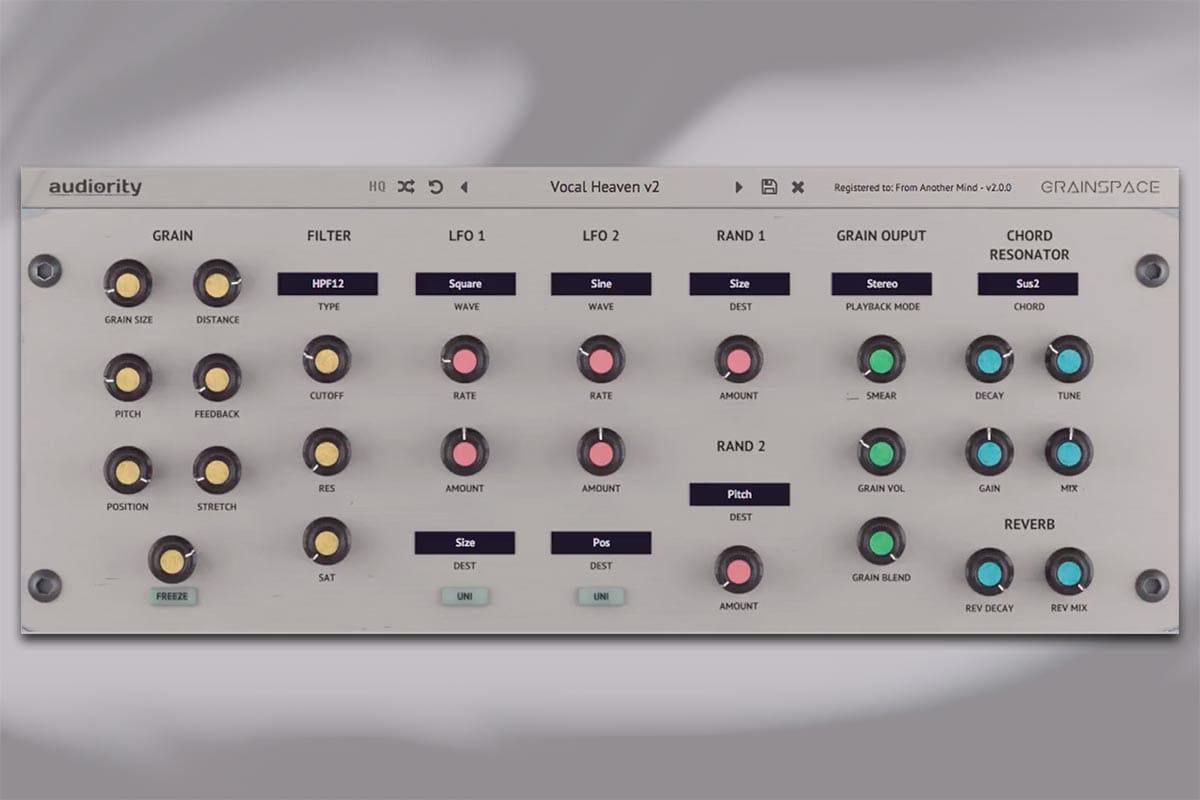 Audiority GrainSpace VST-AAX WINDOWS x86 x64
Fácil de usar y lleno de sorpresas sónicas, GrainSpace es una caja de herramientas de glitching y texturizado tremendamente creativa que consiste en dos LFO, unos pocos objetivos Aleatorios y un botón de Congelación corto de magnificencia. GrainSpace divide cada canal de entrada en hasta 32 granos de entre 16 y 500 ms de longitud, según lo establecido por los mandos de Tamaño de grano y Distancia. El control de distancia amplía y reduce el espaciado de los granos, y al ajustarlo junto con Smear (que aplica una serie de filtros de paso total para suavizar las transiciones entre los granos), se pueden realizar todo tipo de interesantes cambios tonales en un sonido sin obviamente «granularlo».
Audiority GrainSpace VST-AAX WINDOWS x86 x64
Motor granular en tiempo real
Bufer de grabación de 2 segundos
Modos de reproducción: estéreo, mono (L + R), lateral
Hasta 32 granos por canal T
amaño de grano hasta 500ms
7 parámetros de grano (tamaño, distancia, tono, posición, etc.)
4 moduladores de grano (2 x LFO, 2 x generadores aleatorios)
Tempo LFO sincronizado con 11 formas de onda
Manchar, Resonador de acordes, Reverb
VST-AAX de 32bit y 64bit para WINDOWS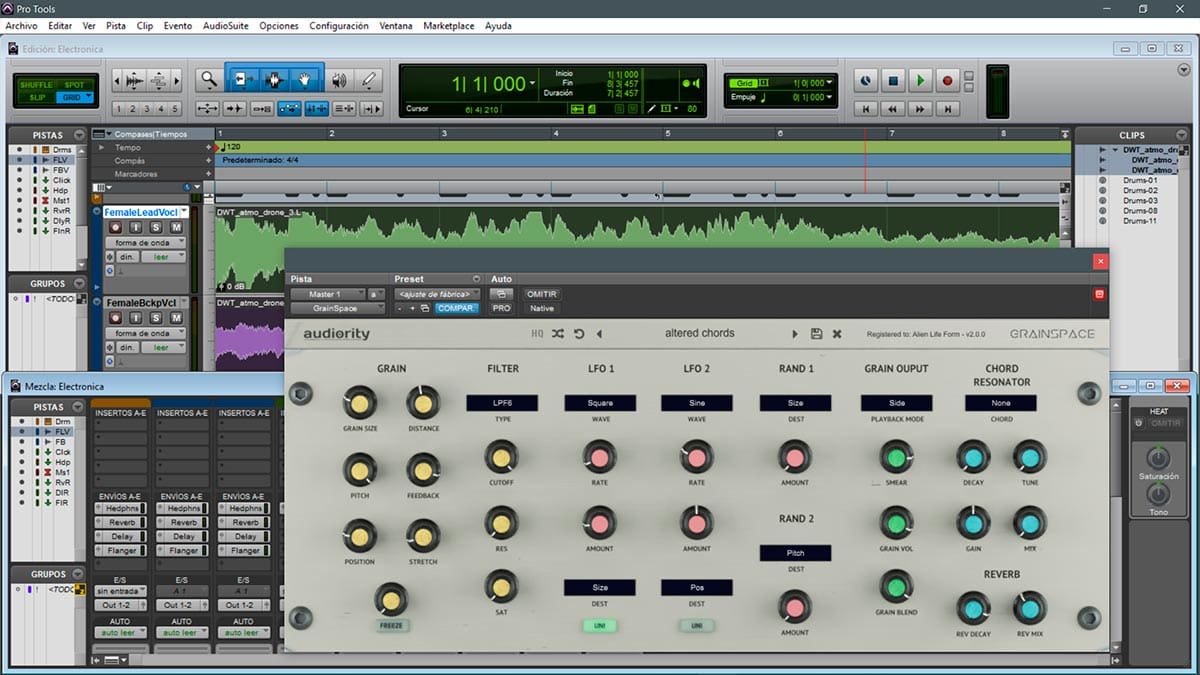 English
GrainSpace is a granular processor focused on real-time granularization and reverberation of the incoming audio signal. GrainSpace provides dynamic grain generation (up to 32 per channel), 7 grain parameters, 4 grain modulators (including two 11 waveforms LFO), smearing, chord resonator and reverb to create crazy sound effects, rich textures and much more.
Easy to use and full of sonic surprises, GrainSpace is a wildly creative glitching and texturising toolbox that's two LFOs, a few Random targets and a Freeze button short of magnificence. GrainSpace slices each input channel into up to 32 grains of between 16 and 500ms in length, as established by the Grain Size and Distance knobs. The Distance control widens and narrows the spacing of the grains, and by tweaking it in conjunction with Smear (which applies a series of all-pass filters to smooth the transitions between grains), all sorts of interesting tonal changes can be made to a sound without obviously 'granulating' it.
Audiority GrainSpace VST-AAX WINDOWS x86 x64
Real-Time Granular Engine
Recording Buffer of 2 seconds
Playback modes: Stereo, Mono (L+R), Side
Up to 32 grains per channel
Grain Size up to 500ms
7 Grain Parameters (Size, Distance, Pitch, Position, etc.)
4 Grain Modulators (2 x LFO, 2 x Random Generators)
Tempo sync'd LFO with 11 waveforms
Smearing, Chord Resonator, Reverb
VST-AAX 32bit & 64bit for WINDOWS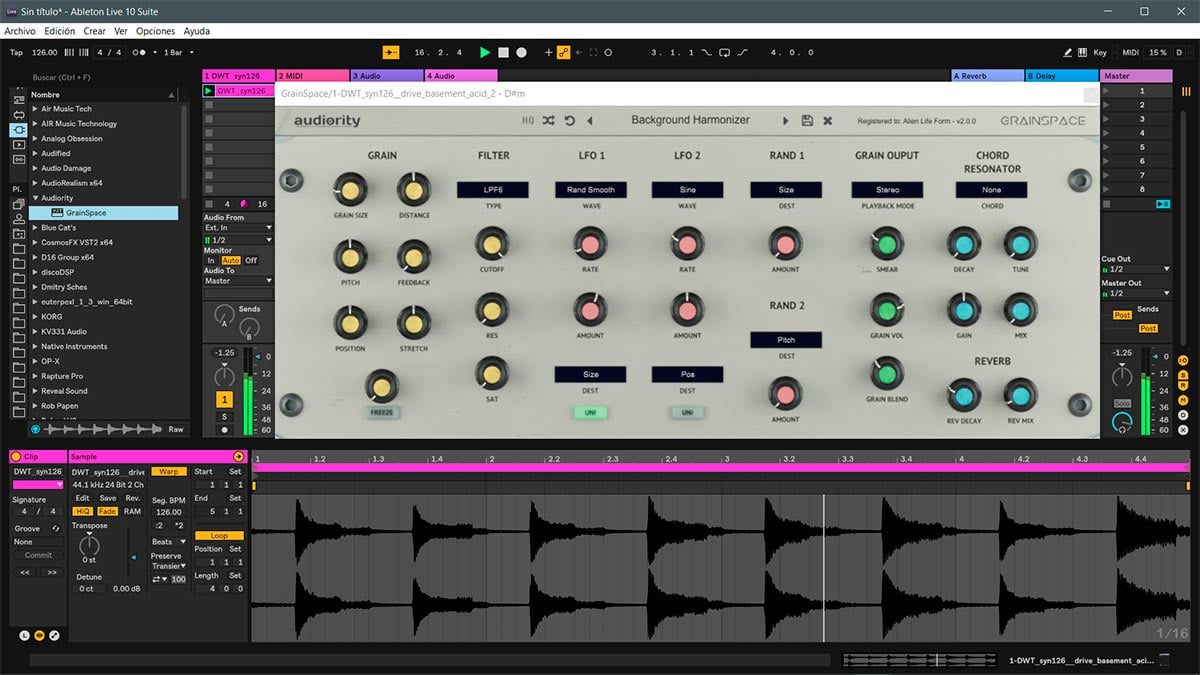 Audiority GrainSpace VST-AAX WINDOWS x86 x64
INSTALACIÓN:
Puede que tengamos que «

Desactivar SmartScreen

» para instalar
El plugin ya viene pre activado, es instalar y listos
Descarga Directa – Direct Download
GrainSpace v2.0 VST-AAX

WINDOWS

x86 x64
Para descarga de esta página se necesita un cliente Torrent, hay muchos disponibles, tanto para Windows como para MacOSX, aquí les dejo algunos de los mejores clientes…una vez instalado alguno de los programas, los enlaces Torrent se abren de forma automática.