Audiogrocery Bulgarian Vox ORPHEUS KONTAKT…El proyecto de la biblioteca de muestras vocales ORPHEUS se inició en 2004. Su misión es describir la leyenda del misterio de las voces búlgaras. Para que esto suceda, el productor Ivan Kovachev invitó a varias generaciones de los mejores coros profesionales búlgaros, grupos vocales y solistas a presentar el tesoro vocal tradicional del país.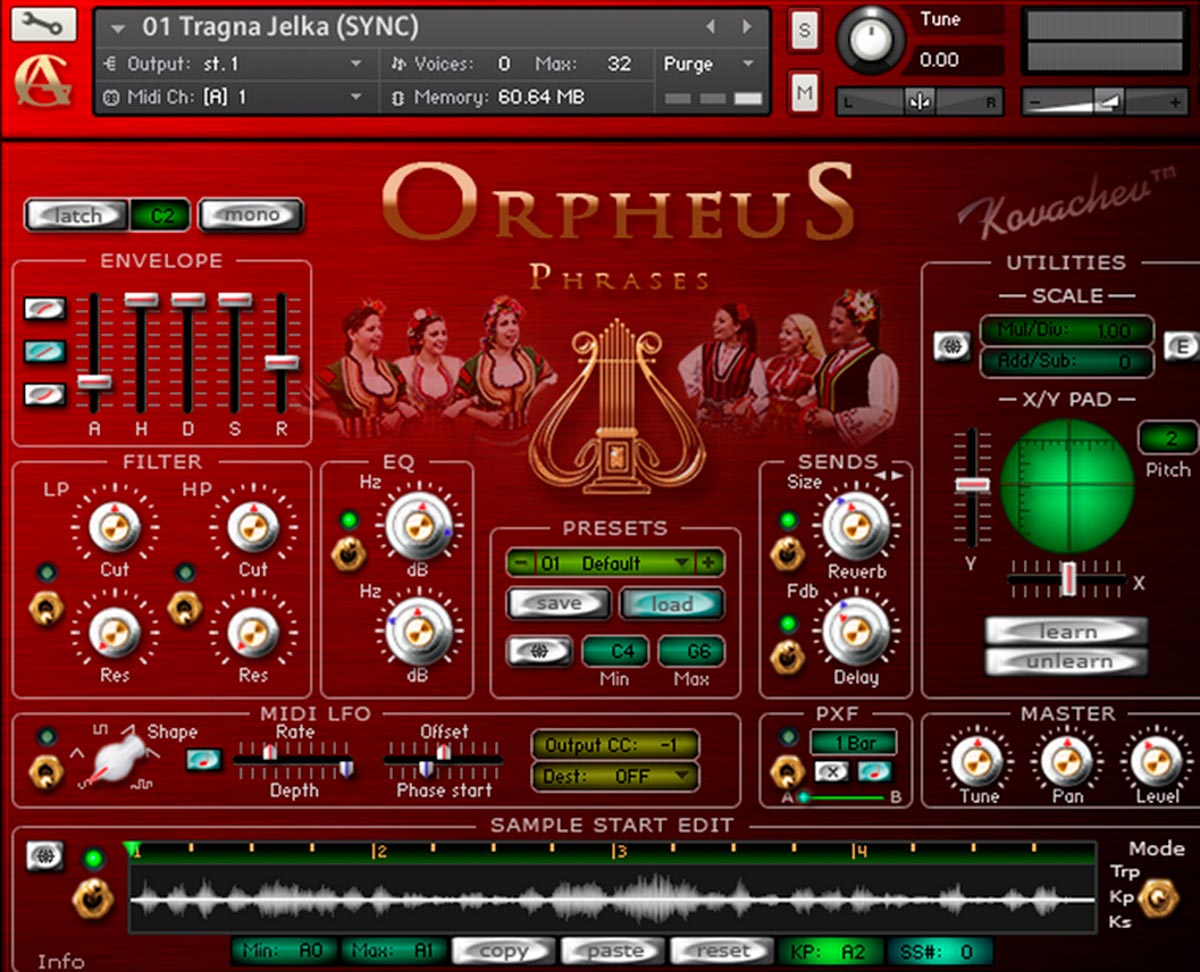 Audiogrocery Bulgarian Vox ORPHEUS KONTAKT
TLos parches de instrumentos incluidos en esta colección traen el auténtico ambiente de los Balcanes a cualquier estilo de composición musical, grabación de películas y mezclas. Todas las muestras vocales incluidas en la trilogía son «secas», trayendo solo el ambiente acústico original de la sala del estudio de grabación. La biblioteca de muestras de ORPHEUS se realizó en Bulgaria, incluida la grabación, el diseño de audio, la programación de instrumentos y el diseño de la interfaz de usuario. Un sincero agradecimiento a todos los profesionales (los coros, grupos vocales, cantantes solistas, expertos vocales, directores y organizadores) que participaron en ese proyecto.
Audiogrocery Bulgarian Vox ORPHEUS KONTAKT
Diseño de la interfaz de usuario de la estación de trabajo.
Etiquetas dinámicas UI Knob / Fader.
Ultimate Sample Start Editor (SSE).
Tres modos SSE (logrados por un conmutador «Modo»).
Modo KS (modo de cambio de tecla)
Modo KP (Modo Key Play).
Modo TRP (modo transposición).
Menú preestablecido de control preestablecido de medios.
Mezcla de motor PXF A / B.
True Midi Latch.
LFO MIDI extendido.
X / Y Pad & Scale utilities.
Botones de función de congelación.
Rango de inflexión de tono ampliado.
Pitch Bend como controlador.
CC11 (Expresión) control inicial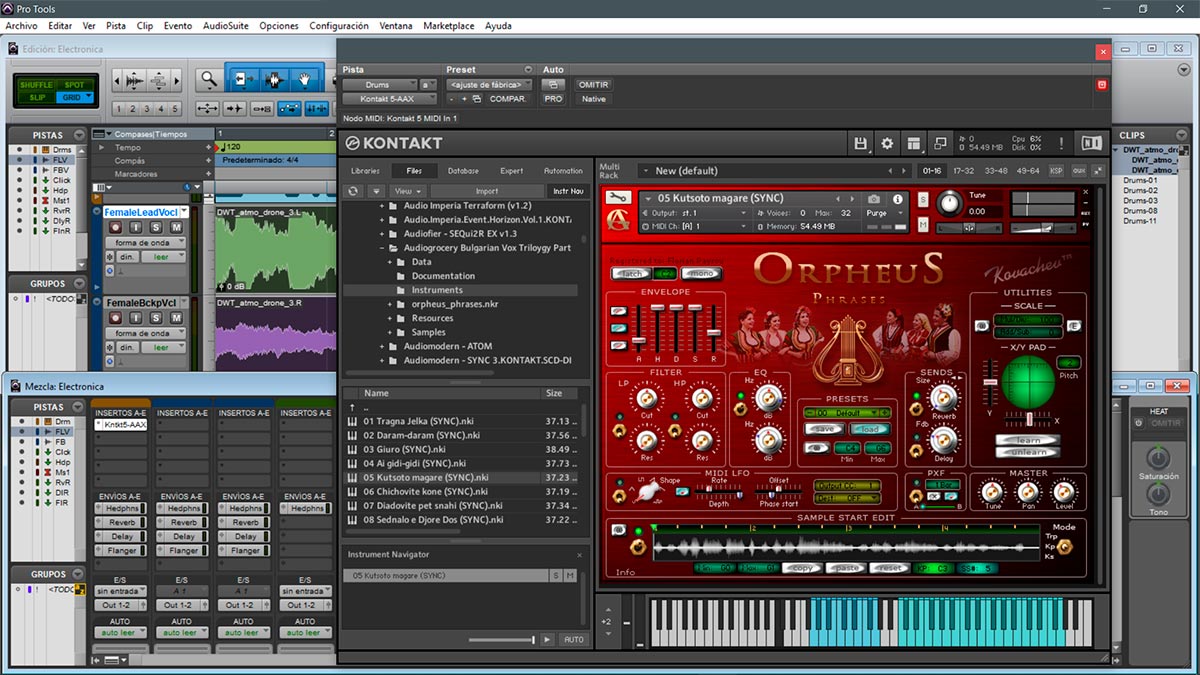 English
The ORPHEUS vocal sample library project was started in 2004. Its mission is to outline the legend of the mystery of the Bulgarian voices. To make that happen, the producer Ivan Kovachev invited several generations of the best Bulgarian professional choirs, vocal groups and soloists to present the traditional vocal treasure of the country.
The instrument patches included in this collection bring authentic Balkan ambience into any style of music compositions, film scoring and mixing. All vocal samples included in the trilogy are "dry", bringing only the original acoustic ambience of the recording studio hall. The ORPHEUS sample library was made in Bulgaria including the recording, audio design, instrument programming and UI design. Sincere thanks to all professionals (the choirs, vocal groups, solo singers, vocal experts, conductors and organizers) who took part in that project.
Audiogrocery Bulgarian Vox ORPHEUS KONTAKT
Workstation user interface design.
Dynamic UI knob/fader labels.
Ultimate Sample Start Editor (SSE).
Three SSE Modes (achieved by a "Mode" switcher).
KS Mode (Key Switch Mode)
KP Mode (Key Play Mode).
TRP Mode (Transpose Mode).
Performance Presets midi controlled menu.
PXF A/B Motor Mix.
True Midi Latch.
Extended MIDI LFO.
X/Y Pad & Scale utilities.
Freeze Function Buttons.
Extended Pitch Bend range.
Pitch Bend as Controller.
CC11 (Expression) initial control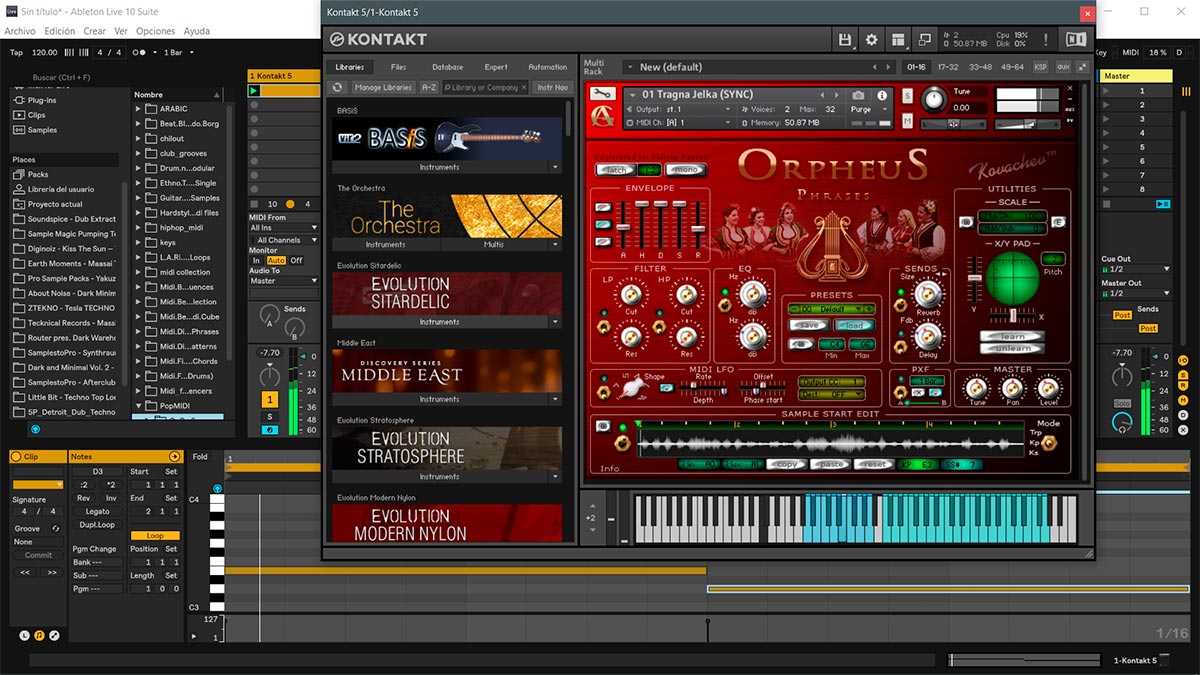 Audiogrocery Bulgarian Vox ORPHEUS KONTAKT
Descarga Directa – Direct Download
Bulgarian Vox ORPHEUS KONTAKT ( (3,2Gb)
Para descarga de esta página se necesita un cliente Torrent, hay muchos disponibles, tanto para Windows como para MacOSX, aquí les dejo algunos de los mejores clientes…una vez instalado alguno de los programas, los enlaces Torrent se abren de forma automática.