Rob Papen Predator 2 1-0-4 VSTi-AAX-AU WIN-MAC…¡Predator 2 es el sucesor de un legendario sintetizador que ha inspirado a muchos artistas / compositores y aparece en innumerables pistas de música! Como antes, combina preajustes inspiradores y funciones de vanguardia para hacer de este su sintetizador 'go-to' para la producción de música contemporánea. La interfaz de usuario ha sido diseñada de nuevo para que casi todos los controles principales estén visibles en la pantalla, haciéndolo divertido e increíblemente fácil de usar.
Rob Papen Predator 2 1-0-4 VSTi-AAX-AU WIN-MAC
Con Predator 2 y todas sus características interesantes, también hemos incluido una 'Página fácil' para los usuarios a los que no les gustan demasiados controles. La 'Página fácil' le ofrece los parámetros más importantes si desea cambiar un sonido rápidamente o si simplemente desea utilizar la práctica función 'variación preestablecida', que es un aleatorizador inteligente. Predator 2 está repleto de nuevas y potentes funciones tales como: 'Waveform morphing', 'Waveform drawing', «WaveSet playmode ', XY pad, nuevo ecualizador y nueva distorsión de nivel de voz … ¡y mucho más! Los preajustes inspiradores, Predator 2 es un concepto de sintetizador único que combina 'User Friendliness' y 'Packed Features' en un producto increíble.
Rob Papen Predator 2 1-0-4 VSTi-AAX-AU WIN-MAC
Cada oscilador ahora es dual, utilizando dos ondas diferentes (incluidas las 8 ondas de usuario)
Cada preajuste puede contener hasta 8 ondas de usuario
Cada onda de usuario es editable, usando hasta 256 parciales
Cada filtro y oscilador ahora es completamente estéreo
Segundo filtro expandido, con controles y envolventes completos
Modo unison mejorado
Pantalla XY, con rutas grabables
Dual Arp (A y B), con modo de combinación con hasta 32 pasos de Arp
Aumento de envolventes y LFO (de 2 a 4)
Mayor número de pasos de modulación (de 8 a 20)
Edición de acordes mejorada
EQ dual de 3 bandas con filtro de paso bajo / alto que se puede usar antes / después de los efectos
Cada sección puede tener sus propios preajustes y comandos como borrar / copiar / pegar
Modo fácil, modo de pantalla grande
Gestión de presets muy mejorada, con modo de búsqueda y etiquetado
Casi 6000 presets
VST-AAX de 32 bits y 64 bits para WINDOWS
English
Predator 2 is the successor of a legendary synthesizer that has inspired many artists/composers and appears on countless music tracks! As before it combines inspiring presets and cutting edge features to make this your 'go-to' synth for contemporary music production. The user interface has again been designed so that almost all main controls are visible on screen, making it fun and incredibly easy-to-use.
With Predator 2 and all its many cool features, we have also included an 'Easy Page' for the users that don't like too many controls. The 'Easy Page' offers you the most important parameters if you want to change a sound quickly or just want to use the handy 'preset variation' function, which is an intelligent randomizer. Predator 2 is packed with new powerful features such as: 'Waveform morphing', 'Waveform drawing', "WaveSet playmode', XY pad, new EQ, and new voice level distortion…. and so much more! Inspirational presets, Predator 2 is a unique synthesizer concept which combines 'User Friendliness' and 'Packed Features' in one amazing product.
Rob Papen Predator 2 1-0-4 VSTi-AAX-AU WIN-MAC
Each oscillator is now dual, using two different waves (including the 8 user waves)
Each preset can hold up to 8 user waves
Each user wave is editable, using up to 256 partials
Each filter & oscillator is now fully stereo
Much expanded second filter, with full controls & envelopes
Improved unison mode
XY screen, with recordable paths
Dual Arp ( A & B) , with join mode allowing you to have up 32 step Arp.
Increased envelopes & LFOs (up from 2 to 4)
Increased number of modulation steps (from 8 to 20)
Improved chord editing
Dual 3 band EQ with low / high pass filter which can be used pre / post of the effects.
Each section can have it's own presets, and commands such as clearing / copying / pasting
Easy mode
Big Screen mode
Much improved preset management, with find mode & tagging
Almost 6000 presets
VST-AAX 32bit & 64bit for WINDOWS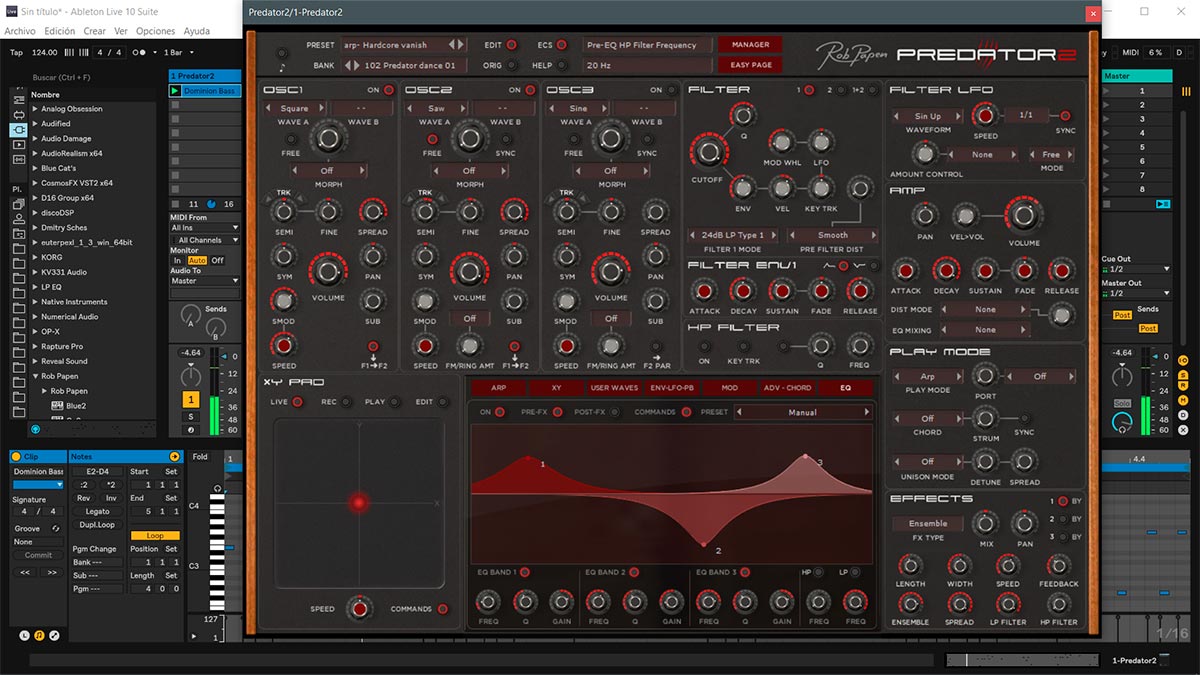 Rob Papen Predator 2 1-0-4 VSTi-AAX-AU WIN-MAC
INSTALACIÓN:
Instalar y listos, pero tendremos que «Desactivar SmartScreen» de Windows para poder instalar.
Descarga Directa – Direct Download
RP-PREDATOR 2 v1.0.4 VST-AAX-NI

WINDOWS
RP-PREDATOR 2 v1.0.3a VST-AU

MAC OSX
Para descarga de esta página se necesita un cliente Torrent, hay muchos disponibles, tanto para Windows como para MacOSX, aquí les dejo algunos de los mejores clientes…una vez instalado alguno de los programas, los enlaces Torrent se abren de forma automática.