Martin Britz Invictus Guitar KONTAKT…Invictus Guitar es una biblioteca de guitarra eléctrica con dos instrumentos: uno con grabaciones en seco y uno amplificado que contiene alrededor de 5,7 gb de muestras cada uno, un editor de patrones avanzado, un conjunto de interruptores de teclas para diferentes sonidos y más.
Martin Britz Invictus Guitar KONTAKT
Invictus contiene un potente generador de patrones y frases en el que puedes asignar diferentes articulaciones y acordes por paso para crear frases perfectas e instantáneas. También hay una selección de patrones preestablecidos para elegir. Grabado con una interfaz de audio profesional de alta calidad, pastillas activas de guitarra, conectores chapados en oro y cables de calidad. Todas las grabaciones son de audio de 32 bits sin comprimir para una calidad máxima. La biblioteca consta de más de 3500 grabaciones individuales. Cada una de estas grabaciones fue editada a mano para crear aproximadamente 1790 muestras con doble seguimiento. Hay dieciséis tomas de cada sonido, combinadas en 8 muestras estéreo por sonido. Hay seis sonidos y acordes diferentes (acordes de 5th Power, dos acordes alt, mute de palma pesada y clara y lead), un conjunto de grabaciones para cada semitono.
Martin Britz Invictus Guitar KONTAKT
Todos los acordes fueron reproducidos y grabados, sin reutilización de muestras.
Todos los acordes y notas suenan hasta que el sonido se disipa.
Hammer-on y quitar la emulación a través de secuencias de comandos.
Round Robins por sonido y por nota: varios cientos de round robins para una variación más natural en el sonido.
Un editor de patrones con 12 patrones editables por el usuario.
Modos de interpretación y piano roll.
Dos juegos de grabaciones: las muestras secas pueden amplificarse usando cualquier plugin VST o efectos para un sonido y opciones de sonido sin fin.
La versión amplificada ofrece un conjunto de muestras procesadas con un stomp box, un amplificador rectificador y una simulación de gabinete.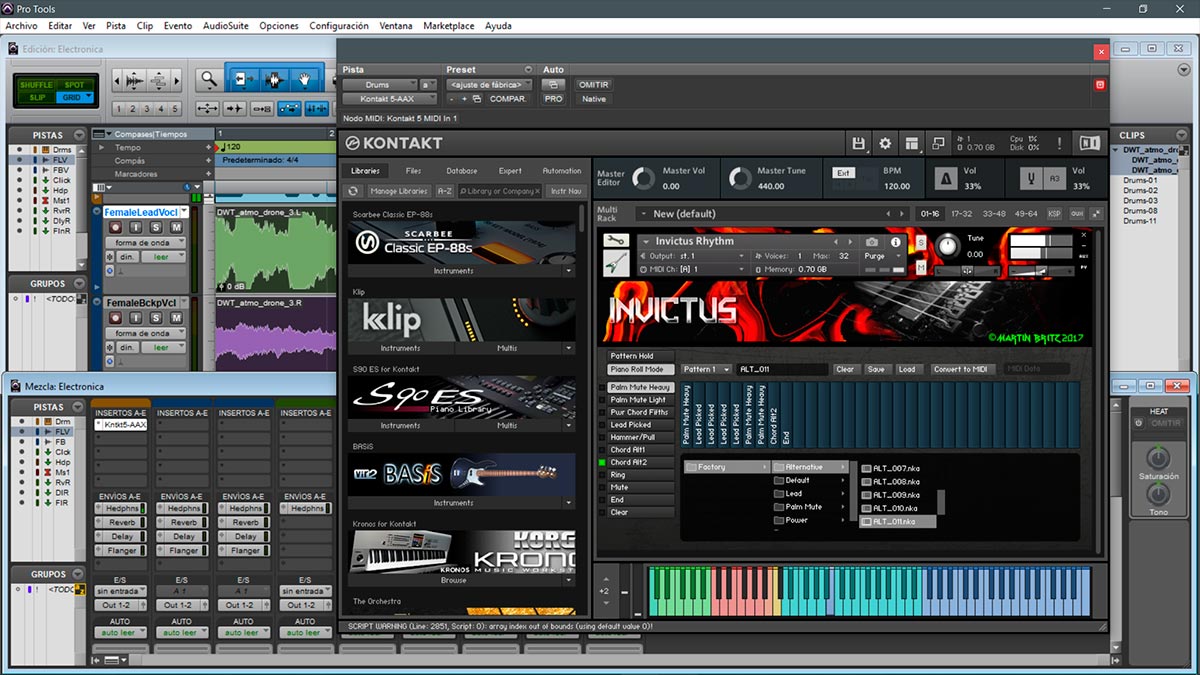 English
Invictus Guitar is an electric guitar library with two instruments: One with dry recordings and one amped containing around 5.7gb of samples each, an advanced pattern editor, a set of key switches for different sounds and more….The library consists of over 3500 individual recordings. Each of these recordings were hand edited to create approximately 1790 dual tracked samples. There are sixteen takes of each sound, combined into 8 stereo samples per sound. There are six different sounds and chords (5th Power chords, two alt chords, heavy and light palm mute and lead), a set of recordings for every semi-tone.
Invictus contains a powerful pattern and phrase builder where you can assign different articulations and chords per step to create seamless and instant phrases. There are also a selection of preset patterns to choose from. Recorded with a high quality professional audio interface, active guitar pickups, gold plated connectors and quality cables. All recordings are 32 bit uncompressed audio for maximum quality.
Martin Britz Invictus Guitar KONTAKT
All chords were played and recorded, no re-use of samples.
All chords and notes ring until the sound dissipates.
Hammer-on and pull off emulation through scripting.
Per sound and per key round robins – several hundred round robins for more natural variation in sound.
A pattern editor with 12 user editable patterns.
Performance and piano roll modes.
Two sets of recordings: Dry samples can be amped using any VST plugins or effects for endless tone and sound options.
The amped version offers a set of samples processed with a tube screamer stomp box, rectifier amp and cabinet simulation.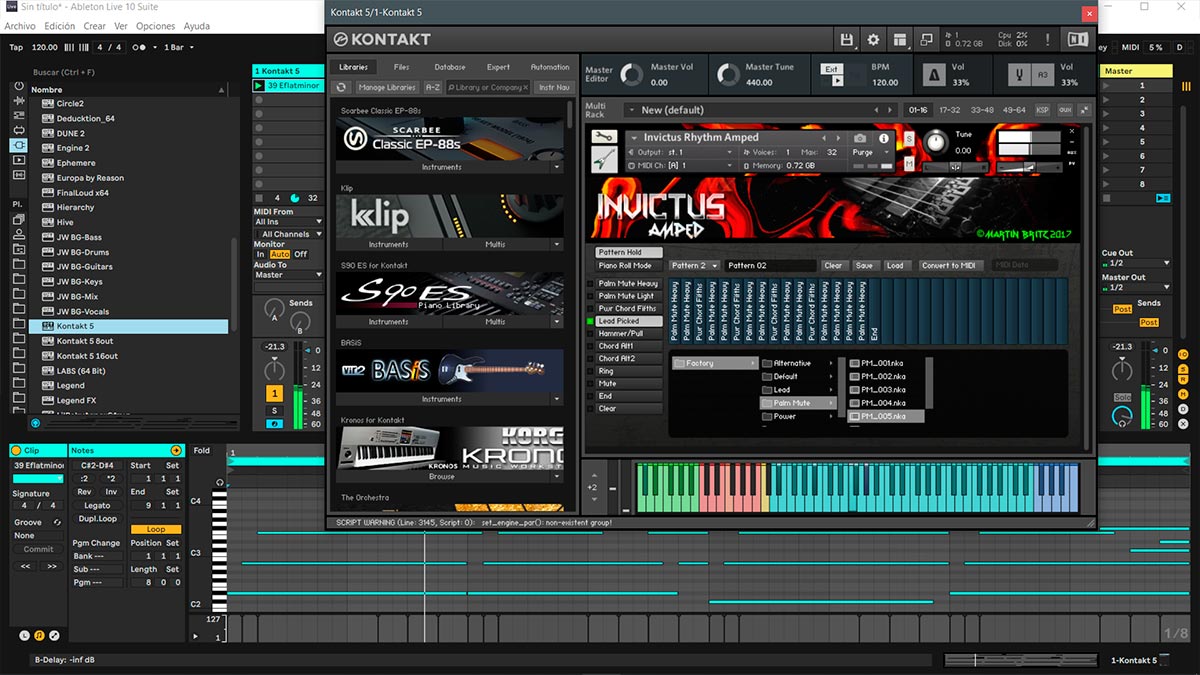 Martin Britz Invictus Guitar KONTAKT
Descarga Directa – Direct Download
Invictus Guitar

REPACK

KONTAKT (4,8Gb)
Invictus Guitar

FULL

KONTAKT (11,5Gb)
Para descarga de esta página se necesita un cliente Torrent, hay muchos disponibles, tanto para Windows como para MacOSX, aquí les dejo algunos de los mejores clientes…una vez instalado alguno de los programas, los enlaces Torrent se abren de forma automática.