Toontrack Seventies Rock EZX for Superior Drummer…La escena del rock de los años 70 fue una de diversidad y constante reinvención. En un extremo de la escala, bandas como Led Zeppelin y The Who no solo abrieron camino para una nueva generación de rock ruidoso e impulsado por el ritmo, sino que también revitalizaron al héroe del tambor de la era del jazz e introdujeron un ideal sónico nunca antes escuchado. De grandes tambores, masivamente saturados.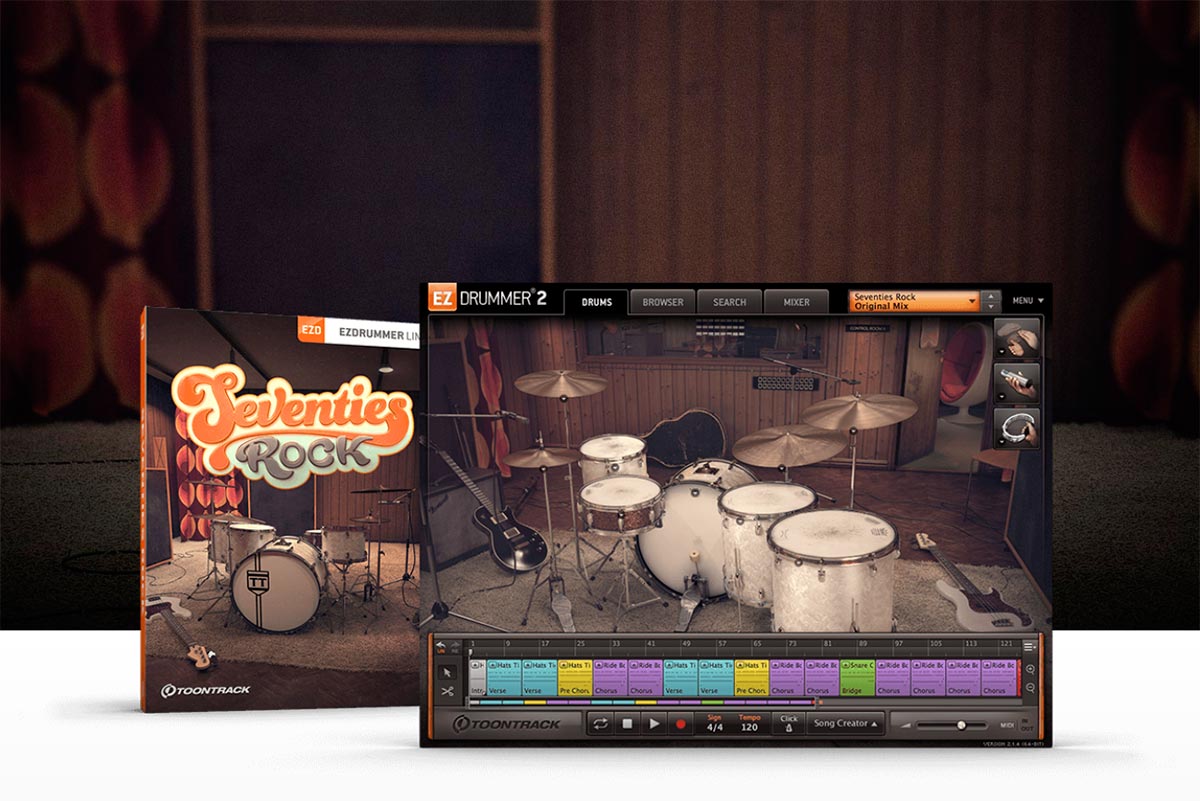 Toontrack Seventies Rock EZX for Superior Drummer
En el extremo opuesto, bandas como los Eagles y Fleetwood Mac adquirieron un traje de producción notablemente más pulido. Aún así, ambos sonidos eran productos atribuidos a los avances de la tecnología de grabación. Seventies Rock EZX se propone capturar ese alcance, desde el extremo más lejano de la epopeya, la conmoción de la tierra y la reverberación hasta lo clásico, lo humedecido y lo discreto. Las sesiones de grabación se llevaron a cabo en el Columbia Studio A en Nashville, uno de los estudios de grabación más famosos del mundo.
Hoy en día, restaurado en prácticamente un museo de los prístinos equipos de grabación de los años 70, sirve como academia de entrenamiento para la Universidad de Belmont. El EZX incluye tres kits fundamentalmente diferentes: una réplica única de Buddy Rich de la década de los 70 de Buddy Rich, así como dos versiones diferentes de un Camco de mediados de los años 70: uno con cabezas de tambor estándar y uno con toalla
Toontrack Seventies Rock EZX for Superior Drummer
Dos (2) kits de la década de 1970 muestreados con cabezas de tambor normales (Mark Arnold Custom, Camco)
Un (1) kit muestreado con cabezas de tambor con toalla (Camco)
Cajas adicionales y un gran surtido de platillos.
Grabado en el legendario estudio Columbia A en Nashville, TN
Compatible con sistemas WiNDOWS y MAC OSX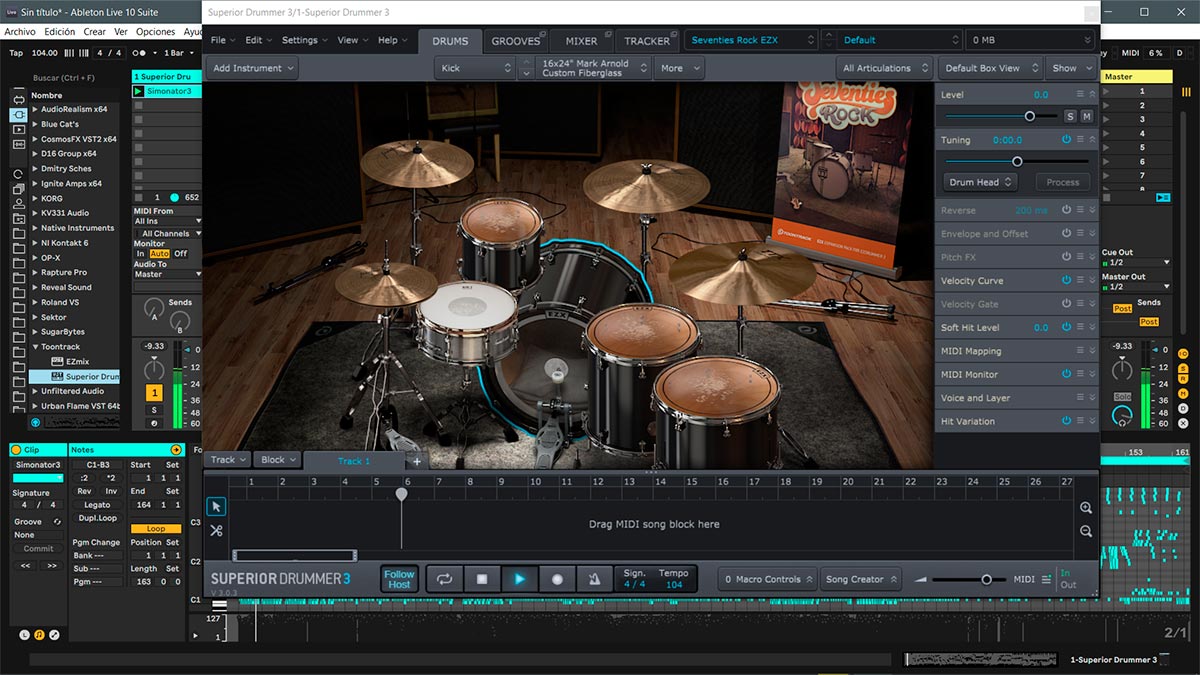 English
The 1970s rock scene was one of diversity and constant reinvention. On one end of the scale, bands like Led Zeppelin and The Who not only paved way for a new breed of loud, beat-driven rock – but also revitalized the drum hero of the jazz age and introduced a never-before-heard sonic ideal of big, massively saturated drums. On the opposite end, acts like the Eagles and Fleetwood Mac took on a noticeably more polished production suit. Still, both sounds were very much products attributed to the advances of recording technology. The Seventies Rock EZX sets out to capture that scope – from the farthest end of epic, earth-shattering and reverberant down to classic, dampened and low-key.
The recording sessions were held at the Columbia Studio A in Nashville, one of the world's most famed recording studios. Today, restored to practically a museum of pristine 1970s recording gear, it serves as a training academy for Belmont University. The EZX includes three fundamentally different kits: a bombastic-sounding, one-of-a-kind replica of Buddy Rich's '70s-era Slingerland as well as two different renditions of a mid-'70s Camco – one with standard drum heads and one with toweled.
Toontrack Seventies Rock EZX for Superior Drummer
Two (2) 1970s-era kits sampled with regular drum heads (Mark Arnold Custom, Camco)
One (1) kit sampled with toweled drum heads (Camco)
Additional snares and a large assortment of cymbals
Recorded at the legendary Columbia Studio A in Nashville, TN
Compatible With WiNDOWS & MAC OSX Systems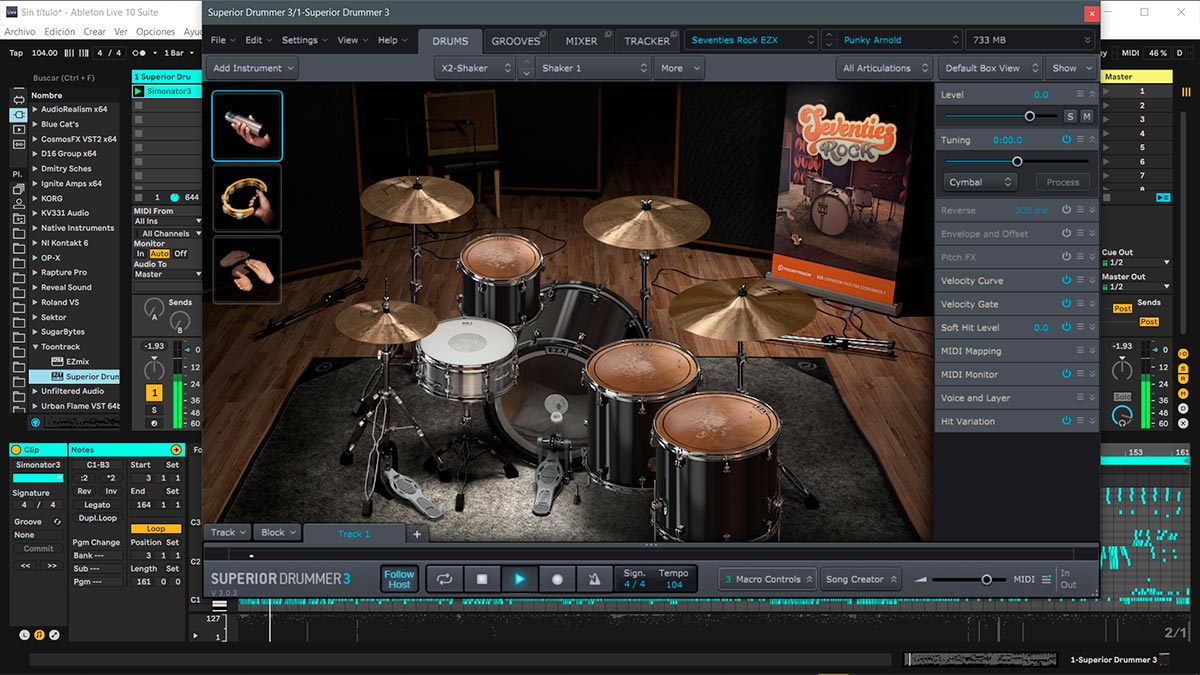 Toontrack Seventies Rock EZX for Superior Drummer
Descarga Directa – Direct Download
EZX Seventies Rock for Superior Drummer
Para descarga de esta página se necesita un cliente Torrent, hay muchos disponibles, tanto para Windows como para MacOSX, aquí les dejo algunos de los mejores clientes…una vez instalado alguno de los programas, los enlaces Torrent se abren de forma automática.