HoRNet AutoGain MK2 2-0-5 VST-AAX-AU WIN-OSX…Dos plugins muy útiles para la mezcla y masterización, Autogain Pro es un procesador de ganancia cargado de funciones como referencia interna, detección de picos, procesamiento de ganancia inversa y ganancia mínima y máxima ajustable…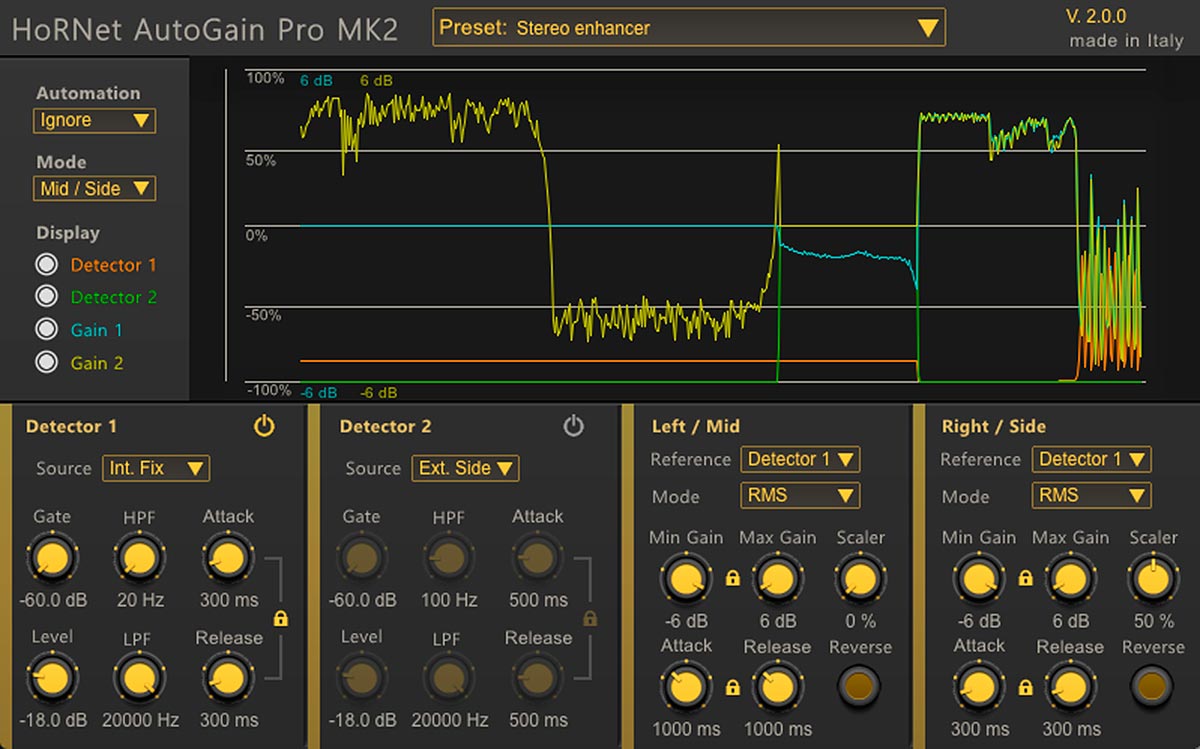 HoRNet AutoGain Pro MK2 2-0-5 VST-AAX-AU WIN-OSX
El HoRNet AutoGain Pro mejora a nuestro best seller, el HoRNet AutoGain , toma prestado el mismo algoritmo DSP efectivo que agrega referencia interna, detección de picos, procesamiento de ganancia inversa y ganancia mínima y máxima ajustable. Por supuesto, toda la función del AutoGain original todavía está allí, por lo que AutoGain Pro es la herramienta perfecta para crear rápidamente automatizaciones de volumen y perfeccionarlas al máximo. AutoGain Pro funciona utilizando una referencia externa o interna, escucha su señal e intenta mantenerla en el mismo nivel de la señal de referencia, de la manera en que lo hace depende de usted, tiene muchos parámetros que modificar hasta que reaccione perfectamente.
HoRNet AutoGain Pro MK2 2-0-5 VST-AAX-AU WIN-OSX
referencia interna y externa
puerta de -60dB a 0dB para señal principal cuando se usa referencia interna
ataque y liberación independientes para referencia y señales principales
filtros de paso alto y paso bajo en la entrada de referencia
ganancia de referencia ajustable de -30dB a + 30dB
procesamiento máximo o RMS
operación de ganancia inversa
El modo «clásico» funciona como el AutoGain original
puede escribir y leer automatización
ajuste independiente del rango de ganancia mínimo y máximo
ajuste de rango de ganancia relativa
ajuste de ganancia gráfica y visualización de la señal de referencia
Mac OS X (> = 10.7) y soporte de Windows
Compatibilidad de 64 bits tanto en Mac como en Windows
AU, VST2.4, VST3 y formato AAX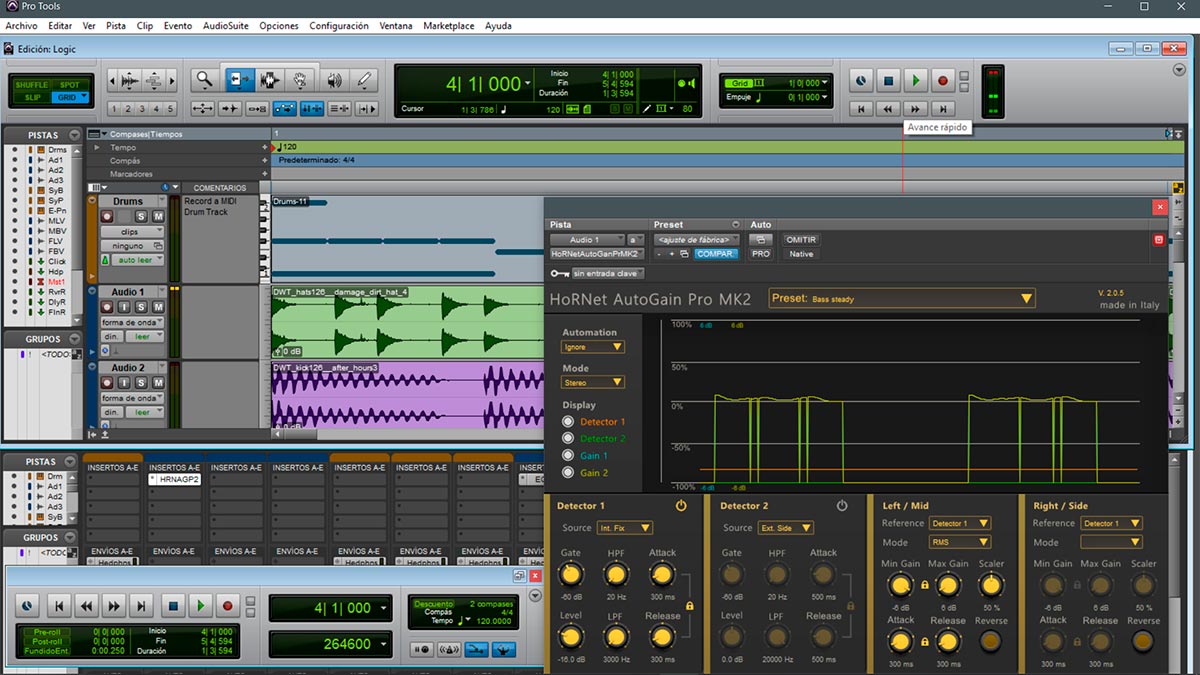 English
The HoRNet AutoGain Pro improves on our best seller, the HoRNet AutoGain , it borrows the same effective DSP algorithm adding internal reference, peak detection, reverse gain processing and adjustable minimum and maximum gain. Of course all the feature of the original AutoGain are still there, so the AutoGain Pro is the perfect tool for quickly create volume automations and perfect them at their best. The AutoGain Pro works using an external reference or an internal one, listens to your signal and tries to keep it at the same level of the reference signal, the way it does it it's up to you, you have many parameters to tweak until it reacts perfectly.
Two detectors and two processors

Five different sources for each detector

Internal and external sources for detectors

gate from -60dB to 0dB for each detector

independent attack and release for each detector and processor

high pass and low pass filters on the detectors input

detectors gain adjustable from -30dB to +30dB

peak or RMS processing

reverse gain operation for each processor

"classic", "stereo" and "mid/side" mode

can write and read automation

independent adjustment of minimum and maximum gain range up to 100dB

relative gain range adjustment

graphical display for each detector and processor

64bit compatibility both on Mac and Windows

Audio Units VST2.4, VST3, AAX and RTAS format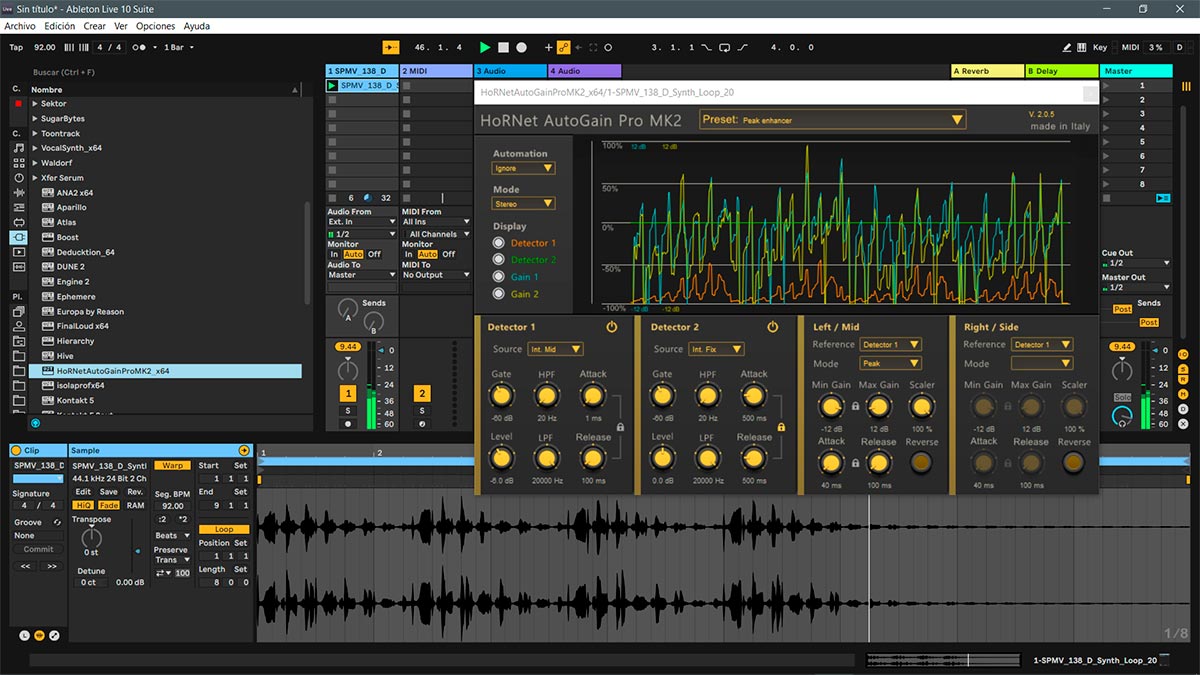 HoRNet AutoGain MK2 2-0-5 VST-AAX-AU WIN-OSX