Glitchmachines CATARACT 1-1 VSTi-AU WIN-OSX…Cataract es un «multiplexor por segmentos» que llamará la atención de los diseñadores de sonido y productores electrónicos que busquen efectos radicales. Los desarrolladores, Glitchmachines, están especializados en «efectos de sonido vanguardistas y software de audio no convencional». El nuevo Cataract se basa en unos escáneres de samples con secuenciadores de modulación integrados y funciones de morphing. Esto nos permite construir patrones sumamente complejos, que Glitchmachines define como «un caos generativo hyper glitch».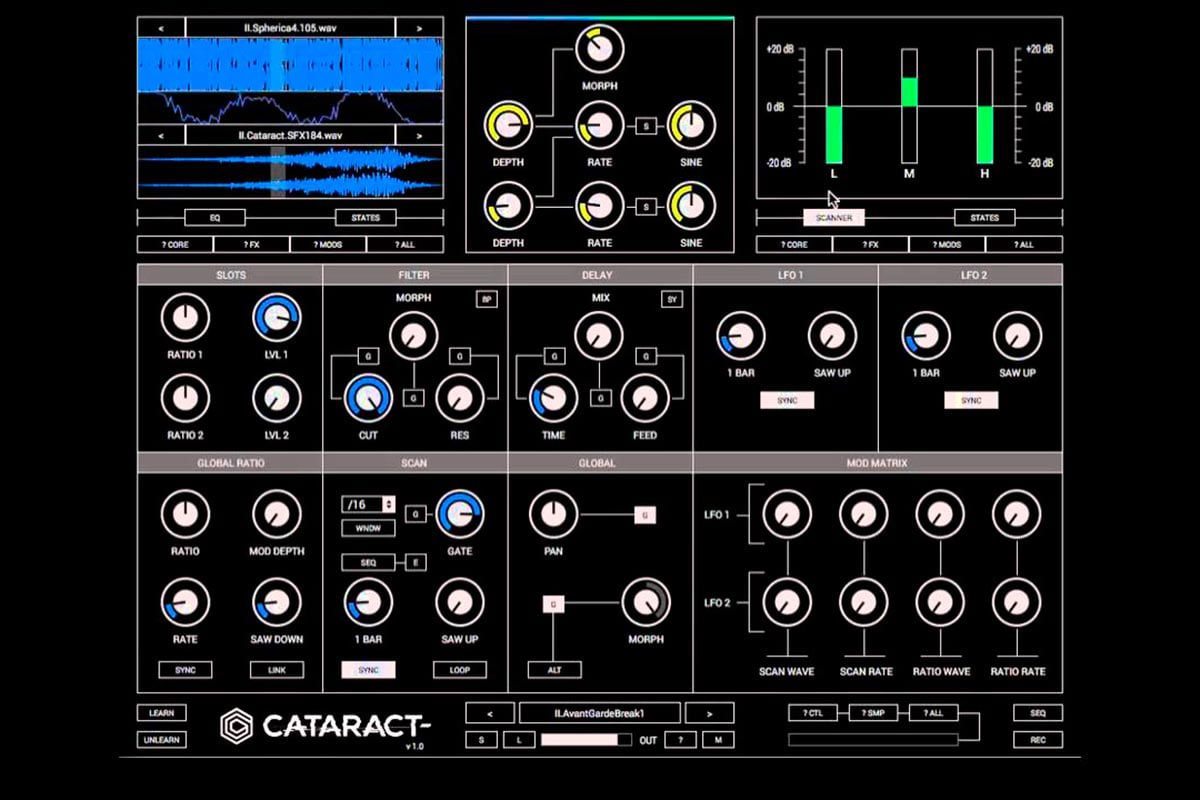 Glitchmachines CATARACT 1-1 VSTi-AU WIN-OSX
No faltan opciones de randomización y modulación: podemos deformar samples y convertirlos en melodías, o transformar segmentos de loops en polirritmos generativos. Cataract incluye dos escáneres, cada uno de los cuales está equipado con dos ranuras de muestra. Cada escáner incluye dos LFO, un filtro multimodo, un efecto de retardo multimodo, un secuenciador de exploración con ventana y un LFO dedicado, un ecualizador gráfico de 3 bandas, cuatro aleatorios dedicados, cinco estados guardados activados por MIDI y una matriz de modulación dedicada. A nivel mundial, Cataract presenta una sección de transformación de estilo de fundido cruzado con su propio L-X-MOD dedicado, así como tres aleatorios basados ​​en porcentajes que facilitan resultados convincentes de manera consistente con relativa facilidad.
Glitchmachines CATARACT 1-1 VSTi-AU WIN-OSX
2 módulos de escáner monofónico con slots duales de samples
Secuenciadores de modulación y escaneo integrados
2 LFOs por escáner, con matriz de modulación dedicada
1 filtro multimodo por escáner
1 efecto de delay por escáner
EQ gráfica de 3 bandas por escáner
Herramientas de randomización globales y por escáner
Sección de morphing con LFO X-MOD dedicado
Interfaz de usuario con código de colores dinámico
Pack de samples con más de 130 loops y 200 efectos
Presets de Ivo Ivanov, Nicholas Yochum y Daed
Compatible con PC/Mac – VST/AU a 32 y 64bit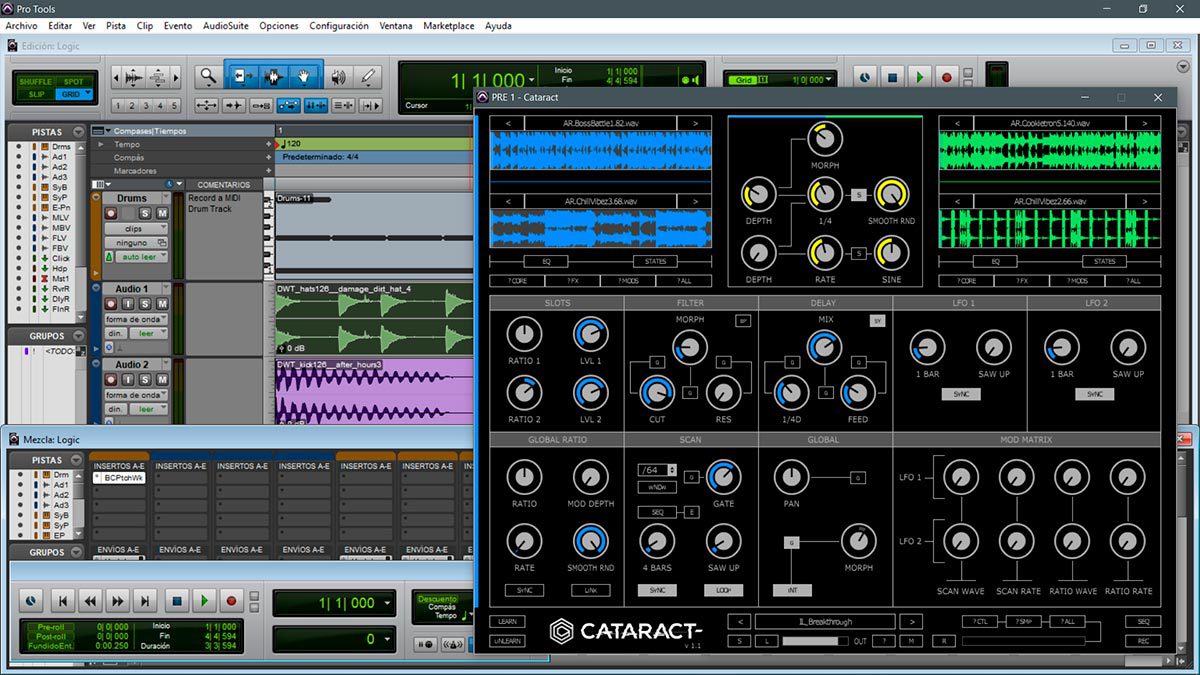 English
Cataract is a Segment Multiplexer for electronic music production and experimental sound design. Cataract features an arsenal of sample scanners with integrated modulation sequencers, generative parameters and various morphing functions. This makes it possible to construct architecturally complex patterns ranging from nuanced percussive articulations to intricate particle sound effects and all out glitch chaos. Cataract comes with a large library of loops and samples, as well as more than 180 presets to get you started.
Cataract includes two scanners, each of which are equipped with two sample slots. Each scanner includes two LFOs, a multimode filter, a multimode delay effect, a scan sequencer with windowing and dedicated LFO, a 3-Band graphic EQ, four dedicated randomizers, five MIDI triggered save states and a dedicated modulation matrix. Globally, Cataract features a crossfade-style morph section with its own dedicated X-MOD LFO, as well as three percentage-based randomizers that facilitate consistently compelling results with relative ease.
Glitchmachines CATARACT 1-1 VSTi-AU WIN-OSX
2 Versatile Scanner Modules
Mod & Scan Step Sequencers
2 LFOs per Scanner
X-MOD Morphing LFO
Multi-Mode Filter & Delay FX
Extensive Randomization Tools
Switching Color-Coded UI
180+ Presets & 400+ Samples
PC/Mac – VST/AU 32bit & 64bit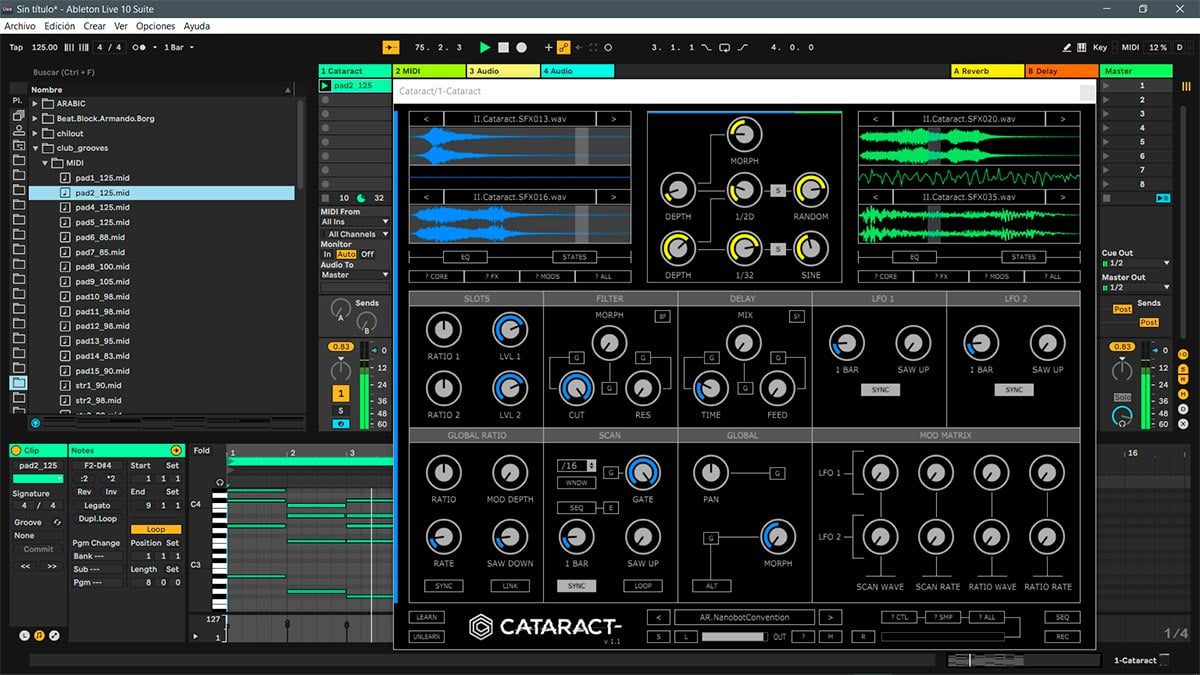 Glitchmachines CATARACT 1-1 VSTi-AU WIN-OSX
Descarga Directa – Direct Download
Cataract v1.1 VST-AU WIN-MAC OSX x86 x64
Para descarga de esta página se necesita un cliente Torrent, hay muchos disponibles, tanto para Windows como para MacOSX, aquí les dejo algunos de los mejores clientes…una vez instalado alguno de los programas, los enlaces Torrent se abren de forma automática.