Audiomodern Random Groove Pro Max4Live…Random Groove Generator PRO es una herramienta que cuenta con cuatro canales que generan secuencias de patrones para usted, puede aleatorizar los pasos, tono, volumen, filtro, punto de muestra, cantidad de notas y más. Puede cambiar el rango de aleatorización de cada parámetro o enlace entre los diferentes modos. Random Groove Generator PRO ofrece un potencial creativo virtualmente ilimitado para cualquier producción de audio.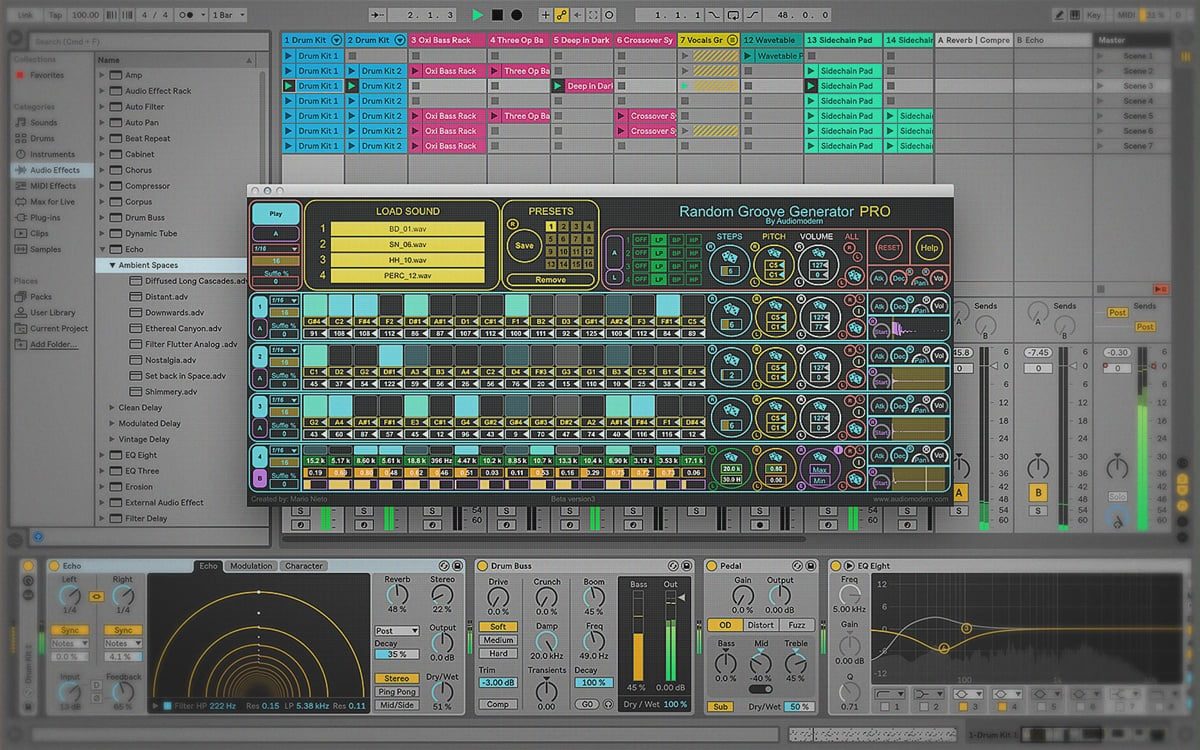 Audiomodern Random Groove Pro Max4Live
Su enfoque único para la creación de música seguramente te hará encontrar nuevos ritmos, ritmos y melodías nunca antes escuchados. A diferencia de un secuenciador de pasos ordinario, Random Groove Generator PRO crea secuencias al combinar groove, Pitch, filters, Resonance, speed y más. Las nuevas formas de crear ritmos y melodías ayudan a abrir nuevos caminos en la música y el sonido. Random Groove Generator lo ayuda a explorar nuevos ritmos y melodías usando un concepto único de generar patrones y se realiza de una manera visual que es fácil de usar y divertido.
Audiomodern Random Groove Pro Max4Live
Avanzado patrón aleatorio y creador de secuencias
Filtro aleatorio
Aleatorizar la resonancia
Aleatorizar la velocidad
Randomize Pitch
Midi controlable
Guardar / cargar y preseleccionar selector
Bonus 180+ Muestras One Shot incluidas
El único plugin disponible de su tipo!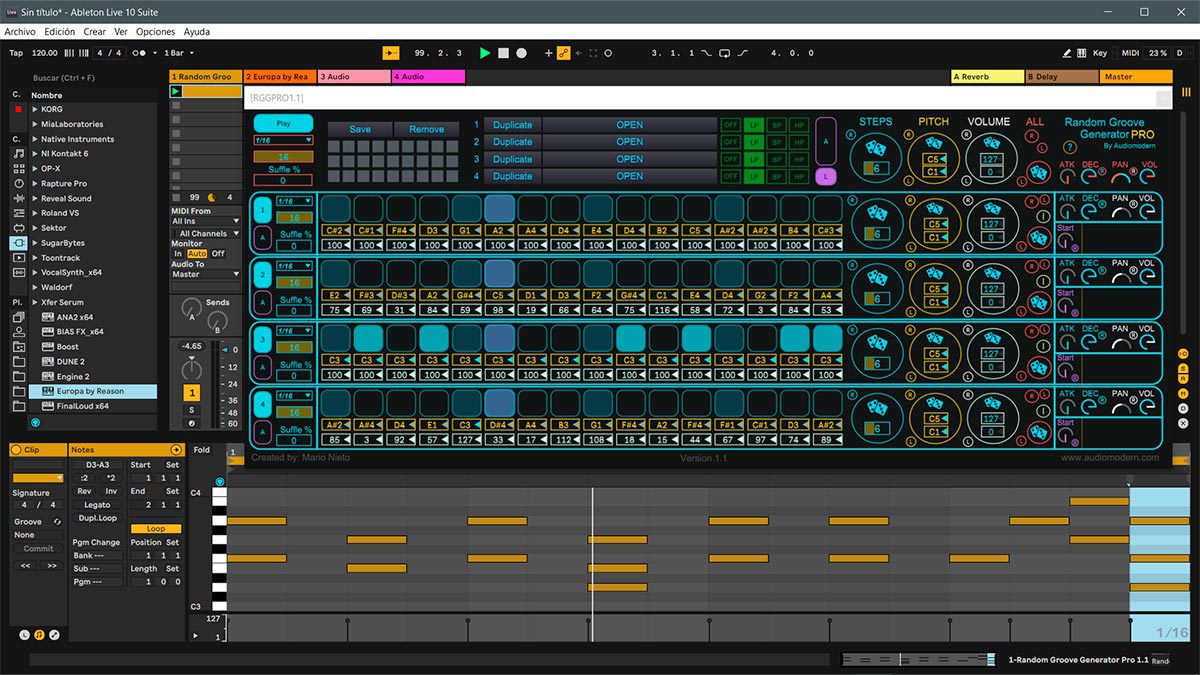 English
Random Groove Generator PRO is a tool that features four channels that generate pattern sequences for you, you can randomize the steps, pitch, volume, filter, sample point, amount of notes and more. You can change the range of randomization of each parameter or link between the different modes. Random Groove Generator PRO offers virtually unlimited creative potential for any audio production.
Its unique approach to music creation is sure to have you finding new grooves, rhythms and melodies never heard before. Unlike an ordinary step sequencer, Random Groove Generator PRO creates sequences by combining groove, Pitch, filters, Resonance, velocity and more. New ways of creating grooves and melodies help to break new ground in music and sound. Random Groove Generator helps you explore new rhythms and melodies using a unique concept of generating patterns and it is done in a visual way that is easy fun to use.
Audiomodern Random Groove Pro Max4Live
Advanced random pattern & sequence creator
Randomize Filter
Randomize Resonance
Randomize Velocity
Randomize Pitch
Midi Controllable
Save/Load and preset selector
Bonus 180+ One Shot Samples included
The only available plugin of its kind!
Audiomodern Random Groove Pro Max4Live
INSTALACIÓN:
Personalmente he creado una carpeta con los plugins de Audiomodern
Desde el navegador de Ableton, he buscado esta carpeta y me los muestra para cargar

También podemos hacer doble click sobre el archivo Max4Live

Otra opción es arrastrar el archivo Max4Live directamente en el proyecto
Comprobado en Ableton Live 10, como se muestra en las imágenes

Descarga Directa – Direct Download
Random Groove Generator Pro (WiNDOWS – MAC OSX)
Para descarga de esta página se necesita un cliente Torrent, hay muchos disponibles, tanto para Windows como para MacOSX, aquí les dejo algunos de los mejores clientes…una vez instalado alguno de los programas, los enlaces Torrent se abren de forma automática.