Audiomodern Random Riff Generator Pro Max4Live…Random Riff Generator es una herramienta midi que genera secuencias para usted, estas secuencias / riffs midi pueden enviarse a cualquier sintetizador, software o hardware, sampler, caja de ritmos … y básicamente cualquier cosa que acepte una señal midi. Es literalmente una navaja suiza para crear melodías aleatorias, secuencias y riffs musicales en el lugar y llega tan lejos como su imaginación puede.
Audiomodern Random Riff Generator Pro Max4Live
Puede usar Random Riff Generator PRO con cualquier tipo de software o hardware sintetizador, sampler, caja de ritmos, etc. Se sorprenderá de su increíble flexibilidad para producir resultados tan inspiradores. Random Riff Generator PRO ha sido diseñado para promover la creación de música tanto en estudio como en vivo con una interfaz de usuario simple y conveniente.
Audiomodern Random Riff Generator Pro Max4Live
Generar Riffs Aleatorios
Todo está sincronizado con el tempo de tu Host.
53 escalas incluidas de occidental a oriental
Elige el número de notas generadas en la secuencia.
Generar patrón de tono, duración y volumen por nota
Azulejo o sostenido notas pausadas
Patrón MIDI de exportación rápida
Patrón completo de transposición rápida
Elija la configuración de cuantización
Modo Suffle & Shift, Modo infinito
Ajustes de secuencia de movimiento
Elija Número de Pasos
Rango de secuencia personalizable
Guarda y carga tus propios patrones
Envía MIDI a cualquier dispositivo, software y hardware
No hay dos patrones que sean iguales
El único Plugin disponible de su clase!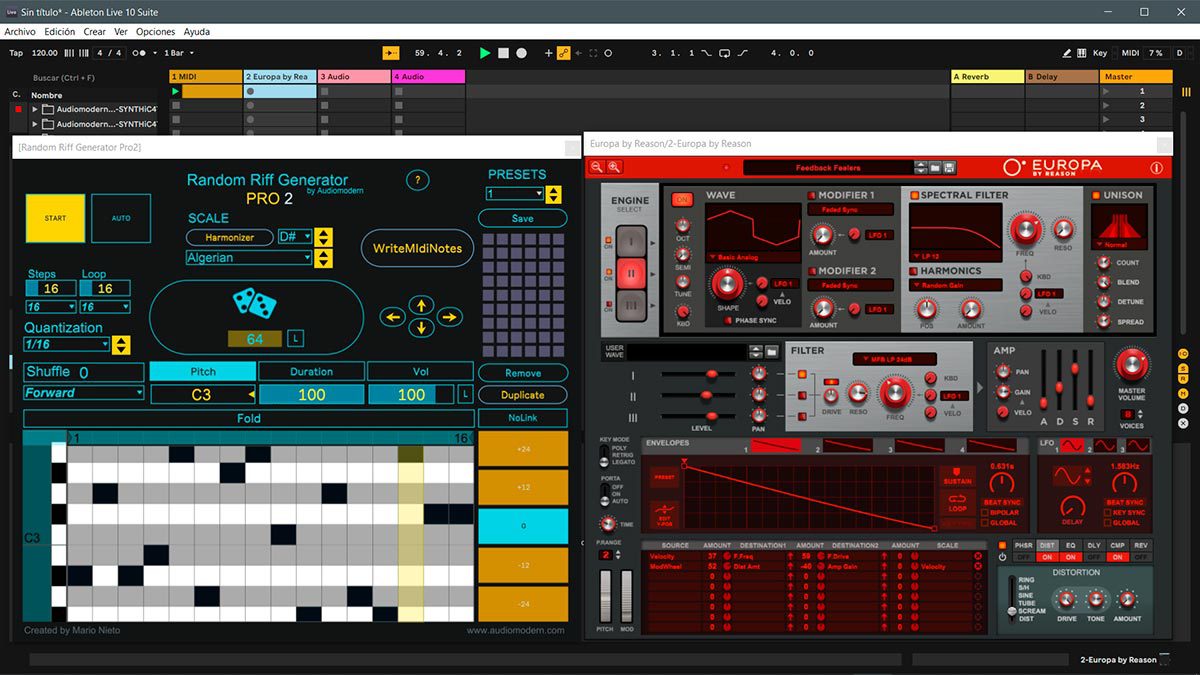 English
Random Riff Generator is a midi tool that generates sequences for you, these midi sequences/riffs can be sent to any synth, software or hardware, sampler, drum machine.. and basically anything that accepts a midi signal. It is literally a swiss army knife for creating random melodies, sequences and musical riffs on the spot and it goes as far as your imagination can.
You can use Random Riff Generator PRO with any kind of software or hardware synth, sampler, drum machine and so on. You'll be surprised about its incredible flexibility in producing so inspirational results. Random Riff Generator PRO has been designed to promote music creation both in studio and live with a simple and convenient user interface.
Audiomodern Random Riff Generator Pro Max4Live
Generate Random Riffs
Everything is Synced to your Host tempo
53 Scales included from Western to Eastern
Choose the number of notes generated in the Sequence
Generate pattern Pitch, Duration & Volume per note
Tile or Sustain Paused Notes
Quick-Export MIDI pattern
Quick Transpose whole pattern
Choose Quantization settings
Suffle & Shift Mode, Infinity Mode
Sequence Motion Settings
Choose Number of Steps
Customizable Sequence Range
Save & Load your own patterns
Send MIDI to any Device, Software & Hardware
No Two Patterns will Ever be the Same
The only Plugin available of its Kind!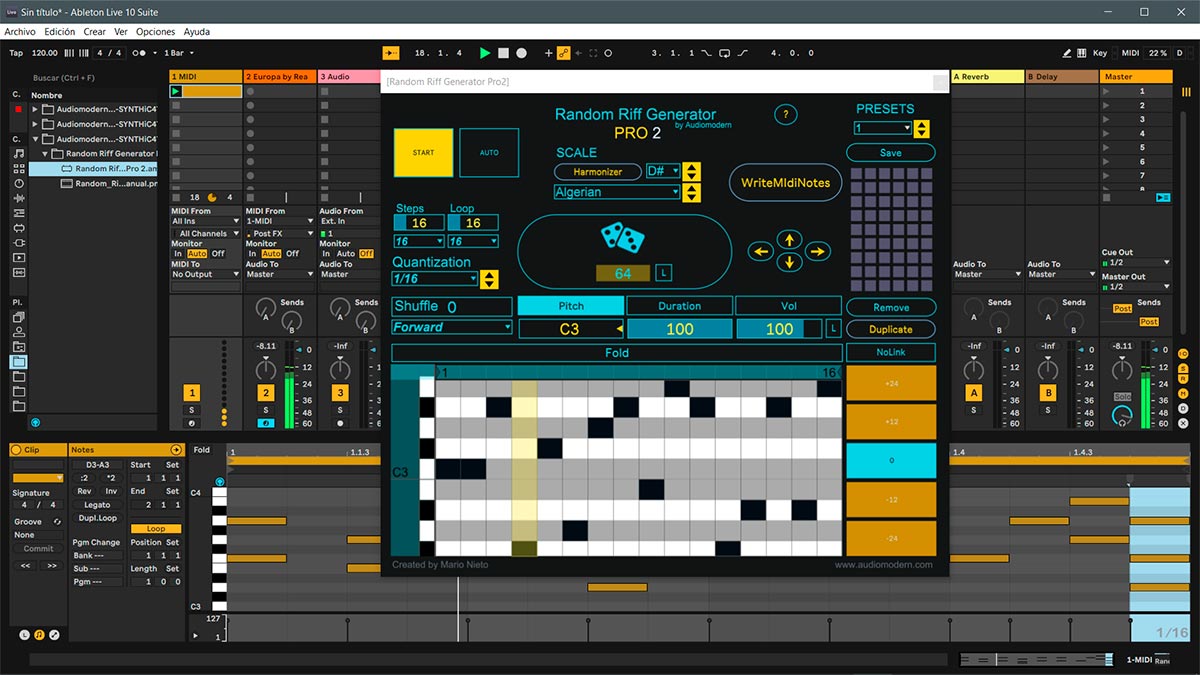 Audiomodern Random Riff Generator Pro Max4Live
INSTALACIÓN:
Personalmente he creado una carpeta con los plugins de Audiomodern
Desde el navegador de Ableton, he buscado esta carpeta y me los muestra para cargar

También podemos hacer doble click sobre el archivo Max4Live

Otra opción es arrastrar el archivo Max4Live directamente en el proyecto
Comprobado en Ableton Live 10, como se muestra en las imágenes

Descarga Directa – Direct Download
Random Riff Generator Pro 2 (WiNDOWS – MAC OSX)
Para descarga de esta página se necesita un cliente Torrent, hay muchos disponibles, tanto para Windows como para MacOSX, aquí les dejo algunos de los mejores clientes…una vez instalado alguno de los programas, los enlaces Torrent se abren de forma automática.