Audio Reward Quarantine KONTAKT…Quarantine es un creador de sonido alienígena avanzado para todas sus necesidades modernas de diseño de sonido de ciencia ficción. Quarantine utiliza nuestro motor AGRA (Advanced Grain Recombination Architecture) que le proporciona un nuevo enfoque para generar, combinar y manipular sonidos. Quarantine contiene un conjunto de sonidos atmosféricos, inquietos, perturbados e inusuales creados por el reconocido diseñador de sonido Glitchmachines.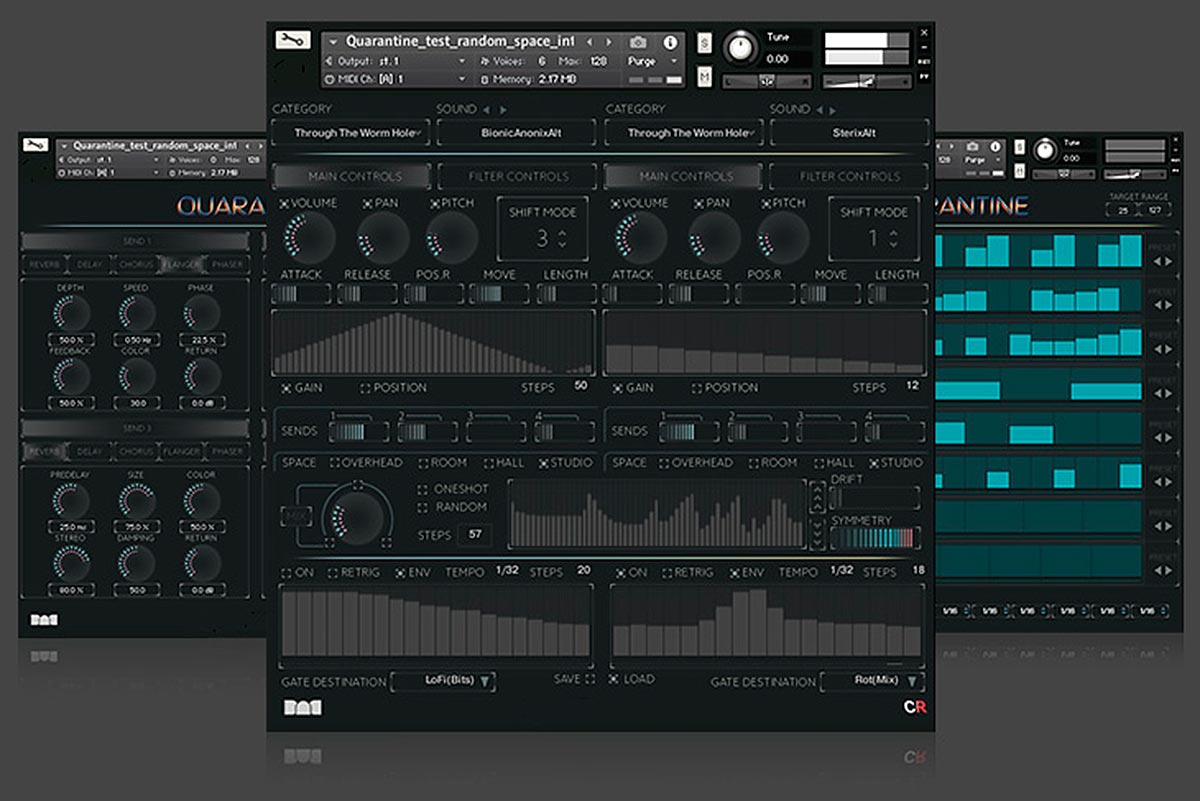 Audio Reward Quarantine KONTAKT
Quarantine contiene nuestro arpegiador de secuenciación innovador y único. Esta es una herramienta muy poderosa para crear rápidamente frases interesantes. El Arp-Seq actúa un poco como un arpegiador clásico, pero en lugar de tocar cada tecla, Arp-Seq asigna un secuenciador de 16 pasos a cada nota que mantenga presionada, hasta un máximo de 8 notas. Mientras mantiene presionada una nota, Arp-Seq ejecutará el secuenciador reproduciendo la nota presionada a veces según lo decida el secuenciador.
Audio Reward Quarantine KONTAKT
Una increíble selección de sonidos de origen diseñados para un diseño de sonido futurista
Motor de manipulación granular avanzado con control profundo
Arquitectura de doble fuente para mezclar y manipular sonidos
Puertas independientes para cada voz
Controles del modo Shift para agregar armónicos tonificados a los sonidos de origen
4 controles de nivel de envío con 5 efectos seleccionables por envío
El control MIX actúa como un mando de asignación de macro
Controles de ataque, liberación, posición, movimiento y longitud para granos individuales
3 filtros con velocidad y profundidad de LFO
Único secuenciador de 8 carriles para secuenciar cada nota sostenida independientemente
Control de aleatorización
Guarda y carga patrones para cada puerta y secuenciador
95 instantáneas
Se requiere la versión completa de Kontakt 5.7+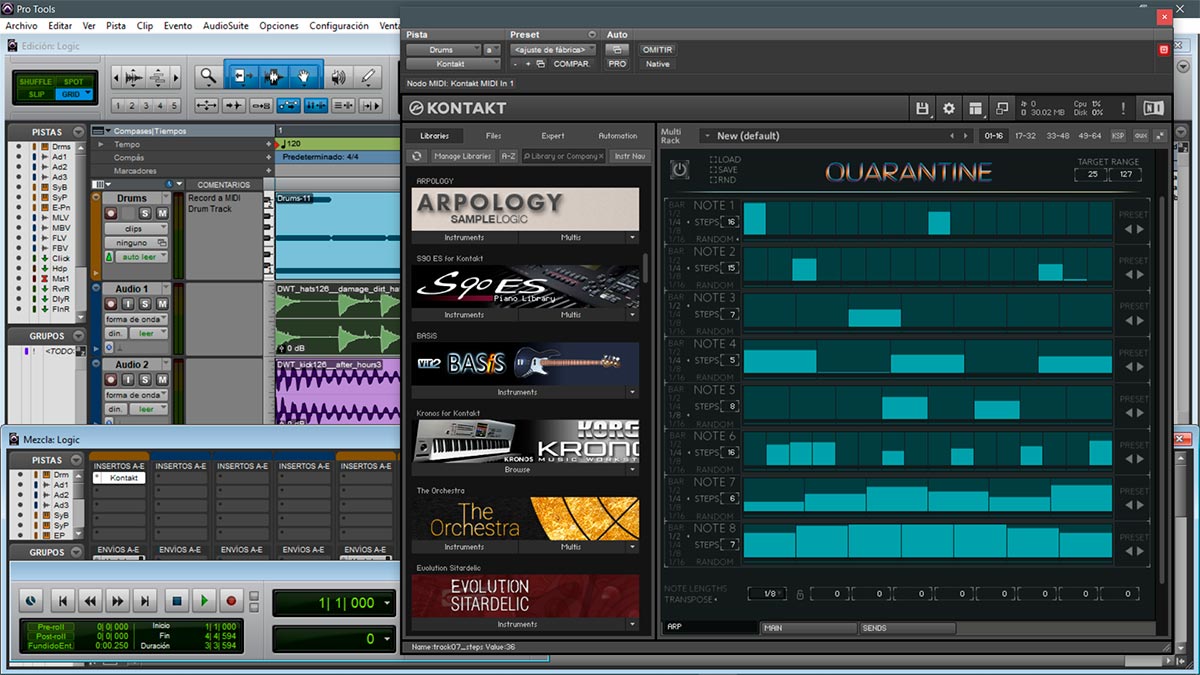 English
Quarantine is an advanced alien sound creator for all your modern, science fiction sound design needs. Quarantine uses our AGRA Engine (Advanced Grain Recombination Architecture) that provides you with a new approach to generating, combining and manipulating sounds, Quarantine contains an atmospheric, restless, disturbed and unusual set of sounds created by acclaimed sound designer Glitchmachines.
Quarantine contains our innovative and unique sequencing arpeggiator. This is a very powerful tool for quickly creating interesting phrases. The Arp-Seq acts a little like a classic arpeggiator but instead of playing each key in turn Arp-Seq assigns a 16 step sequencer to each note you hold down, up to a maximum of 8 notes. Whilst you hold down a note Arp-Seq will run through the sequencer playing the note held down at times decided by the sequencer.
Audio Reward Quarantine KONTAKT
An incredible selection of source sounds designed for futuristic sound design
Advanced granular manipulation engine with deep control
Dual source architecture for blending and manipulating sounds
Independent gates for each voice
Shift Mode controls for adding pitched overtones to source sounds
4 send level controls with 5 selectable effects per send
MIX control acts as a Macro assign knob
Attack, Release, Position, Movement and Length controls for individual grains
3 Filters with LFO Speed and Depth
Unique 8 lane sequencer to sequence each held note independently
Randomisation control
Save and Load patterns for each gate and sequencer
95 Snapshots
Full version of Kontakt 5.7+ is required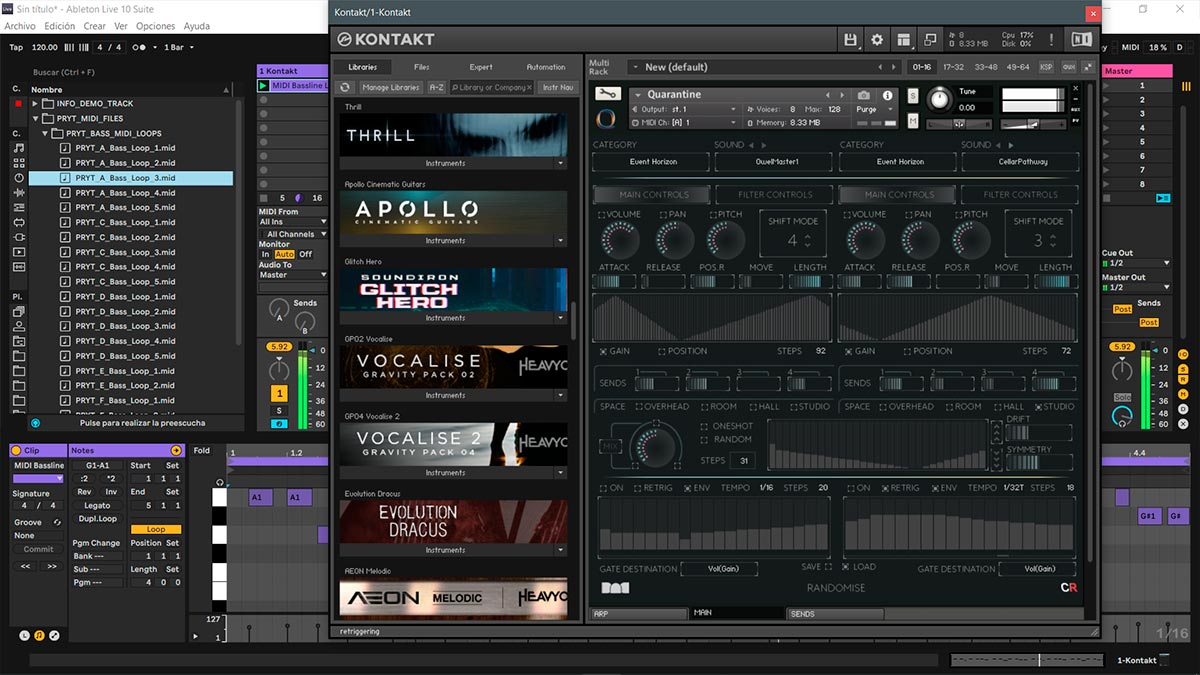 Audio Reward Quarantine KONTAKT
INSTALACIÓN:
Con la librería se incluye un archivo con el número de serie
Cargamos el instrumento en Kontakt e introducimos el número (doble clic en las casillas)
En Kontakt, vamos al icono con forma de disquete (al lado de la rueda dentada) y le damos a «Save As…»
Por defecto nos marca el instrumento y librerías, marcamos «Patch Only» y guardamos en el escritorio
Cerramos Kontakt y reemplazamos el archivo de la librería por el que hemos guardado
Listos, al iniciar Kontakt la librería está desbloqueada
Descarga Directa – Direct Download
Quarantine v1.2 KONTAKT (1,28Gb)
Para descarga de esta página se necesita un cliente Torrent, hay muchos disponibles, tanto para Windows como para MacOSX, aquí les dejo algunos de los mejores clientes…una vez instalado alguno de los programas, los enlaces Torrent se abren de forma automática.