Channel Robot Recoil v1-01 KONTAKT…Recoil es un motor de sonido cuádruple: presenta un innovador motor de modelado físico / granular, por lo que ofrece un nuevo enfoque para generar sonidos y produce una salida realmente diferente y única. Junto a estas características, Recoil tiene un poderoso conjunto de efectos. Hay un rack de efectos de envío (con 4 slots diferentes) y cada voz tiene su propio rack de efectos en línea independiente, de nuevo con 4 slots.
Channel Robot Recoil v1-01 KONTAKT
Recoil emplea un motor de modelado físico único, por el cual cada voz se puede enrutar. El motor se puede utilizar para generar sonidos pulsantes y rítmicos, sonidos de cambio de tono y efectos granulares borrosos para una salida verdaderamente única. Recoil viene con 469 muestras de efectos y efectos de un disparo, y más de 100 instantáneas.
Las 471 voces en su mayoría foley, organizadas en 15 categorías, pueden no ser especialmente atractivas, pero a pesar de que muchas de ellas son similares entre sí, las cuatro capas de voz seleccionadas individualmente hacen posible miles de millones de combinaciones en la sección de mezcladores y cientos de billones a través de las secciones emisor-excitador. Las instantáneas son instructivas, y una vez que comprendí el funcionamiento de las secciones de Emisor-Excitador-Resonador, perdí la noción del tiempo y solo generé sonido tras sonido desde cualquier instantánea dada. Los parches melódicos no son el foco de esta biblioteca (aunque algunas de las instantáneas indican que el motor sería capaz e interesante con un conjunto de muestras tan personalizadas).
Channel Robot Recoil v1-01 KONTAKT
Motor de sonido quad-voz KONTAKT
Modelado físico / motor granular
Rack de efectos independiente con 4 ranuras
469 muestras de efectos y efectos de un solo disparo
Más de 100 instantáneas
KONTAKT 5.7 o Superior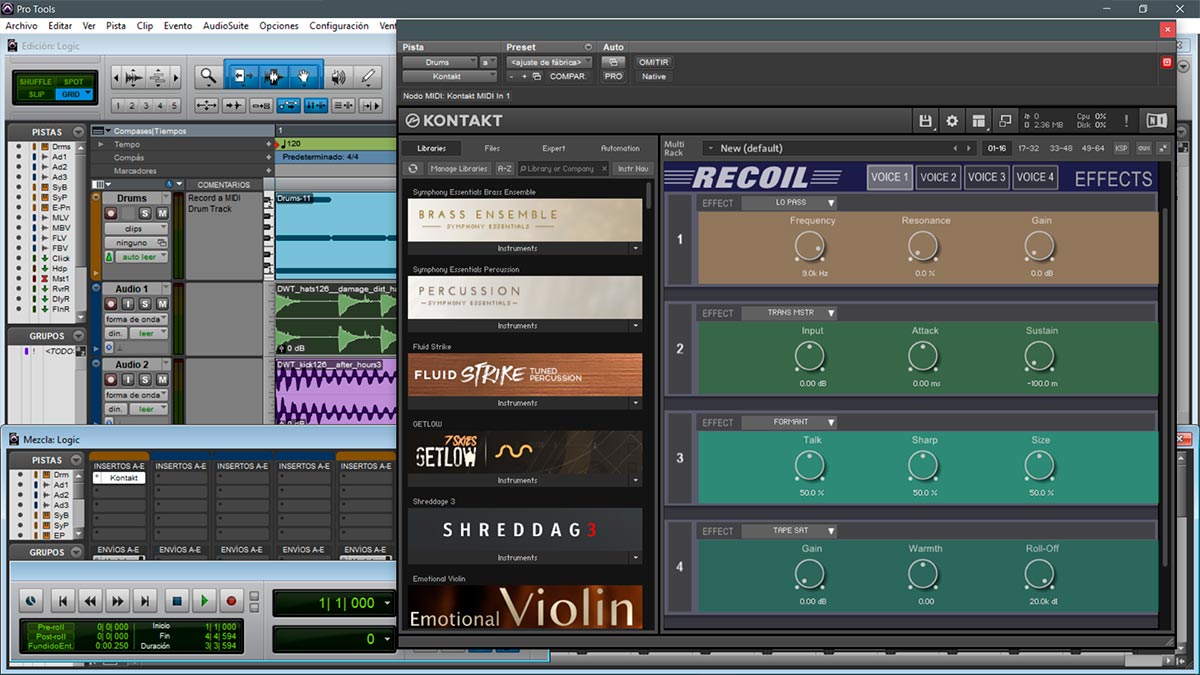 English
Recoil is a quad-voice sound engine – featuring an innovative physical modelling/granular engine and thus offers a new approach to generating sounds and produces some truly different and unique output. Alongside these features Recoil has a powerful set of effects. There's a send effects rack (with 4 different slots) and each voice has its own independent in-line effect rack, again with 4 slots. Recoil employs a unique physical modelling engine, that each voice can be routed through. The engine can be used to generate pulsing and rhythmic sounds, pitch shifting sounds and blurred granular effects for truly unique output. Recoil comes with 469 one-shot Foley and effect samples, and over 100 snapshots.
This one may fill a niche you didn't even know you had. The 471 mostly foley voices, arranged in 15 categories, may not be especially glamorous, but even though numbers of them are similar to each other, the four individually-selected voice layers make billions of combinations possible in the mixer section and hundreds of trillions via the Emitter-Exciter sections. The snapshots are instructive, and once I grasped the workings of the Emitter-Exciter-Resonator sections, I lost track of time just generating sound after sound from any given snapshot. Melodic patches are not the focus of this library (although some of the snapshots indicate that the engine would be capable and interesting with a set of samples so tailored).
Channel Robot Recoil v1-01 KONTAKT
KONTAKT quad-voice sound engine
Physical modelling/granular engine
Independent in-line effect rack, again with 4 slots
469 one-shot Foley and effect samples
Over 100 snapshots
KONTAKT 5.7+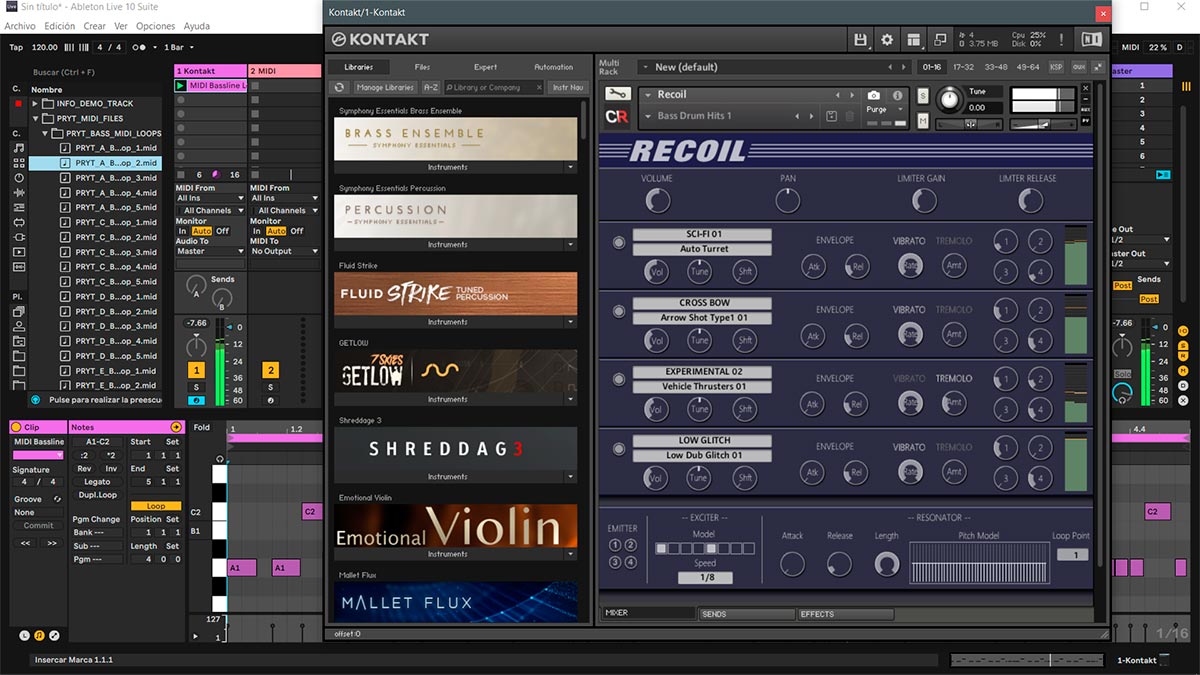 Channel Robot Recoil v1-01 KONTAKT
INSTALACIÓN:
Con la librería se incluye un archivo con el número de serie
Cargamos el instrumento en Kontakt e introducimos el número (doble clic en las casillas)
En Kontakt, vamos al icono con forma de disquete (al lado de la rueda dentada) y le damos a «Save As…»
Por defecto nos marca el instrumento y librerías, marcamos «Patch Only» y guardamos en el escritorio
Cerramos Kontakt y reemplazamos el archivo de la librería por el que hemos guardado
Listos, al iniciar Kontakt la librería está desbloqueada
Descarga Directa – Direct Download
Phenomena KONTAKT
Para descarga de esta página se necesita un cliente Torrent, hay muchos disponibles, tanto para Windows como para MacOSX, aquí les dejo algunos de los mejores clientes…una vez instalado alguno de los programas, los enlaces Torrent se abren de forma automática.