Resomonics Reflection v1-71 KONTAKT…Reflection es una inspiradora biblioteca de muestras cinematográficas y una herramienta para componer bandas sonoras y trailers. Perfecto para cualquier cosa, desde un subrayado sutil hasta una acción de conducción y un todo, más (solo echa un vistazo a la pista de demostración de Toy Heaven de los 80). Contiene 435 presets diseñados con todo, desde Evolving Soundscapes & Distorted ambience, hasta Lush Pad & complex Rhythms. Tiene una interfaz altamente flexible con una multitud de herramientas para diseñar sus propios sonidos, ritmos y arpegiaciones, ya sea utilizando sus propias muestras o los parches Raw incluidos.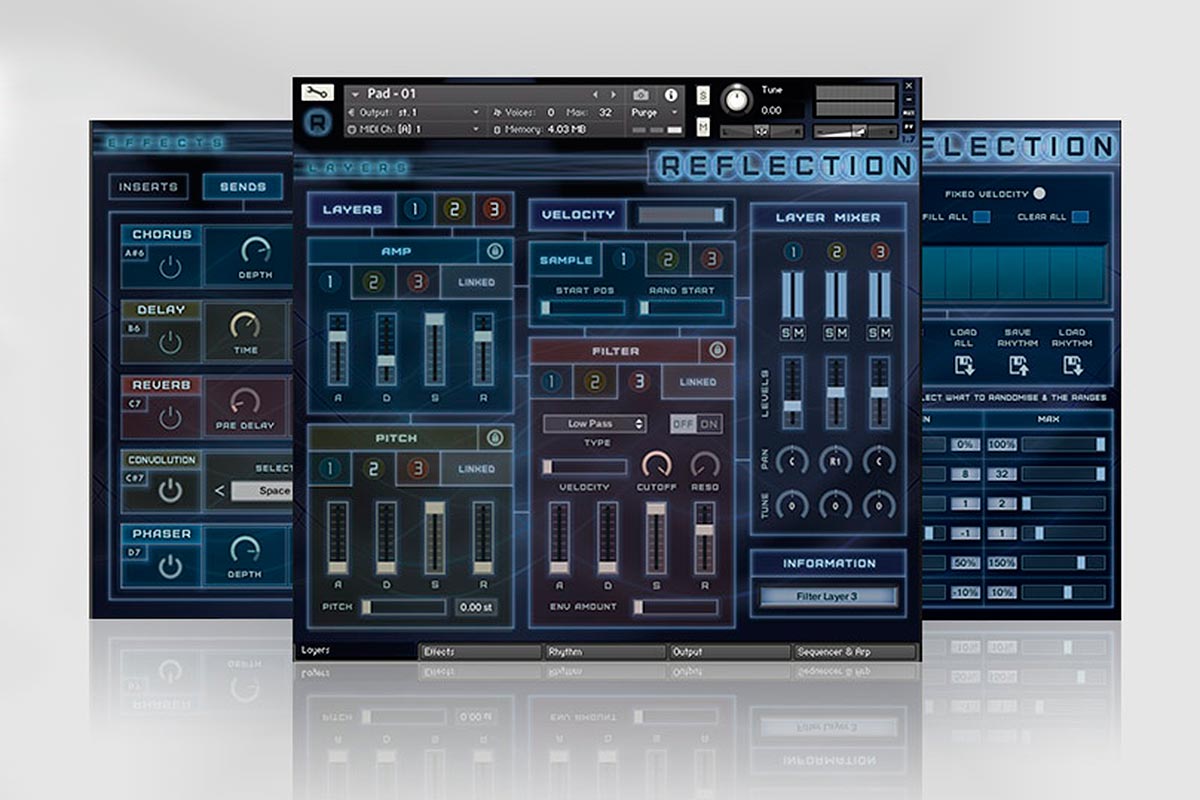 Resomonics Reflection v1-71 KONTAKT
Las herramientas incluyen varias envolventes para dar forma al sonido, insertar y enviar efectos, secuenciadores y LFO para crear ritmos / pulsos sincronizados con el tempo y un arpegiador con potentes funciones de aleatorización. Además, se pueden combinar y combinar hasta 3 muestras utilizando las muestras incluidas o importando las suyas. Cada una de las 3 capas puede diseñarse utilizando configuraciones individuales que incluyen envolvente de amplificador, envolvente de filtro, punto de inicio de muestra, ritmos LFO, secuencias de filtro y niveles individuales para los efectos de envío. Todo sumando algunas herramientas muy poderosas para dar forma a sus sonidos.
Resomonics Reflection v1-71 KONTAKT
Hasta 3 sonidos estratificados con mezclador
Envolventes de amplificador, tono y filtro para cada capa
Muestra la posición de inicio para cada capa.
Pulsos de LFO por capa y secuencia de filtro con 6 tipos de niveles de envío FilterSeparate por capa
435 presets diseñados
Pan, Pitch, Gain & Filter LFO's
Secuenciador de pasos y arpegiador con una potente asignación al azar
Guardar y cargar la configuración de Arpeggiator y Secuenciador
10 efectos de envío / inserción
Compresor y ecualizador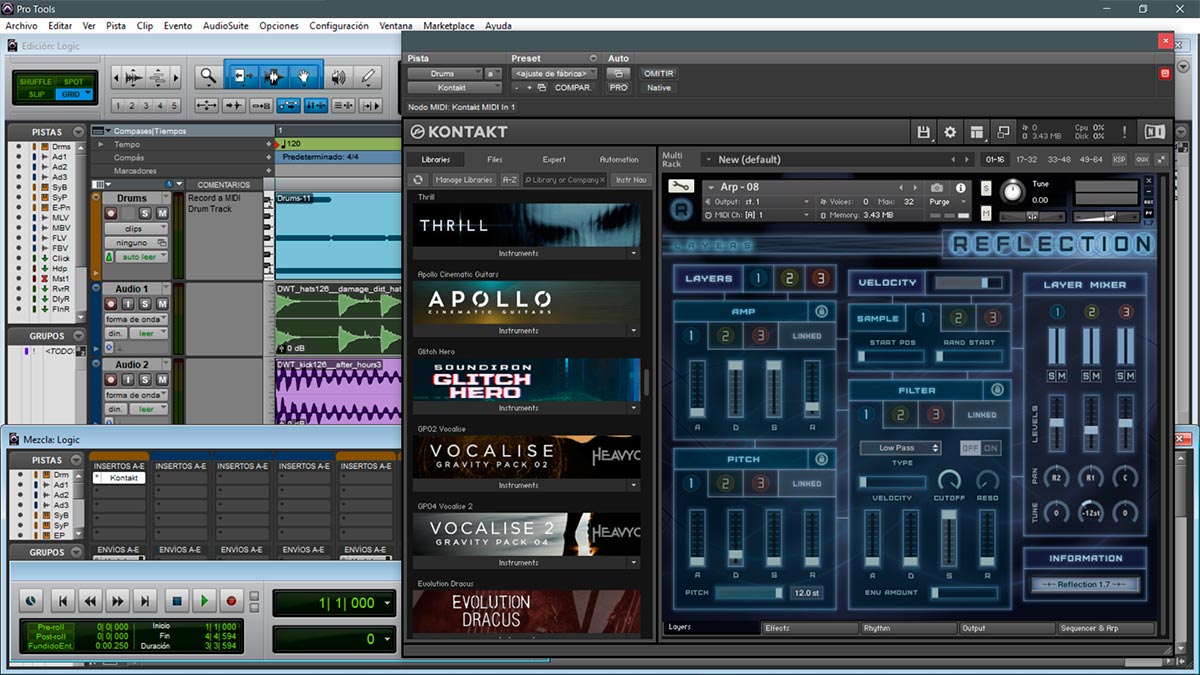 English
Winner of ANR's Sonic Joy Award for one of the best Sample Libraries of 2017. Now at version 1.7, Reflection is an inspiring Cinematic sample library and tool for composing Soundtracks and trailers. Perfect for anything from a subtle underscore to driving action  and a whole let more (just check out the '80's Toy Heaven Demo track!). It contains 435 designed presets with everything from Evolving Soundscapes & Distorted ambience, to Lush Pad & complex Rhythms. It has a highly flexible interface with a multitude of tools for designing your own sounds, rhythms and arpeggiations either using your own samples or the included Raw patches.
The tools include various envelopes to shape the sound, insert and send effects, sequencers and LFO's to create tempo synced rhythms / pulses and an arpeggiator with powerful randomisation features. In addition, up to 3 samples can be layered and mixed either using the included samples or importing your own. Each of the 3 layers can be designed using individual settings including Amp Envelope, Filter Envelope, Sample Start Point, LFO Rhythms, Filter Sequences and individual levels for the Send Effects. All adding up to some very powerful tools to shape your sounds.
Resomonics Reflection v1-71 KONTAKT
Up to 3 layered sounds with mixer
Amp, Pitch and Filter Envelopes for Each Layer
Sample start position for each layer
Per Layer LFO pulses and Filter Sequence with 6 types of FilterSeparate Send levels per layer
435 Designed Presets
Pan, Pitch, Gain & Filter LFO's
Step Sequencer & Arpeggiator with powerful randomisation
Save and Load Arpeggiator & Sequencer settings
10 Send / Insert Effects
Compressor & Equaliser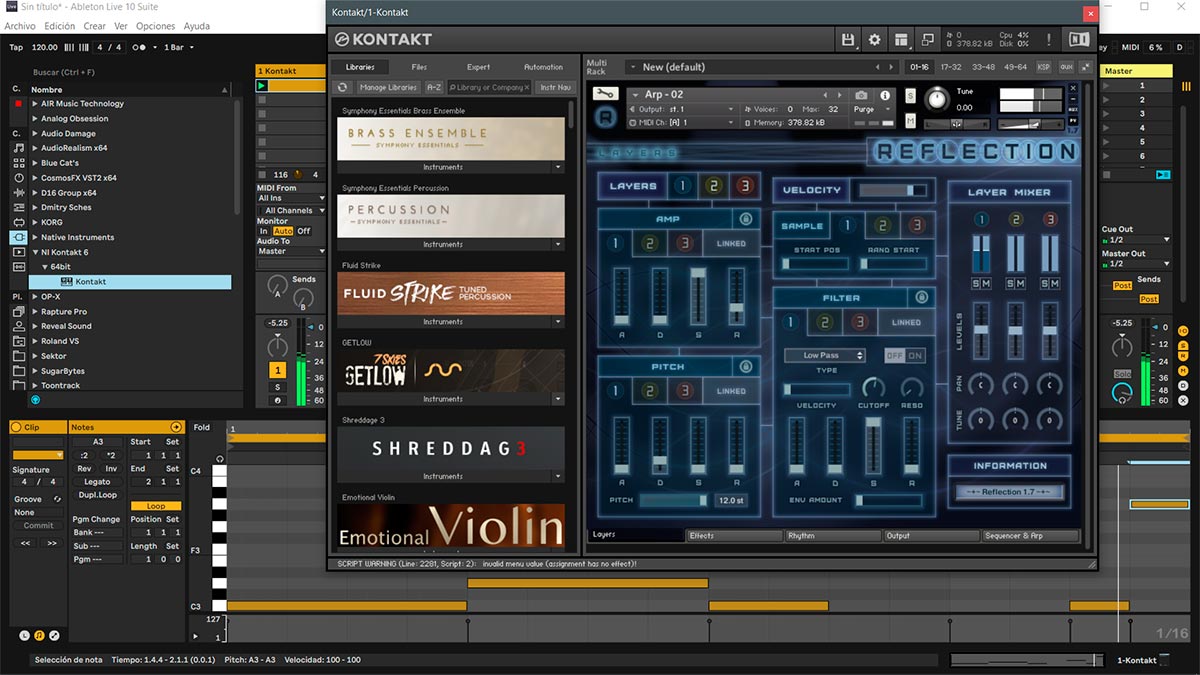 Resomonics Reflection v1-71 KONTAKT
Descarga Directa – Direct Download
Resomonics Reflection 1.71 KONTAKT (1Gb)
Para descarga de esta página se necesita un cliente Torrent, hay muchos disponibles, tanto para Windows como para MacOSX, aquí les dejo algunos de los mejores clientes…una vez instalado alguno de los programas, los enlaces Torrent se abren de forma automática.