BlueCats MB-7 Mixer 3-20 VST-AAX-AU WIN-OSX…El mezclador MB-7 de Blue Cat es un plug-in único que divide la señal en varias bandas de frecuencia y te permite mezclarlas y procesarlas como si fueran pistas separadas.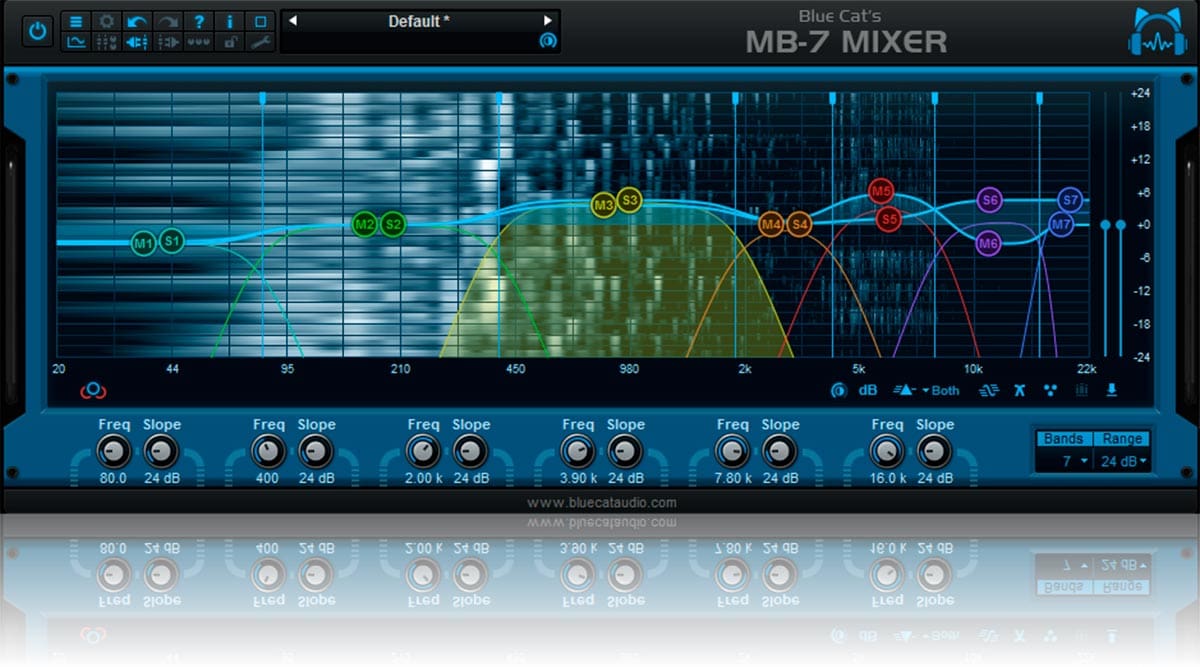 BlueCats MB-7 Mixer 3-20 VST-AAX-AU WIN-OSX
Cada banda propone controles que se pueden encontrar en una consola de mezclas, y más: puentear, silenciar o solos cada banda por separado para aislar las frecuencias sobre las que desea trabajar, ajustar la ganancia, la «estereonidad» y la posición en el campo estéreo. Al manipular la imagen estéreo, un interruptor mono principal también le permite verificar la compatibilidad mono.
El complemento también puede funcionar como un host multibanda VST, VST3 y unidad de audio: ¡puede procesar cada banda de forma independiente con sus plug-ins VST, VST3 o Audio Unit favoritos! Se pueden cargar hasta cuatro plug-ins en cada banda, pre o post fader. La compensación de latencia, la administración de preajustes, la integración de deshacer / rehacer, y el bypass de plug-in individual están incluidos para una operación óptima.
BlueCats MB-7 Mixer 3-20 VST-AAX-AU WIN-OSX
Mesa de mezclas multibanda.
Ajuste los niveles, la panoramización y el estéreo de cada banda por separado.
Host de unidades múltiples VST, VST3 y AU.
Enrutamiento flexible de audio.
Preinstalaciones de plugins VST/VST3/AU pre y post fader.
Hasta 7 bandas, con filtros cruzados de 6 a 96 dB/Oct para una separación óptima.
Múltiples instancias vinculadas.
Modifique el espectro en múltiples pistas con un solo control deslizante.
Interruptor mono en maestro para comprobación de compatibilidad mono.
Modo dual: control independiente de los canales izquierdo y derecho o medio y lateral.
Side-Chain sencillo: una forma única de realizar la compresión side-chain multibanda.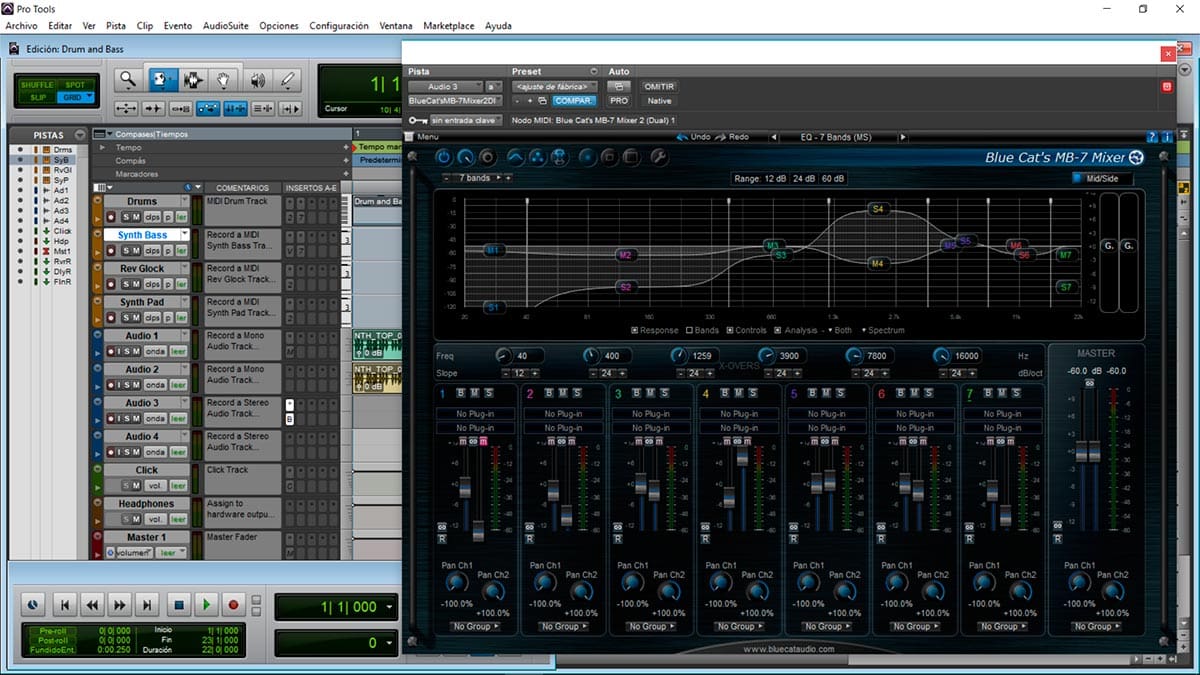 English
Blue Cat's MB-7 Mixer is a unique plug-in that splits the signal into several frequency bands and lets you mix and process them as if they were separate tracks. Each band proposes controls that can be found on a mixing console, and more: bypass, mute or solo each band separately to isolate frequencies you want to work on, adjust the gain, the «stereoness» and the position in the stereo field. When manipulating the stereo image, a master mono switch also lets you check mono compatibility.
The plug-in can also operate as a multiband VST, VST3 and Audio Unit host: you can process each band independently with your favorite VST, VST3 or Audio Unit plug-ins! Up to four plug-ins can be loaded on each band, pre or post fader. Latency compensation, presets management, undo/redo integration, and individual plug-in bypass are included for optimal operation.
BlueCats MB-7 Mixer 3-20 VST-AAX-AU WIN-OSX
Multiband mixing console.
Adjust the levels, panning and «stereoness» of each band separately.
Multiband VST, VST3 and Audio Unit Host
Parameters Mapping, Flexible Audio routing
Pre and post fader VST/VST3/AU plug-in inserts.
Up to 7 bands, with crossover filters from 6 to 96 dB/Oct for optimal separation.
Modify the spectrum on multiple tracks with a single slider.
Bypass, mute, solo on every band.
Dual Mode: independent left and right or mid and side channels control.
Complete visual feedback with real time response curves, spectrogram, and levels.
Side chaining made easy.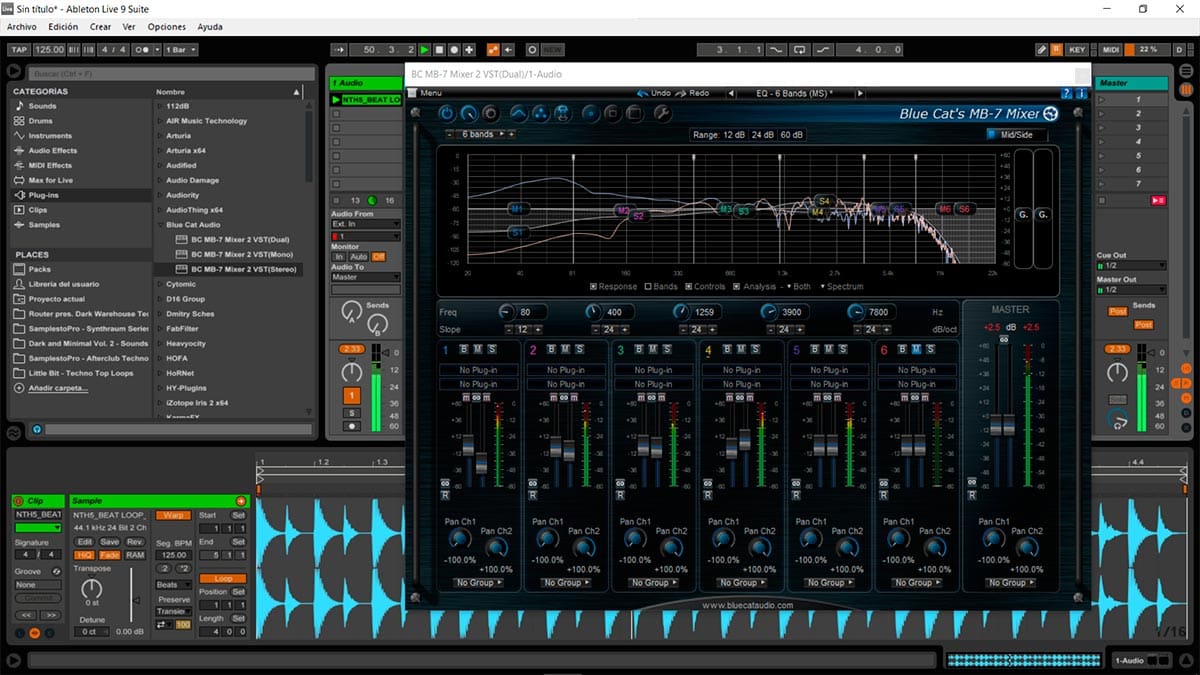 BlueCats MB-7 Mixer 3-20 VST-AAX-AU WIN-OSX
INSTALACIÓN:
Instalamos el plugin, seleccionamos versión y carpeta de destino
En la carpeta «R2R» tenemos el Keygen (desactivar

SmartScreen

para que funcione)
Seleccionamos el plugin, introducimos un nombre y generamos un serial
Listos, plugin comprobado en Ableton Live (VST 64bit) y Pro Tools (AAX 64bit)