NoiseAsh Audio Tools Epic Piano KONTAKT…¡Bienvenido a Noiseash Epic Piano Library! Ahora tienes un piano real, como en las películas…Epic Piano es uno de los instrumentos de piano más versátiles y sorprendentes del mundo. ¡Naturalmente completo y rico sonido, ese es el lema! Tiene miles de muestras multicanal premezcladas con equipos analógicos que suenan increíblemente geniales para cualquier producción. Diferentes caracteres de sonido de piano para capturar el sonido más personalizable con un inusual motor mezclador de 3 canales.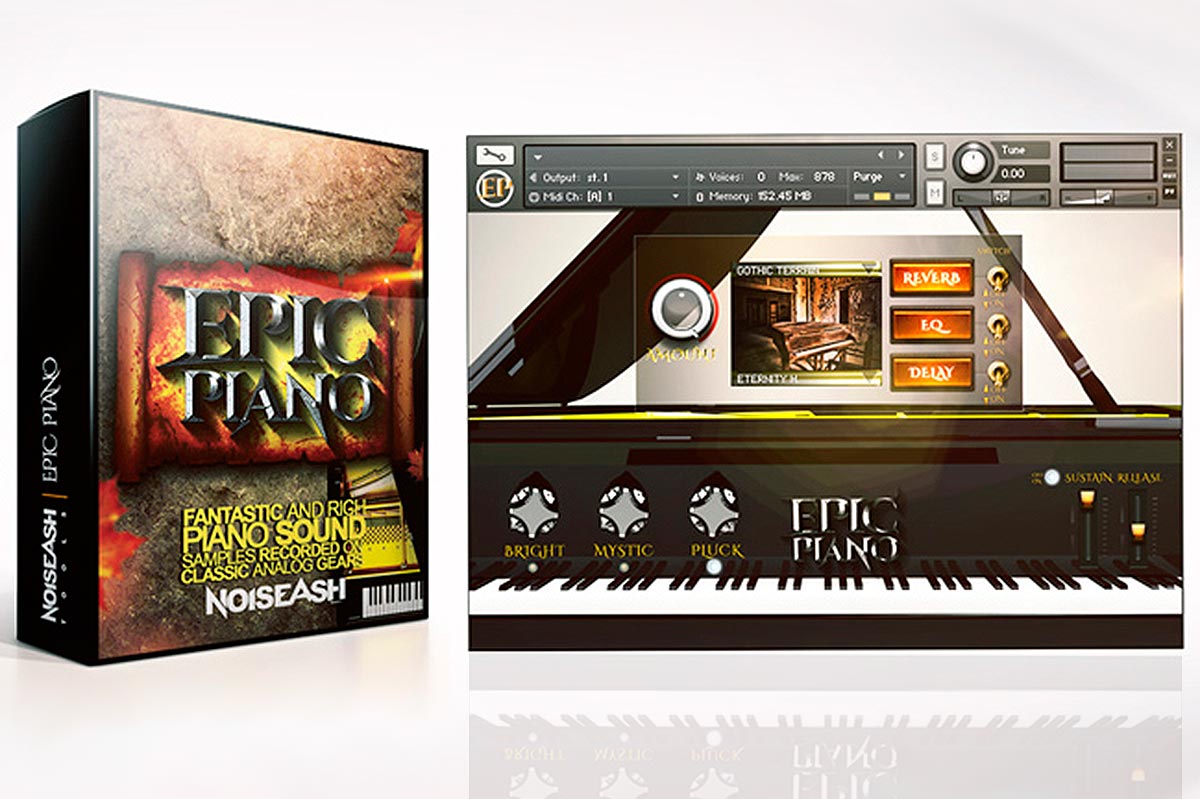 NoiseAsh Audio Tools Epic Piano KONTAKT
No necesita hacer mucho para que suene rico y como un disco profesional. Epic Piano Library no es un instrumento de piano regular. Tiene un montón de muestras capturadas de alta calidad de alta calidad. Más de 5000 muestras! La interfaz de usuario de Epic Theme es simple y rápidamente personalizable. Esta biblioteca está grabada con un piano de cola Yamaha C3, varios micrófonos a través del preamplificador de tubo vintage, cinta y engranajes ecológicos. Cada muestra tiene varias capas mixtas. Por lo tanto, Epic Piano suena como un instrumento pre-mezclado y de alta gama. El sonido de Epic Piano es naturalmente lleno y rico.
NoiseAsh Audio Tools Epic Piano KONTAKT
Muestras de Yamaha C3 Grand Piano de 24 bits
Más de 5000 muestras
Gran sonido para cualquier tipo de partituras para piano.
Las muestras se grabaron en varios micrófonos a través de un previo de tubo, cinta, etc.
Controles de usuario totalmente personalizables.
3 canales de mezclador especial, unidades de efectos internos de Kontakt
9 IR de reverberación, ecualización de SSL y unidades de efectos de delay
Sustain faders de volumen y tiempo de liberación para automatizaciones avanzadas.
Incluye 3 instrumentos de piano (y 1 FX) para cualquier tipo de género musical.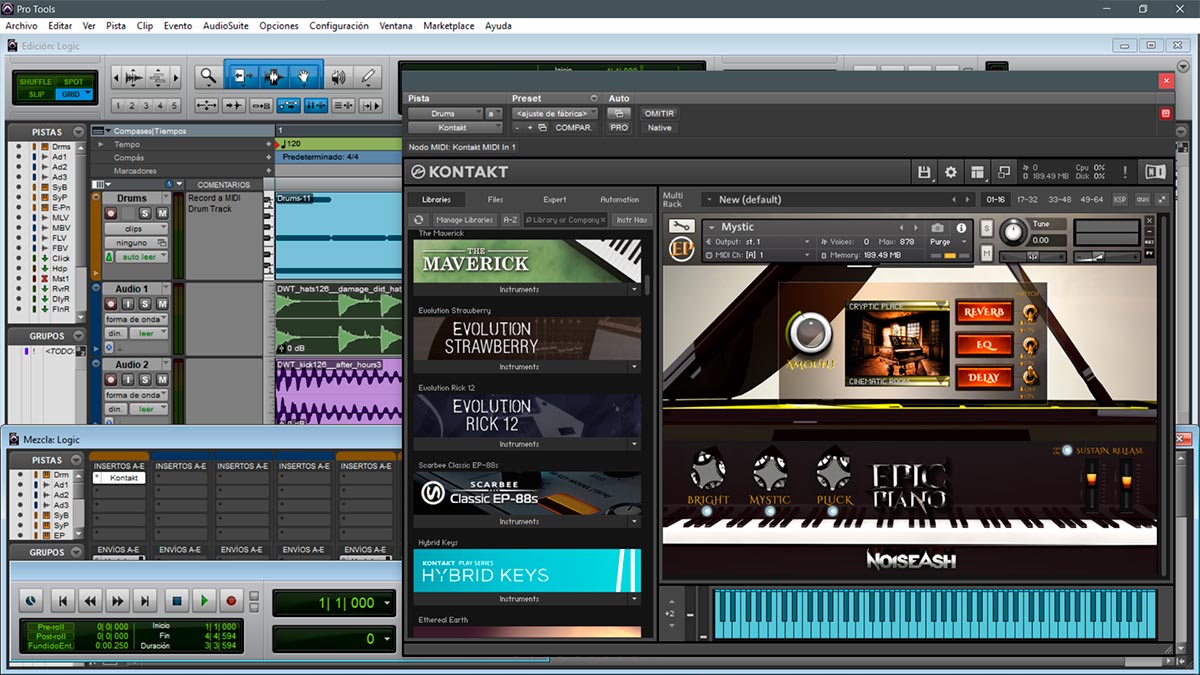 English
Wellcome to Noiseash Epic Piano Library! Now you have a Real Piano, just like in the movies…Epic Piano is one of the most versatile & amazing Piano Instrument in the world. Naturally full and rich sound, that's the motto! It has thousands of premixed multi channel samples with analog gear that sounds incredibly great for any productions. Different piano sound characters for catching the most customizable sound with an unusual 3 channel mixer engine.
You don't need to do much for making it sound rich and like a pro record. Epic Piano library is not a regular piano instrument. It has lots of high-end premium quality captured samples. Over 5000 samples! Epic Theme user interface is simple and quickly customisable. This library is recorded with a Yamaha C3 Grand Piano, several mics through vintage tube preamp, tape and eq gears. Each sample has several mixed layers. So, Epic Piano sounds as a pre-mixed-mastered and high-end instrument. The sound of Epic Piano is naturally full and rich.
NoiseAsh Audio Tools Epic Piano KONTAKT
24 bit, High-End Premium quality
Over 5000! Samples from Yamaha C3 Grand Piano.
Great sound for any type of piano scores.
Samples are recorded on several mics through vintage tube preamp, tape and eq gears, etc.
Fully Customisable User Controls.
3 Special Mixer Channels, Kontakt's Internal FX units
9 Reverb IR's, SSL EQ and Delay FX Units).
Sustain Volume and Release time faders for Advanced Automations.
Including 3 piano (and 1 FX) instruments for any kind of music genres.
Available for only digital download.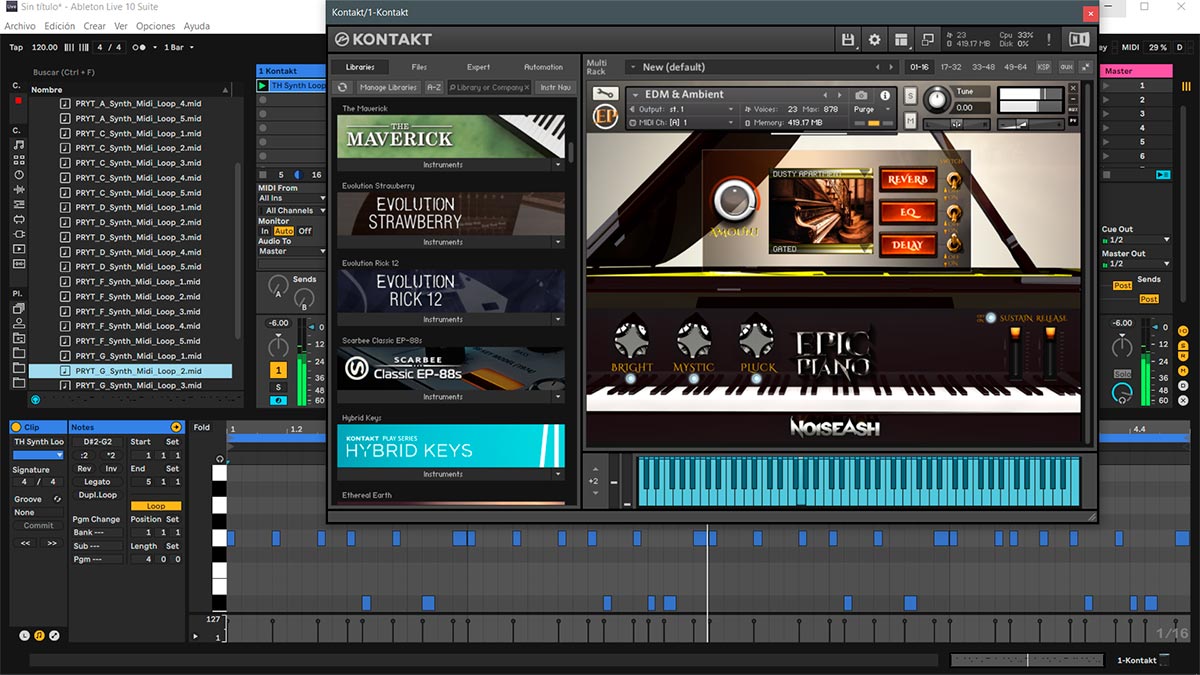 NoiseAsh Audio Tools Epic Piano KONTAKT
Descarga Directa – Direct Download
Epic Piano KONTAKT (1,87Gb)
Para descarga de esta página se necesita un cliente Torrent, hay muchos disponibles, tanto para Windows como para MacOSX, aquí les dejo algunos de los mejores clientes…una vez instalado alguno de los programas, los enlaces Torrent se abren de forma automática.