Overloud GEM Comp670 1-1-0 VST-AAX WiN-MAC…Comp670 es la recreación Overloud de un compresor de tubo legendario muy raro. Tiene un tono único y distintivo gracias a la gran cantidad de transformadores en la cadena de señal que le da un tono muy cálido.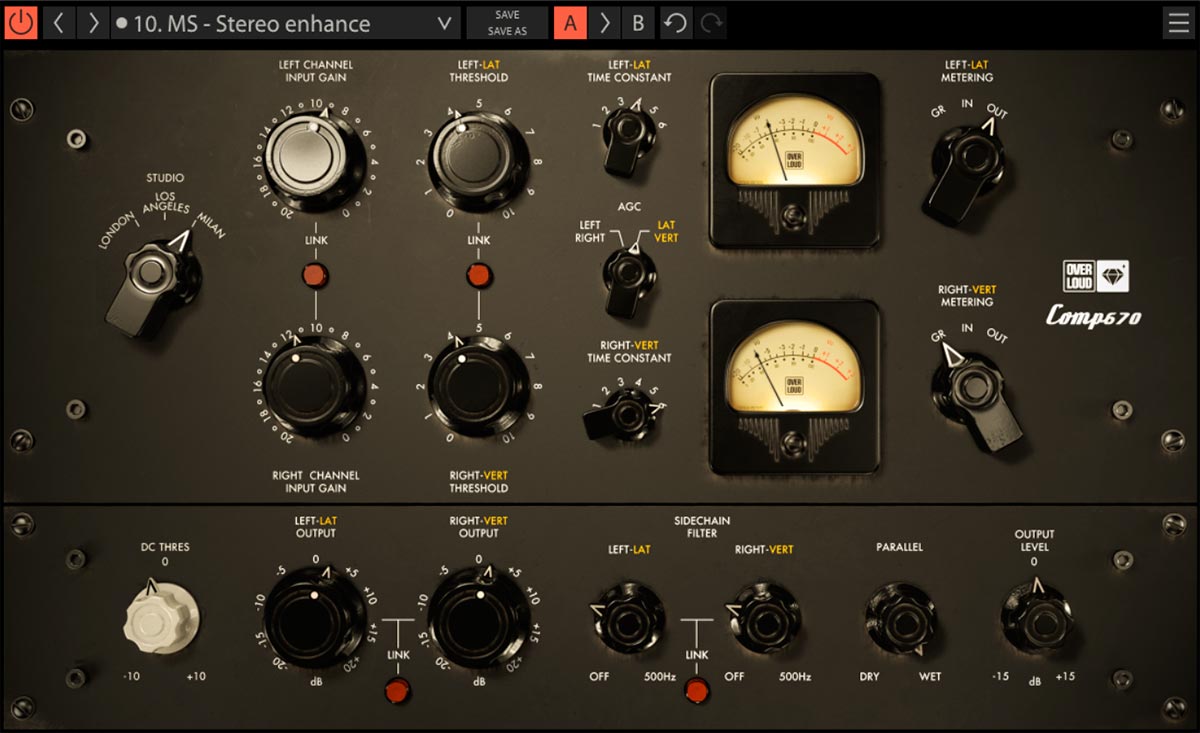 Overloud GEM Comp670 1-1-0 VST-AAX WiN-MAC
Seleccione una de las tres unidades muestreadas en los estudios de Londres, Los Ángeles y Milán, cada una con su personalidad y tono único. Puede ajustar un filtro de corte bajo en la cadena lateral para reducir la sensibilidad del compresor a bajas frecuencias. Esto es particularmente útil para controlar la cantidad de efecto de «bombeo». La compresión paralela es una poderosa técnica de mezcla que ayuda a mejorar el impacto general de la pista y deja intactos los transitorios. Se logra sumando la salida del compresor a la pista original.
Overloud GEM Comp670 1-1-0 VST-AAX WiN-MAC
Simulación Hyper-realistica de la unidad original gracias a la tecnología dsp de 4ª generación.
Tres unidades diferentes recreadas, con múltiples dinámicas y coloración.
Compresión paralela incorporada
Soft-knee / hard-knee control con el parámetro Umbral DC adicional
Filtros incorporados en la cadena lateral
Calibración del medidor: calibre los medidores VU a 4 sensibilidades diferentes
Multinivel deshacer-rehacer
Comparación A / B
Un montón de presets diseñados en sesiones de mezcla reales
Scribble Strips: tomar notas en cualquier lugar en el panel de complementos
EXE-VST-VST3-AAX-AU de 32bit y 64bit para WiNDOWS y MAC OSX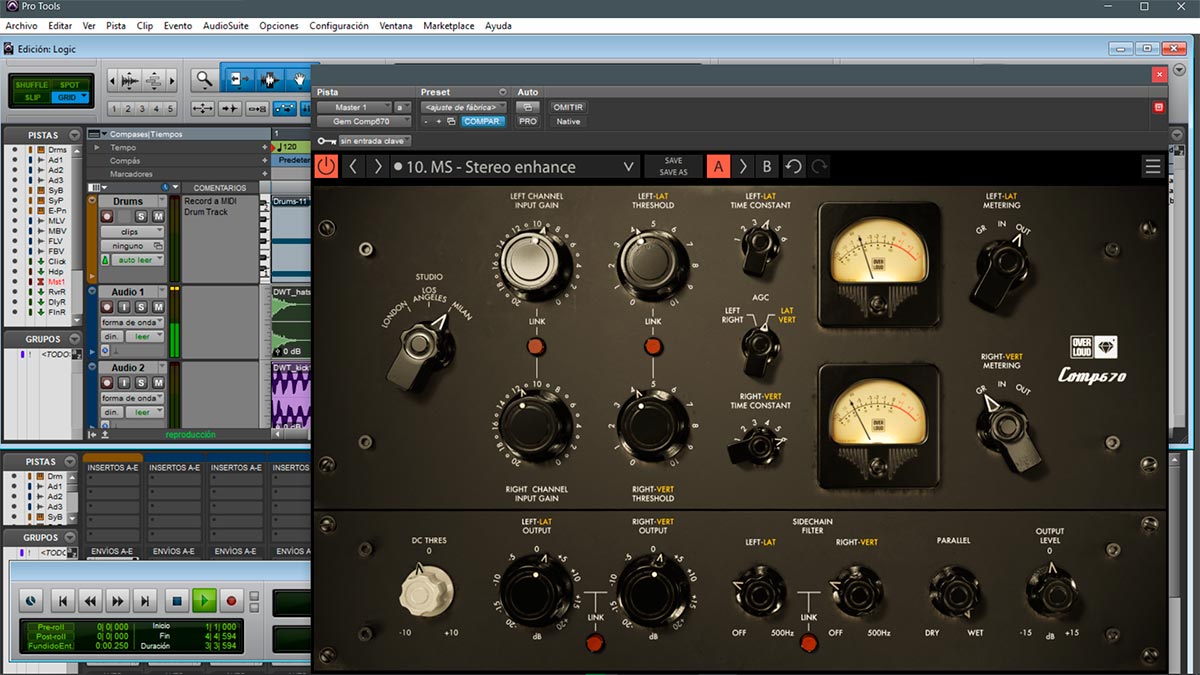 English
Comp670 is the Overloud recreation of a very rare legendary tube compressor. It has a unique and distinctive tone thanks to large amount of transformers in the signal chain which gives it a very warm tone.
Select one of the three units sampled in London, Los Angeles and Milan studio, each one with its personality and unique tone. You can tweak a Low Cut filter on the Sidechain to reduce the compressor sensitivity to low frequencies. This is particularly useful to control the amount of «pumping» effect. Parallel compression is a powerful mixing technique which helps improve the overall impact of the track while leaving the transients intact. It is achieved by summing the compressor output to the original track.
Overloud GEM Comp670 1-1-0 VST-AAX WiN-MAC
Hyper-realistic simulation of the original unit thanks to the 4th generation dsp technology
Three different units recreated, with multiple dynamics and coloration
Built-in Parallel Compression
Soft-knee / hard-knee control with the additional DC Threshold parameter
Built-in filters on the Sidechain
Meter Calibration: calibrate the VU meters at 4 different sensibilities
Multilevel undo-redo
A/B Comparison
Lots of presets designed in real mixing sessions
Scribble Strips: take notes anywhere on the plugin panel
EXE-VST-VST3-AAX-AU de 32bit & 64bit for WiNDOWS & MAC OSX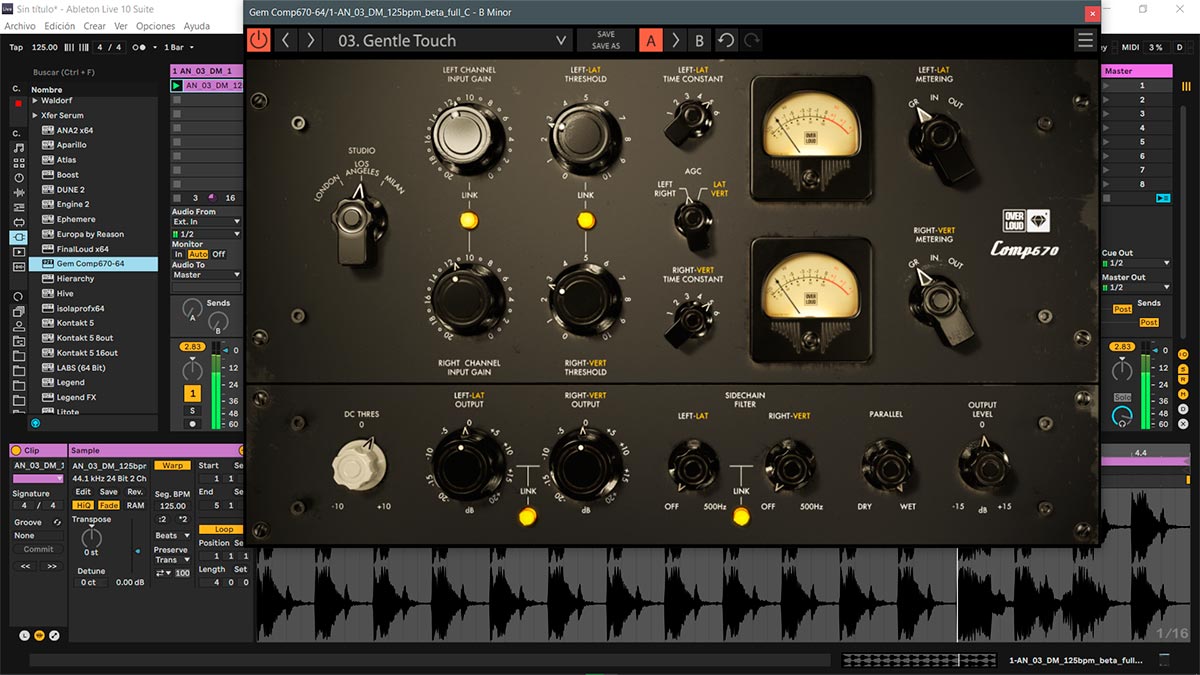 Overloud GEM Comp670 1-1-0 VST-AAX WiN-MAC
INSTALACIÓN:
Puede que tengamos que «

desactivar smartscreen

» de Windows
Instalamos el plugin, seleccionamos versión y carpeta de destino
De la carpeta «R2R» ejecutamos «Overloud_Special_KeyGen.exe» y registramos
Desde el firewall o archivo de host,

bloqueamos la página

«www.overloud.com»
Para

MAC

, en la carpeta «R2R», tenemos el archivo «R2R.txt» con las instrucciones
Listos, plugin comprobado en Ableton Live (VST 64bit) y Pro Tools (AAX 64bit)

Descarga Directa – Direct Download
GEM Comp670 v1.1.0 VST-VST3-AAX-AU

WIN-MAC
Para descarga de esta página se necesita un cliente Torrent, hay muchos disponibles, tanto para Windows como para MacOSX, aquí les dejo algunos de los mejores clientes…una vez instalado alguno de los programas, los enlaces Torrent se abren de forma automática.