Voxengo Bundle 12-2018 VST-AAX WIN x86 x64…Voxengo le ofrece complementos de audio profesionales de alta calidad: complementos VST , complementos AAX y complementos AU , y convertidores de frecuencia de muestreo, para computadoras Windows y Mac OS X.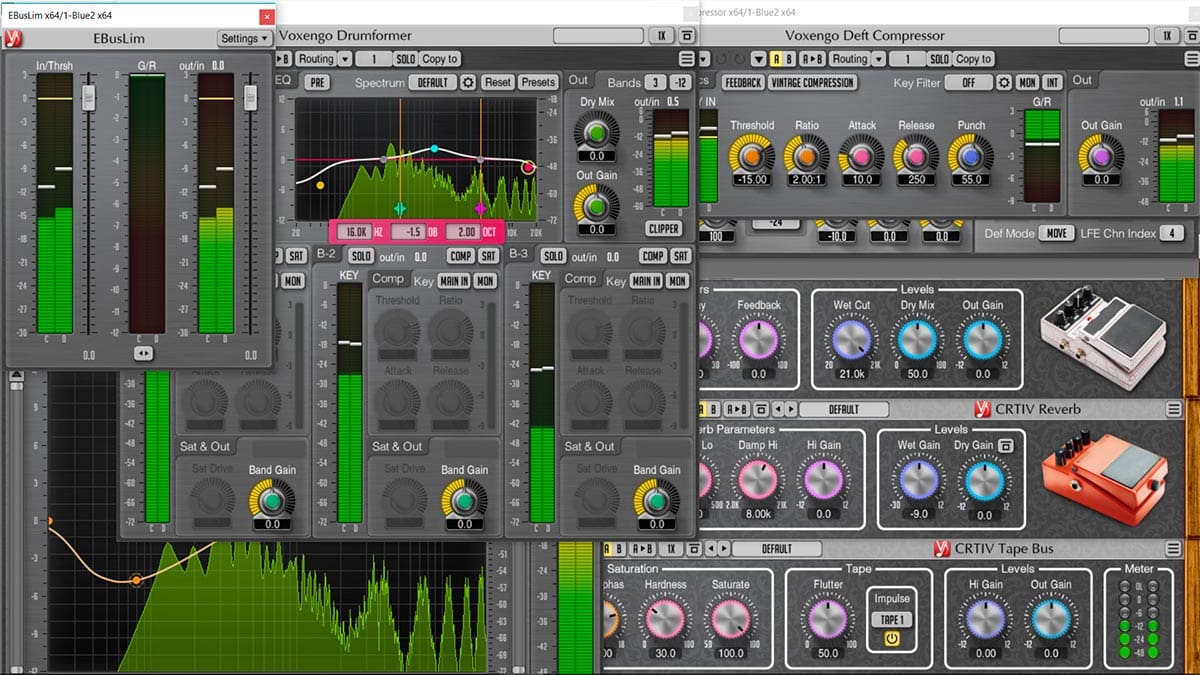 Voxengo Bundle 12-2018 VST-AAX WIN x86 x64
Nuestro objetivo es proporcionar soluciones eficientes, robustas y fáciles de usar para la producción de audio y música, incluidos masterización y sonido envolvente.Puede usar nuestros complementos de audio con Cubase, Logic Pro, ProTools, Ableton Live, Reaper, Cakewalk Sonar, Digital Performer y otros softwares con el complemento AAX, AU y el complemento VST. Los complementos de audio profesionales de Voxengo potenciarán su creatividad y ayudarán a mejorar la calidad de sus producciones de audio y música de sonido envolvente y estéreo.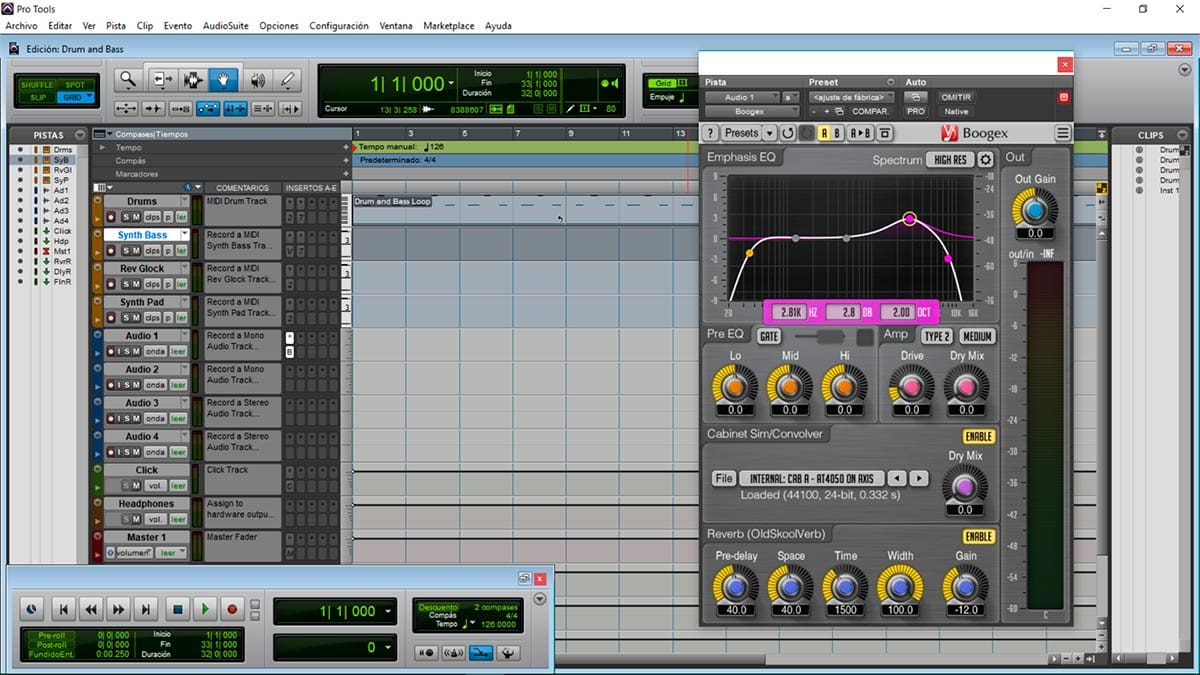 English
Voxengo offers you high-quality professional audio plugins: VST plugins, AAX plugins and AU plugins, and sample rate converters, for Windows and Mac OS X computers. Our goal is to provide user-friendly, robust, and efficient solutions for audio and music production, including mastering and surround sound. You can use our audio plugins with Cubase, Logic Pro, ProTools, Ableton Live, Reaper, Cakewalk Sonar, Digital Performer and other software with AAX, AU plugin and VST plugin support. Voxengo professional audio plugins will empower your creativity and help improve the quality of your stereo and surround sound audio and music productions.
Voxengo Bundle 12-2018 VST-AAX WIN x86 x64
AnSpec v1.2 – Free analog-style one/third-octave spectrum analyzer
Beeper v2.7 – insert beep, noise burst or silence signals
BMS v2.2 – Bass Management System plugin for surround
Boogex v2.3 – Free Guitar amplifier
CRTIV Chorus v1.0 – Stereo chorus
CRTIV Reverb v2.0 – Stereo reverb
CRTIV Tape Bus v1.2 – Reel-to-reel tape saturation
Crunchessor v2.9.2 – Crunchy track compressor
CurveEQ v3.6 – Linear-phase spline equalizer
Deft Compressor v1.7 – Bus compressor
Drumformer v1.5 – Multiband drum & master track dynamics
EBusLim v1.1 – Easy-to-use brickwall peak limiter & loudness maximization
Elephant v4.5 – Transparent mastering limiter (loudness maximizer)
GlissEQ v3.9 – Dynamic equalizer
HarmoniEQ v2.3 – Harmonically-enhanced equalizer
Latency Delay v2.4 – Compensate Latency
LF Max Punch v1.7 – Bass punch, saturation & sub frequency synthesizer
Marquis Compressor v2.0 – Harmonic-rich compressor/gate
Marvel GEQ v1.4 – Free linear-phase 16-band graphic equalizer
MSED v3.0 – Free Professional mid-side processing
OldSkoolVerb v2.4 – Free Reverb
OldSkoolVerb Plus v1.0 – Enhances the free OldSkoolVerb with a "spatial"
Overtone GEQ v1.1.1 – Free 7-band harmonic (overtone) graphic equalizer
PHA-979 v2.6 – Track phase alignment
Polysquasher v3.0 – Mastering compressor
PrimeEQ v1.1 – Easy-to-use parametric equalizer
Shinechilla v1.0 – Harmonic generator
Soniformer v3.7 – Advanced spectral mastering dynamics
Sound Delay v1.7 – Free sample delay
SPAN v3.1 – Free Real-time FFT spectrum analyzer
SPAN Plus v1.4 – Extended real-time FFT spectrum analyzer
Spatifier v1.1 – Spatially-enhance mono sounds & create the stereo & depth
Stereo Touch v2.9 – Free Stereo-widening
Tempo Delay v2.0 – Free multi-feature delay
TransGainer v1.7 – Transient shaper
Tube Amp v2.5 – Free «tube amp»
VariSaturator v1.1.1 – Two-band saturation & loudness maximization
Voxformer v2.1.1 – Vocal Multi-FX
Warmifier v2.1 – Tube/valve warming & harmonic enhancement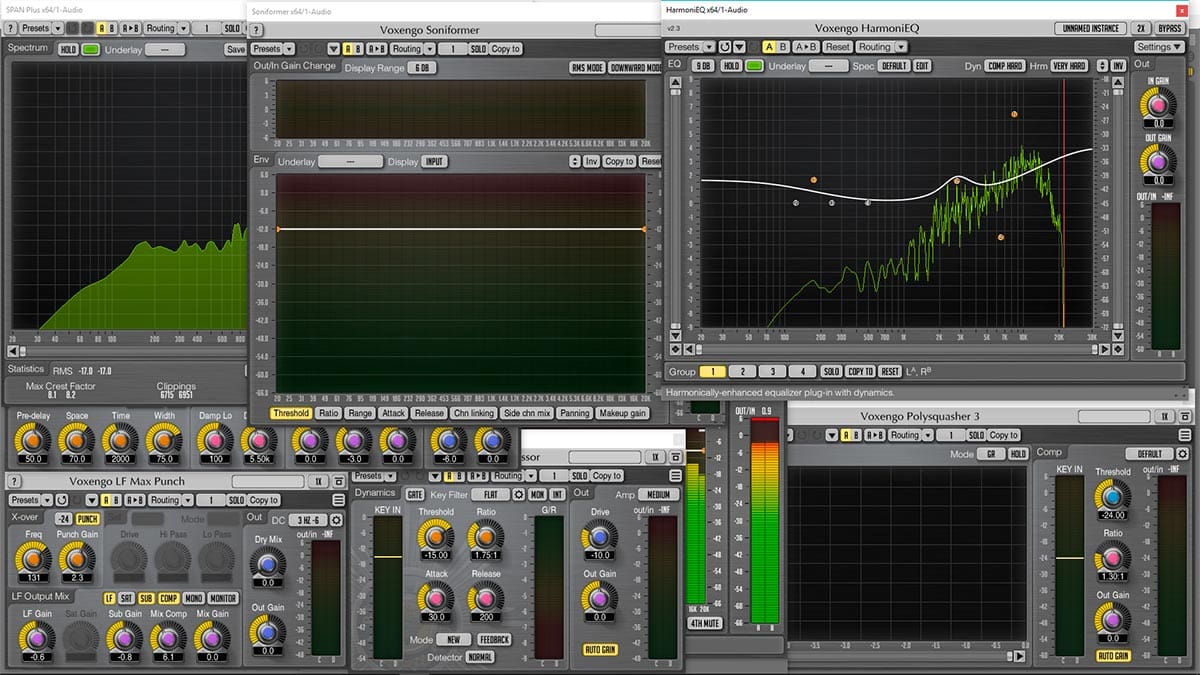 Voxengo Bundle 12-2018 VST-AAX WIN x86 x64
INSTALACIÓN:
Puede que tengamos que «

Desactivar Smartscreen

» de Windows para poder instalar
Ejecutamos el instalador, seleccionamos versión y carpeta de destino
Listos, los plugins han sido comprobados en Ableton Live y Pro Tools
Descarga Directa – Direct Download
Voxengo Bundle 12-2018 VST-VST3-AAX WiN x86 x64
Para descarga de esta página se necesita un cliente Torrent, hay muchos disponibles, tanto para Windows como para MacOSX, aquí les dejo algunos de los mejores clientes…una vez instalado alguno de los programas, los enlaces Torrent se abren de forma automática.