Square Saw Sound SSS-Polysynth KONTAKT…El Polysynthi fue producido en 1978 por EMS durante un período de dificultad financiera y, por lo tanto, se suspendió más tarde, ese mismo año. EMS produjo menos de 30 sintetizadores Polysynthi, por lo que el EMS Polysynthi es un instrumento increíblemente raro. El Polysynthi tenía un teclado totalmente polifónico de 4 octavas que controlaba un Banco de Osciladores Controlados por Voltaje (VCBO). Solo había 1 VCA y 1 filtro, intercambiables entre 2 polos (12dB) o 4 polos (24dB) disponibles para todas las voces, por lo que el instrumento era realmente solo «parafónico».
Square Saw Sound SSS-Polysynth KONTAKT
El Polysynthi presentó 2 x LFO controlados por voltaje (VCLFO) con formas de onda sinusoidales y de pulsos variables que podrían modularse entre sí o ser modulados en frecuencia por cualquiera de los 2 ADSR. Los LFO también podrían activar los ADRS, lo que les permite a los artistas controlar parámetros como el filtro o la línea de retardo analógico. El retardo analógico controlado por voltaje de Polysynthi tenía un interruptor para ecos cortos (que podría producir efectos de chorus, flanging y reverb) y ecos largos de hasta 1 segundo. Las fuentes de sonido de Polysynthi eran dos formas de onda triangulares, cuadradas y de pulso que producían dos VCO y también había un generador de ruido. Estas fuentes de sonido podrían mezclarse independientemente a través de la sección del mezclador VCBO de Polysynthi.
Square Saw Sound SSS-Polysynth KONTAKT
Multi Filtro (LPF / BPF / HPF)
Envolvente de Amplitud ADSR
Envolvente ADSR Multi Filtro
Envolvente de pitch
Multi Wave LFO (control de filtro de frecuencia de corte)
LFO controlando el 'Tipo' de filtro múltiple
Vibrato / Auto Panner / Tremolo
Envolvente DBD
Limitador
Control de ancho estéreo
Saturación de cinta
Portamento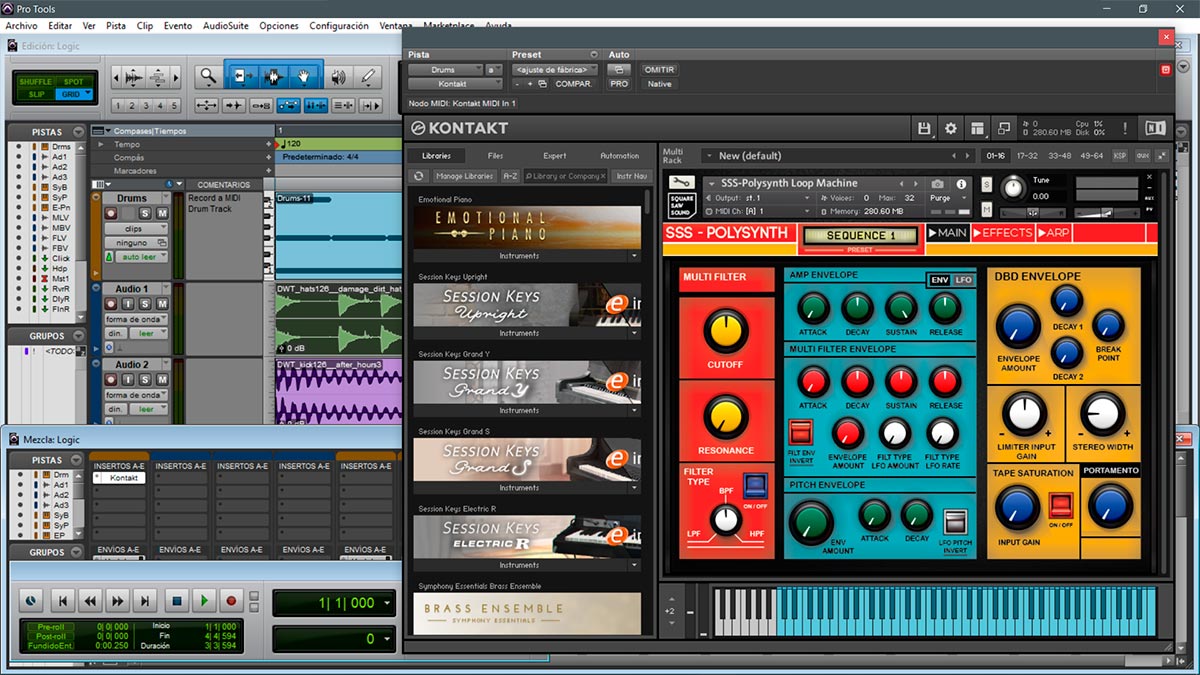 English
The Polysynthi was produced in 1978 by EMS during a period of financial difficulty and was therefore discontinued later, that same year. EMS produced less than 30 Polysynthi Synthesizers and so the EMS Polysynthi is an incredibly rare instrument. The Polysynthi had a fully polyphonic 4 octave keyboard controlling a Voltage Controlled Oscillator Bank (VCBO). There was only 1 VCA and 1 Filter, switchable between 2 pole (12dB) or 4 pole (24dB) available for all the voices, therefore the instrument was really only 'para-phonic.'
The Polysynthi featured 2 x Voltage Controlled LFO's (VCLFO) with sine and variable pulse waveforms which could modulate each other or be frequency modulated by either of the 2 ADSR's. The LFO's could also trigger the ADRS's allowing performers to control parameters such as the filter or the analog delay line. The Polysynthi's voltage controlled analog delay had a switch for short echoes (which could produce chorus, flanging and reverb effects) and long echoes of upto 1 second. The Polysynthi's sound sources were two VCO's producing triangle, square and pulse waveforms and there was also a noise generator. These sound sources could be mixed independently via the Polysynthi's VCBO mixer section.
Square Saw Sound SSS-Polysynth KONTAKT
Multi Filter (LPF / BPF /HPF)
ADSR Amplitude Envelope
Multi Filter ADSR Envelope
Pitch Envelope
Multi Wave LFO (controls filter freq. cutoff)
LFO controlling the Multi Filter 'Type'
Vibrato / Auto Panner / Tremolo
DBD Envelope
Limiter
Stereo Width Control
Tape Saturation
Portamento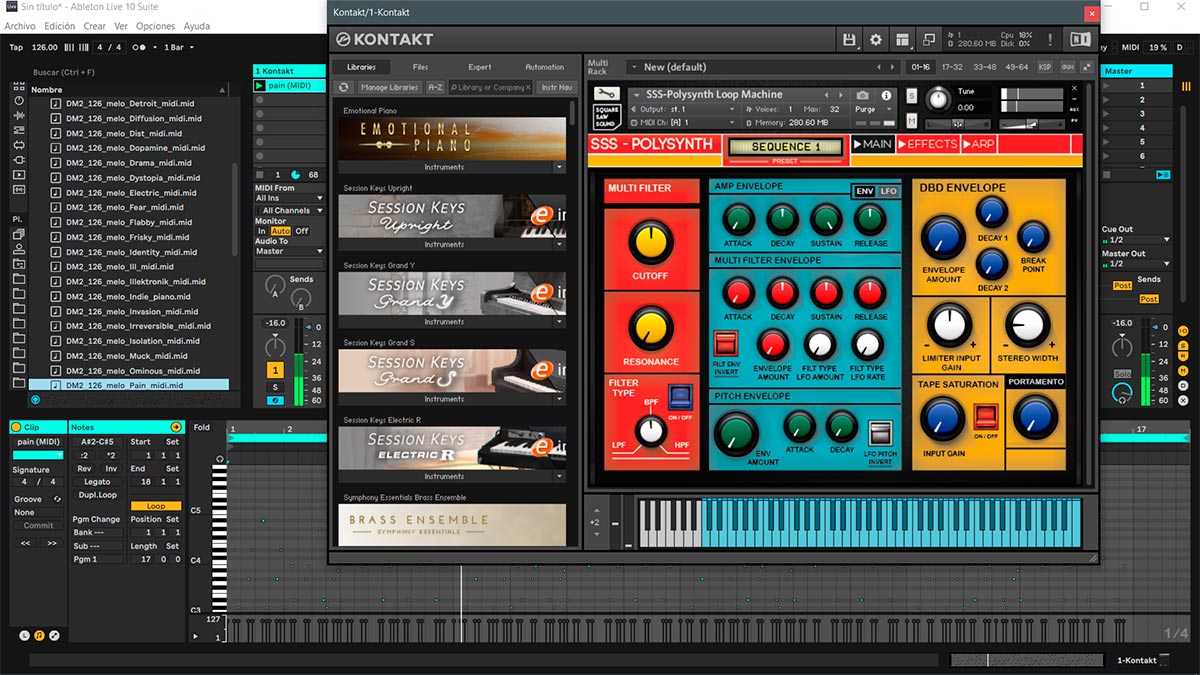 Square Saw Sound SSS-Polysynth KONTAKT
Descarga Directa – Direct Download
SSS-Polysynth KONTAKT (7,97 Gb)
Para descarga de esta página se necesita un cliente Torrent, hay muchos disponibles, tanto para Windows como para MacOSX, aquí les dejo algunos de los mejores clientes…una vez instalado alguno de los programas, los enlaces Torrent se abren de forma automática.