Flux Evo Channel 3-7-0-47883 VST-AAX WiN x64…La filosofía de Channel Strip analógico, el elemento esencial de todas las consolas analógicas, es ser rápido, eficiente y hacer que las cosas suenen bien desde el principio. EVO Channel está diseñado para ser rápido, eficiente y práctico, y agrega las ventajas de la innovación digital creativa en términos de flujo de trabajo y sonido, y le brinda todo lo que necesita para mantener el control de su sonido.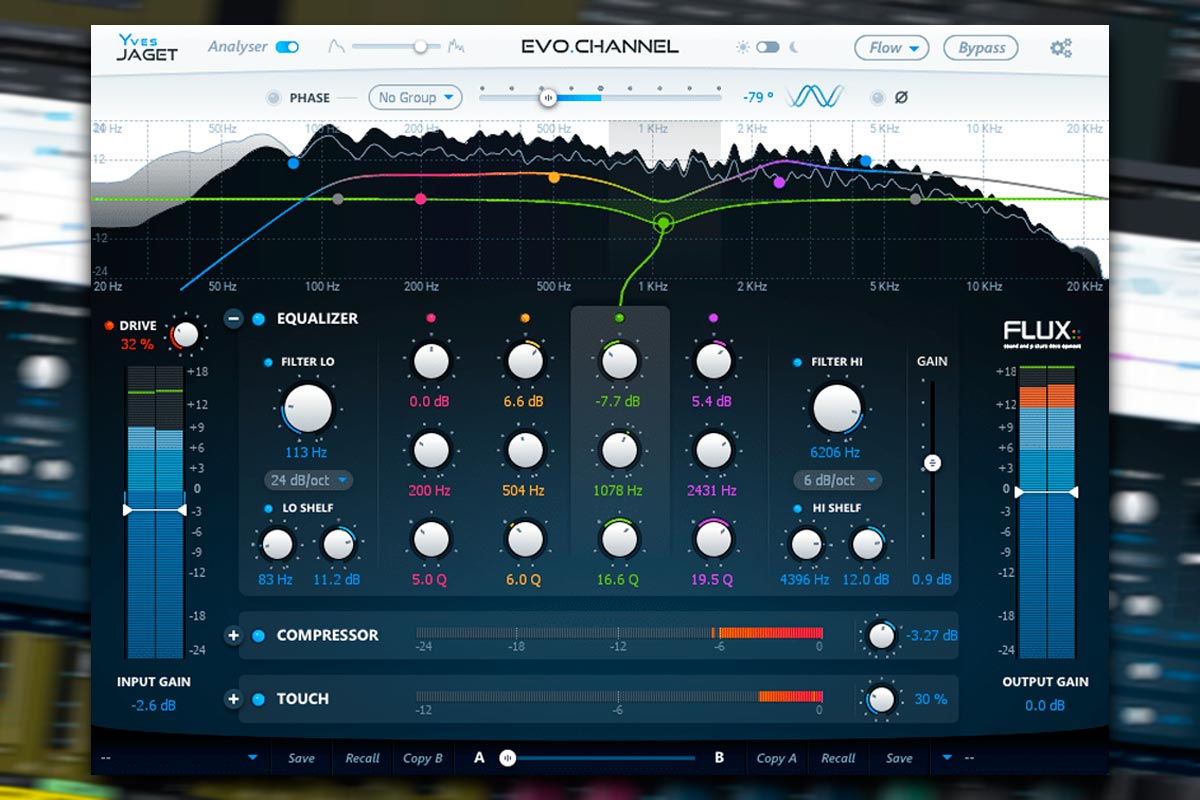 Flux Evo Channel 3-7-0-47883 VST-AAX WiN x64
Flux ha lanzado un nuevo plugin llamado EVO Channel, pensado como un channel strip modular para mezcla con novedades interesantes en cuanto al flujo de trabajo con este tipo de efectos. Ha sido creado como firma sónica del compositor y productor Yves Jaget, en busca de un channel strip de emulación analógica de consolas que permitiera mayor flexibilidad a la hora de organizar el flujo de señal y monitorear el proceso de los efectos, sin perder las bondades del formato todo-en-uno.
El plugin se compone de cinco módulos: ganancia/drive, control de fase, compresor, ecualizador, deEsser. Integra un sistema de ajuste de transitorios y un analizador de espectro basado en el Flux: Pure Analyzer. Además, el ecualizador se puede controlar por curvas sobre la gráfica de análisis y los módulos se pueden agregar o eliminar al vuelo, similar a como sucede en herramientas similares como Ozone de iZotope o el Scheps Omni Channel Strip de Waves.
Flux Evo Channel 3-7-0-47883 VST-AAX WiN x64
Un diseño adaptable basado en módulos.
Un analizador de espectro optimizado derivado del aclamado software «Pure Analyzer» de Flux.
"Drive", un módulo de saturación suave que simplemente agrega calor analógico.
Una herramienta de corrección de fase lineal diseñada por Flux con latencia cero.
Un ecualizador paramétrico con tecnología «State-Space» y filtros.
Un compresor «multimodo» tomado del aclamado motor Flux :: «Pure Compressor's».
"Touch", un módulo de herramientas múltiples definido por 7 modos específicos.
Dolby Atmos y soporte Ambisonic con hasta 16 canales de tercer orden.
Almacenamiento y recuperación de la ubicación de la memoria.
50 presets útiles de fábrica incluidos de Yves Jaget.
VST-AAX de 64bit para WiNDOWS
English
The Evo Channel is an adaptable module-based channel strip plug-in comprised of 5 highly innovative audio processing modules that include Drive, Phase, EQ, Compressor, and «Touch» an original polymorphic frequency dependent dynamic tool (DeEsser, Expander and a Transient / Sustain Designer). Evo Channel also contains its own highly original elements such as free-form linear phase adjustment, an optimized compressor with 9 selective types (for instrument and bus groups), and a unique multi-tool module "Touch" to process transient material in a defined frequency range and lots more.
With complete multi-channel support for Dolby Atmos and Ambisonic systems for post-production, the Evo Channel is the go-to plug-in for any sound engineer that needs an ultra-precise great-sounding channel strip that's fast and easy to tweak. Evo Channel is available in the AAX Native and Audiosuite, AU, VST, and Waves WPAPI formats making it available in all professional situations. Evo Channel also handles High-Resolution DXD Audio with sampling rates up to 384 kHz is supported.
Flux Evo Channel 3-7-0-47883 VST-AAX WiN x64
An adaptable module-based design.
An optimized Spectrum Analyzer derived from Flux's acclaimed "Pure Analyzer" software.
"Drive", a Soft Saturation module that simply adds analog warmth.
A Flux designed Linear Phase correction tool with zero latency.
A proprietary «State-Space» technology Parametric EQ and filters.
«multi-mode» Compressor taken from the acclaimed Flux:: "Pure Compressor's" engine.
"Touch", a multi-tool module defined by 7 specific modes.
Dolby Atmos and Ambisonic support with up to third order 16 channel.
Memory location store and recall for input and output gain controls.
50 useful Factory presets included from Yves Jaget.
VST-AAX 64bit for WiNDOWS.
Flux Evo Channel 3-7-0-47883 VST-AAX WiN x64
INSTALACIÓN:
Puede que tengamos que «

desactivar smartscreen

» de Windows
Instalamos, seleccionamos versión y carpeta de destino
Listos, plugin comprobado en Pro Tools (AAX 64bit) y Ableton Live (VST 64bit)
Descarga Directa – Direct Download
EVO Channel 3.7.0.47883 VST-AAX

WiNDOWS

x86 x64
Para descarga de esta página se necesita un cliente Torrent, hay muchos disponibles, tanto para Windows como para MacOSX, aquí les dejo algunos de los mejores clientes…una vez instalado alguno de los programas, los enlaces Torrent se abren de forma automática.