Audified SpeakUp 1-0-0 VST3-AAX WiN x86 x64…Audified anunció la disponibilidad de SpeakUp, lo que agiliza y simplifica el proceso de creación de locuciones y presentaciones de YouTube al combinar dos plug-ins receptivos, especialmente diseñados, SpeakUp Sensor (para trabajar con pistas de voces) y SpeakUp Performer (para trabajar con pistas de video/audio), para manejar de forma automática y eficaz el volumen de la voz y la música con un fade in y out cuidadosamente controlados.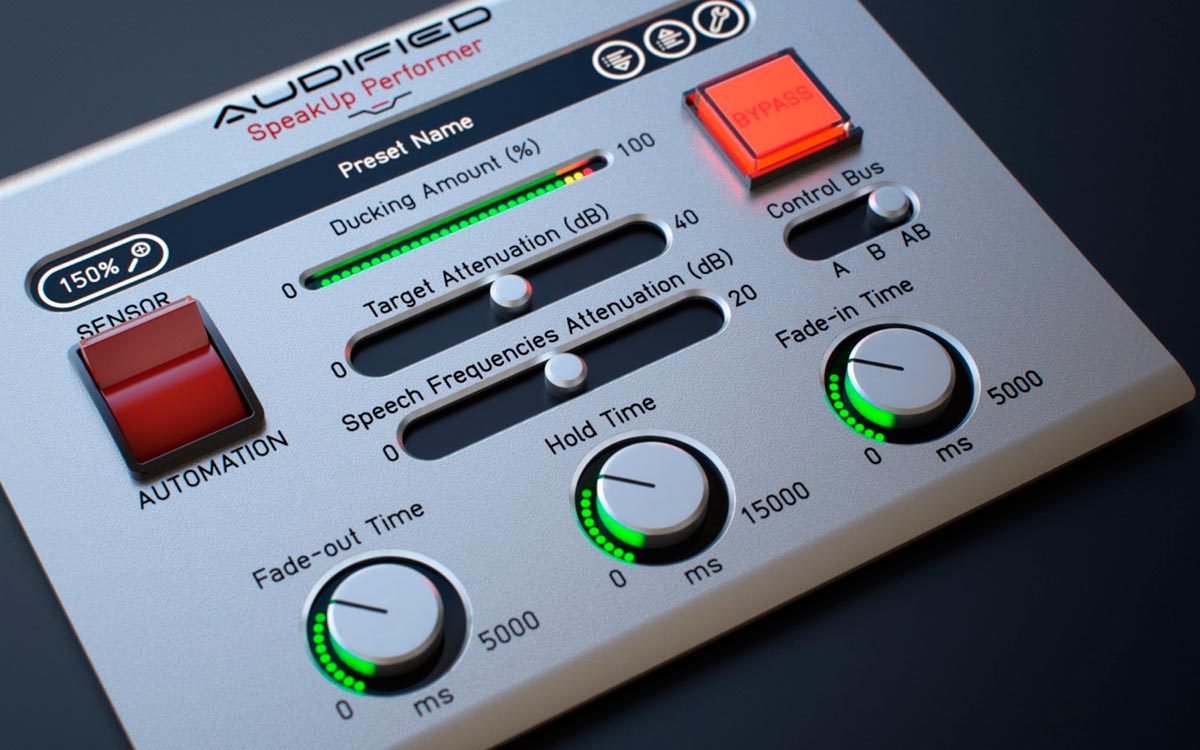 Audified SpeakUp 1-0-0 VST3-AAX WiN x86 x64
La simplificación de SpeakUp se debe a su atributo principal: manejo automático y eficaz del ducking: una técnica para permitir que la voz del narrador se escuche de manera clara y consistente cuando hay otro audio al mismo tiempo, como música de fondo. En principio, es simple (pero en la práctica, no necesariamente). Supongamos que se usará algo de música en una presentación en off o un proyecto de video que tendrá un narrador y que esta música se reproducirá al mismo tiempo que cuando el narrador está hablando, y luego la voz debería tomar el control como el audio principal mientras la música efectivamente pasa a segundo plano: música de fondo, en otras palabras. Sin embargo, cuando el narrador no está hablando, la música debe ser clara y presente, lo principal es escuchar, en otras palabras. Que es exactamente donde entra en juego SpeakUp… al combinar esos dos plug-ins receptivos y especialmente diseñados.
Audified SpeakUp 1-0-0 VST3-AAX WiN x86 x64
Detección avanzada de voz
Herramienta de ahorro de tiempo
Dos buses de control independientes
Ajuste del espectro de música para que el habla sea claramente audible
Permite combinaciones complejas de complementos Sensor y Performer
Coopera con la automatización DAW
VST-VST3 32bit y 64bit para WiNDOWS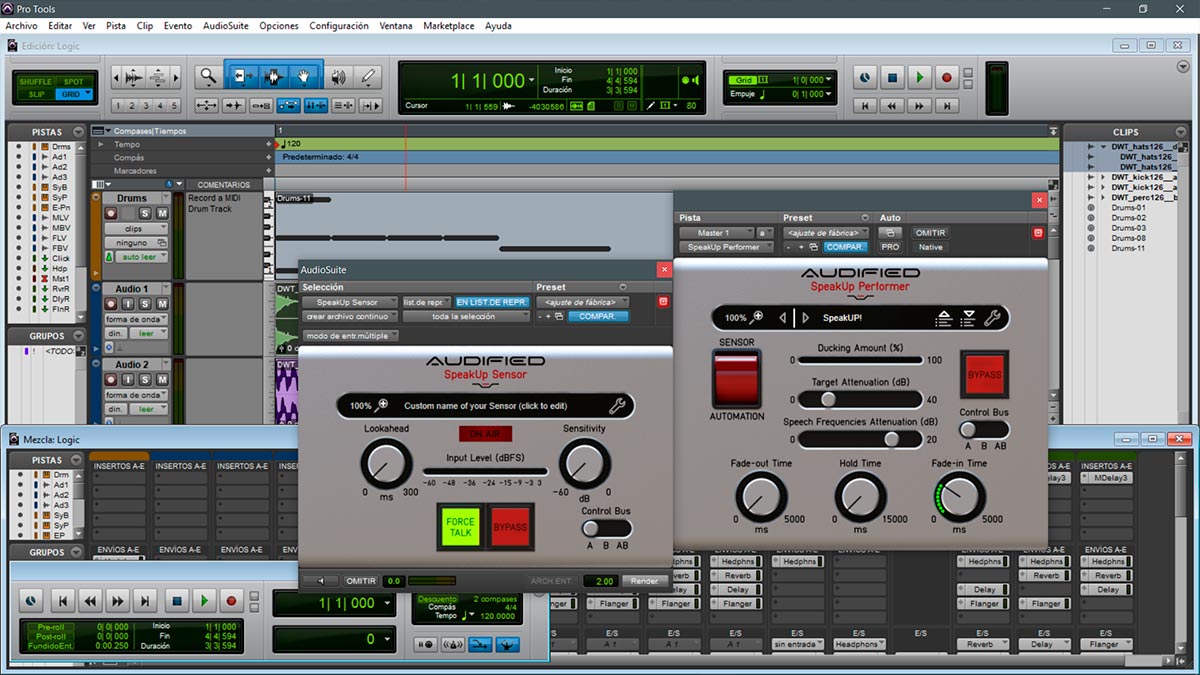 English
Adjusting the volume of a spoken word in a video can be time-consuming. In Audified, we thought there could be much easier way to edit voice-overs. Just add music and SpeakUp. SpeakUp works in all audio editing software supporting automation. SpeakUp has emerged from the necessity to simplify the process of creating voiceovers and YouTube shows. SpeakUp plugin bundle does exactly that. Applying the SpeakUp Sensor plugin on the speech track and SpeakUp Performer on the music allows you to focus only on what is really important – your show. User friendly control allows you to adjust the plug-in behavior to suit you the best.
Some video editors spend hours of their precious time by adjusting the volume perfectly. We kept them in mind. The responsive plugins assure the ideal blend of voice, background sounds and music. SpeakUp was composed by professionals. For professionals. SpeakUp works in all DAW's supporting automation, including Cubase, Nuendo, Reaper, Pro Tools, Digital Performer, Logic, GarageBand, and in video editing software like Adobe Premiere and Sony Vegas. SpeakUp is also very likely to run smoothly in offline mode in those DAW's. If it does not, there is still substitute workflow by recording automation curve, which is done automatically by SpeakUp.
Audified SpeakUp 1-0-0 VST3-AAX WiN x86 x64
Advanced voice detection
Time-saving tool
Two independent control buses
Adjusting spectrum of music track to make speech clearly audible
Allows complex combinations of Sensor & Performer plug-ins
Cooperates with DAW automation
VST3-AAX 32bit & 64bit for WiNDOWS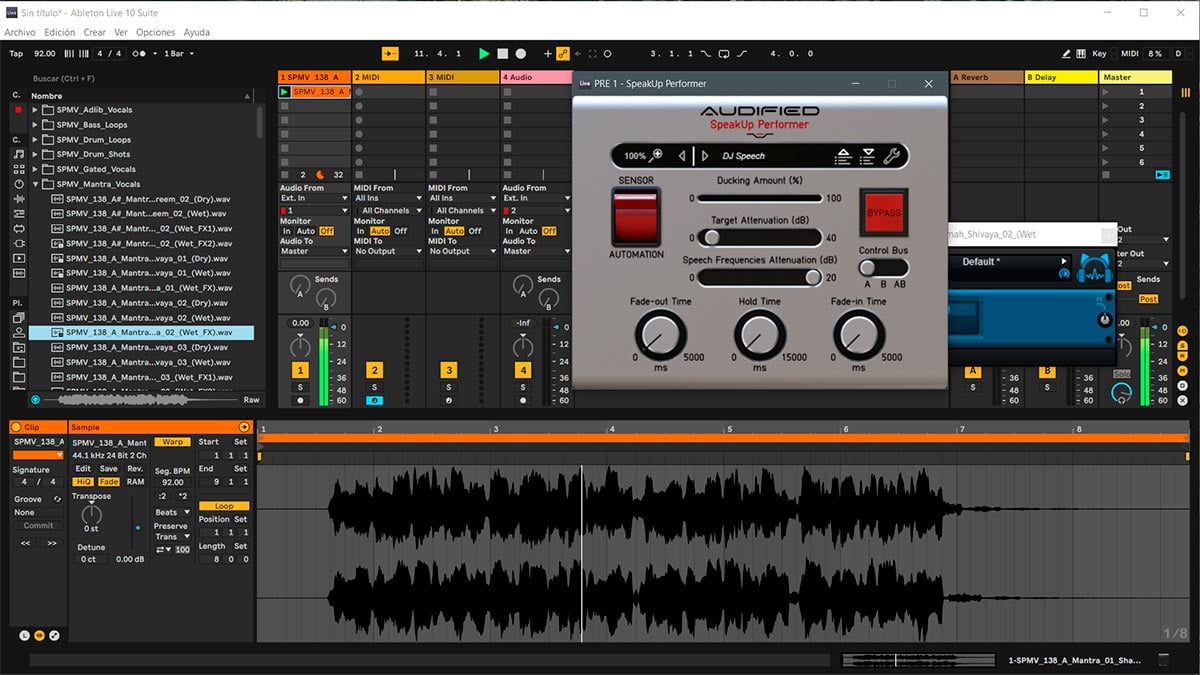 Audified SpeakUp 1-0-0 VST3-AAX WiN x86 x64
INSTALACIÓN:
Puede que tengamos que «

Desactivar SmartScreen

» para poder instalar

Instalamos el plugin y listos, este ya está activado
Plugin comprobado en Ableton Live 10 (VST3 64bit) y Pro Tools 12.5 (AAX 64bit)
Descarga Directa – Direct Download
SpeakUp 1.0.0 VST3-AAX WiN x86 x64
Para descarga de esta página se necesita un cliente Torrent, hay muchos disponibles, tanto para Windows como para MacOSX, aquí les dejo algunos de los mejores clientes…una vez instalado alguno de los programas, los enlaces Torrent se abren de forma automática.