DW Drum Enhancer 1-0-2 VST-AAX WiN x86 x64…Procesar cada elemento de la batería de la forma específica que necesita se facilita y acelera con esta colección de tratamientos tipo para cada instrumento embutida en un único plugin. Se ofrece como alternativa a tener que montar y ajustar un encadenamiento de plugins para las pistas de cada elemento de la batería individual. Viene a ser un 'channel-strip' específicamente orientado a batería y es fruto de la colaboración de Audified con DWe (Drum Workshop electronics).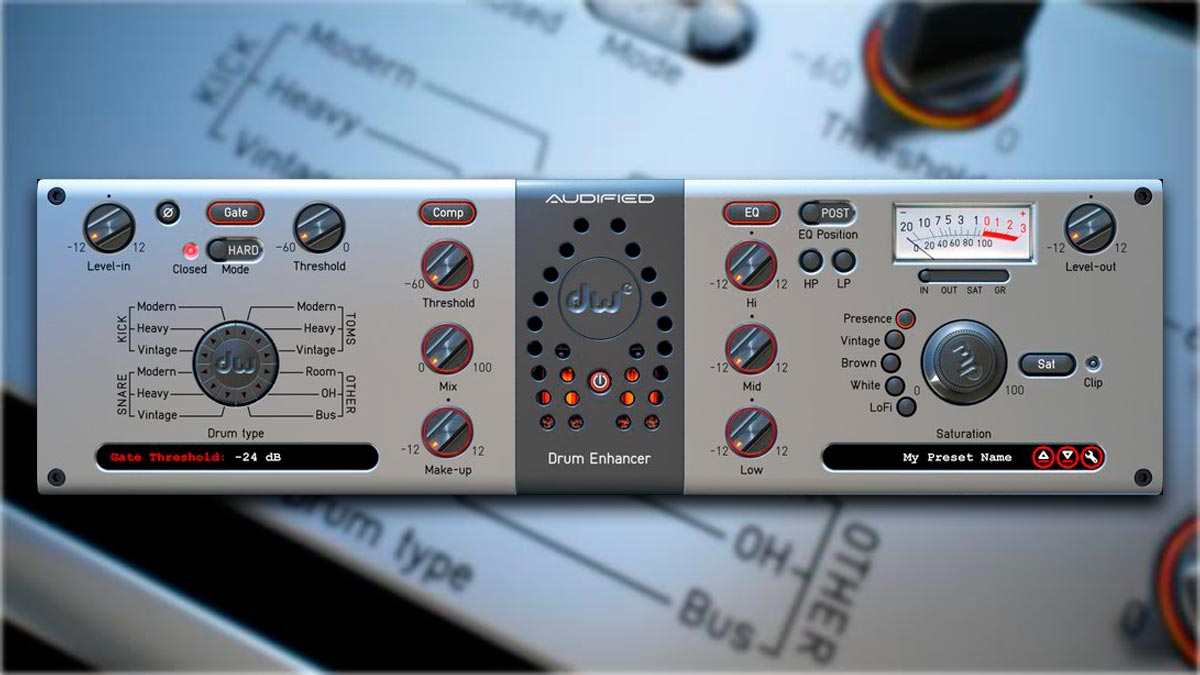 DW Drum Enhancer 1-0-2 VST-AAX WiN x86 x64
Ofrece un selector de instrumento que adapta la cadena de efectos de la que cuenta (puerta, compresión, y ecualización) para sacar el mejor partido de cada sonido disminuyendo los tiempos necesarios para ajustar un resultado final adecuado. Las 12 posibilidades que ofrece el selector corresponden a bombo, caja y toms en tres estilos cada uno (modern, heavy, vintage), una décima posibilidad pensada para overheads, y dos últimas configuraciones pensadas para tratamiento de combinaciones / premezclas de batería completa, ya sea tomadas de mesa o con un par de micros ambiente. Sólo unos pocos controles de cada uno de los tres efectos asoman al interfaz, quedando el resto preajustados a través de esas selecciones. Adicionalmente una saturación que modela el comportamiento de sistemas a válvulas permite añadir color y calor eligiendo entre 5 posibilidades.
DW Drum Enhancer 1-0-2 VST-AAX WiN x86 x64
P – Presencia: una mayor cantidad de señal en las frecuencias medias altas
V – Vintage: tiene agudos más suaves y armónicos más uniformes
B – Marrón: tiene una respuesta casi plana con solo bajas frecuencias
W – Blanco: tiene una mayor cantidad de señal en frecuencias más altas
L – LoFi: contiene menos frecuencias bajas y altas
Creado en cooperación con los ingenieros de DW
Presets sintonizados por artistas de grabación DW
Simulación de tubos
Cadena de tambor completa
Ahorrador de tiempo
VST-VST3-AAX de 32bit y 64bit para WiNDOWS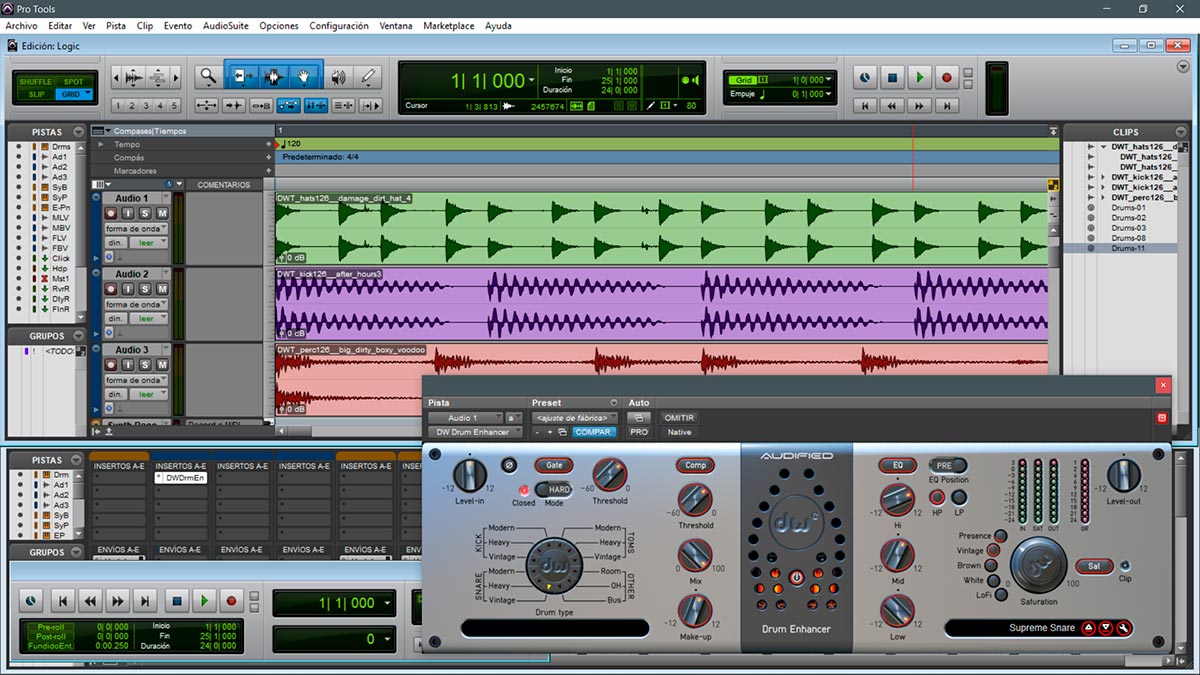 English
DW Drum Enhancer is not just one effect. It has got several EQs and compressors inside. By dialing the drum type the plug-in automatically chooses appropriate gate and compressor model and sets the 3-band EQ's frequencies to ideal values. Five types of valve saturation will give your drum tracks the real-life feel.  Usually, you would need several plug-ins to gate, compress and EQ your drums as you desire. It's hard to find the right match of the processors, needless to say, you have to care about levels between the plug-ins and other annoying facts like tuning your sound in several windows at the same time. With DW Drum Enhancer, all these troubles are gone. One click sets up your system and the only thing you have to care about is the fine tuning and gentle saturation of your sound. You save your time and insert slots and CPU power.
DW Drum Enhancer 1-0-2 VST-AAX WiN x86 x64
P – Presence: a higher amount of signal on mid-high frequencies
V – Vintage: has smoother highs and more even harmonics
B – Brown: has an almost flat response with only light high frequencies rolling off
W – White: has a higher amount of signal on higher frequencies
L – LoFi: contains less low and high frequencies
Created in cooperation with DW engineers
Presets tuned by DW recording artists
Tube simulation
Complete drum chain
Time saver
VST-VST3-AAX 32bit & 64bit for WiNDOWS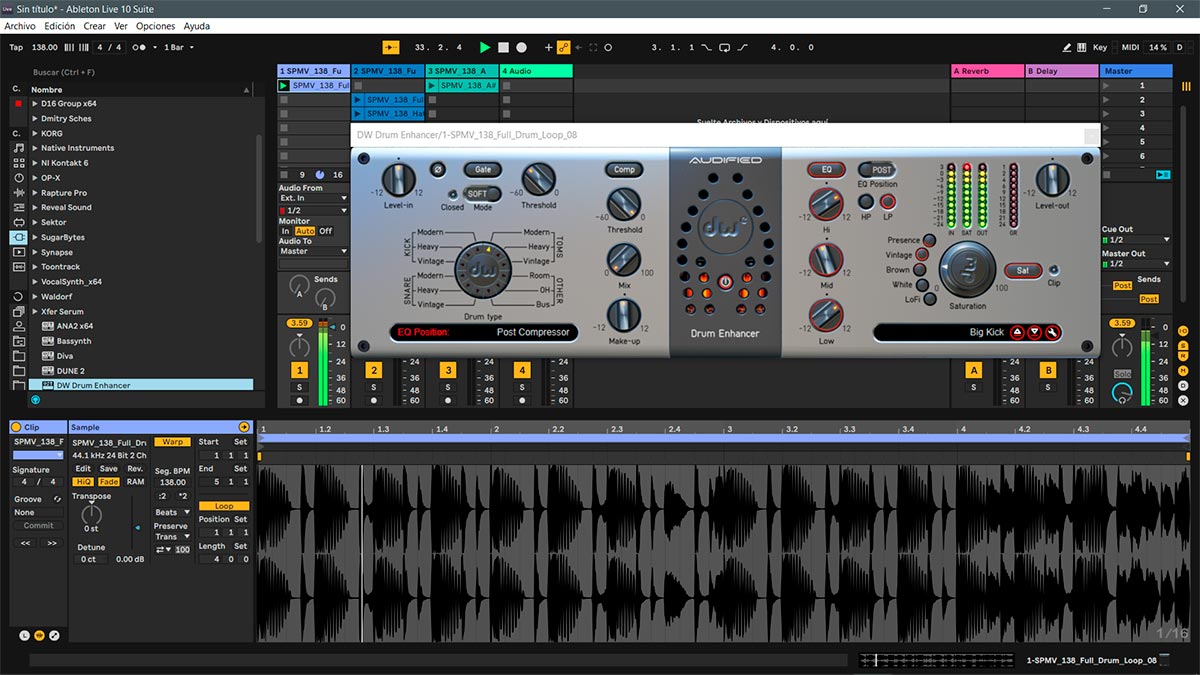 DW Drum Enhancer 1-0-2 VST-AAX WiN x86 x64
INSTALACIÓN:
Puede que tengamos que «

Desactivar SmartScreen

» para poder instalar

Instalamos el plugin y listos, este ya está activado
Plugin comprobado en Ableton Live 10 (VST3 64bit) y Pro Tools 12.5 (AAX 64bit)
Descarga Directa – Direct Download
Drum Enhacer 1.0.2 VST-VST3-AAX WiN x86 x64
Para descarga de esta página se necesita un cliente Torrent, hay muchos disponibles, tanto para Windows como para MacOSX, aquí les dejo algunos de los mejores clientes…una vez instalado alguno de los programas, los enlaces Torrent se abren de forma automática.