XILS-lab SynX2 v2-0-3 R2 VSTi-AAX WiN x86 x64…Syn'x 2 es un sintetizador polivalente inspirado en la parte de síntesis de un legendario sintetizador italiano de los años 80, mientras que su arquitectura basada en tarjetas multicapa está inspirada en sofisticados monstruos analógicos de hardware como el Oberheim Matrix 12. El sonido: ofrece la sorprendente combinación de DCO claros e impactantes con el corte de filtros analógicos modelados multimodo como su antecesor, uno de los últimos sintetizadores analógicos polifónicos vintage, y una pieza de la historia de la síntesis, incluido el famoso coro de la BBD.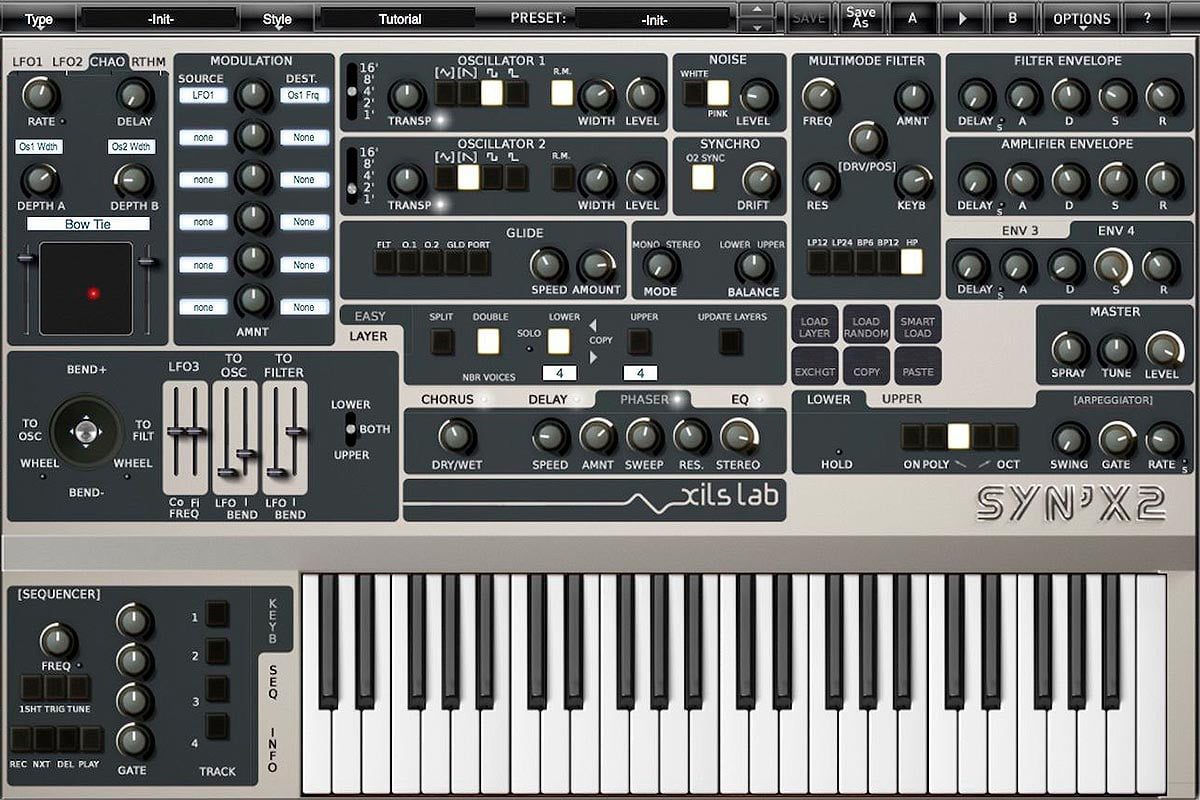 XILS-lab SynX2 v2-0-3 R2 VSTi-AAX WiN x86 x64
Y como es multitímbrico, puede usar hasta 16 osciladores, 8 filtros analógicos 0df, 32 sobres DADSR y matrices de modulación que abordan cualquiera de los 132 destinos posibles para crear sus propios parches, cuando los 300 presets de la biblioteca de fábrica no serán suficientes. El Modo fácil le permite beneficiarse de un entorno de programación potente, intuitivo y optimizado similar al sintetizador duotimbral miniSyn'X, pero con la potencia adicional de sobres adicionales, LFO, etc. El modo Avanzado liberó la potencia total del Syn'X 2 para crear parches gruesos, complejos y nunca escuchados, aún con un flujo de trabajo totalmente renovado y rápido.
XILS-lab SynX2 v2-0-3 R2 VSTi-AAX WiN x86 x64
Osciladores con formas de onda acumulativas (hasta 40 por parche)
Lfos únicos con formas de onda acumulativas (hasta 50 por parche)
Envolventes D-ADSR adicionales y matrices de modulación (por capa)
Unison, 2 arpegiadores, 2 zonas de teclados, modo multitimbral de guitarra
Plétora de modos de juego monofónicos y polifónicos
PolySequencer (También actúa como fuente de modulación)
Creación fácil de sonido con nuestra exclusiva tecnología de carga inteligente
Efectos de sonido vintage: Chorus, Phaser, Delay, EQ analógico
Dos modos de edición diferentes (Fácil y Avanzado)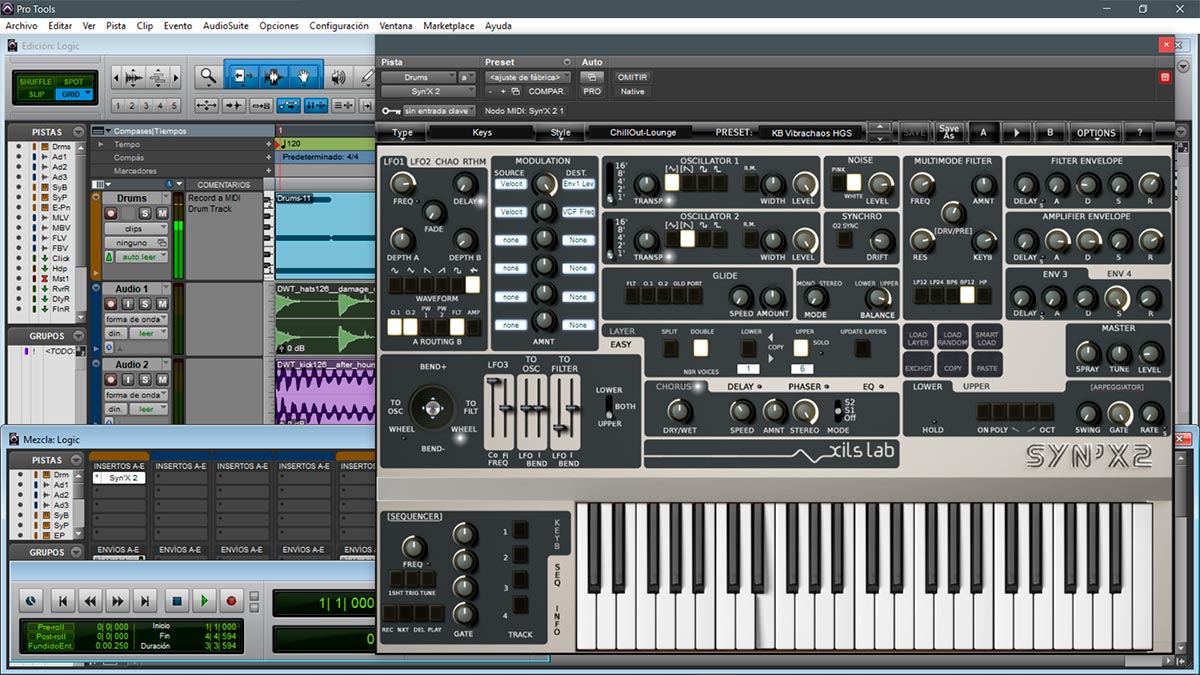 English
Syn'x 2 is a Polytimbral Synthetizer inspired for the synthesis part by a legendary Italian Synthesizer from the 80's, while its multilayer card based architecture is inspired by sophisticated hardware analog monsters like the Oberheim Matrix 12. The Sound : It offers the striking combination of clear and punchy DCOs with cutting multimode modeled analog filters like it's ancestor, one of the last Vintage Polyphonic Analog Synthetizers, and a piece of Synthesis history, including the famous BBD Chorus ! And because it's multitimbral, you can use up to 16 oscillators, 8 0df Analog Filters, 32 DADSR envelopes and Modulation Matrixes addressing any of the 132 possible destinations to build your own patches, when the 300 Factory Library Presets will be not enough.
XILS-lab SynX2 v2-0-3 R2 VSTi-AAX WiN x86 x64
Oscillators with cumulative waveforms (Up to 40 per patch)
Unique Lfos with cumulative waveforms (Up to 50 per patch)
Additional D-ADSR envelopes and Modulation Matrixes (Per Layer)
Unison, 2 arpegiattors, 2 Keyboards zones, Guitar Multitimbral mode
Plethora of monophonic and polyphonic Play Modes
PolySequencer (Also acting as a modulation source)
Easy Sound Creation with our unique Smart Load Technology
Vintage sounding effects : Chorus, Phaser, Delay, Analog EQ
Two different edit mode ( Easy and Advanced)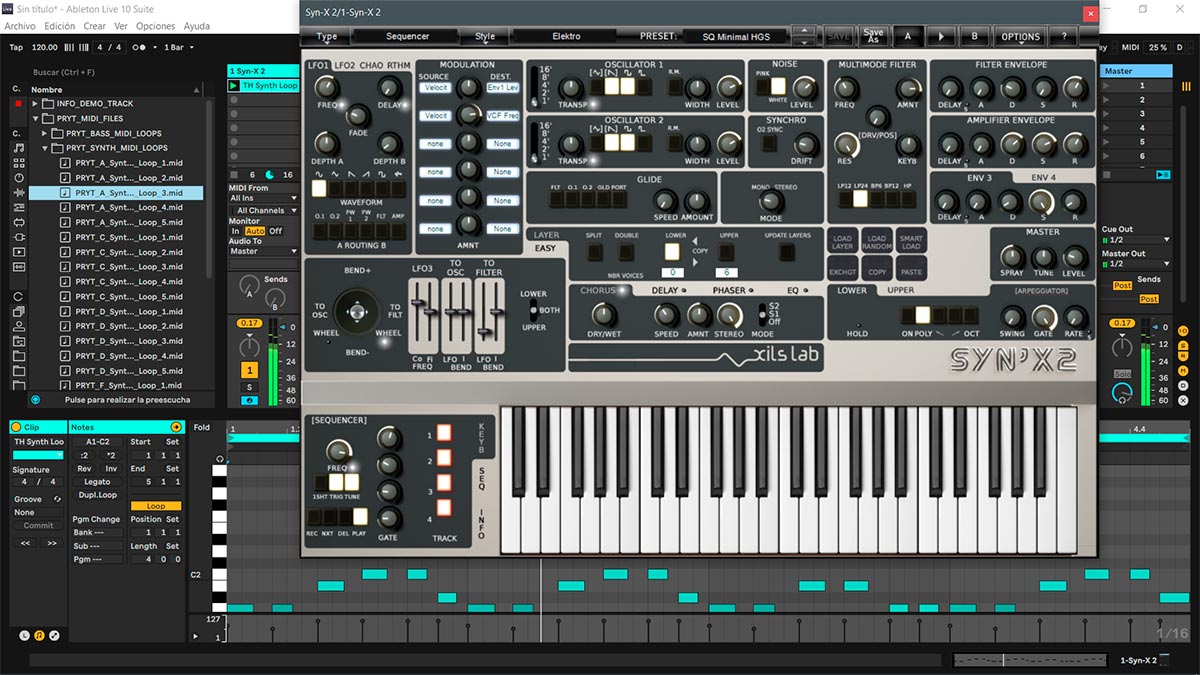 XILS-lab SynX2 v2-0-3 R2 VSTi-AAX WiN x86 x64
INSTALACIÓN:
Puede que tengamos que «

Desactivar SmartScreen

» para poder instalar

Instalamos el plugin y listos, este ya está activado
Plugin comprobado en Ableton Live 10 (VST3 64bit) y Pro Tools 12.5 (AAX 64bit)
Descarga Directa – Direct Download
Xils SynX2 v2.0.3 R2 VSTi-AAX WiN x86 x64
Para descarga de esta página se necesita un cliente Torrent, hay muchos disponibles, tanto para Windows como para MacOSX, aquí les dejo algunos de los mejores clientes…una vez instalado alguno de los programas, los enlaces Torrent se abren de forma automática.