Channel Robot Atmosia KONTAKT…Atmosia es una versión única de la producción de sonidos de drones, utilizando nuestro motor de reproducción de 4 voces Recoil. Atmosia incluye un conjunto de 50 fuentes de drones no tripulados de diseño personalizado creadas para proporcionar paisajes sonoros texturales de larga evolución. Los sonidos están cuidadosamente estructurados para permitir que se utilicen en un contexto melódico: son mucho más que lo normal de los drones de una nota. El potente motor de doble canal de 4 voces de Atmosia le ofrece la capacidad de escultura y creatividad para utilizar 8 sonidos diferentes en su reproducción final.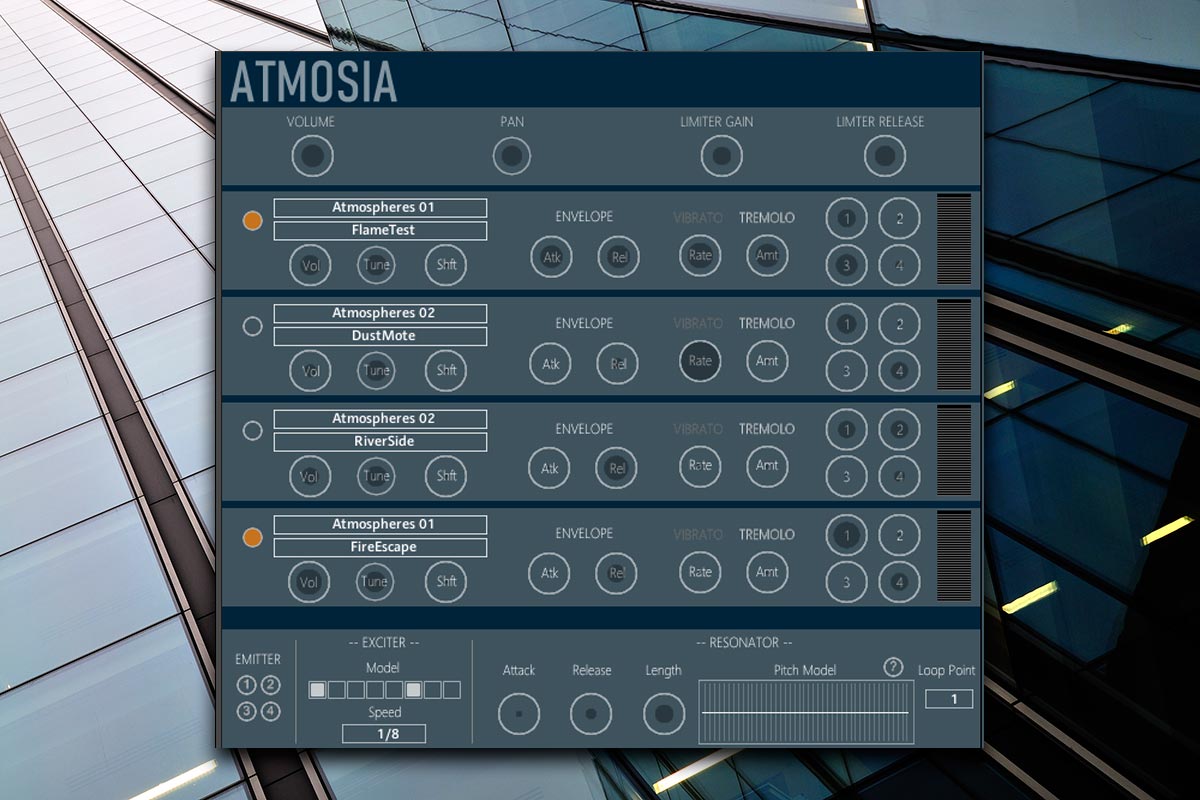 Channel Robot Atmosia KONTAKT
Seleccione cualquier combinación de voces (incluida la repetición de la misma voz pero con ajustes modificados para el cambio de fase y los efectos de batido), cada voz pasa a través del canal estándar, cada una con sus propios módulos de envolvente, trémolo y vibrato. En paralelo, las voces pasan a través de nuestros motores de excitación y resonador de estilo de modelado físico único, donde puede definir los patrones y la velocidad de los excitadores, el ataque, el lanzamiento y la longitud, así como definir una secuencia de cambio de tono. Cada canal de voz tiene controles independientes de volumen, tono y compensación de inicio de muestra, así como 4 ranuras de efectos independientes donde puede asignar hasta 4 efectos. Cada ranura de efectos te ofrece 20 efectos diferentes para elegir.
Finalmente, cada canal tiene 4 niveles de envío, que se envían a una de las 4 ranuras de efectos de envío. Cada ranura ofrece 6 efectos de envío diferentes. Todo el instrumento tiene controles globales de volumen, control y limitador, así como un aleatorizador inteligente para producir nuevos e interesantes sonidos de estilo drone de forma rápida y sencilla. Atmosia viene con 50 instantáneas para que comiences.
Channel Robot Atmosia KONTAKT
4 Capas de sonido (voces)
Motores de excitación y resonador
Controles globales de volumen, control y limitador
4 ranuras de efectos independientes
20 efectos diferentes
50 instantáneas (presets)
KONTAKT 5.8.1 o Superior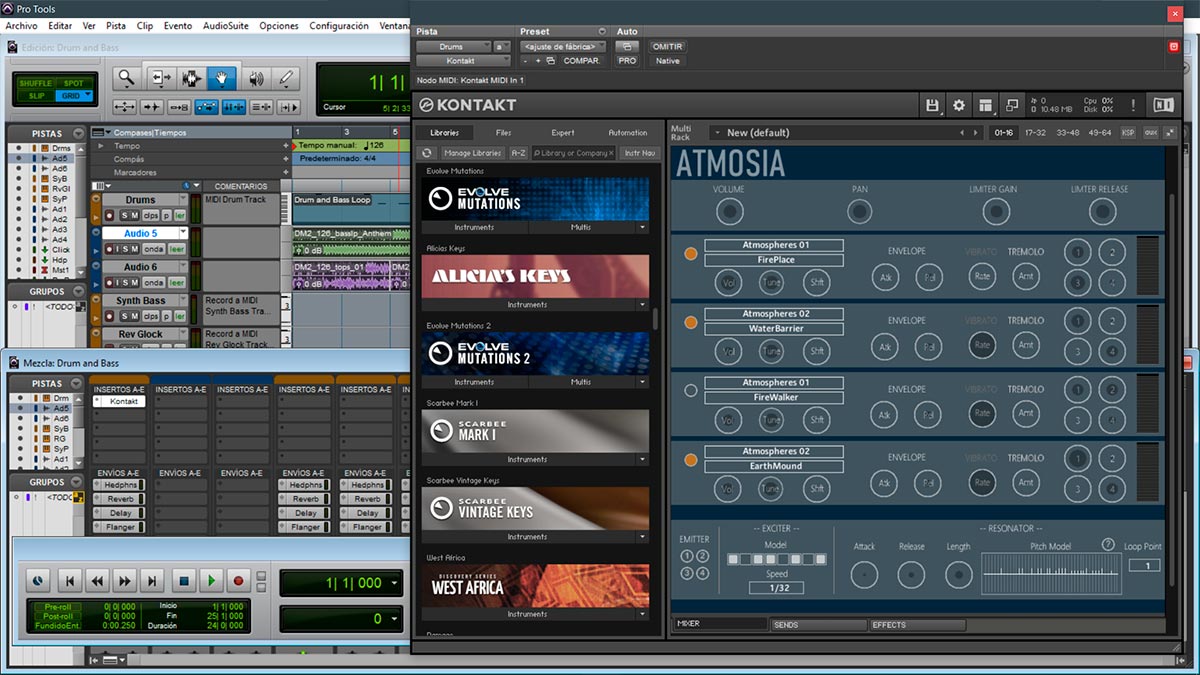 English
Atmosia is a unique take on producing drone sounds, using our 4-voice Recoil playback engine. Atmosia includes a set of 50 custom designed drone sources created to provide long-evolving textural soundscapes. The sounds are carefully structured to allow them to be used in a melodic context – they are much more than normal one-note drone loops.
Select any combination of voices (including repeating the same voice but with modified settings for phase shifting and beating effects), each voice then passes through the standard channel, each with their own envelope, tremolo and vibrato modules. In parallel the voices pass through our unique physical modelling style exciter and resonator engines, where you can define exciter patterns and speed, attack, release and length as well as define a re-pitching sequence. Each voice channel has independent volume, pitch and sample-start offset controls as well as 4 independent effect slots where you can assign up to 4 effects. Each effect slot offers you 20 different effects to choose from.
Finally each channel has 4 send levels – which send to one of the 4 send effect slots. Each slot offers 6 different send effects. The entire instrument has overall volume, pan and limiter controls, as well as an intelligent randomiser to produce new an interesting drone-style sounds quickly and easily. Atmosia comes with 50 Snapshots to get you started.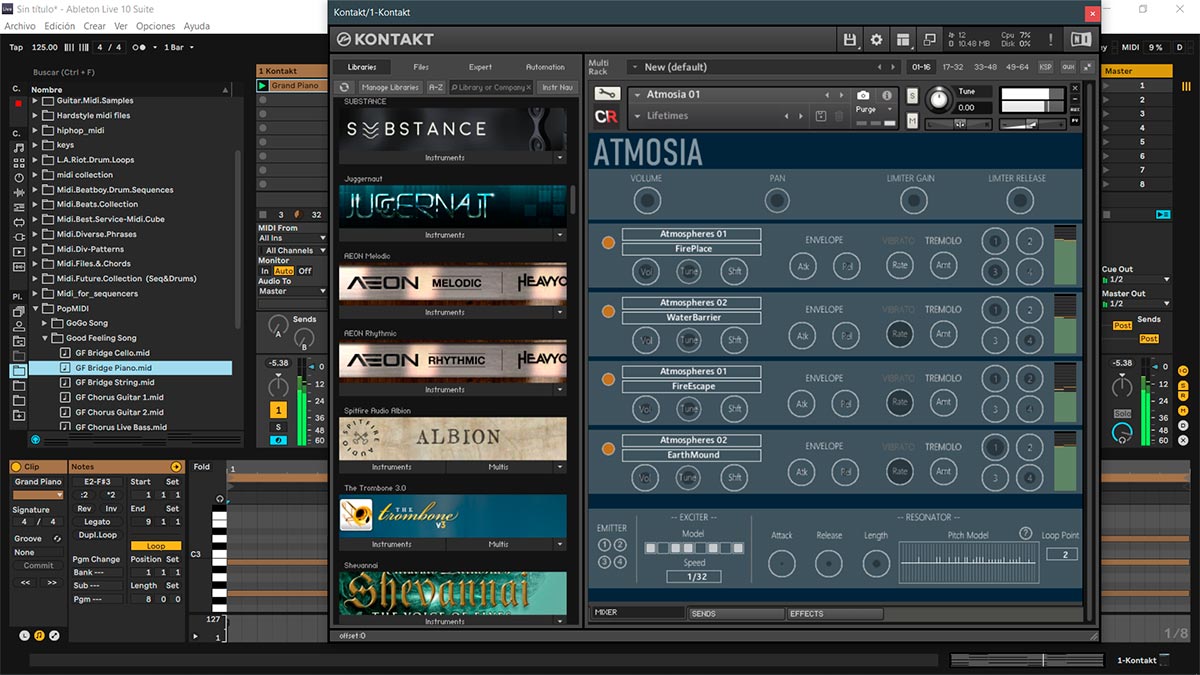 Channel Robot Atmosia KONTAKT
Descarga Directa – Direct Download
Atmosia Drones KONTAKT
Para descarga de esta página se necesita un cliente Torrent, hay muchos disponibles, tanto para Windows como para MacOSX, aquí les dejo algunos de los mejores clientes…una vez instalado alguno de los programas, los enlaces Torrent se abren de forma automática.