Soundiron Sick 666 The Sickening KONTAKT…Sick 6: 666 – The sickening es una biblioteca de efectos de sonido de cine y tráiler con temática de terror para compositores profesionales, diseñadores de sonido, mezcladores de regrabación, animadores, cineastas y desarrolladores de juegos.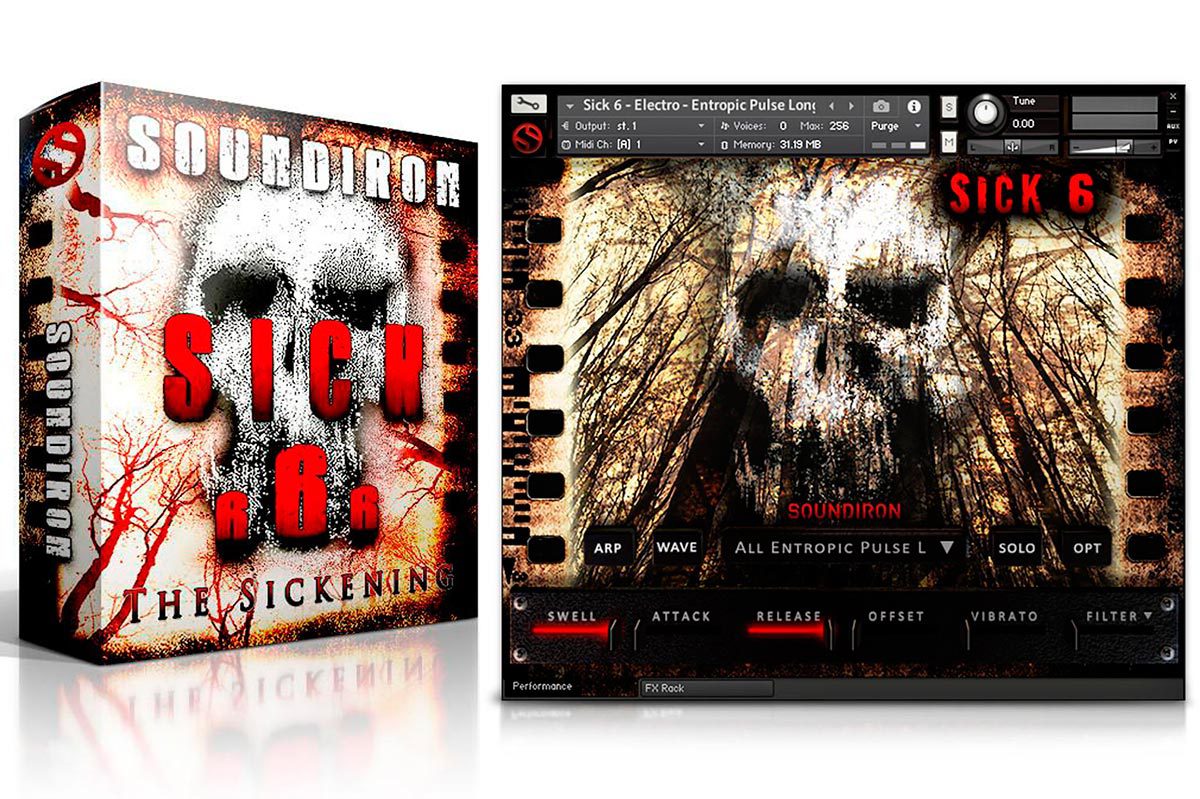 Soundiron Sick 666 The Sickening KONTAKT
En las colecciones de stinger, encontrarás 67 bancos de sonidos y un total de 1009 efectos cinemáticos, cada uno con una variedad de distintas variaciones de sonido incluidas. Los bancos de sonido se dividen en 8 categorías principales: Caos, Electro, Gore, Impacto, Revelación, Levantamiento, Cuerdas y Suspenso. También hay 8 bancos de ambiente tonal y de ambientes sonoros sostenibles, cada uno con una gama única de diferentes sabores complementarios para subrayar, aumentar la tensión, diseñar el sonido ambiental y marcar melódicamente. Cada preset ofrece controles de modelado de sonido total, conmutación de teclas y soporte de automatización, DSP FX Rack y reverberación de convolución con 70 impulsos.
Soundiron Sick 666 The Sickening KONTAKT
Caos (Cacofonías perturbadoras y desorientadoras)
Electro (Sci-Fi y Electrónica)
Gore (Sangre, Tripas y Monstruos)
Impacto (boomers, golpeadores, choques, golpes y explosiones)
Revelar (Transiciones Dramáticas)
Levantamiento (Swells, Crescendos, Hairpins, Risers y Build-Ups)
Cuerdas (violines y otros aguijones parecidos a cuerdas, temblores y puñaladas)
Suspenso (camas de tensión, miasmas incómodos, presencias inminentes y pasajes temerosos)
KONTAKT 5.5 o Superior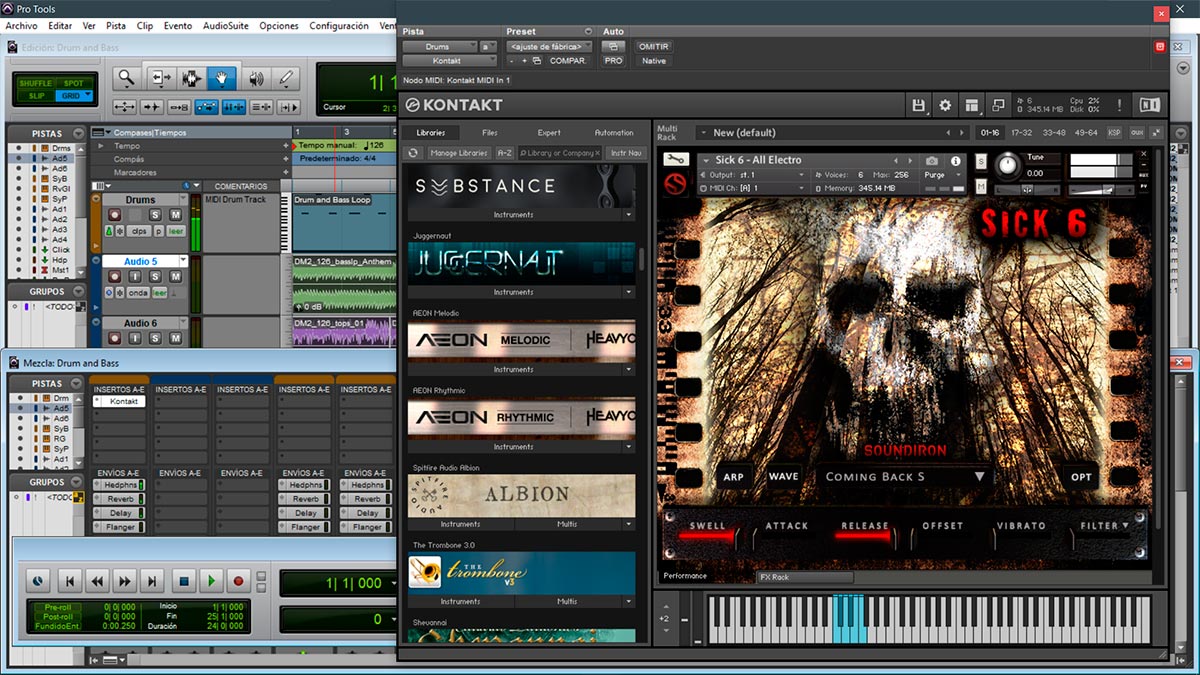 English
Sick 6: 666 – The sickening is a horror-themed cinematic and trailer sound effects library for professional composers, sound designers, re-recording mixers, animators, film makers and game developers. It includes over 4GB of sound designed content, with over 1000 stingers, boomers, impacts, stabs, hits, swells, falls, risers, playable pads, drones and ambiences and more. We carefully crafted each sound with a variety of tools and techniques, using organic instrument, sound effect and environmental field recordings as our raw source material to create uniquely nuanced, dynamic and vivid scoring elements that are perfect for any horror, sci-fi, drama, suspense or action scene or project. In the stinger collections, you'll find 67 sound banks and a total of 1009 cinematic effects, each with a variety of distinct sonic variations included.
Soundiron Sick 666 The Sickening KONTAKT
Chaos (Disturbing and Disorienting Cacophonies)
Electro (Sci-Fi and Electronic)
Gore (Blood, Guts and Monsters)
Impact (Boomers, Pounders, Crashes, Bangs, Thuds and Blasts)
Reveal (Dramatic Transitions)
Rising (Swells, Crescendos, Hairpins, Risers and Build-Ups
Strings (Violins and other string-like stingers, trembles and stabs)
Suspense (Tension beds, uneasy miasmas, looming presences and fearful passages)
KONTAKT 5.5 +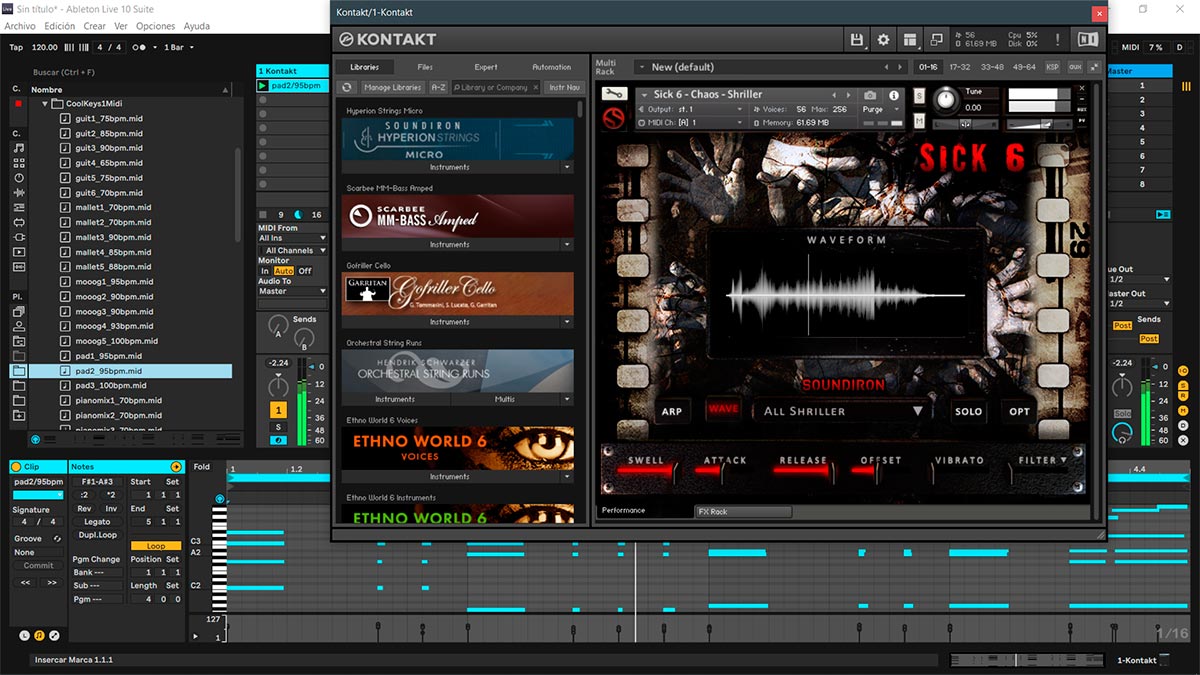 Soundiron Sick 666 The Sickening KONTAKT
Descarga Directa – Direct Download
666 The Sickening KONTAKT (4.4Gb)
Para descarga de esta página se necesita un cliente Torrent, hay muchos disponibles, tanto para Windows como para MacOSX, aquí les dejo algunos de los mejores clientes…una vez instalado alguno de los programas, los enlaces Torrent se abren de forma automática.