GalaXsynth 1-2-1 VST-AU WiN-MAC OSX…Sintetizador inspirado en las constelaciones, bebe un poco de varias influencias en cuanto a su motor de síntesis. Por una parte parece utilizar waveshaping o trabajar con tabla de ondas, y al igual que un ROMpler, obtiene sus fuentes sonoras de formas de onda predeterminadas. Pero como la famosa formula de cierto refresco con gas, todo está cubierto de misterio. De hecho, las funciones más complejas de síntesis de GalaXynth se encuentran ocultas e inalcanzables al usuario, y son controladas y regidas por el propio sintetizador.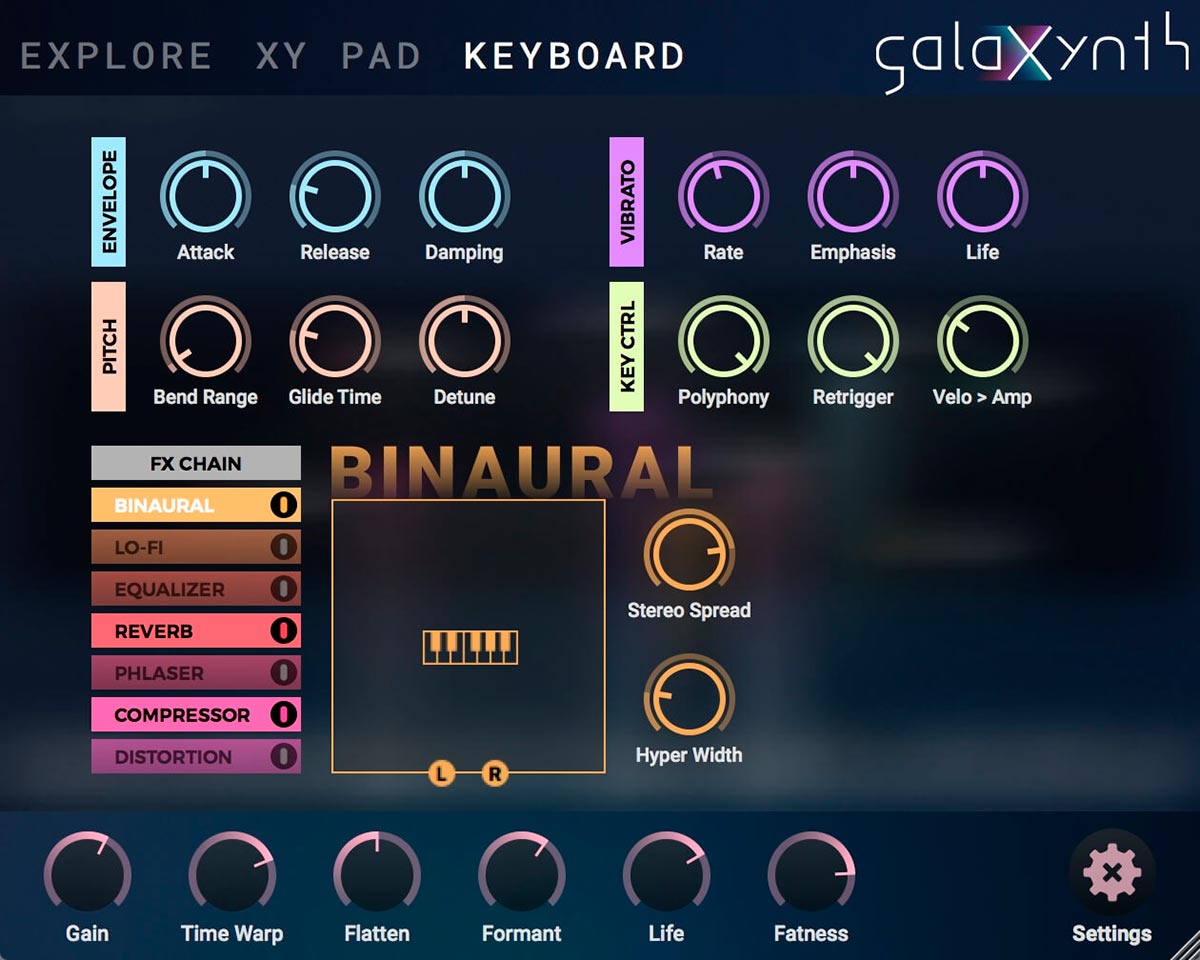 GalaXsynth 1-2-1 VST-AU WiN-MAC OSX
Como si de un mapa estelar se tratará, el panel de control de GalaXynth resulta sencillo a la par que minimalista -¡y reescalable! Al principio, y cargando alguno de sus presets, nos topamos con una representación gráfica de puntos, etiquetados con nombres muy descriptivos. Como si de constelaciones se tratasen, cuando movemos el puntero entre los puntos (moviendo un punto blanco algo mayor), aparecerán líneas que conectan esos puntos para crear combinaciones sonoras. GalaXynth es un sintetizador de estaciones de trabajo del futuro. Con este bebé, has terminado de juguetear con interminables filas de botones. Encuentre el sonido que necesita lo antes posible, deje de jugar y comience a hacer música. Aquí hay una descripción general rápida de las características:
GalaXsynth 1-2-1 VST-AU WiN-MAC OSX
"Síntesis auditiva" altamente avanzada, capaz de producir casi cualquier sonido
Más de cien instrumentos incluidos.
Busca sonidos de forma natural en un mapa 2D
Mezclar y transformar cualquier combinación de instrumentos.
Ajusta tu sonido con perillas de rendimiento intuitivo
Modelado binaural para "Sonido 3D"
Refina tu sonido con 7 efectos de alta calidad.
Tamaño mínimo de carga e instalación de la CPU, sin tiempos de carga
Obtén más sonidos de una creciente biblioteca de bancos de sonido
VST-AU de 32bit y 64bit para WiNDOWS y MAC OSX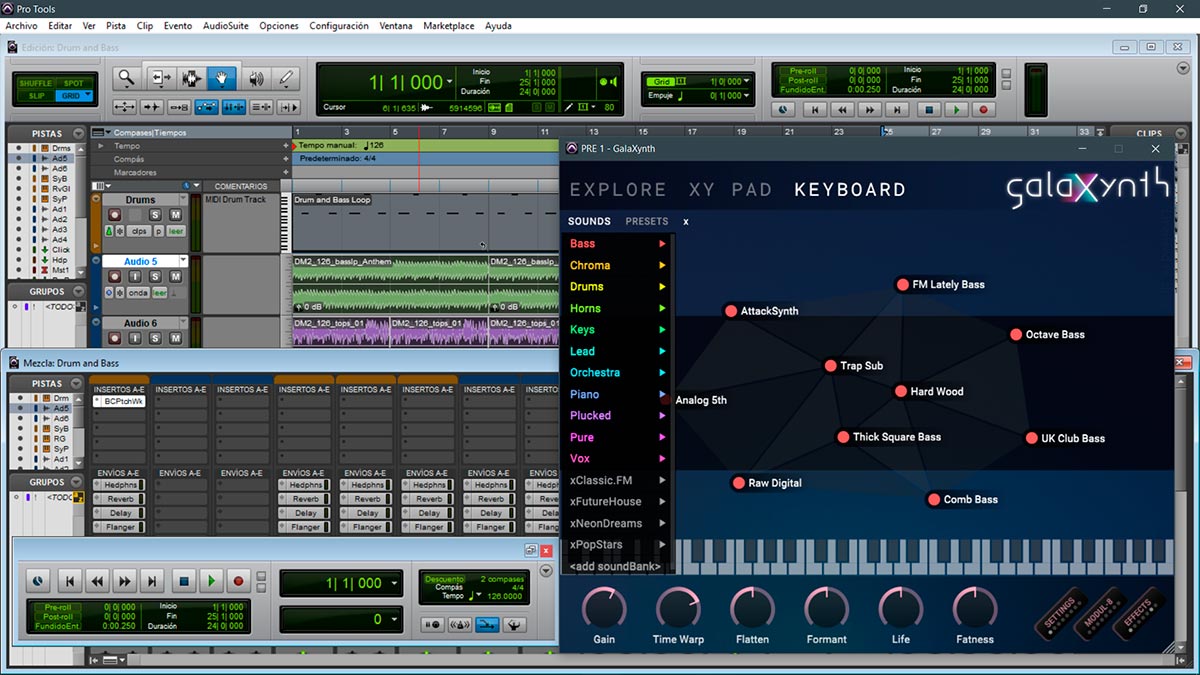 English
GalaXynth is a Workstation Synth from the future. With this baby, you're done fiddling with neverending rows of knobs. Find the sound you need ASAP, stop messing around, start making music. We humans don't hear sounds directly — we can't hear the shape of a waveform, for example. The inner ear, brainstem and cortex has intricate neural processing that make us aware of particular descriptive statistics of sound, while other properties are discarded as irrelevant for perception. This is why, for example, two white noise bursts sound identical although their waveforms are completely uncorrelated. Auditory Synthesis is an attempt to reverse engineer the hearing system, to create waveforms that match a certain set of descriptive statistics. Here's a quick overview of features:
GalaXsynth 1-2-1 VST-AU WiN-MAC OSX
Highly advanced "Auditory Synthesis", capable of producing almost any sound
Over a hundred included instruments
Browse sounds in a natural way in a 2D map
Mix and morph any combination of instruments
Tweak your sound with intuitive performance knobs
Binaural modeling for "3D Sound"
Refine your sound with 7 high quality effects
Minimal cpu load and install size, no loading times
Get more sounds from a growing library of soundbanks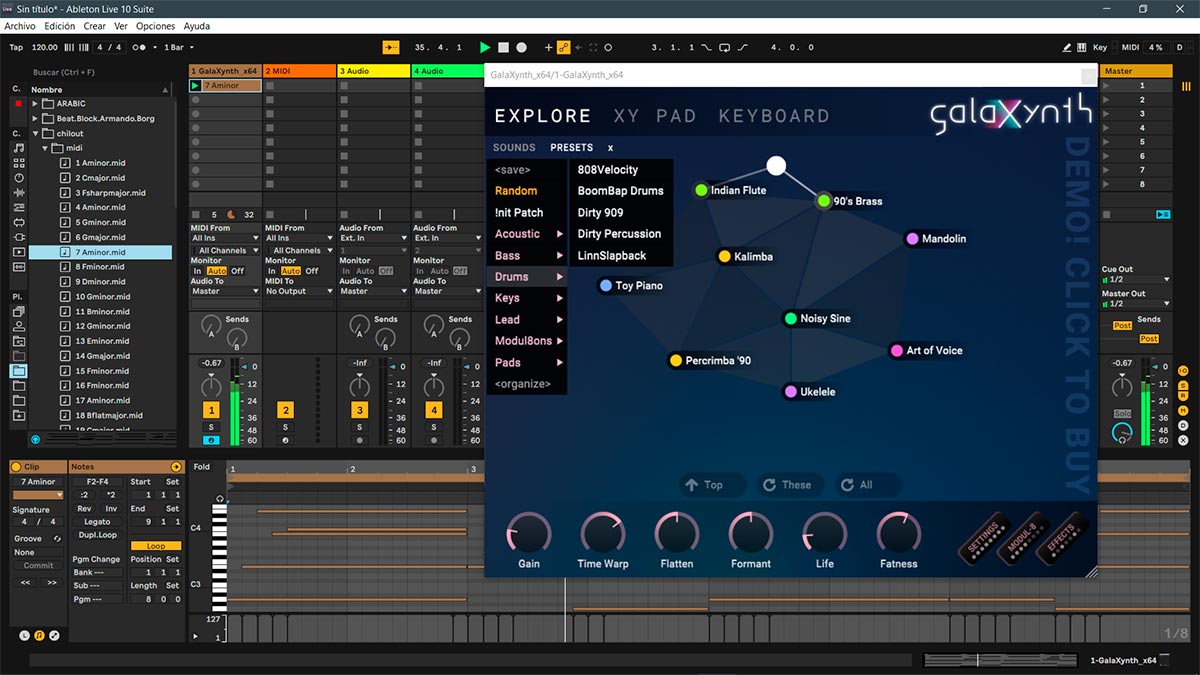 GalaXsynth 1-2-1 VST-AU WiN-MAC OSX
Descarga Directa – Direct Download
GalaXsynth 1.2.1 VSTi-AU WiN-MAC x86 x64
Para descarga de esta página se necesita un cliente Torrent, hay muchos disponibles, tanto para Windows como para MacOSX, aquí les dejo algunos de los mejores clientes…una vez instalado alguno de los programas, los enlaces Torrent se abren de forma automática.