Maag Audio MAGNUM-K 1-0 WiNDOWS…El hardware original de MAGNUM-K ™ es un compresor de un solo canal construido para complementar el oficio del ingeniero de audio. Está compuesto por dos secciones de compresores en serie (MAGNUM COMP y K COMP), un ecualizador paralelo muy musical (con LMF y la firma AIR BAND® de Mäag), además de un límite suave (limitador suave).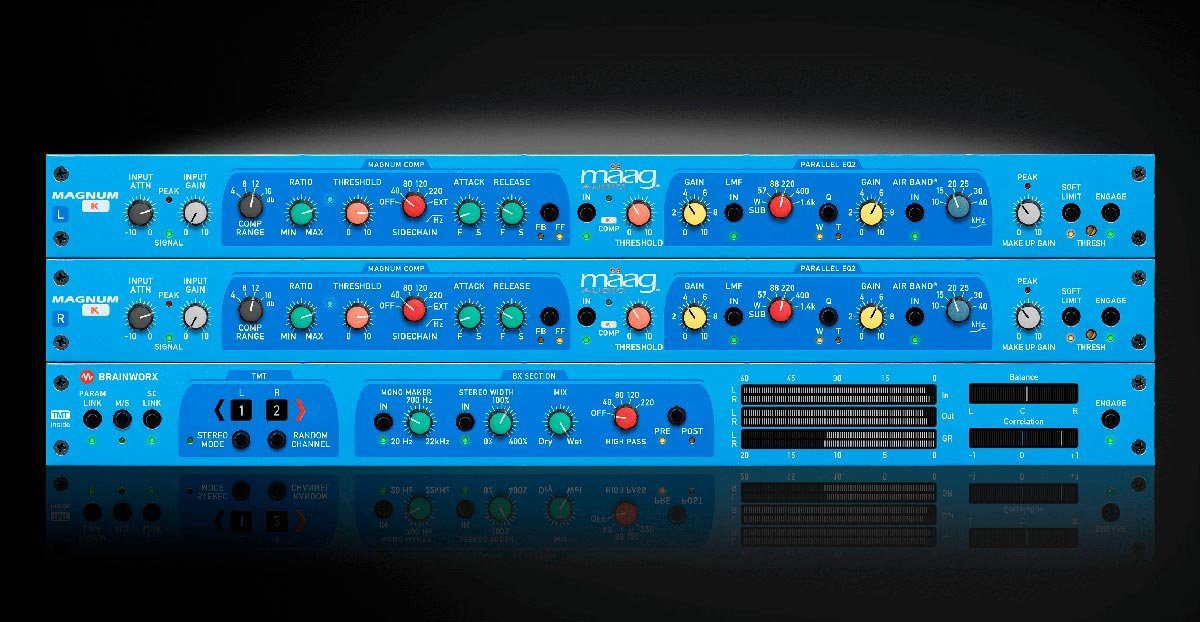 Maag Audio MAGNUM-K 1-0 WiNDOWS
En cooperación con Brainworx, este diseño se convirtió en un complemento convincente, mientras que el concepto se llevó al siguiente nivel. BX agregó capacidades estéreo L / R y M / S, inyectó 20 canales diferentes y analógicos utilizando su TMT (Tecnología de modelado de tolerancia pendiente de patente) y varias características convenientes de solo plugin como M / S Stereo Width, Mono-Maker, etc. Ya sea dando los toques finales a una mezcla 2 o haciendo un sonido vocal más grande que la vida sin quitarte la cabeza; El MAGNUM-K ayudará a elevar tu oficio. Bienvenido a la compresión nirvana y la felicidad sonora. Bienvenido al compresor MAGNUM-K de Mäag Audio, donde se diseñó un sonido más grande, un flujo de trabajo más rápido y un control excepcional para ayudarlo a alcanzar sus objetivos de audio.
Maag Audio MAGNUM-K 1-0 WiNDOWS
2 secciones de compresor, Magnum Comp y K Comp.
Ecualizador paralelo de sonido musical con LMF y la banda de aire de Mäag.
Limitador suave
Fielmente modelado, respaldado y aprobado por Mäag Audio.
Versión estéreo además de la versión mono original.
Parámetro DRY / WET para mezcla paralela
20 canales TMT analógicos diferentes.
Modo M / S incluido Solo M y Solo S
VST-VST3-AAX 32bit y 64bit para WiNDOWS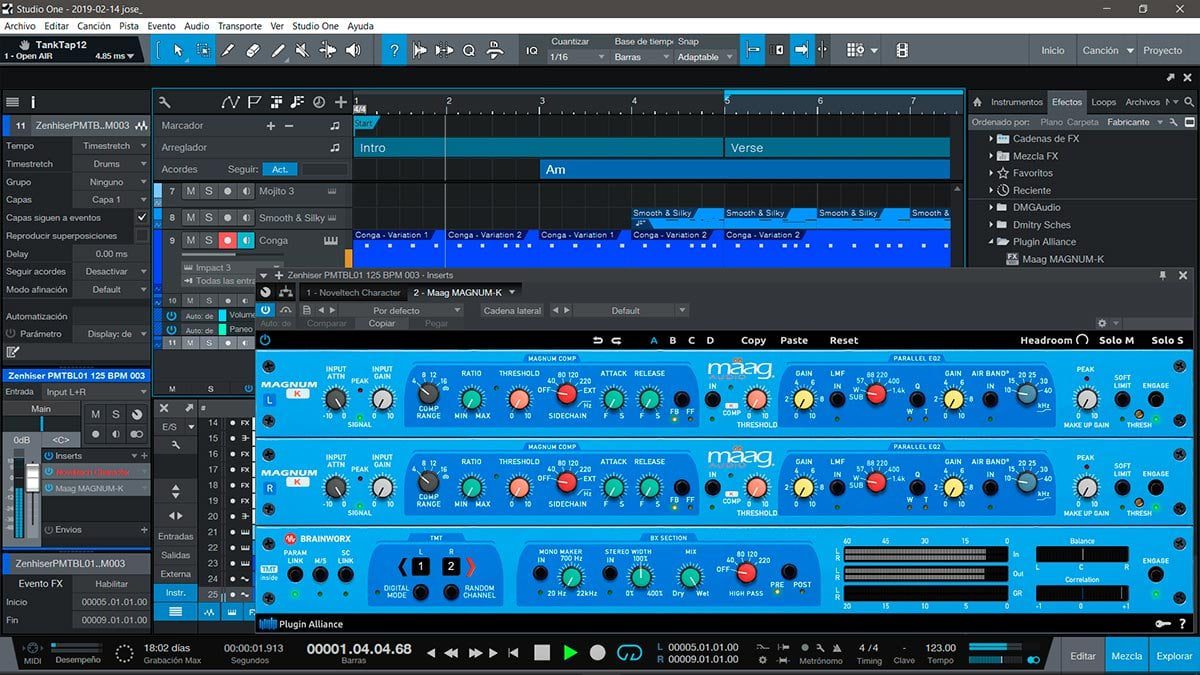 English
The original MAGNUM-K™ hardware is a single-channel Compressor built to complement the audio engineer's craft. It is comprised of two serial compressor sections (MAGNUM COMP and K COMP), a very musical Parallel EQ (with LMF and Mäag's signature AIR BAND®), plus a Soft Limit (soft limiter). Whether putting the finishing touches on a 2-mix or making a vocal sound bigger than life without taking your head off; the MAGNUM-K will help elevate your craft. Welcome to compression nirvana and sonic bliss. Welcome to the Mäag Audio MAGNUM-K Compressor where bigger sound, quicker workflow, and outstanding control were designed to help you achieve your audio goals.
In cooperation with Brainworx this design was turned into a convincing plugin, whereas the concept was taken to the next level. BX added L/R and M/S Stereo capabilities, injected 20 different, analog channels utilizing their patent-pending TMT (Tolerance Modeling Technology) and several convenient plugin-only features like M/S Stereo Width, Mono-Maker etc.
Maag Audio MAGNUM-K 1-0 WiNDOWS
2 compressor sections, Magnum Comp and K Comp
Musical-sounding parallel EQ with LMF and Mäag's signature Air Band
Soft Limiter
Faithfully modelled, endorsed and approved by Mäag Audio
Stereo version in addition to the original mono version
DRY/WET parameter for parallel mix
20 different, analog  TMT channels
M/S mode inclusive Solo M and Solo S
VST-VST3-AAX 32bit & 64bit for WiNDOWS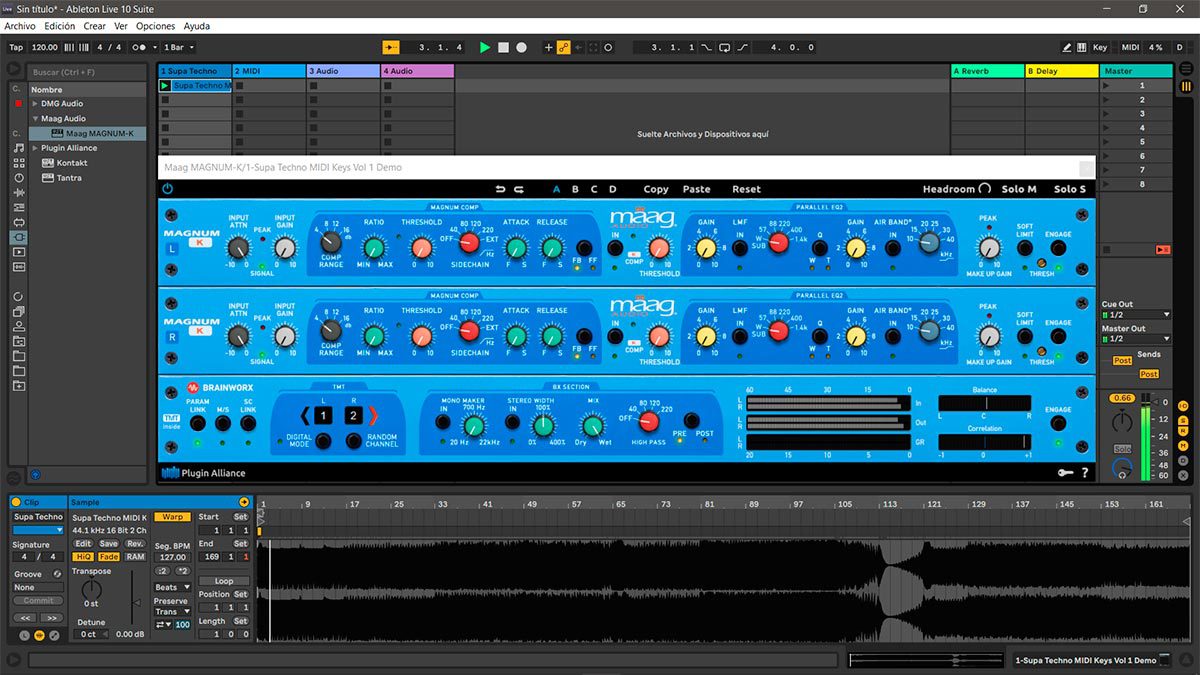 Maag Audio MAGNUM-K 1-0 WiNDOWS
INSTALACIÓN:
Puede que tengamos que desactivar «

SmartScreen

« de Windows para poder instalar
Ejecutamos el instalador, seleccionamos versión y carpeta de destino
Iniciamos, le damos a registrar, le decimos «Offline», copiamos el «Device ID»
Con el Keygen, generamos una licencia y la cargamos desde el plugin
Listos, plugin comprobado en Ableton Live (VST 64bit) y Pro Tools (AAX 64bit)
Descarga Directa – Direct Download
Magnum-K 1.0.0 VST-VST3-AAX WiN x86 x64
Para descarga de esta página se necesita un cliente Torrent, hay muchos disponibles, tanto para Windows como para MacOSX, aquí les dejo algunos de los mejores clientes…una vez instalado alguno de los programas, los enlaces Torrent se abren de forma automática.